Bailey County has its own history book, a labor of love put together by Bailey County citizens. The book was published in 1988 by Taylor Publishing Company of Dallas. When it was published, many citizens who contributed information for the history book eagerly awaited buying their copy and no doubt spent happy hours reading about their home town.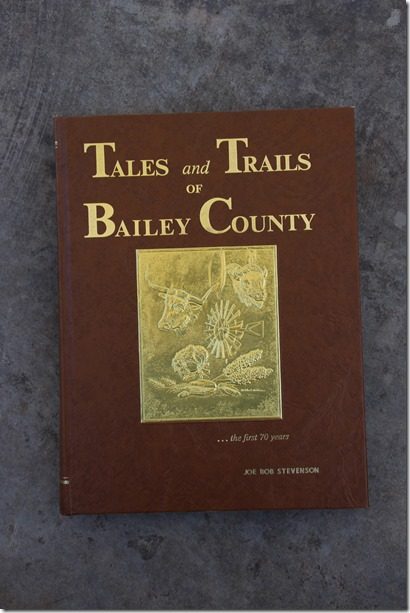 But time has passed, and I suspect the great majority of the younger generation who have grown up in Bailey County since then have no idea the book even exists. So I thought it was time it had some new publicity.
Since the book came out 28 years ago, many of the principal members of the history book committee have, sadly, passed on. So I went on a bit of a wild goose chase to find someone who could give me a little history on the history book. Many calls and dead ends later, Billie Downing filled in the blanks for me and confirmed what all the other people I talked to had told me-it may not have been her original idea, but Vivian White was the driving force behind the book.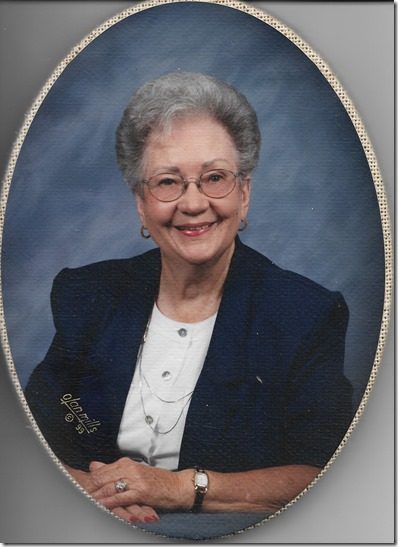 It seems the idea was suggested by Taylor Publishing Company to the Jennyslippers, organized in 1981 as the women's division of the Muleshoe Chamber of Commerce. It was intended to be a moneymaker for the book company, naturally, but the idea was intriguing. Members accepted the challenge, and as best as Billie could remember, work began on the book in 1986 and was completed for publication in 1988, which was then, and still is, a huge accomplishment! Three-hundred and 86 pages of text and photos, and a ten-page index pulled together in two years or less to be ready for publication? Yes, HUGE! Local citizens and families were invited to write and contribute their family histories along with photographs, but all that had to be retyped and proofread by someone. Covering the history of Bailey County from 1918 to 1988 is no mean feat, and historical vignettes and old photographs had to be gathered and documented. What wasn't turned in that the committee thought needed to be included had to be researched and written by someone, usually committee members. Ads and histories from local businesses were collected. And remember, all this was done before the days of word processing and Internet research.
I was told that while working on the project, Vivian practically lived at the Muleshoe Public Library where she and Muleshoe librarian Anne Camp devoted countless hours to researching and compiling information. Numerous trips were made to county cemeteries, title offices, real estate offices, and the court house to piece together and fill in when information was missing or in question. Muleshoe is the county seat of Bailey County, so at least that resource was in their back yard, which might have helped.
Along with Vivian and Anne Camp, the other people who gave of their blood, sweat, and tears, not to mention untold hours of time, to make the book a reality were Billie Downing, Bobbie Harrison, Nelda Merriott, Margie Merritt, Donna Kirk, Kathryn Taylor, Pat Moore, Neva Gray, Evelyn Harris, Sandy Robinson, Evelyn Peat, and Jesse White, the consultant from Taylor Publishing Company who worked with them. This was the list I was able to piece together; if you should be on it and aren't, please accept my apology. No one was left off intentionally.
Apparently a contest was held to choose a name for the book. Local educator Bill Taylor, no relation to the publishing company, had the winning title- Tales and Trails of Bailey County…the first 70 years. I don't know what the prize was, but I suspect it was a free copy of the book.
When local families were invited to contribute their stories, but declined, I was told Vivian got rather upset with their lack of enthusiasm and dedication to the project! And while she didn't confront me about it, I suspect she was upset with us, too, for not adding our story to the pile. We had moved to Muleshoe in 1980, and I guess I either didn't really understand the concept of the book or was so tied up with job and family that I failed to turn in our story. I was told that some people thought you had to be old-timers to qualify, which we certainly weren't, or had to live in Muleshoe proper and didn't turn in their family histories, either. And that's a shame, because everyone's history plays a part in the big picture.
But what a wealth of history did make the book. I was fascinated leafing through the pages and coming across all kinds of wonderful old pictures, like the one labeled " First train to come through Muleshoe," and a host of other firsts shown on page 68. All the historical markers relating to Bailey County are on page 4. I read about the Muleshoe Wildlife Refuge and scores of families I have come to know in our years here. All the local communities like Baileyboro, Bula, Circle Back, Enochs, Fairview, Goodland, Old Hurley, Longview, Maple, places kids may hear their grandparents reminisce about but don't exist in the same way anymore, are included in the book.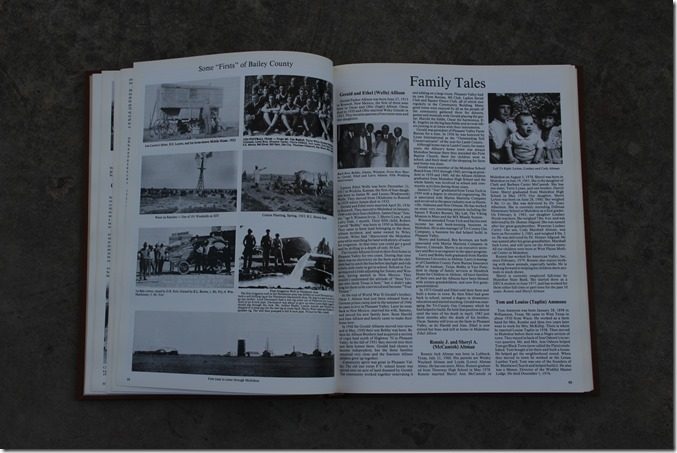 And I could go on and on, but I won't. That's what the book is for. At the time, everyone who contributed a story was encouraged to buy a copy of the book, and of course copies could be purchased even if you didn't have a story in it. And for a small fee your name could be embossed in gold on the cover to personalize your copy. The books are still for sale at the Muleshoe Heritage Center's office and at the Heritage Center's Thrift Shop. Copies for public use and reading can be found in the Muleshoe Public Library, the Muleshoe High School library, and probably in the Watson Jr. High library.
So there are copies out there just waiting to be read, thumbed through, and discussed. Check the libraries; check with your friends; consider buying a copy for yourself! There are other sources of information besides the Internet and Google, you know.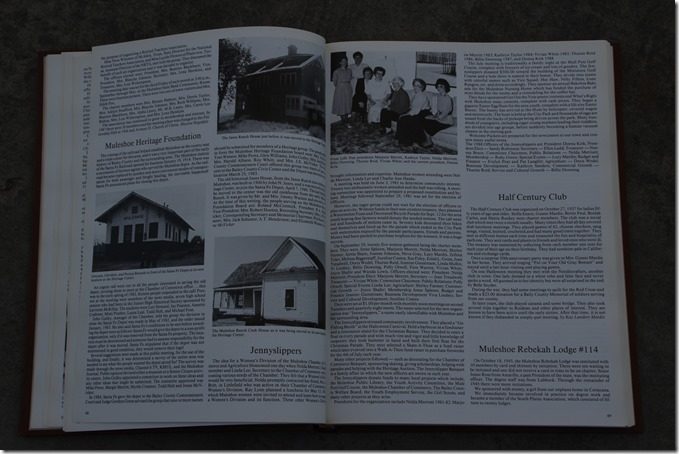 Get out there and read about your town. Or just to absorb some history and appreciate the way things used to be. You'll be amazed at what you learn.
My thanks to all the people I called and bothered for information for this story-Magann Rennels to start with, and especially Billie Downing who provided the answers to many of my questions. Also to Sheila Stevenson for a picture of Vivian, who just happens to be her mother-in-law.
Bailey County History Book Committee, Muleshoe, Texas; Tales and Trails of Bailey County…the first seventy years.Taylor Publishing Company; 1988.