I spent the day Saturday at the San Antonio Garden Center with other cactus lovers from around the state to attend the Texas Association of Cactus and Succulent Societies' Fall Seminar and thoroughly enjoyed myself. I may know more about cactus and succulents than the average person, but there is still so much to learn, and it always helps to learn from experts in the field. I am still in the process of identifying the myriad plants that fall into the cactus and succulent family, not to mention how to pronounce them correctly, so I always come away from these meetings armed with more information and a desire to add plants to my collection.
I arrived early enough to check out all the vendors who had brought plants to sell and managed to limit myself to only two purchases.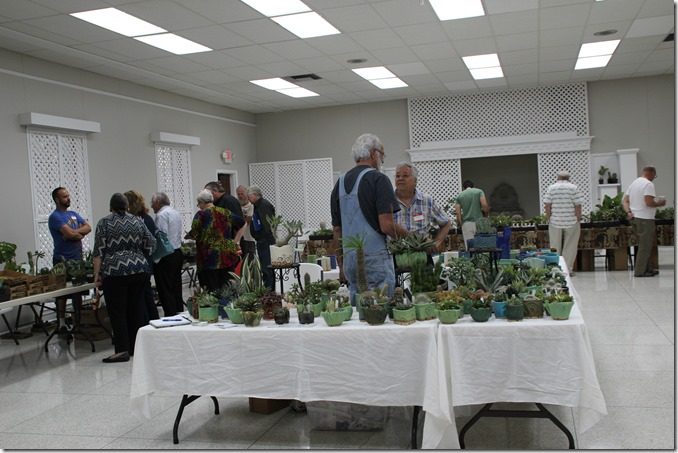 I caved in for this pretty little variegated dwarf agave isthmensis and a turbinicarpus lophophoroides, no small feat since they were all so seductive and call my name to add them to my collection! But since I am trying desperately to downsize, anything I add has to be something I don't already have; you have to understand that cactus lovers are not above adding another specimen of a favorite to their collections, so I had to be strong. While I do have agaves, I don't have this one, and it doesn't get huge, so I allowed myself the indulgence. And I don't have this particular cactus. So there you are.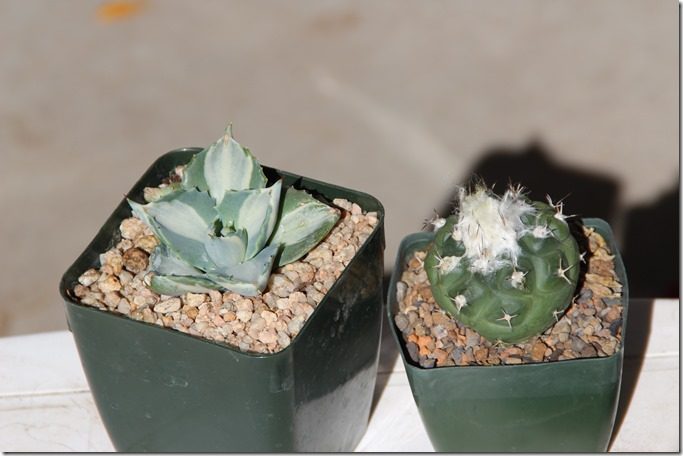 The first speaker, Jeff Pavlat from Austin, needed to depart quickly after his presentation, and I wasn't fast enough to get a picture of him or any of his slides. He shared his trip to the Mojave Desert with his pictures of all the Joshua trees and many varieties of cholla and other opuntias as well as agaves and cactus that grow there.
Woody Minnich, who lives near Albuquerque, was next, and he shared his recent trip to South Africa and the Richtersveld. His pictures of the many succulents that turn stunning colors when stressed from cold weather were spectacular, which means I will now allow some of my protected succulents feel a bit of cold weather in the hopes of them turning all these wonderful colors, too. The key to this working is knowing the microclimates of your garden and planting the appropriate specimens in those spots. I have my work cut out for me.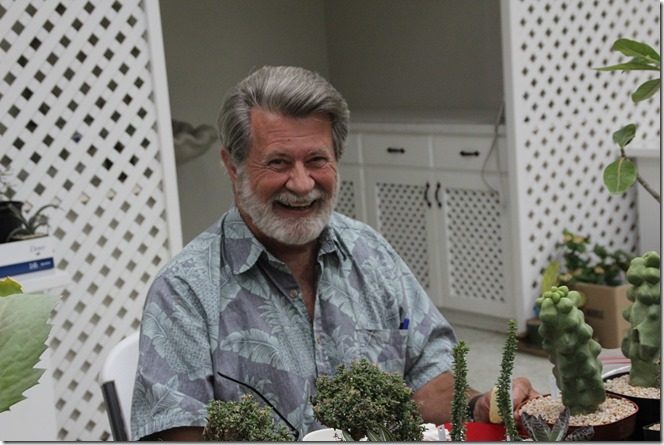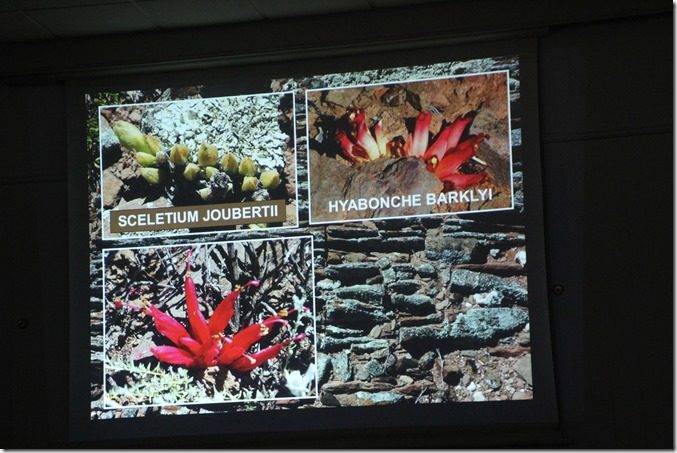 Lunch was provided by the hosting club, the San Antonio Cactus and Xerophyte Society. and it was quite tasty- homemade sandwiches, chips, potato salad, and cupcakes. Many of us enjoyed our food outside in the very pleasant outdoor garden next to the building.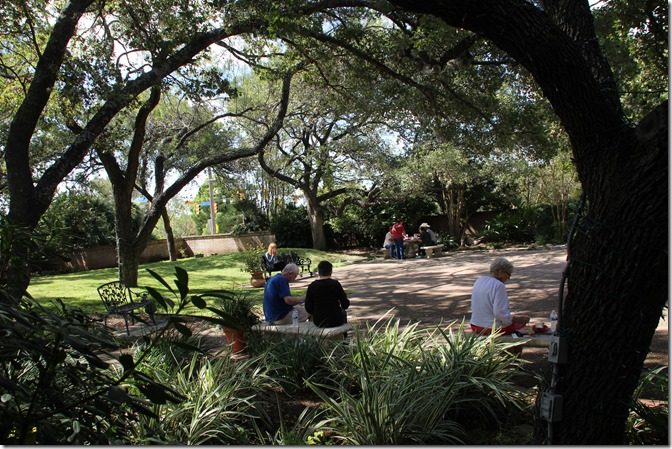 Steve Lovecky from Hubbard, Texas, in Hill County near Waco, gave us a visual tour through West Texas, including Big Bend and the Trans-Pecos areas of Texas. We learned all about our native Texas cactus and heard fun stories about his adventures looking for cactus on private ranches.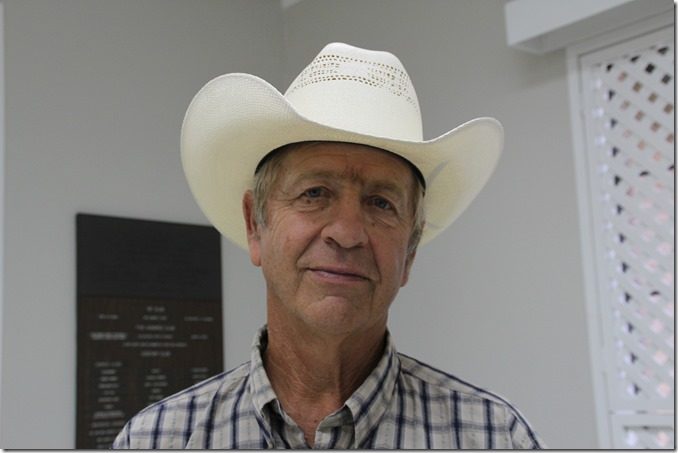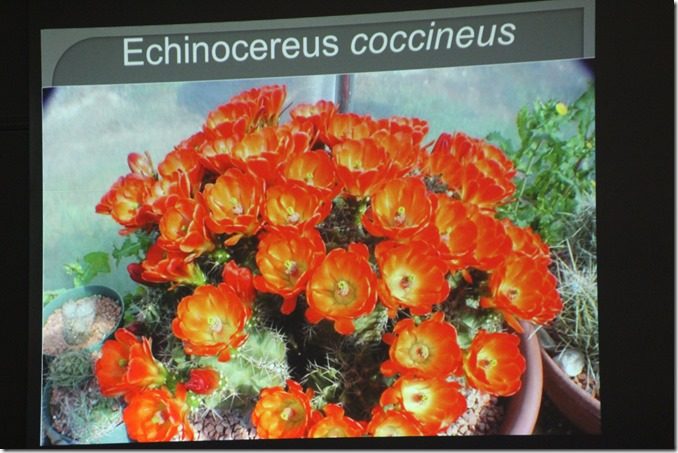 After all the sessions, Mike Rupe, Executive Director of TACSS, presented awards and certificates of appreciation.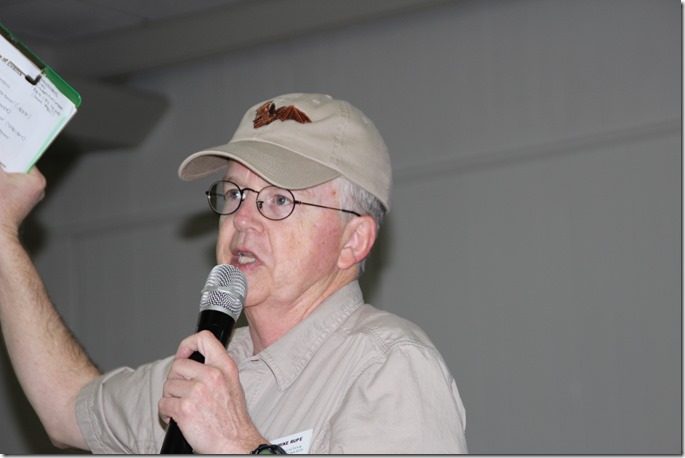 Barbara Schulze from the San Antonio club won the 2016 Texas Grand Champion Cactus award for her Mammillaria gemminispina crestate. TQCSS President Pete Stankunis from the North Texas CSS presented her with the award.
Richard Stamper and his Euphoriba francoisii from the Houston CSS received the 2016 Texas Grand Champion Succulent award, presented by Pete Stankunis.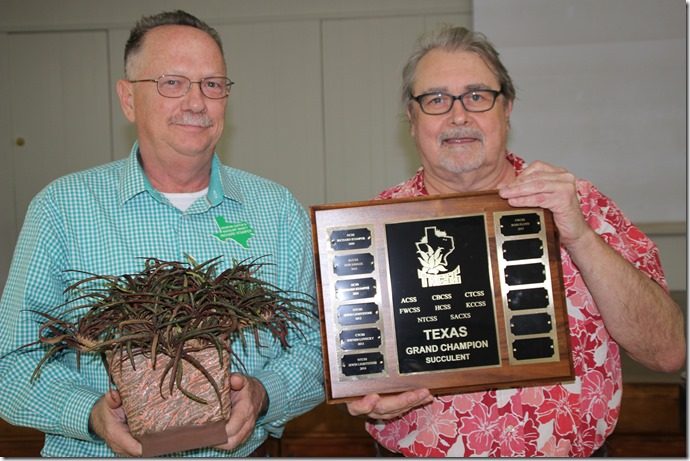 Ross Floyd, a member of the Fort Worth CSS "belatedly" received his 2015 Texas Grand Champion Cactus and Champion Succulent awards from Pete Stankunis.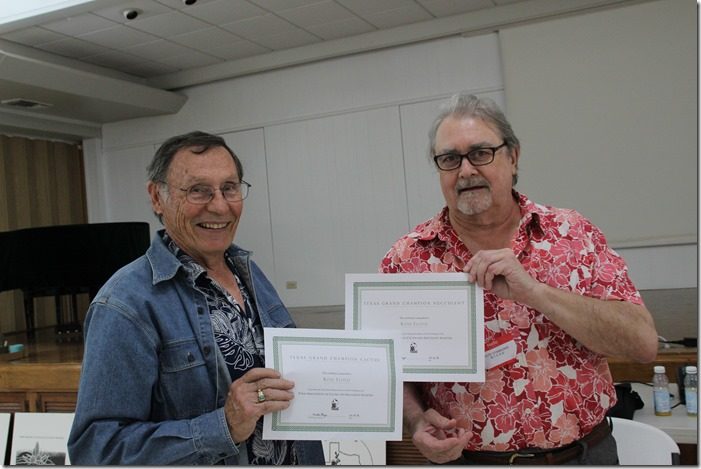 President Stankunis also honored Paul Kibler with a certificate of appreciation for his work as the Planning Committee Chair for organizing this 2016 TACSS Fall Seminar.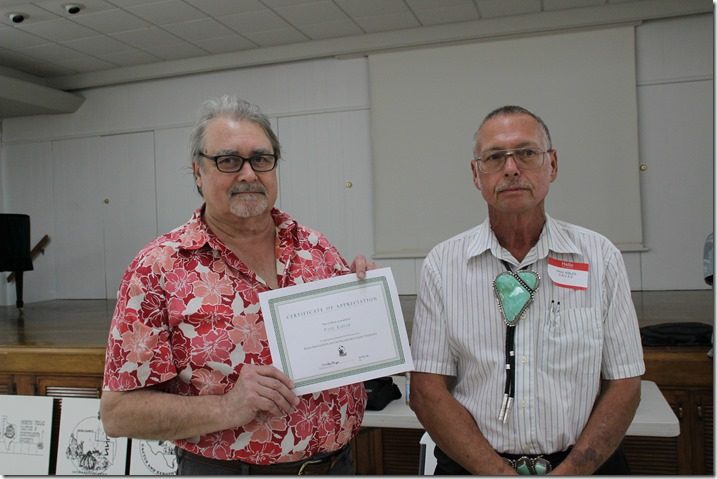 Planning committee members Barbara Schulze, Paul Kibler, Elisa Kibler and Linda Draper, all from the San Antonio club,  were also recognized for their work putting together the Fall Seminar, a job well-done.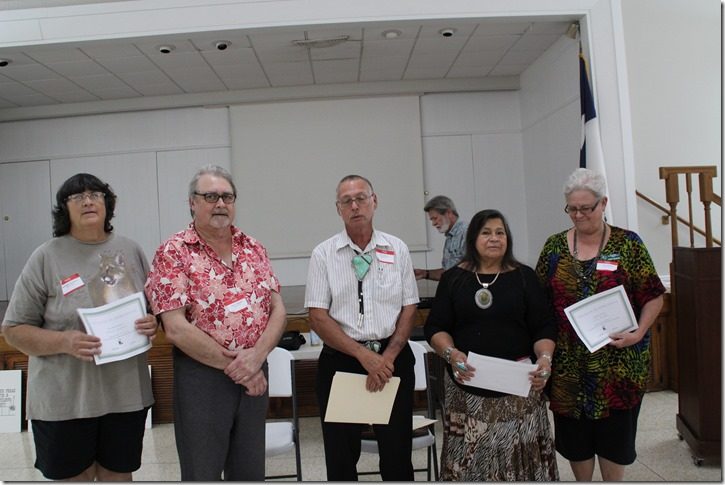 Then  it was time for the plant auction. Attendees were encouraged to donate cacti and succulents for this auction, the TACSS's primary fund raiser. A nice variety of species were offered, some rather rare and others pretty usual, but all nice specimens.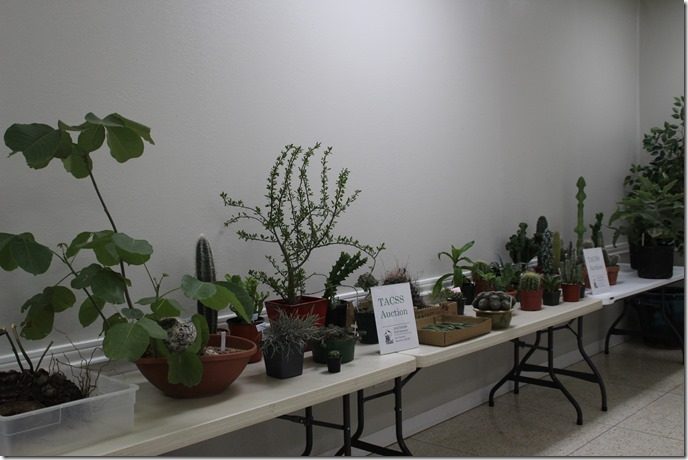 Woody and Steve served as auctioneers. Some of the plants went for as much as $100, but many bidders made out like bandits and bought themselves some real bargains. Lots of nice plants, but I managed to sit on my hands through the whole thing-trying to downsize and all. I even donated three items. The auction was a success even without a purchase by me; the total raised came to $2,226.00, a nice sum, I must say.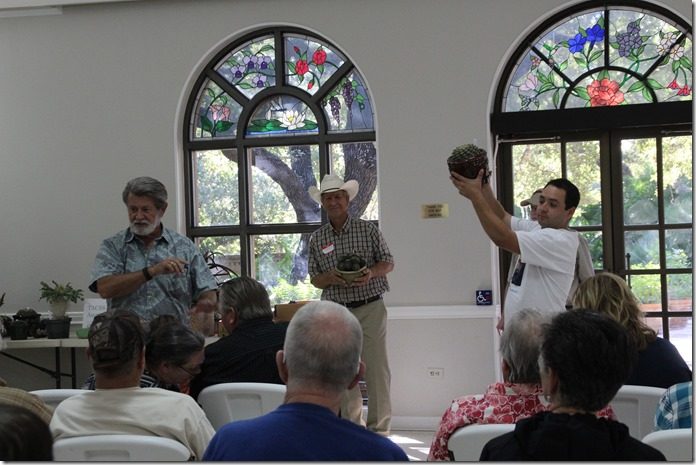 A banquet finished off the evening's activities at Tomatillos, a popular San Antonio Mexican food restaurant. Barbara Schulze shared pictures of local collections. I had to pass the banquet, but I am sure it was a pleasant evening.
Sunday a tour of the San Antonio Botanical Garden was offered and a greenhouse tour and plant sale complete with a spaghetti lunch finished the seminar's activities. I couldn't stay for that, either, probably a good thing since I would have been tempted to come home with yet more plants!
I was well pleased with the seminar, even if I had to miss some of it, but next time I will try to be available for all the events. If you are a cactus and succulent lover, or think you might like to learn more about them, Google TACSS for upcoming events and plan to attend. There is no registration fee, although for a very small fee, you can join the association like I did and then be privy to upcoming events as you receive the newsletter.
I suspect one visit and you will be a convert. But don't take my word for it-plan a road trip  to one of the seminars and be amazed at what you learn. If nothing else, it will be a pleasant diversion and you will meet interesting people and see amazing plants.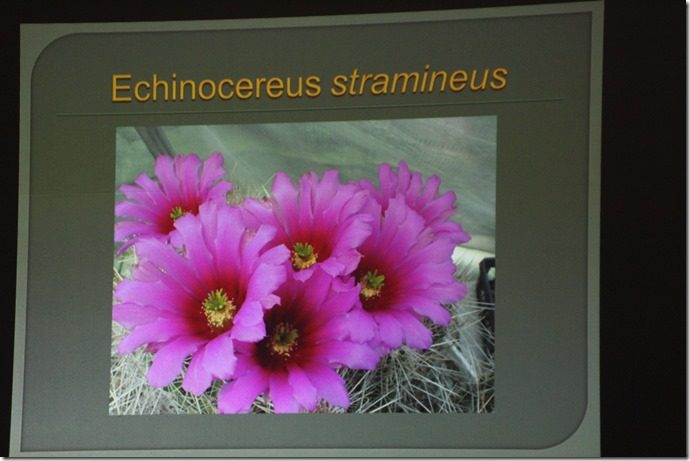 The 2017 Fall Seminar will be held in Houston and sponsored by the Houston Cactus and Succulent Society. Plan ahead. See you there.
My thanks to Mike Rupe for his help with information for this article. I also want to thank Woody Minnich and Steve Lovecky for taking the time to listen to my novice questions and concerns. Thanks to Jeff Pavlet for his presentation on the Mojave Desert, even though I failed to get pictures to go with it. And my compliments to the cooks who provided the delicious noon meal!