Every year about this time the wildflowers come out in the Hill Country, and every year I tell myself I have enough bluebonnet and paint brush pictures. Every year the little devils seduce me once again, and I take yet more pictures. But this year I think I took as many pictures of the emerging mesquite trees as I did flowers. And I visited Long's Fishing Camp in KIngsland so I wouldn't have to make a driving hazard of myself taking pictures from the side of the highways. Which led to some interesting new subject matter. But we'll get to that in a minute.
Bluebonnets seem to always be beautiful on the side of roads like this, the ones with no shoulder on which to park while taking the shot. So I love finding a road less-traveled where I can just brazenly stop in the middle of the road and take the picture. Like this one.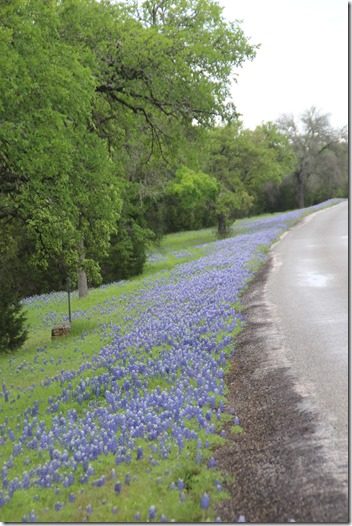 On occasion, however, the photographer without a friend who owns a pasture for her to roam about for pictures, comes across a photo op she can take without daring cars to hit her, like this shot which was in a wide section beside the highway. I was able to park in a drive-way by a closed building and trotted around looking for the perfect shot. It was only later when I passed the area again that I saw the No Trespassing signs that I didn't bother to see in my haste to get this picture…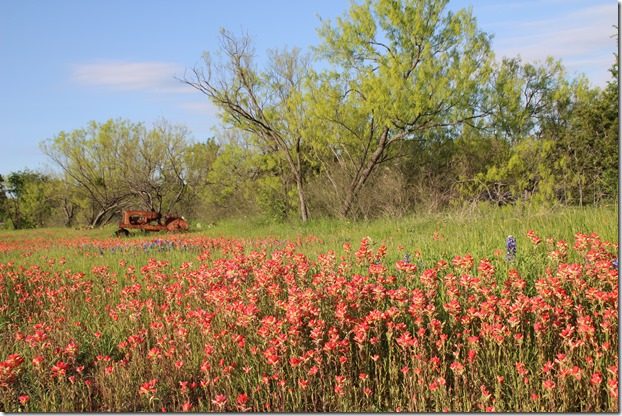 But notice the bright green of the mesquite tree. The trees were just as beautiful as the flowers. Like these.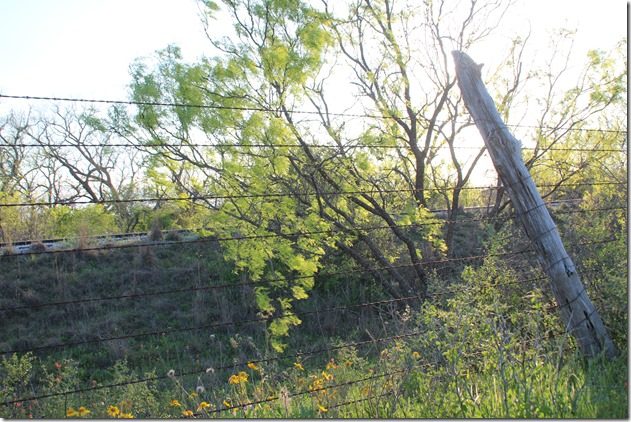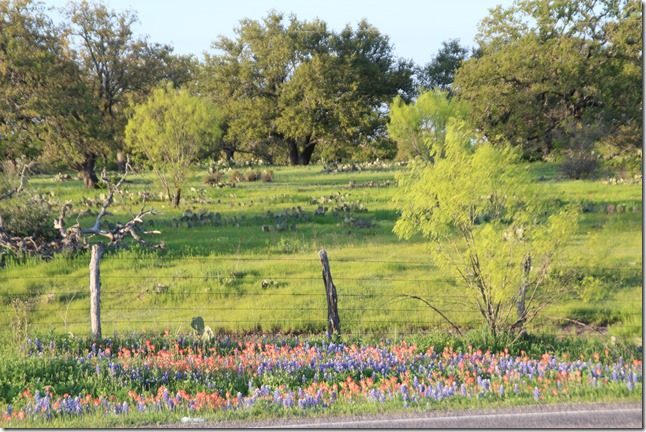 This oak tree with flowers was another shot I managed to take by pulling off the road and into a parking lot.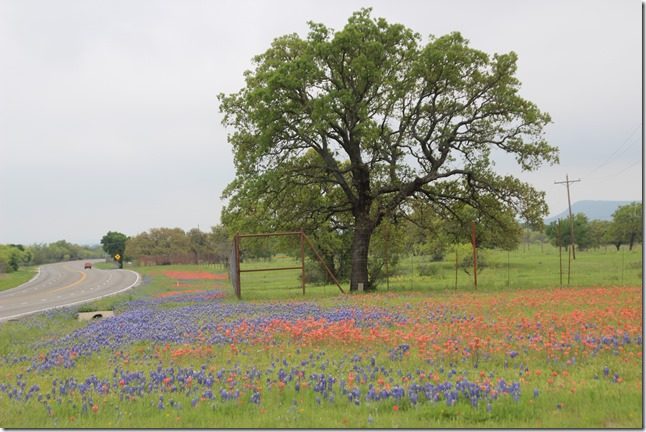 Toward the end of the week I paid my entrance fee and spent some time in Long's Fishing Camp, not fishing but enjoying some new pleasures of the springtime trip, like this peacock who strutted for me when I checked in. His backside is almost as interesting as his front plumage.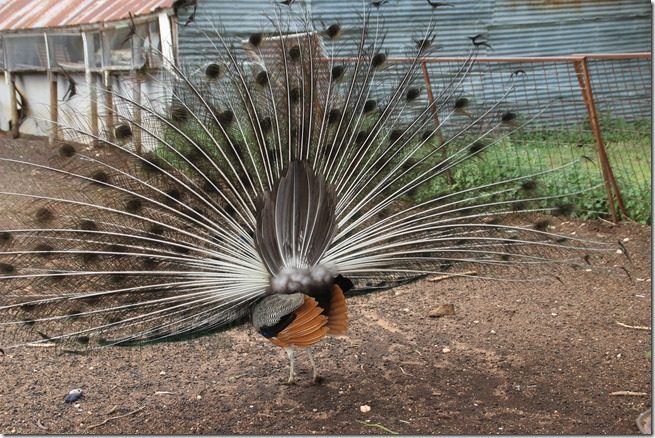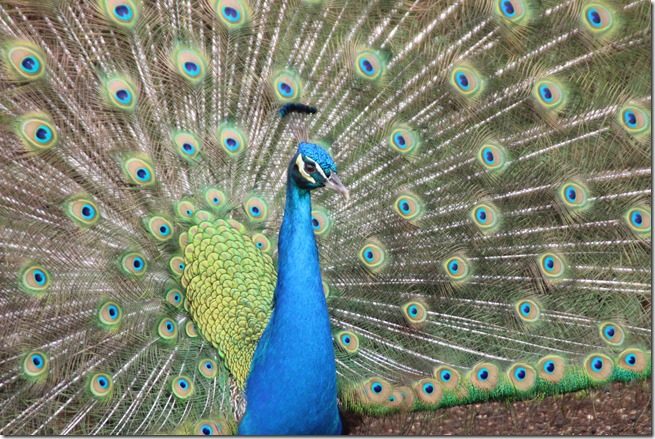 And then there were the goats, their kids flitting about, just as seductive as the flowers.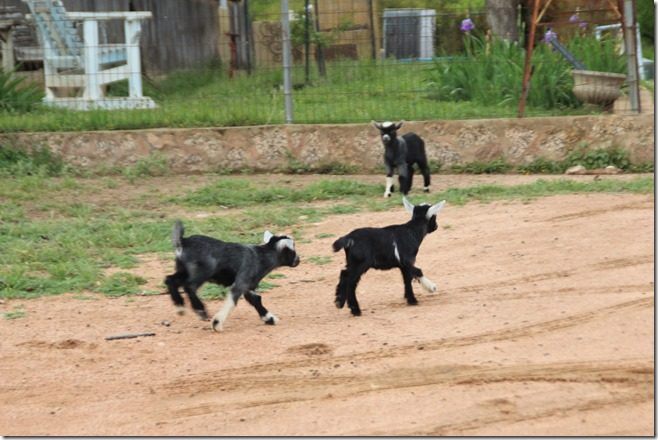 Yellow flowers were also evident this trip.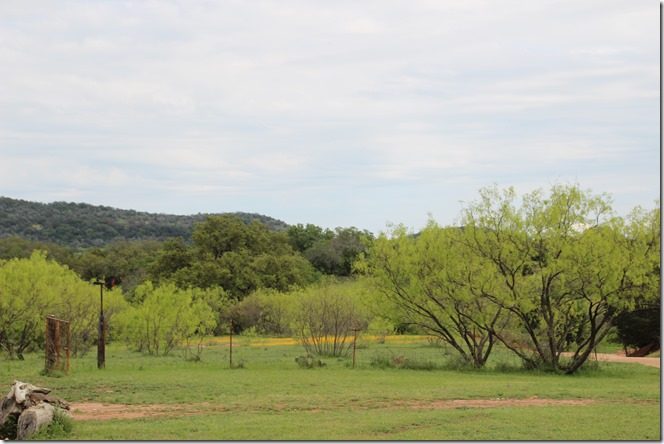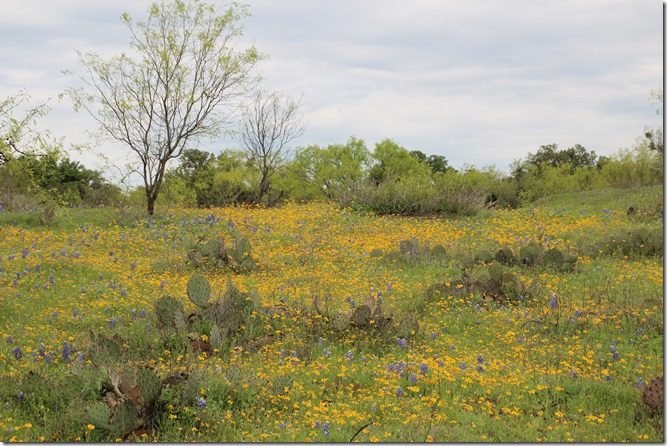 In my ramblings I climbed up an outcropping of granite and had this nice view. No flowers, but look at all that green.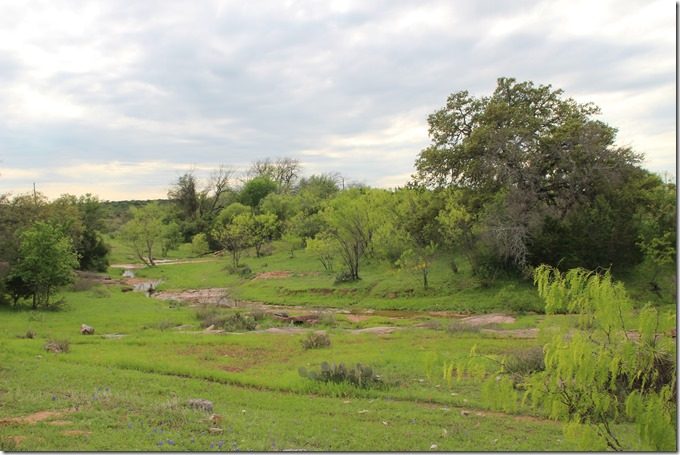 While up there I saw these rocks covered with moss and lichens which reminded me of something Andrew Wyeth might paint.
I also wandered up on this peaceful scene.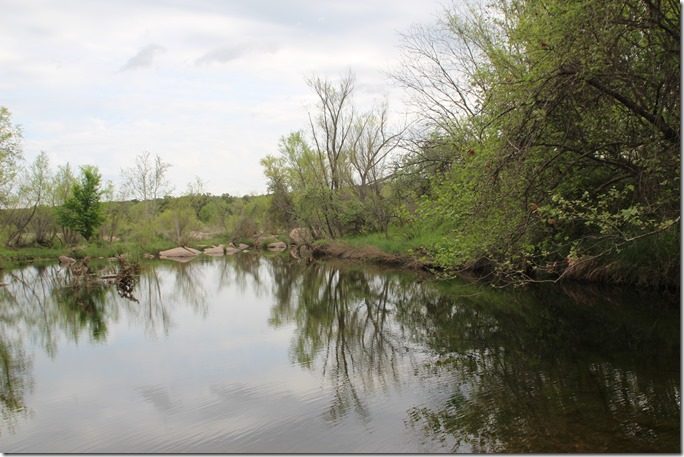 As I had driven in I noticed an abandoned railroad track immersed in bluebonnets and told myself that I would take pictures of that on my way out. As I left, vehicles were parked there and a woman sitting in one rolled down her window as she saw me park and get out with my camera. She was there with a group taking, you guessed it, pictures of the bluebonnets, of which she had taken enough and had come back to the car. But turns out there was something of a surprise about a half mile down the track which was also picture-worthy.
And that will be my page-turner to get you to come back next week.