After we lost Sophie, Poopie, and the Peaches within five months of each other, it was as if we were being punished. All good cats do go to heaven, I am just sure, so I guess there were some positions to fill up there. But it hurt. We didn't look for replacements because it is a given that fate takes care of filling those vacancies for us. We were down to two, Perla and Minnie, when Caroline came into possession of a young Siamese cat. She knew she wouldn't have to work very hard to convince me to take this cat since she knew I like Siamese, plus the fact that she has about ten cats, and I knew her cat boat was way overloaded to add yet another one.
So, on January 3rd, Miss Siam came to live with us.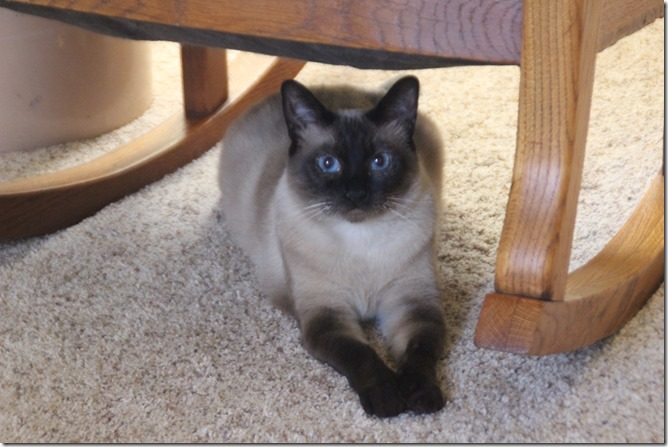 Caroline nor I have any idea what this cat's circumstances were before Caroline came into possession of her, but they couldn't have been happy. To begin with, she had just suffered a miscarriage and was scared to death of all of us, not to mention the two strange dogs she now had to live with. Terribly skittish and apprehensive, she immediately dove under the bed in Colten's room and was perfectly content to stay there. I slept in that room with her in the hopes she would venture out. And eventually she did, but it was up and down, back and forth all night.
That was her room for the next two days, and she would have stayed there forever, I guess, but no sooner did she take a deep breath and relax a little, I took her to the vet to take care of the miscarriage issues and be spayed so she wouldn't have to go through that again. I would have done that anyway; the fact that she was passed around before landing with us tells the tale-the world doesn't need more kittens or cats with no home.
So when I brought her home this time, I decided she needed to be in my room since I spent my time there, and it would give us a chance to become friends. So her next hidey-hole was behind my t-shirts hanging in the closet: quiet, dim, out of the flow of traffic, and safe. A morning or two later I walked in, and there she was, comfy and content in the rocking chair. She had decided it was safe to move out of the closet and into the room.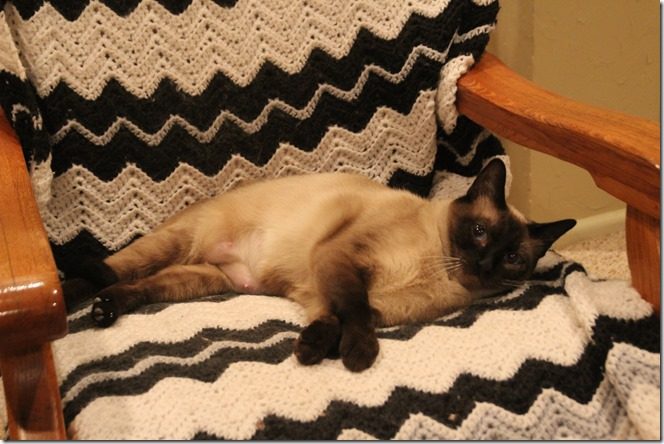 Now she was either in the rocking chair or under the rocking chair and would meow in a squeaky little voice when I would come in the room. Then she discovered the bathroom, so now she plays in the dry shower and sleeps on top of the clothes hamper. The only problem was that under that chair she would flip over on her back and scratch the bottom of the seat. I bought a scratching pad which she would have nothing to do with, so I carted her off to the vet's office again to be declawed. I don't like to do that, but it was obvious the scratching would continue, the chair would be badly damaged, and since it is pretty much a done deal that she has no desire to visit outside, I figured we might as well get it over with. I apologized profusely for subjecting her to yet another traumatic experience and promised that she wouldn't have to do that again for another whole year when her shots are due. I guess she forgave me because we have become fast friends. In fact, she really misses me when I am gone and sits at the door and meows down the hall looking for me.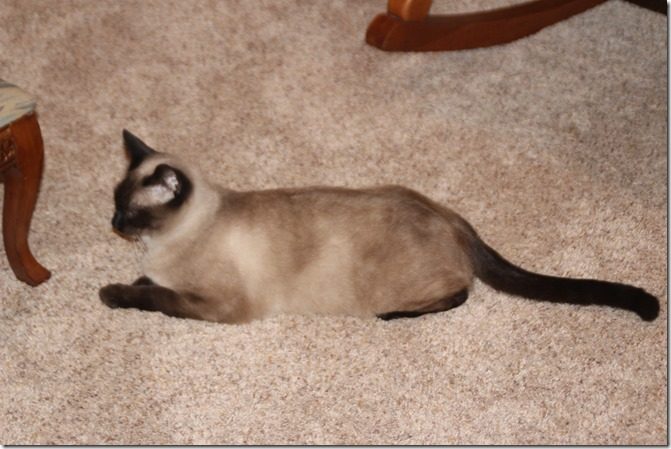 Both dogs have been good sports about sharing the house with another cat, and Siam has made friends with them, but she is still unwilling to spend any time in other rooms in the house when they are inside. But that will come; it will just take time.
Poopie's legacy lives on in what is now Siam's room. She has her own handy littler box, the same stool to use as a stepping stone to get to the food and water bowls, Poopie's bowls. The chair has become hers. She hasn't, however, embraced the bed by the window like Poopie did, and I don't know that she ever will. She doesn't help me at the computer yet, either, but in time I do think that will happen-at least I hope so. Typing is not as much fun and no challenge at all without her help.
In the dry winter weather, the main problem we are having now is static electricity! We shock each other when I go to pet her, and she doesn't understand why the spark flies between us. I try to lose the electric current by touching something else or at least touch her on the back instead of the head so she won't think I am trying to hurt her.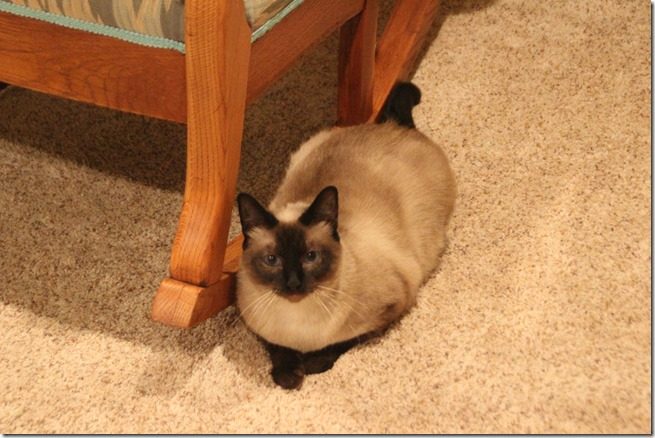 So. Things are sort of back to normal. In finding a safe home, Siam has filled a void left by sweet Sophie, the Poopie Cat, and my dear little Peaches. She is healthy and content, and we are all falling into our routines with her. She has made her place in the family.
Life is good.