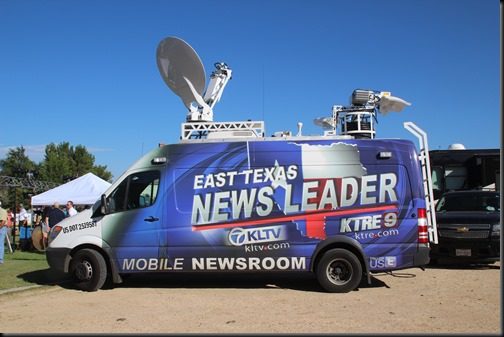 Every summer KCBD-TV out of Lubbock does something they call their Community Coverage Tour, which involves traveling to some of the surrounding towns in their viewing area and broadcasting the 6 and 10 o'clock news segments from a popular location within each town selected. They came to Muleshoe in 2006 and 2012 ("KCBD Comes to Muleshoe," July 24, 2012); this year it was our turn again. KCBD sees the tour as a way of thanking the smaller towns for their viewership and to let them know they are an important part of their audience.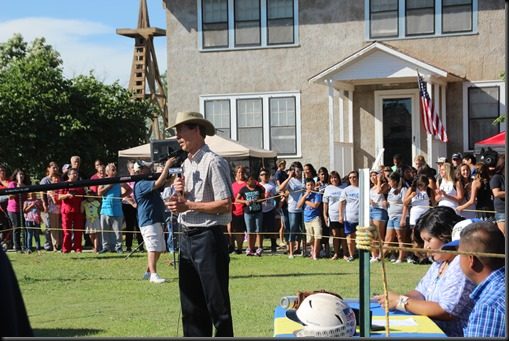 The crew drove over early the morning of the broadcast and took the day setting up at the Muleshoe Heritage Center and getting ready for the 6 o'clock news, but the crowd starts to gather much earlier in the afternoon, milling about, visiting, and watching what it takes to put on a remote-broadcast news show.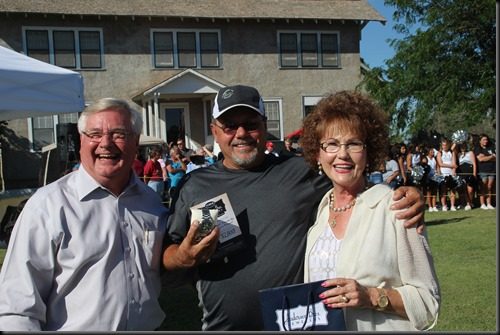 At noon, Anderson Brothers Jewelers in Lubbock started posting clues in their Finders Keepers Treasure Hunt, which they do in each town on the tour, and this year it didn't take Jackie Wayne Burris but one, maybe two clues to find the winning certificate near his home, next to an historical marker highlighting the fabled XIT ranch. Todd Fields and Ann Winegar were on hand to present his prize, a TAG Heuer watch.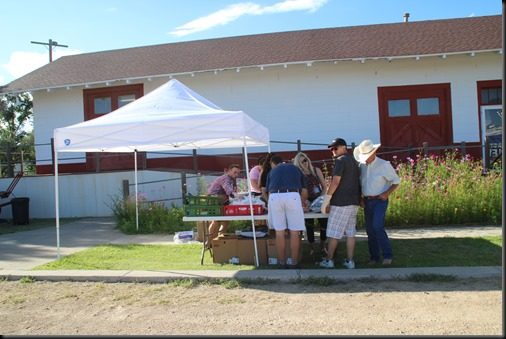 Atmos Energy provided hot dogs during the day,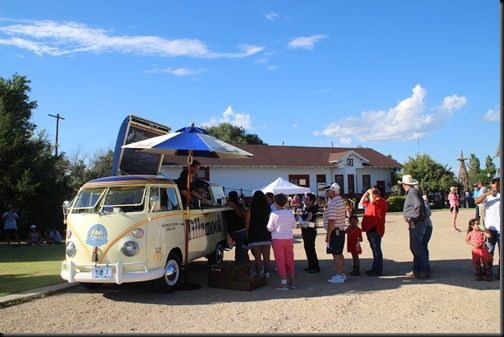 while the Tillamook truck served ice cream.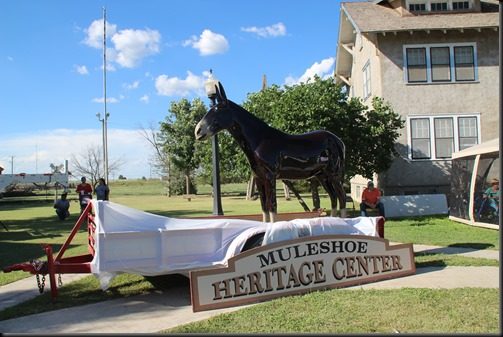 Ol' Pete was there for the festivities, still on the float he rode during the 4th of July parade.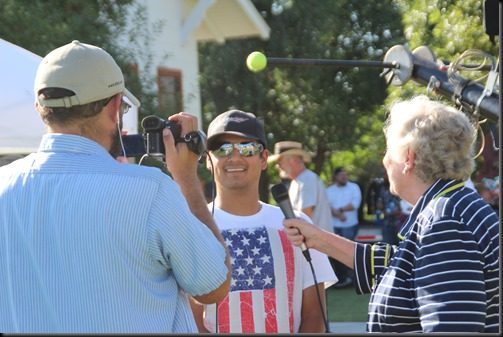 Magann Rennels and son Gilrobert were on hand to grab a segment for Channel 6, Muleshoe's own cable access TV station, spotlighting Muleshoe Mule Nathan Rejino who had just signed a letter of intent to play baseball for Lutheran Christian College.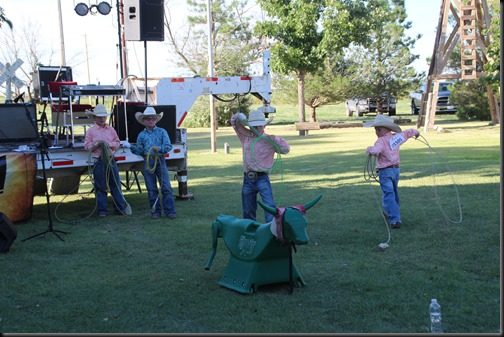 A talent show was part of the afternoon's entertainment, and these little cowboys from the Morris clan put on a heck of a roping demonstration and were awarded second place, first place going to Tracen Angeley who played his guitar while riding his unicycle. Alas, I missed his performance, so I have no picture to share with you.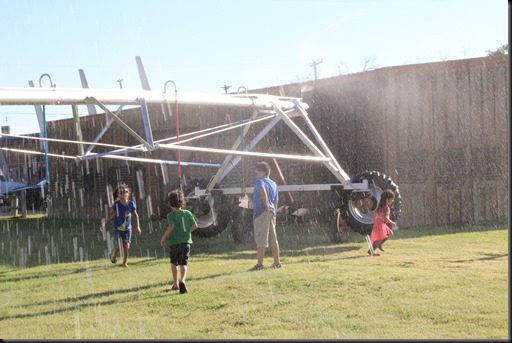 A local irrigation company provided a sprinkler to keep the kids wet and cool, and as you can see, they made the most of it.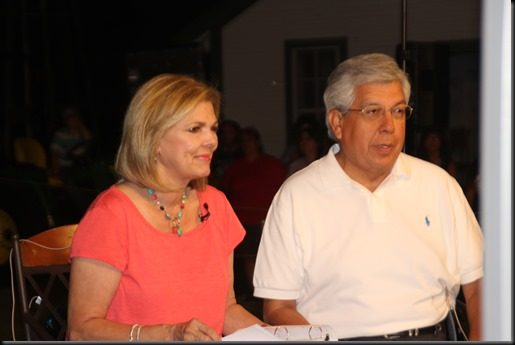 Karin McCay and Abner Euresti were on hand, once again, to anchor the news,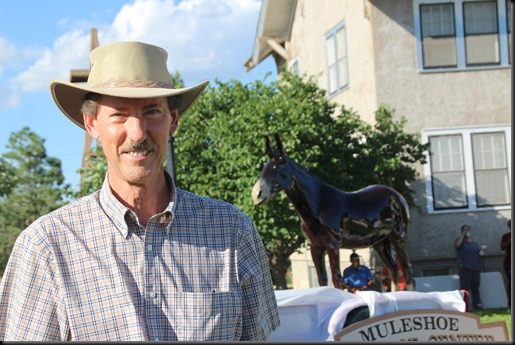 John Robison supplied the weather, and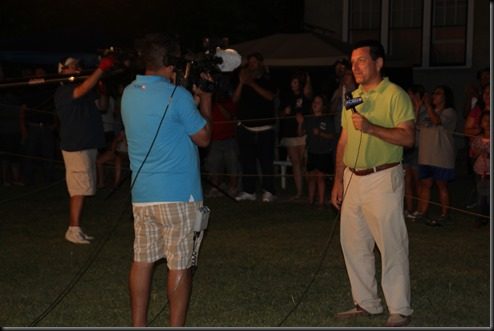 Pete Christy reported on sports. Pete also helped out with the bingo games.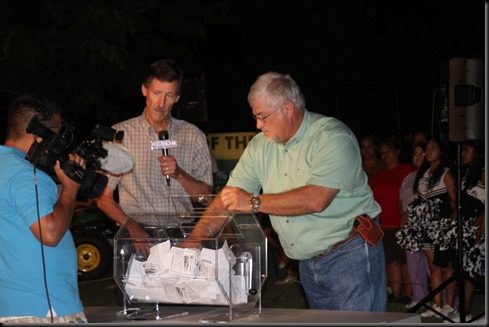 John helped Larry Curry, general manager of Ray Lee Implement Company in Muleshoe, draw the name of one of five semi-finalists in the tractor to be given away, compliments of Ray Lee. Chris Mardis' name was drawn that night, but someone from Lamesa won the tractor. The young man doing the camera work, Ruben Villarreal, was also behind the camera when they came to town in 2012.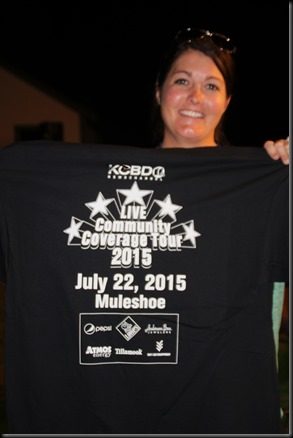 Lindsey Meador, marketing producer, passed out T-shirts commemorating the event. This year's tour also included Ralls, Hale Center, Plains, and Tahoka.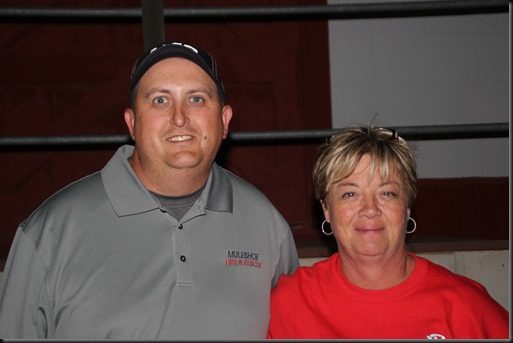 Muleshoe Chamber of Commerce President Gina Wilkerson was our contact person for the event, and she said good friend Scott Simmons was on hand, as always, to help her however he could.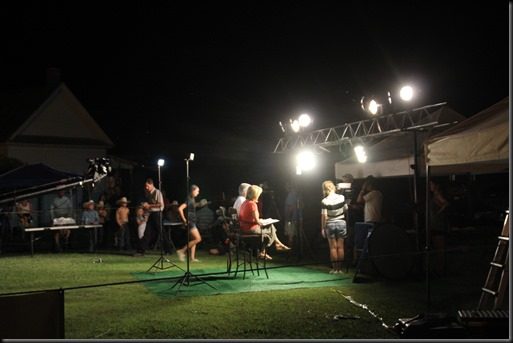 Watching a news cast up close and personal is considerably different from what we see sitting in front of the TV set, so this is always a neat experience and makes for a fun evening.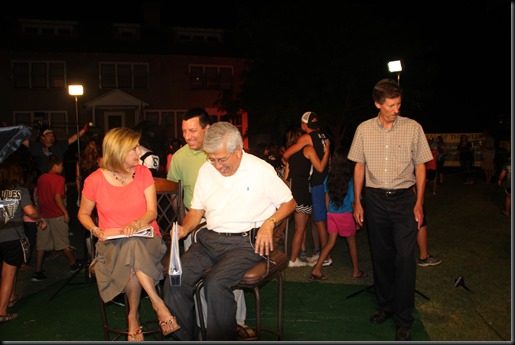 So, if you missed it this year, hang around, and just as before, I'll bet in a few years they will be back and you will have another chance to see what it takes to put on a live broadcast. And you might even win something.