As I mentioned on Facebook the other day, the cactus blooming season is upon us. All of the pictures I am about to share with you were taken on the same day, April 29th. I found one lovely surprise after another as I walked through my outdoor cactus garden. And the rainbow cactus, the echinocereus rigidissimus, which are probably the ones I have the most of, and whose blooms come in myriad forms but always have outstanding pink flowers, haven't even hit their stride yet. It's a treasure hunt, discovering one prize after another. Look at what I found during just one day.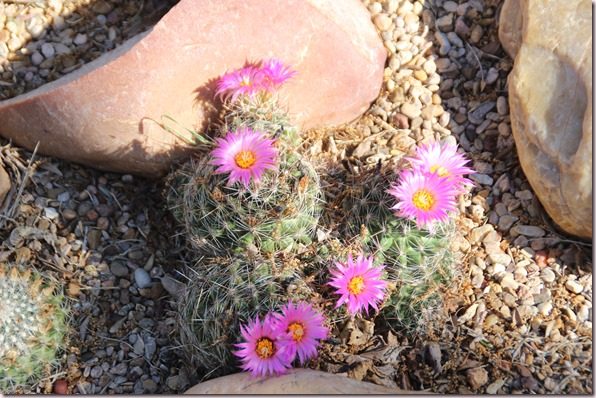 Cactus from Wyoming. Most of the Wyoming cactus bloomed earlier, but several surprised me with flowers now.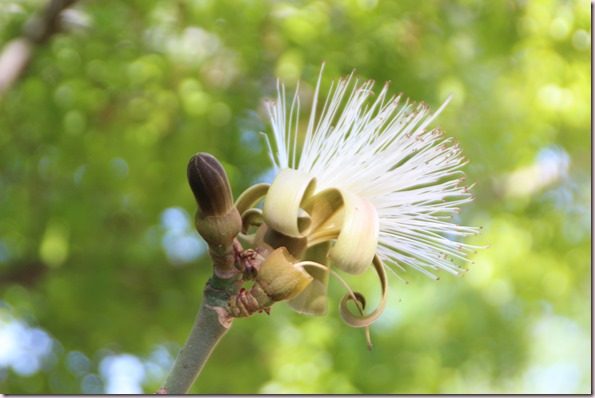 The bombax tree, which actually had at one time six flowers blooming at once. Large leaves will follow.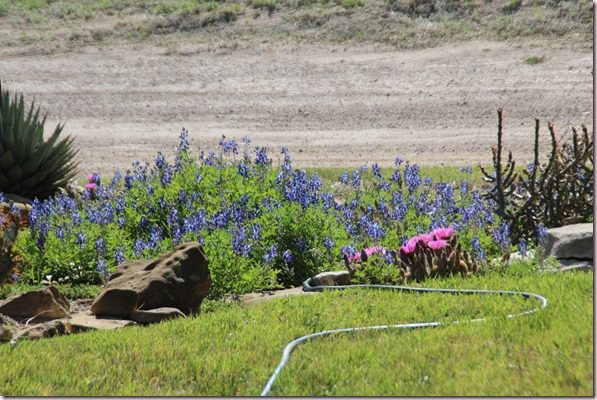 The blue bonnets always look pretty with the first echinocereus ridigissimus, rainbow cactus, adding pink to the mix.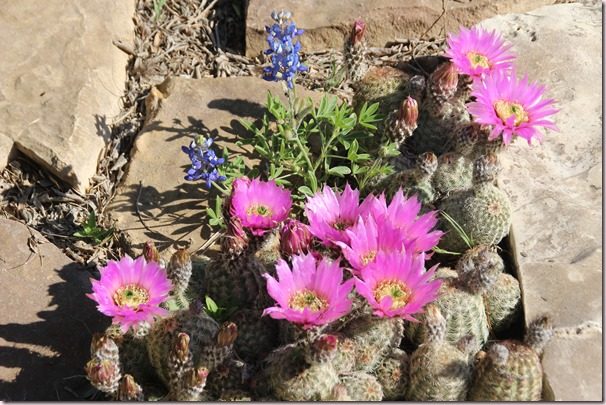 Those echinocereus rainbows up close.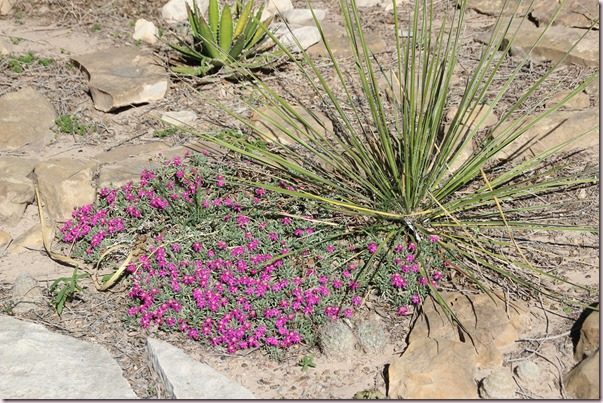 This hardy delosperma is one of the first plants to begin blooming.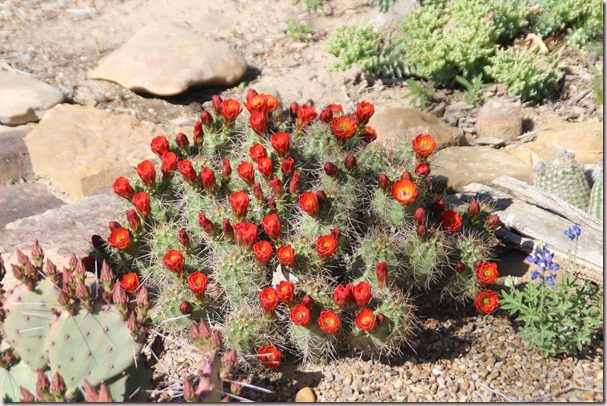 This smaller hedgehog claret cup came from the area around Lake LBJ at Kingsland and has doubled in size since I brought it home. And by the way, it bothers me not one bit to rescue wild cactus which are destined to be bulldozed in the name of progress for some ticky-tacky residential development. And I have owner permission to dig them up.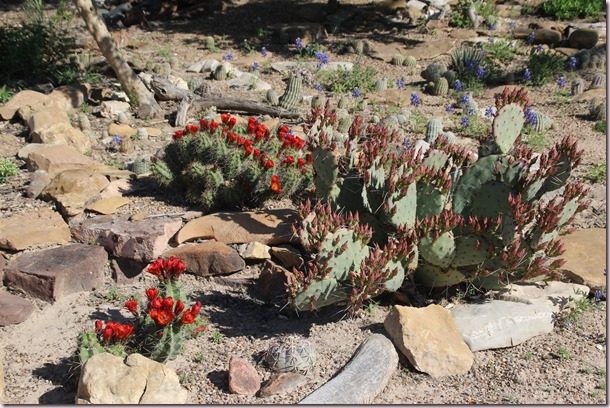 I hope you can see the unbelievable number of buds on this small-pad prickly pear which I have yet to identify and alas, can't remember where it came from. In a few days it will be a mass of yellow flowers and have honey bees working feverishly to collect pollen and nectar from them.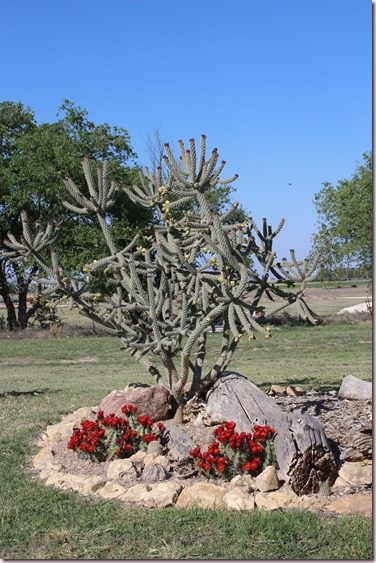 The cholla is heavy with buds, but the red hedgehogs, echinocereus triglochidiatus, steal the show here. Chollas are in the opunita family, which means they are related to prickly pear, even though at first glance they look nothing alike.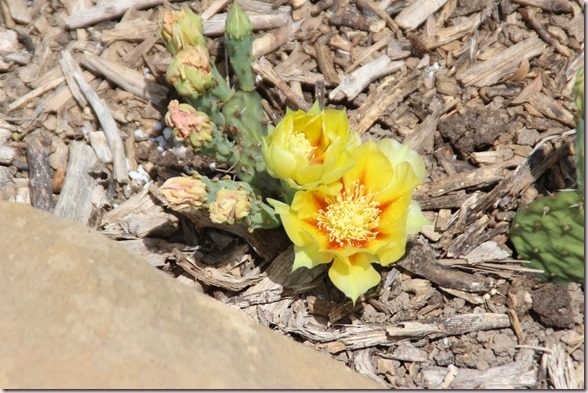 And speaking of prickly pear, this one bloomed also.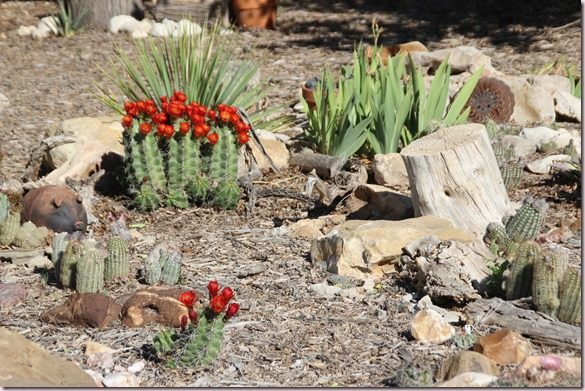 This big hedgehog came from the Fort Stockton area and is a much bigger plant that the others, which were given to me by someone who didn't want them. I am not sure where they came from, but they are pretty, too. But I marvel at the size of the stems on the Fort Stockton plants.


This horse crippler, echinocactus texensis, came from the JD Cage ranch east of Muleshoe and is huge for this kind of cactus. The picture doesn't really show just how large it is; it measures 9 inches across. The little wild daisies came home with it when I dug it up, and I like the way they look dotted around the cactus. I have several different varieties of horse cripplers, each one with different variations in their spines and flowers.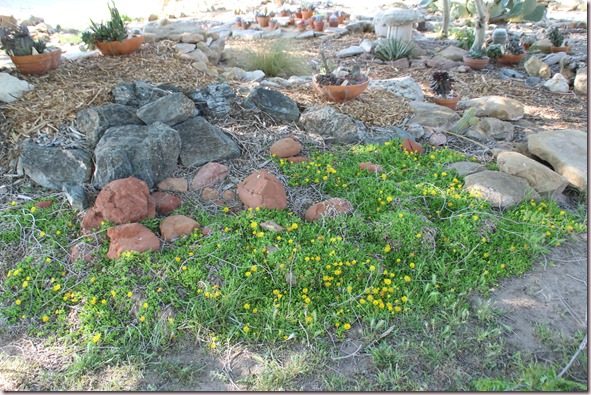 This hardy delosperma turns reddish-purple during the cold months, then greens up and blooms yellow when it warms up. Unlike other delospermas, which are what we usually call ice plants, this one blooms in spring and then is done blooming for the rest of the year.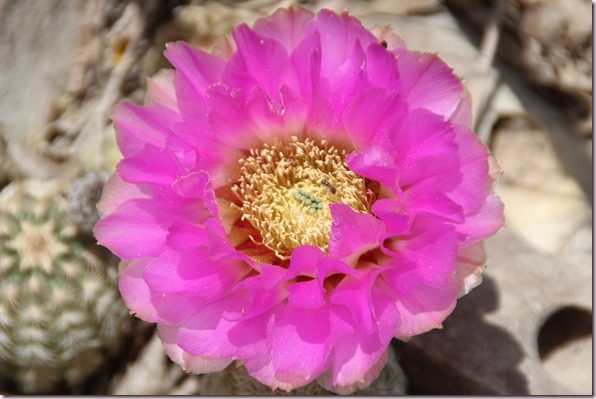 And I could go on and on, but you get the idea. Cactus are such forgiving plants as far as their growing conditions are concerned, and then they reward the viewer with beauty like this.
I think I'll go see what is blooming today.