The 18th Annual ASCO All Star Classic was played Saturday, June 3, at Lubbock Cooper's Pirate Stadium. Judas Reyes, number 22, and Davian McMullen, number 0, were nominated by Muleshoe Athletic Director and Head Coach Jason Richards to play in the game.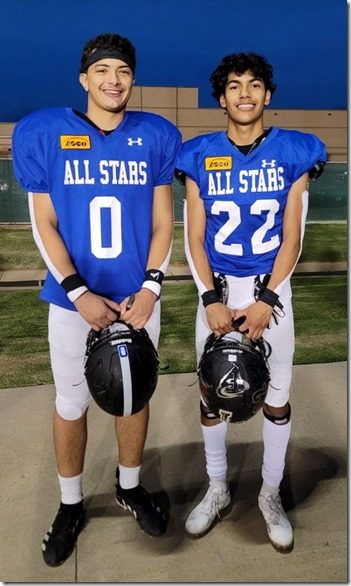 Photo courtesy of Angela Reyes
ASCO, formally known as Associated Supply Company, has twenty-seven companies in Texas, Oklahoma, and Eastern New Mexico. They sell and rent heavy equipment and parts. Johnny Taylor, who works with the program, told me that Brax Wright, CEO of the company, has what's called a "be a blessing" policy, and this company branch picked the All Star Classic game as theirs. It started in 2005 when two coaches, Johnny Taylor of Idalou and James Morton of Midland Lee and previously of Monterey, hosted the first game that would serve two purposes.
The first was to give some talented freshly graduated seniors a chance to showcase their talents and have a special experience. The second purpose was to be a blessing- to raise funds to monetarily assist school boys from this area who have suffered severe football-related injuries while playing or practicing football. Ticket sales and sponsorships provide the revenue to help these players.
A banquet is held the Friday night before the game where players, family, and friends enjoy a meal together. The athletes receive an All-Star watch and plaque. Scholarships to help with college expenses are also awarded to those who submitted an application.
This year's game had to be called during the 4th quarter due to a lightning storm, but our Muleshoe players' Blue team won, 13-0.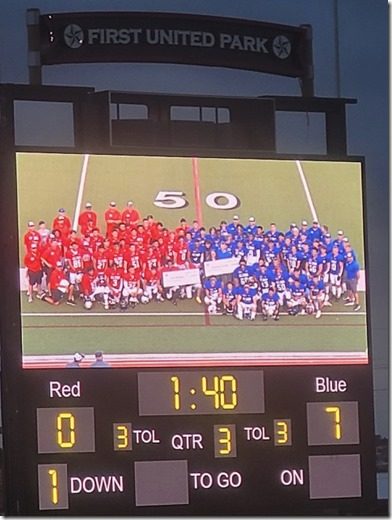 Photo courtesy of Angela Reyes
Good game, Blue!
The All-Star program has grown to include girls and boys basketball games and provided monetary assistance to several area young men. You can learn more about the program and its sponsors at www.ascoallstarclassic.com .
Thanks to Angela Reyes and Coach Johnny Taylor for their help with this story.