The Muleshoe Heritage Foundation and the Muleshoe Chamber of Commerce and Agriculture invited everyone to the Heritage Center Sunday night for fun, food, and a chance to dress up as someone or something else for the night.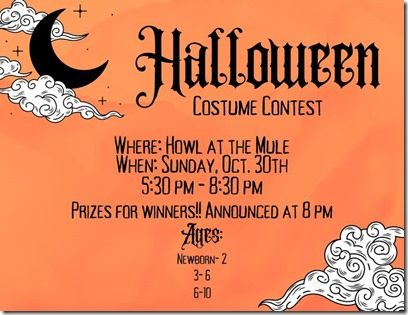 And did they ever! So many activities were going on and so many kids-and big kids and adults- were in costume I had a hard time taking pictures of it all. And I didn't get it all nor did I get everyone's name, but I tried. For example:
The Superman family- Johnny, Daniela, and Harley Moreno.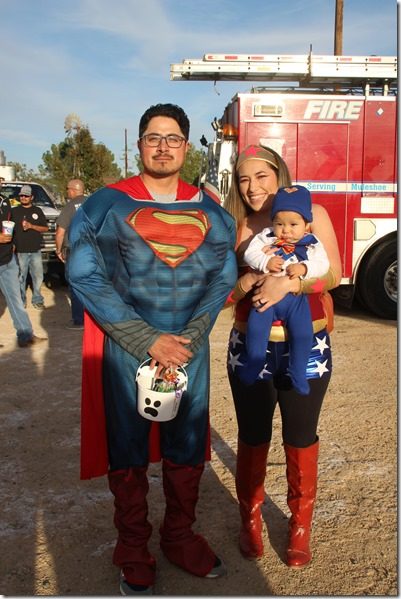 This little dinosaur cowboy was more interested in the activities than sharing names with me. But I checked my messy notes, and I think it's Carson and Carle Price.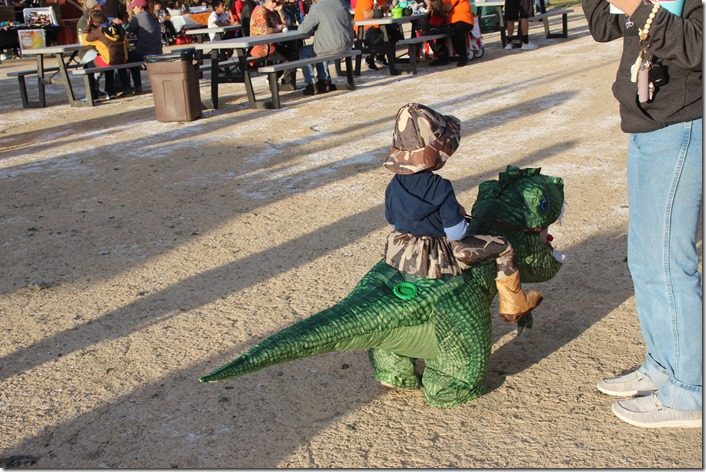 Norma Aguilar and Matel Cruz, I think!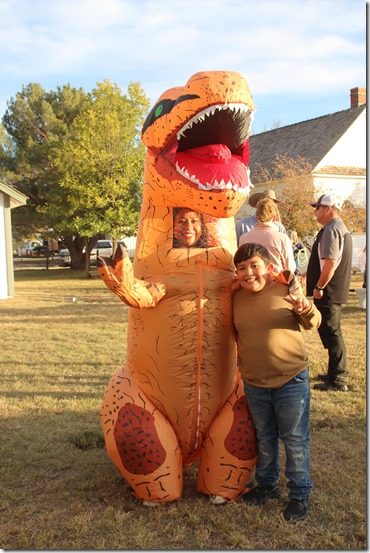 You couldn't miss Seth Dudley's Elvis!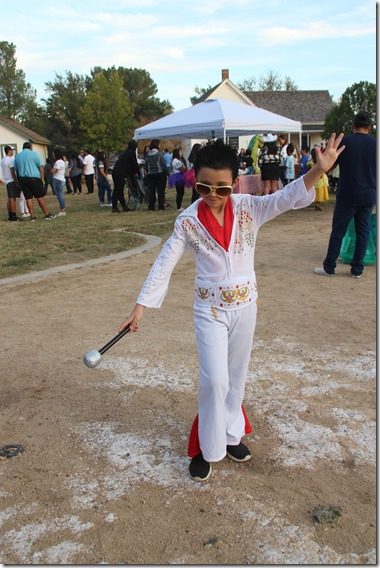 Abi Jones was Wonder Woman.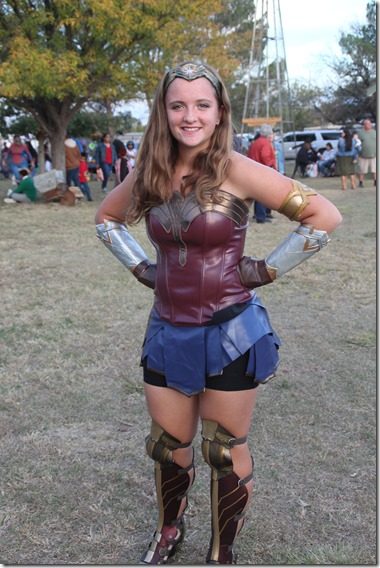 Amador's Paletas Y Mas was great!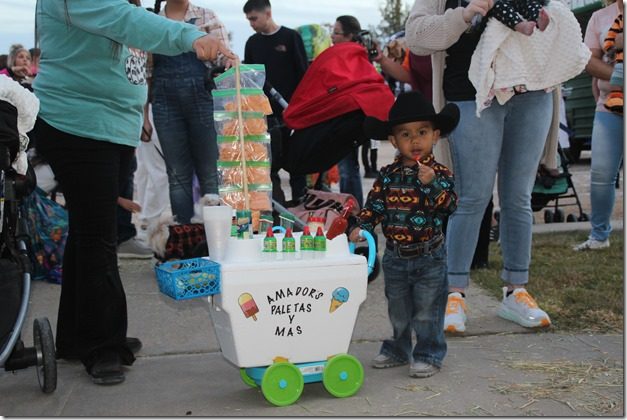 All these masked trick or treaters  lined up for the costume contests. The age groups were newborns to two years of age; three to six, seven to ten, and big kids and adults, but I think the groups might have gotten blended, age-wise.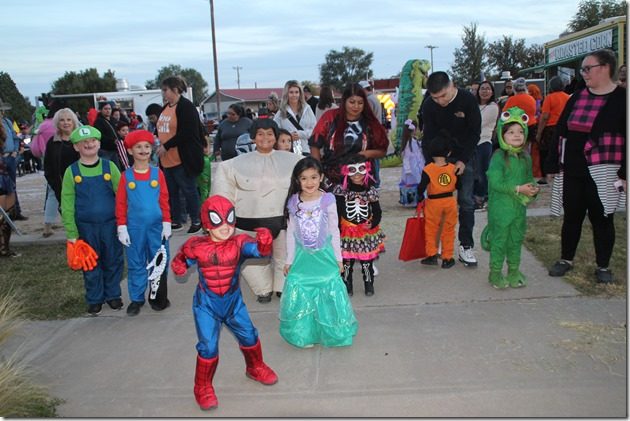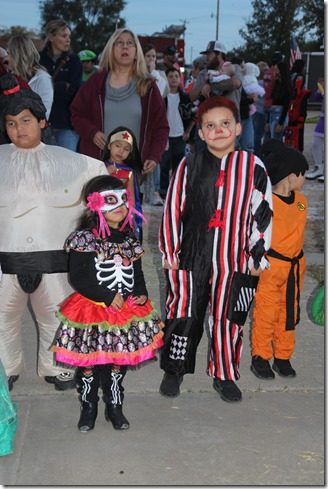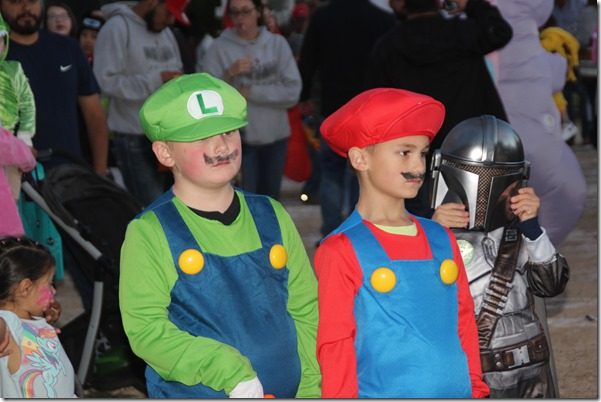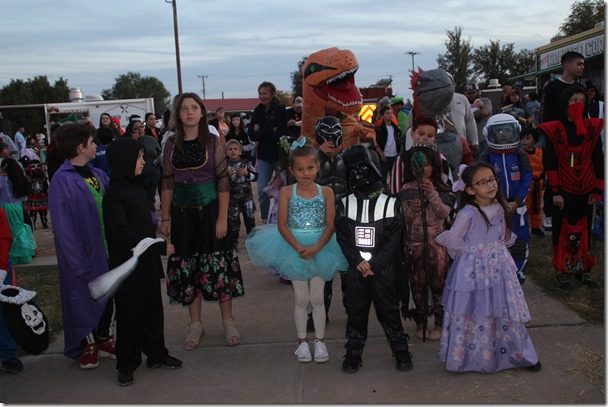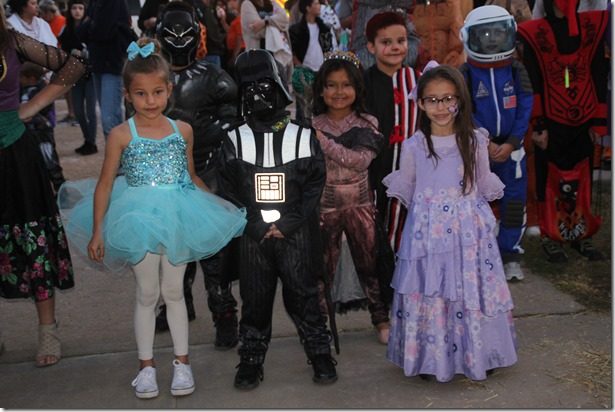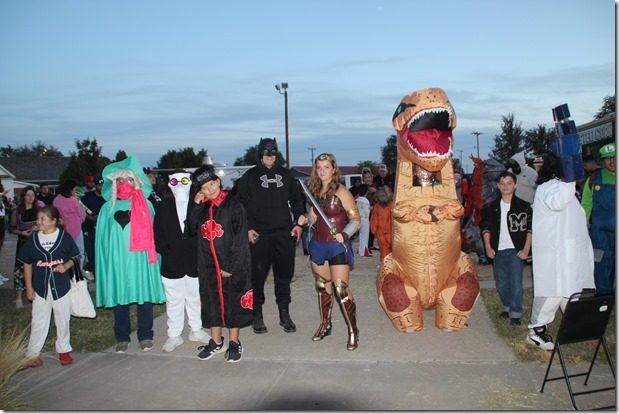 After each group was judged by members of the Chamber board, Brittany invited them all to howl at the mule, which is what is going on in this picture. Each group made quite a racket!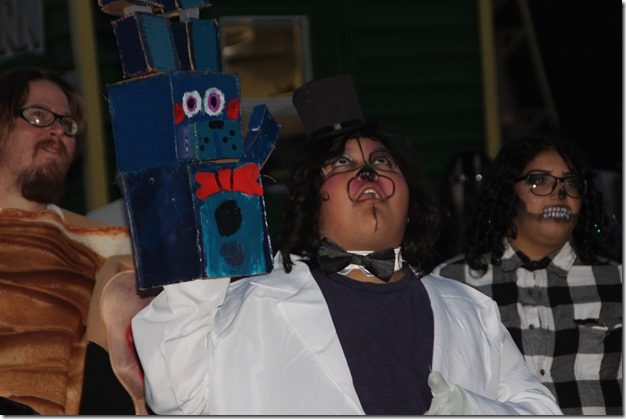 Even a few dogs got into the spirit and came in costume, like Willow and her Martinez family- Freddy, Bingo, Blanca, Samantha, and Allan.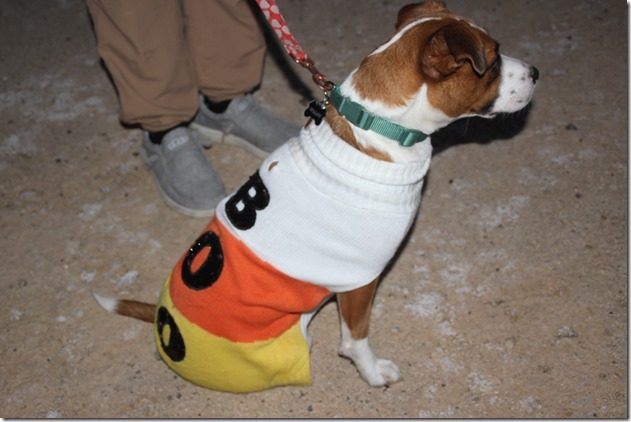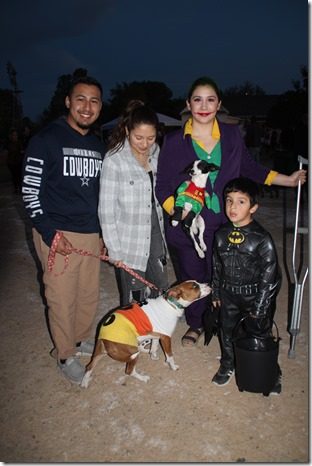 I am sorry I couldn't get everyone's picture, but there were so many! And I appreciated all the time and work that went into getting dressed for the night. I was having such a good time looking at all the celebrities and reincarnations that I just finally quit taking pictures and enjoyed the night.
These intrepid souls were the winners of the costume contests;  alas, I have no names or ages. But I appreciate their hard work and willingness to come dressed for the event. They received a Halloween goody bag for their prize.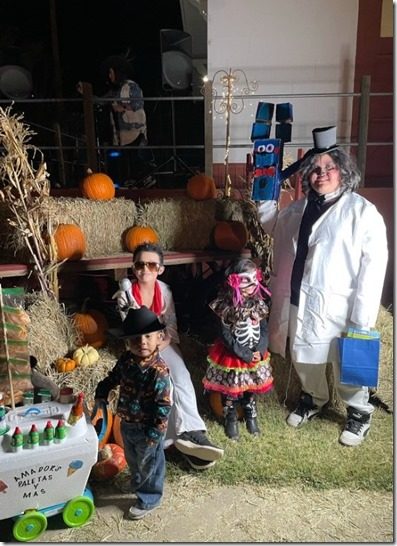 Photo courtesy of Brittany Pendley
Many MHS students and organizations supplied the games and activities for the night. FFA provided stick horse races and let would-be ropers try their hand at steer roping.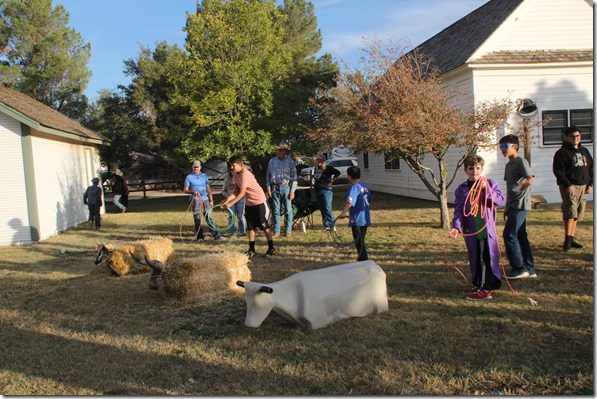 Val McCamish and students of FCCLA sold flavored popcorn. Daughter Julie was also on hand and had her face painted, another popular activity of the night. I think there were two face-painting booths, and they both were busy.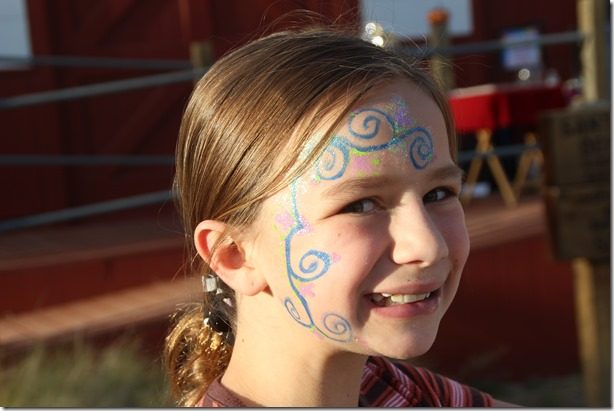 The Muleshoe girls' softball team had a softball pitch game that was popular. Look closely and you will see the yellow softball on its way to the net target.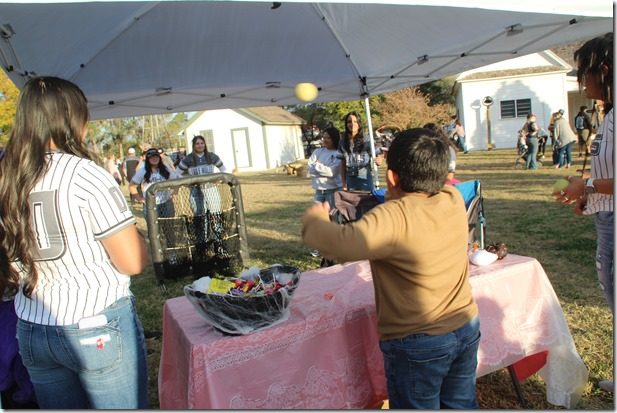 4-H had a variety of games for all ages: hurdle the headstones, pumpkin bowling, spider races, ring toss, spoon and eyeball race, face-painting, putt-putt, candy corn ring toss, bobbing for apples, witch's limbo, and the boo-mobile. After playing all the games, or at least as many as desired, participants were awarded a treat bag.
The Chamber had a cake walk, only it was more of a cake chair sit-down!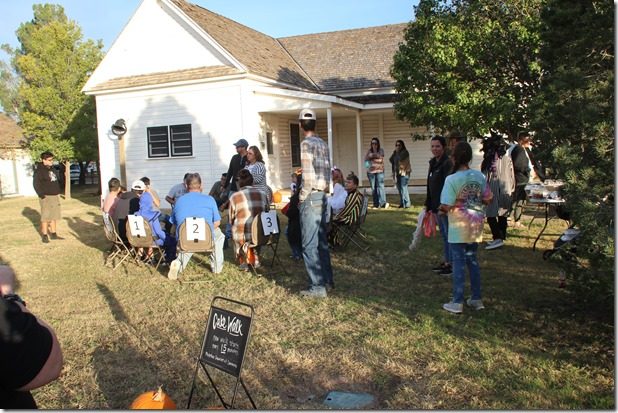 I'm not sure what this game was, but kids were lined up to dip their hand in the tub and get a prize.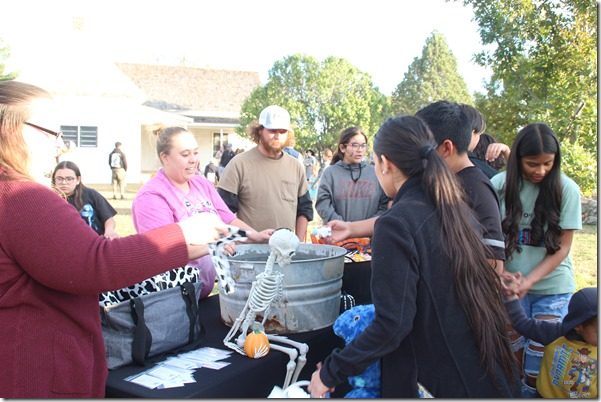 I know there were other groups with fundraiser booths and activities that I have missed, and I apologize. I didn't mean to leave anyone out, but there was so much to choose from, I know I must have overlooked a few. I do know I bought a lovely cupcake from Cef and Maria Sierra without asking who the sponsor was! I think it was for Maria's MC Creations.
The Muleshoe Art Association took pumpkins to art teacher Alyssa Lopez who had art students paint and decorate them and then the pumpkins were sold with the proceeds going to the Heritage Foundation. The students came up with some very creative pumpkins!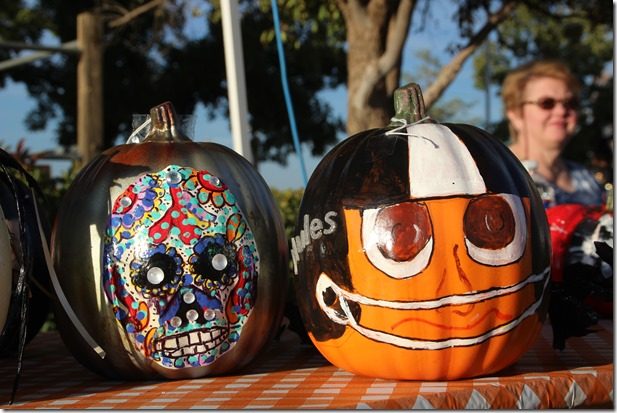 English teacher Christian Mora had his students write haunted house stories featuring some of the buildings in the center, which were then shared on site of the houses. Winners of that contest who won a Heritage Foundation t-shirt- and probably an A in English class!-were Jeremiah Watts, Camilo Espinoza, Anatasia Soto, Taiana Lawson, Payton Critchley, Naomi Muniz, and Tru Navarette, in no particular order in this picture.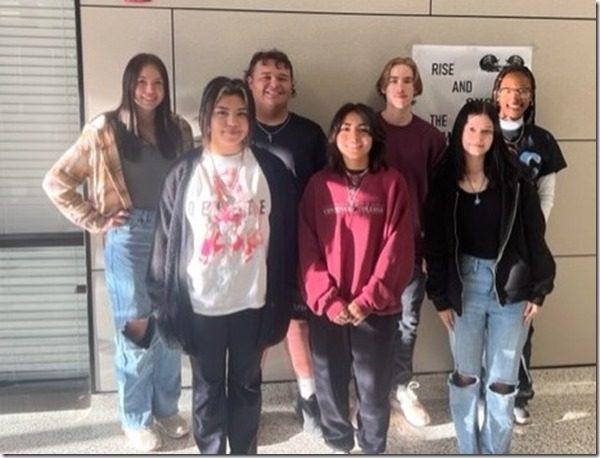 Photo courtesy of Brittany Pendley
The Muleshoe Fire Department brought one of their shiny red fire trucks that could be toured. All the historical homes and abodes were open for inspection. Food trucks Tacos El Pick'y, Jettfire BBQ, Holy Smokes Barbecue, and Rolo's Roasted Corn were on hand to feed hungry monsters.
I thought a good crowd showed up for the evening's fun. Heritage Board president Scott Miller had Halloween-inspired music going all night, and everyone was busy visiting, eating, and playing games.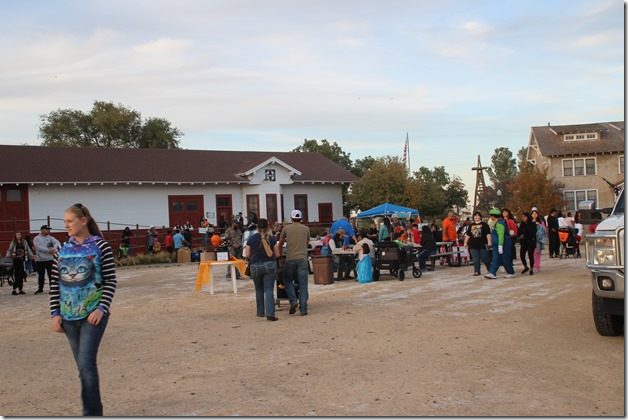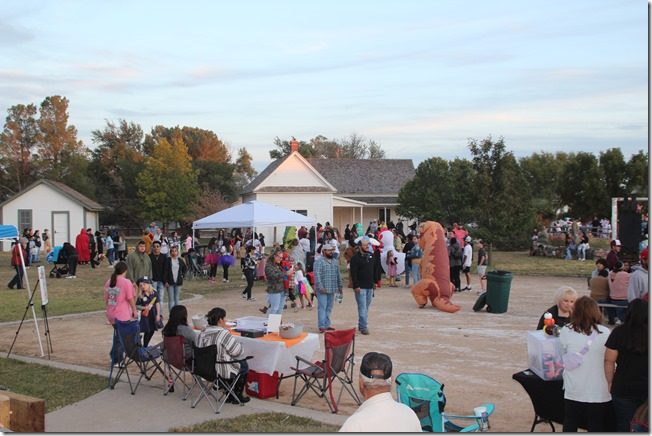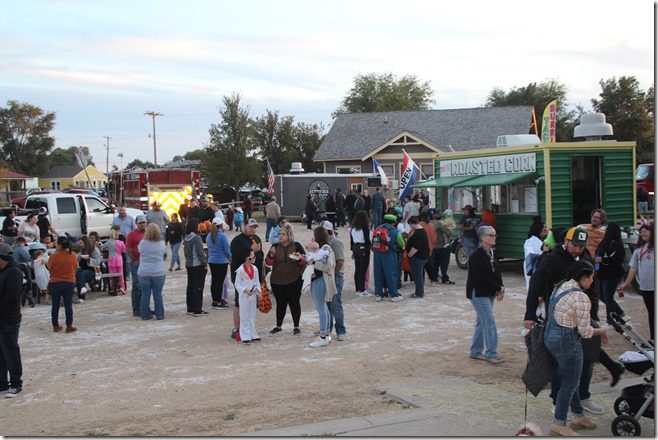 A picture-taking booth had been set up and used quite often during the night.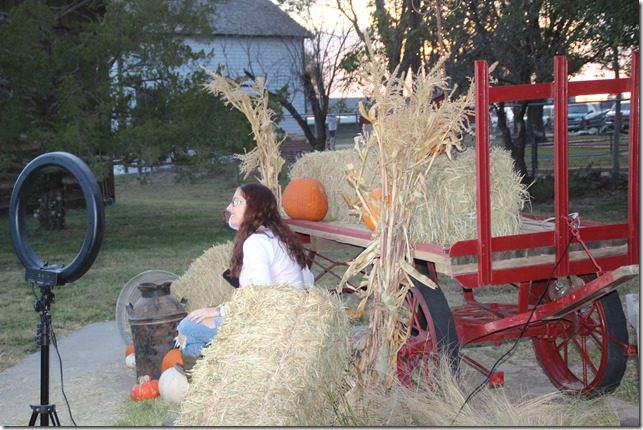 Chamber manager and recently added Heritage Center manager Brittany Pendley and Heritage Center board member Sharon Riegel had help from Chamber board members Jackson Myers, Myles James, Natalie Leal, Londi Blackwell, John Villalba, James Rincon, Kamry Cribbs, and Heritage Center board members Rhonda Myers, Ann Johnson, Sheila Stevenson, Scott Miller, Gina and Chris Mardis, Charles Riegel, Vickie Burch, and Kenneth Henry to pull the night's festivities together. And there was much to pull together! High school students and teachers also made the night a success with their involvement.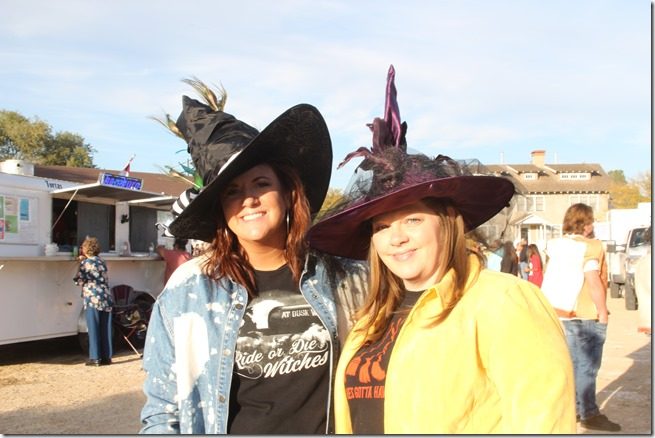 Rhonda Myers said all board members wanted to share the Heritage Center with the community with this fall festival-type event. The Heritage Center is available for community events along with providing a place for some of the history of Bailey County and the town of Muleshoe to be preserved for people to enjoy  and study. October is traditionally the month of the membership drive for the Heritage Foundation, and new members can sign up with Brittany at the office on site.
It was a fun night with lots of things going on. Thanks to all who made it possible and to all who came in costume.
Thanks to Brittany Pendley,  Rhonda Myers, Leila Jones, Abi Jones, Val McCamish, and all those who answered questions and helped me put this story together.