Sunday night we were given that trite weather report that we might experience golf-ball sized hail and high winds. We have had hail, but this time the weather gods really did send us Golf-Ball Sized Hail ! The wind blew the hail in a nearly horizontal line out of the south, the deafening noise in this house with a metal roof was like being in a pinball machine on steroids, downright scary, and we were pelted with icy weapons for what seemed like an hour, but was probably only two-three minutes or so. But unnerving it was. I know it could have been worse, but of course, you always think your experience is the worst.
This picture, needless to say, doesn't do the hail stones justice. They really were big and made the yard white like snow. Besides their size, they were coming down with such a vengeance that they had a double whammy in terms of doing damage.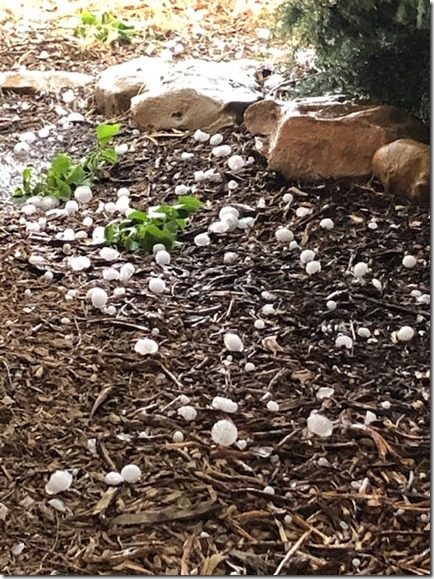 Of course, we were fortunate to only have to deal with hail, not the tornadoes spawned by the storm, and I appreciate that, but we did have our share of some damage. I heard horror stories of every window on the south side of homes being demolished, and I know others suffered roof damage all over town. We lost two south windows and a skylight, so damage to the house was relatively light, compared to what it could have been.
And then the rain came. Well, sort of. We got a measly two-tenths of an inch, maybe. But then after everything calmed down and the storm moved on, I went outside to assess the damage, only to discover the insult to injury-giant holes in the rain gutters that funnel the rain into my rain barrels! The barrels are nearly empty of water, thanks to the drought. and stayed that way, thanks to the hail. Not fair!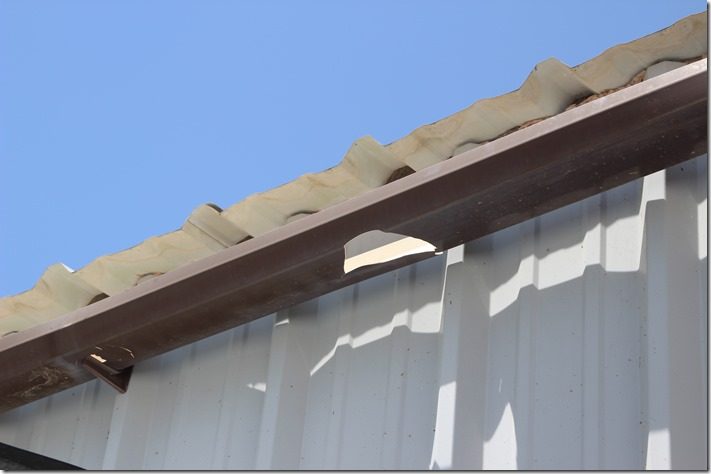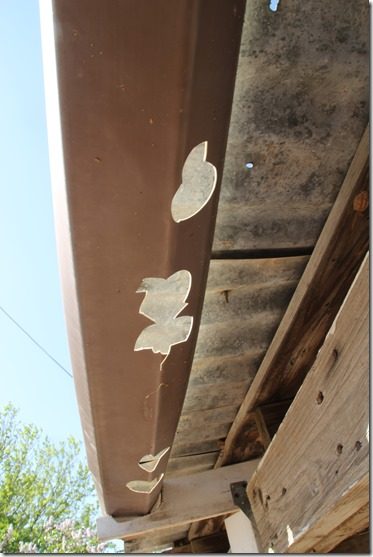 Leaf litter and twigs covered everything, the yard, the garden. I didn't take pictures of that since it is all green and doesn't show up as much, but those of you who have not had to deal with the aftermath of a hail storm can't appreciate what a pain it is to have to clean all this mess up! And it's a lot worse than these pictures show. We had it all pretty clean by Tuesday, and then by golly, that night the wind came again and added the broken stuff that just had not fallen out of the trees yet, so we get to clean again – and again as more wind will come and blow the debris out of the trees.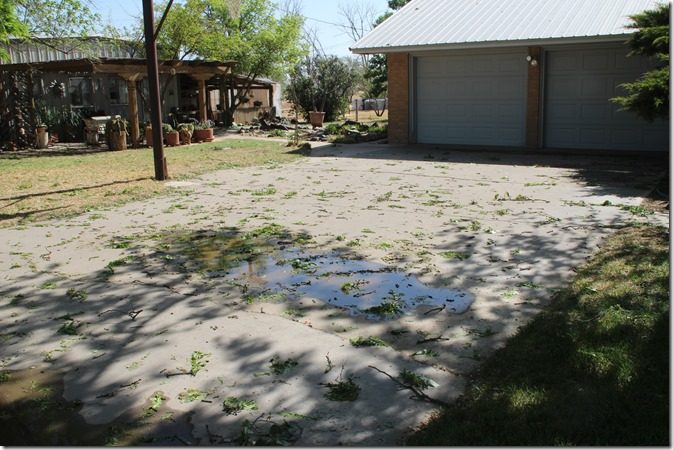 The next day I toured the garden looking for damage the plants might have suffered, knowing that most of the cactus, thanks to their spines, usually deflect the hail stones and don't get hurt as much as the fleshy succulents. But then I discovered this Espostoa melanostele, one of my favorites, had taken a hit. As you can see, it doesn't have the big strong spines that would have protected it more.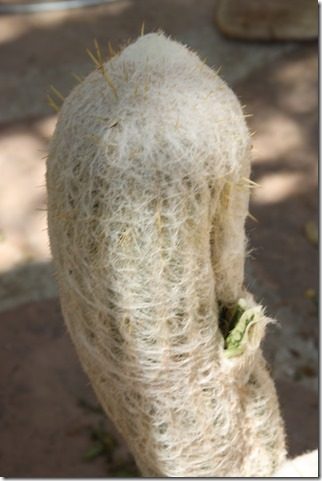 The agaves weren't as lucky as the golden barrels, ferocactus and others that have those large spines covering their bodies, so the agaves wound up with holes in some of the leaves. The injury won't kill the plant, but the leaf won't repair the hole.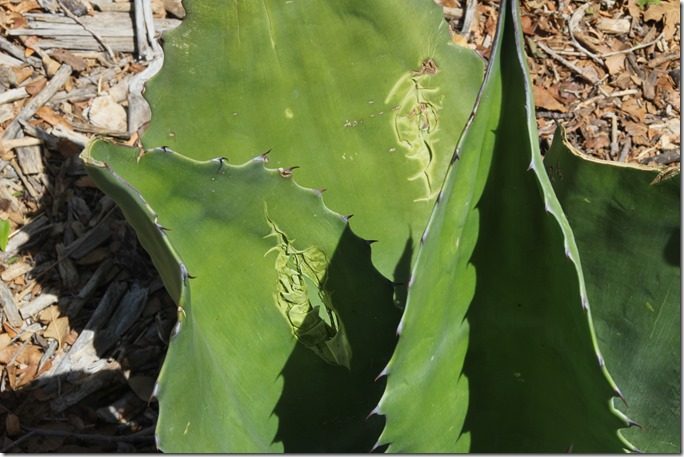 My old, big Cotyledon tomentosa and Sedum Cape Blanco plants lost all kinds of leaves.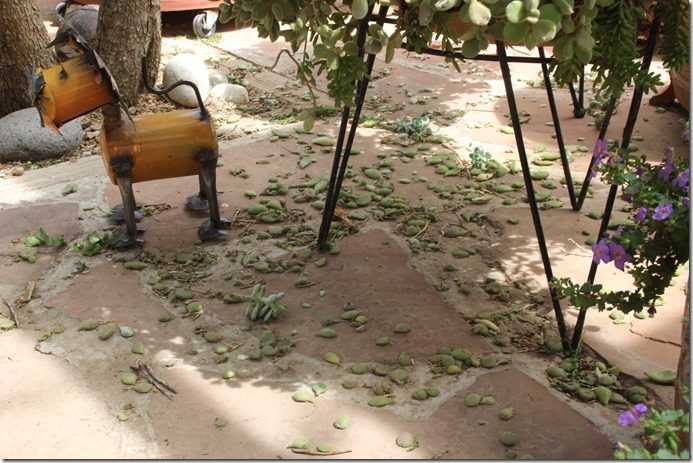 And I could go on, but you get the idea.
It's a funny thing about rain, however, even it was only two-tenths of any inch. As I surveyed the damage, I was also greeted by spots of color, cactus that had made it through the storm with their buds in tact that responded to the precious moisture they were able to soak up.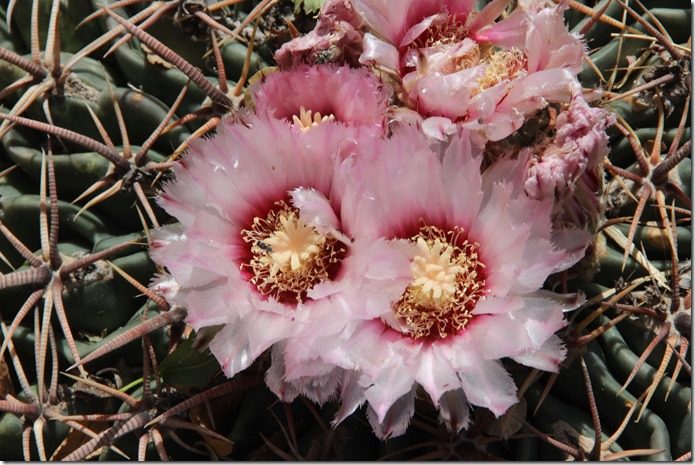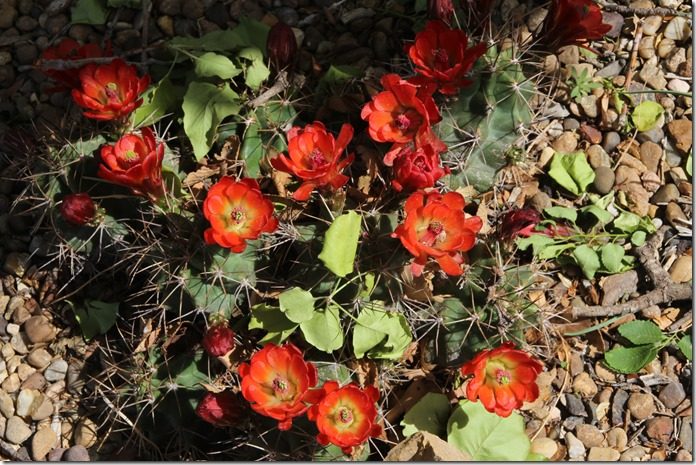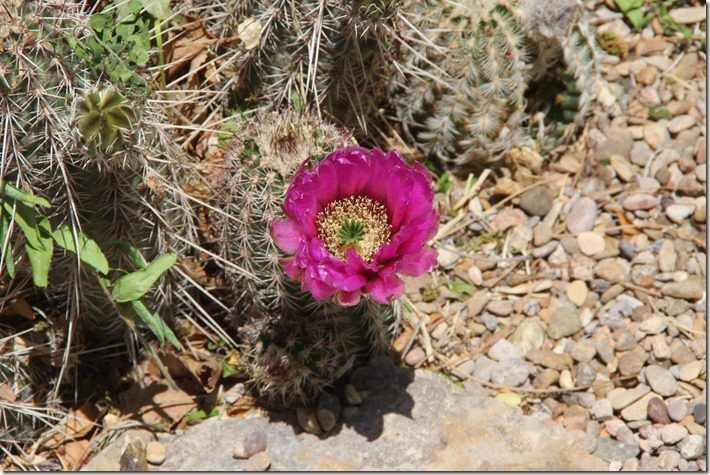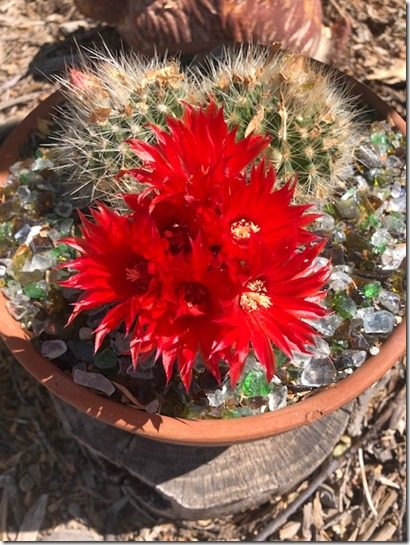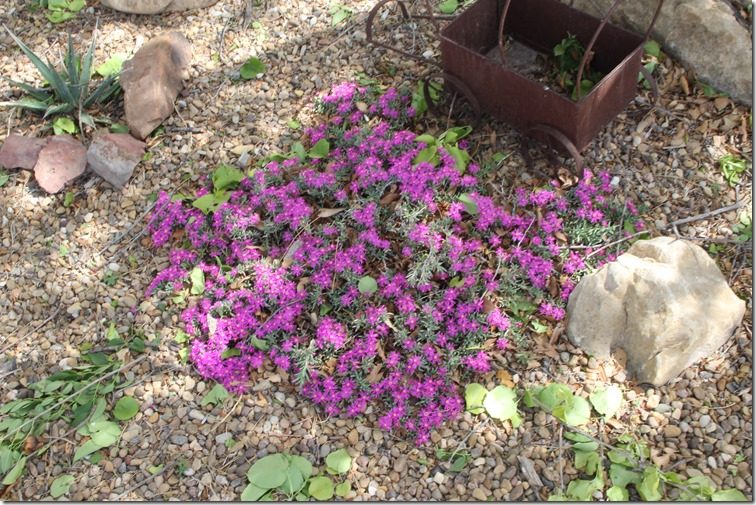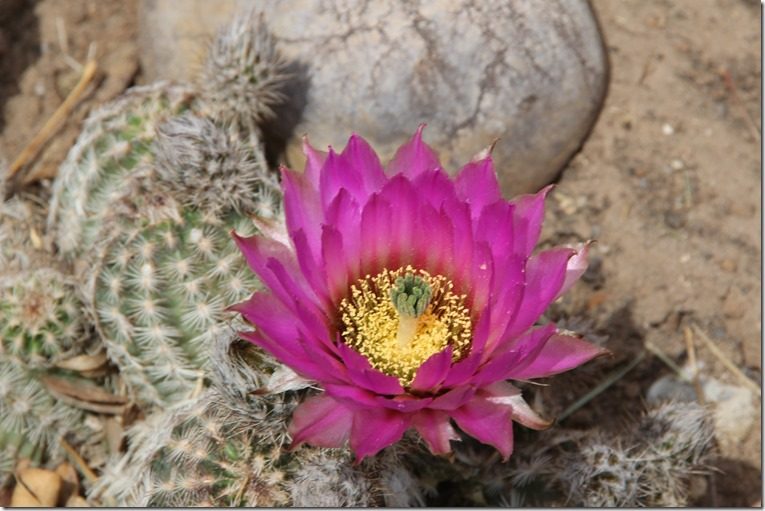 Bless their spiny little hearts! A greater plan is always in motion.
Annie was right: the sun does come out tomorrow.