I visited with former student Hector Reyes and his family the other day. Hector runs a general construction business; his wife Angela is a first grade bi-lingual teacher at Dillman Elementary. They have four adult children and three younger ones at home. They also have a work ethic that makes mine pale by comparison! The whole family is busy in a variety of enterprises and still spend lots of family time together.
The seven kids: Cruz, Judas, Romeo, Salvador, Carina, Crystal, Clara.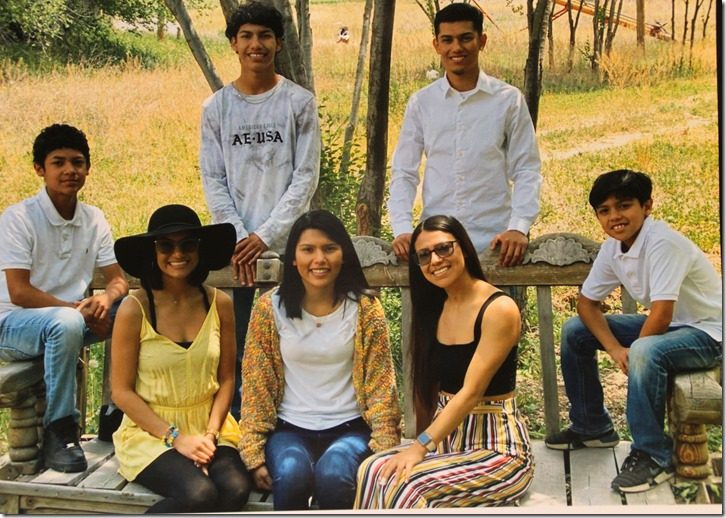 Photo courtesy of the Reyes family
And all of the family, left to right, top row: Carina, Cruz, Salvador, Clara's fiancé Dom Flores, Crystal's husband Rico Alarcon, Clara, Romeo; bottom row: Judas, Hector, Angela, Crystal Alarcon, granddaughter Zoey Alarcon.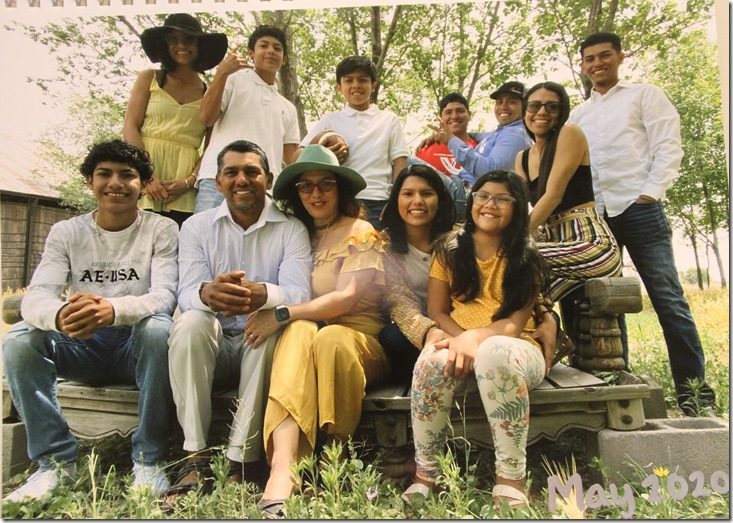 Photo courtesy of the Reyes family
Hector's family history goes back to Mexico. His granddad, Jose Olivas, came here with the bracero program and worked for B.T. Hemington from Dimmitt around sixty years ago. During that time Hector's mom, Yolanda,  went to school at Springlake Earth, as the braceros were encouraged to bring family here with them. She went back to Mexico, however, married Jose Reyes when she was fifteen, and son Hector was born in Durango, Mexico, in 1970. Jose brought his new family back to Texas in 1972. One of the jobs Jose worked on at that time was the railroad overpass in Friona. Hector, as did the rest of the family,  obtained legal resident status at that time. Hector started school knowing no English, but learned quickly. He graduated from Muleshoe High School in 1990, the first male of his family to graduate with a high school diploma.
While growing up and working with his dad, Hector acquired his work ethic and learned how to weld, both of which benefit him today. He had also studied ag mechanics in high school, for which he was awarded a full scholarship at a Wyoming mechanical college, but he declined, choosing instead to remain close to family and small town life.
Angela's grandpa, Julian Jaime, came to the U.S. in the '50s to work, went back to serve the required military service in  Mexico for a year, came back to the United State and obtained his legal resident status, and then to Texas to work for local farmers in Parmer and Bailey counties. Later,  Julian went back to Mexico and married Angela's grandmother, also named Angela, came back to Texas with their four children and continued working  on farms. In time, the family all became naturalized citizens. One of those four children was Angela's mom, Lucia, who married Angela's father, Jose Ceniceros. From that union, Angela was born in Muleshoe in 1975, went to school in Farwell and graduated from Farwell High School in 1993. She was a cheerleader at Farwell.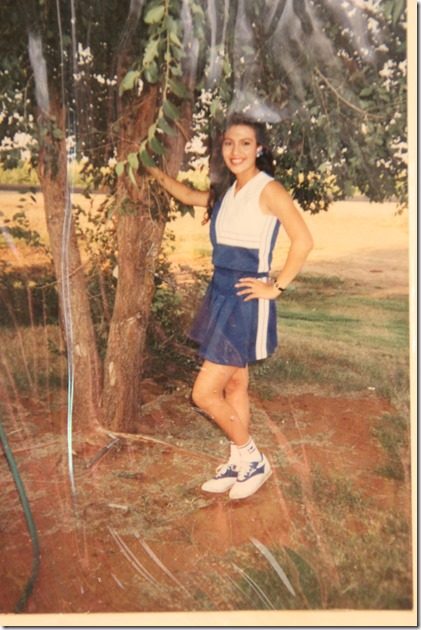 Photo courtesy of the Reyes family
Since Hector and Angela grew up in small towns close to each other, it's not surprising that they met at a dance one night. They married in 1992 in Clovis and lived in Muleshoe until 1994 when they moved to Kansas where Hector worked at the Fort Riley Military Base doing plumbing for a company out of Kansas City, Kansas. He learned electrical, plumbing, and framing skills there to add to the construction knowledge he uses today.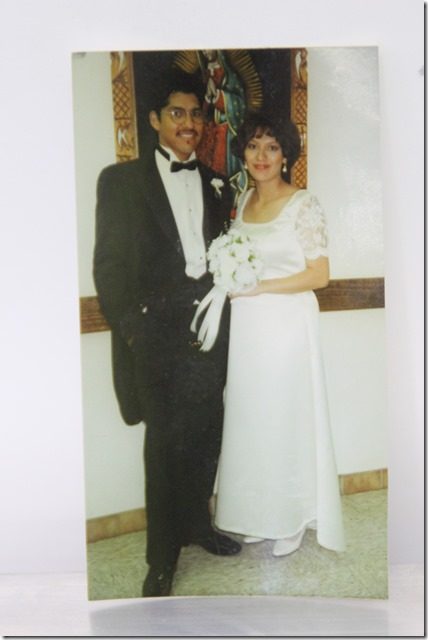 Photo courtesy of the Reyes family
The family were in Kansas for two years and could have stayed on at Fort Riley, but they missed their family and life in a small town compared to where they were. they decided to move back to Texas and raise their family, which now included daughters Crystal and Clara, in a small town close to family.
They went back to Farwell and Hector went to work for Cargill in Friona and Angela worked various part-time jobs in town so she could stay home with the girls more. At Cargill Hector suffered a bad accident and had to leave that job, and he then decided to pursue contract construction work in Parmer County. During this time they had begun a flea market in Muleshoe and oversaw a legal horse racing track on CR1048, Carril Los Reyes. Horses from Ruidoso and other tracks have run here.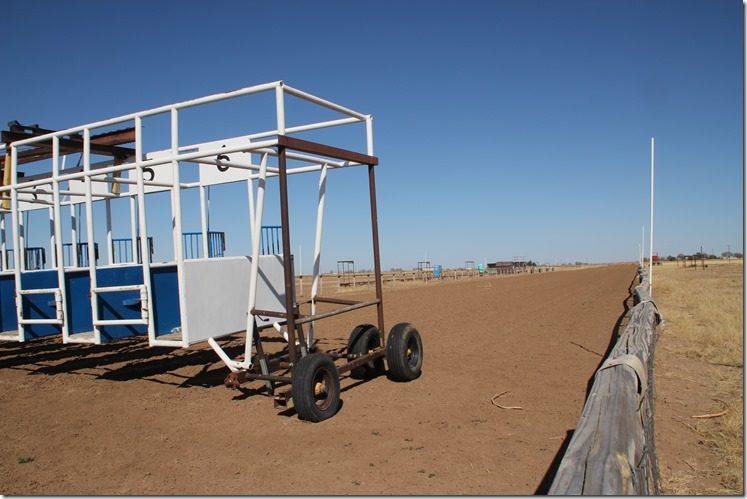 While they were in Farwell, Angela did some substitute teaching and decided she wanted to teach, so she  earned her associate's degree at Clovis Community College and her bachelor's degree online from Western  Governor's University in Utah. With the flea market and horse racing already in Muleshoe, she got her Texas teacher certification, applied for and was hired to teach Kindergarten classes with MISD, and the family moved to Muleshoe in 2016. Angela has also become active in Texas Classroom Teachers Association and was elected a District 17 Director on the state board for TCTA.
You'd think raising a family and holding down jobs would be enough to keep you busy, right? Apparently not for this bunch, who have more projects in the works. The family is helping daughter Crystal open a coffee shop downtown. Work is also progressing on a boxing gym, which is Hector's vision. And the family bought the old Muleshoe Hotel, which is above the coffee shop, with plans to make it an Airbnb.
The Red Cardinal Coffee Company at 202 South Main, will be an investment in revitalizing downtown and provide a place for young and old to gather, relax, visit, and have a cup of coffee. The menu will include coffee, tea, shakes with natural ingredients, and light lunch items like soups, salads, and sandwiches. Angela told me with a smile, "Anything Starbucks can make, we can make!" Free Wi-Fi will be available as well and lots of comfortable seating space. The coffee shop will be open for business in May. Equipment is coming in and work is progressing to get the shop ready.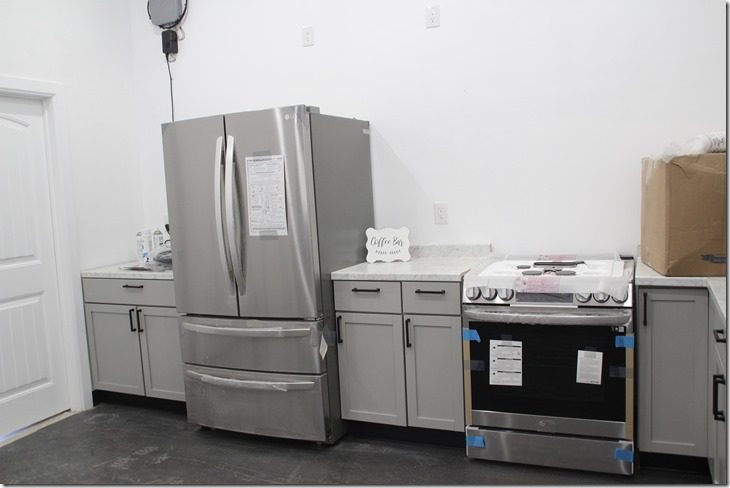 Hector, who was successful in Golden Gloves as a teenager, wants the boxing gym, Muleshoe King's Boxing,  at 320 South Main. He sees it as a place to teach kids to box but also to impart life lessons and spiritual values.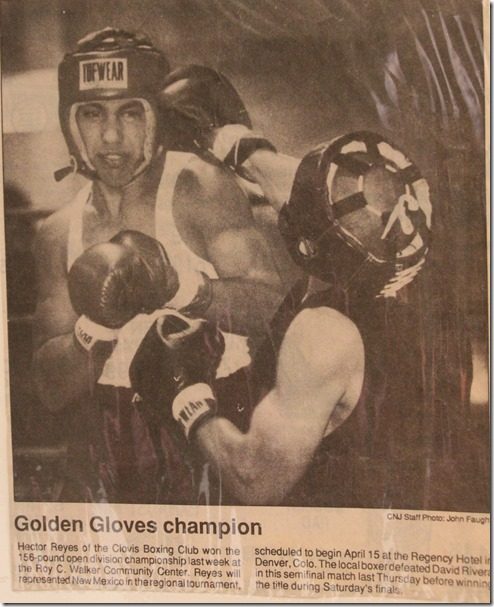 Photo courtesy of the Reyes family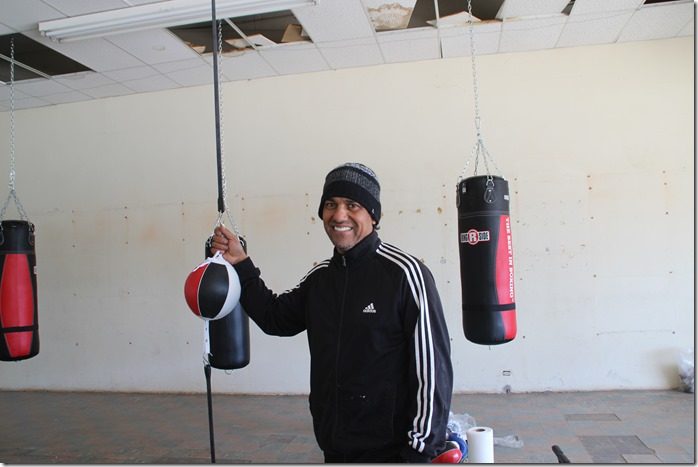 The Muleshoe Hotel has been vacant for many years and is a future project that will definitely get a dose of all  of Hector's construction skills, but has lots of potential.
All those kids in the family are equally ambitious. Besides the coffee shop, Crystal Alarcon is a pharmacist at United Pharmacy, was elected a city councilwoman in 2021, and is married to Rico who works at Muleshoe Animal Clinic. They have a daughter, Zoey, 11. Clara teaches Pre-K at Dillman Elementary and is engaged to Dominick Flores from Clovis. Carina served as Muleshoe Chamber of Commerce manager, then was the Economic Development Board manager, and is now employed as the assistant to the city secretary of Lubbock. Romeo is a senior at Texas Tech and will graduate in May with an engineering degree. Judas, 17, a junior at MHS, is active in football and track and just qualified for the regional meet. He is also a developing artist. Cruz, 15, is home-schooled and helps his dad at work, where I suspect those building skills and work ethic will be passed down. Salvador, 12, is in 6th grade and is active in robotics, UIL events, and all youth sports. Along with Mom, Clara and Romeo coached in the Muleshoe Youth Basketball League, Crystal and Clara coached girls' youth softball. When the girls were in high school, Carina and Clara also worked at the Muleshoe Pizza Hut and Sonic. The family attends Immaculate Conception Catholic Church in Muleshoe, and Angela and Crystal teach the Wednesday night youth group. So everyone in this household is busy.
Hector said he usually fills an 80-hour work-week, up early and  home late. Angela's can't be much shorter, with her job, being a mom, and helping with all the projects and volunteer coaching. The comment was made as we talked that Muleshoe had been good to them and they wanted to pay it back with their involvement in so many things and hope to revitalize downtown.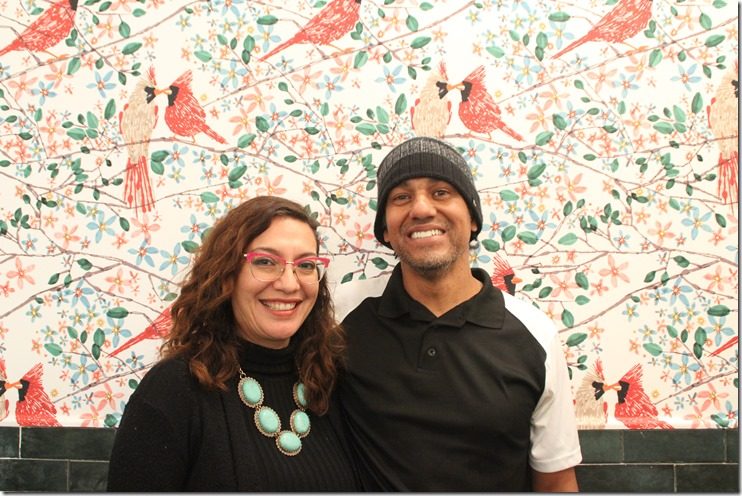 I think they are meeting that goal.
Thanks to Hector and Angela for sharing their stories with me.