For as long as I can remember, Uncle Sam stood watch and welcomed visitors to Muleshoe and the Art Loft.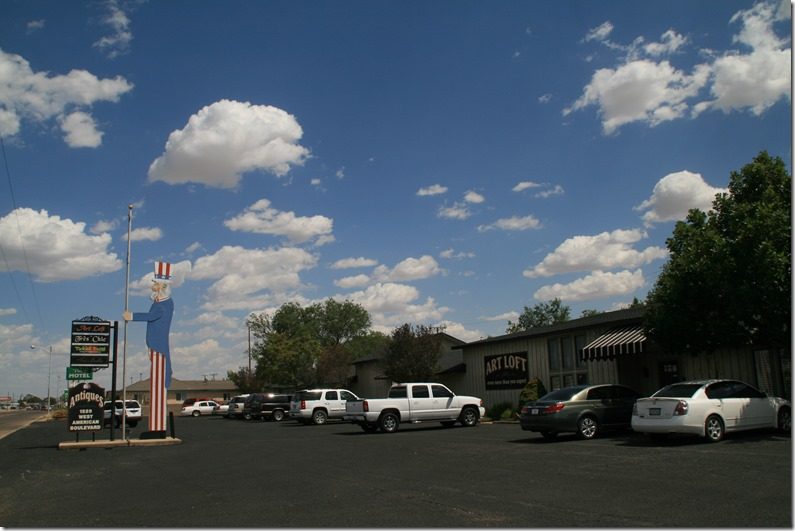 After the Art Loft ceased to be, Uncle Sam continued his vigil on American Boulevard.
But you may have recently noticed that Uncle Sam is gone!
Over time as Uncle Sam's painted finish suffered from the effects of wind and sun, weathering as paint is wont to do, his red, white, and blue was refurbished. His plywood form, however, has not been replaced lately, and years of wear and tear have taken their toll and probably would not have held a new coat of paint well. The time had come for something to be done.
Uncle Sam was the brainchild of Inez Bobo, one of the owners of the Art Loft, and Dale Hughes, her employee and right-hand-man in charge of projects at the store. Dale told me he doesn't remember exactly how it came about, but he and Inez saw a picture of a large Uncle Sam and decided they wanted one, too. Dale chuckled that he and Inez schemed up a lot of things together.
Dale then planned the construction of this symbol of America, using 20 foot steel poles for the interior foundation and sandwiching five pieces of plywood cut out  to form the image mounted to the poles on both sides. He then covered the edges of the plywood with galvanized flashing to dress it out. Dale then added a wooden flag for Uncle Sam to hold up for the Fourth of July. He and Inez then decided to leave him up for the month of July and then take him down. This was in the year 1987.
                                                     Photo courtesy of Dale Hughes
The plan to take the statue down after the 4th and the month of July was kind of forgotten, and Sam diligently held up his flag for all to see. At some point during this time, Interstate Battery Company sponsored an interstate race and a couple entered in that race came through driving their own nod to patriotism, their old red, white, and blue decorated race car. They couldn't help but notice Uncle Sam and stopped for this picture. Later they sent the postcard they had printed using that picture to Inez and the Art Loft. On the back it said, "A couple of traveling antiques on display at the Muleshoe Art Loft Antique Shop, Muleshoe, Texas. Sadly, their names have been lost over the years, but the image remains.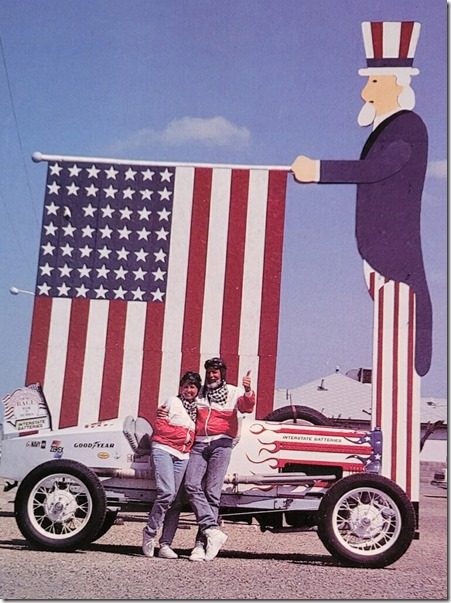 Photo courtesy of Sharon Agee
In 1990 Dale reskinned Uncle Sam  with new wood and paint as the decision had been made to keep him as a permanent fixture, complete with a flag pole and cloth flag. An Art Loft sign was also added. And he always faced the same direction; pictures were just taken from both sides.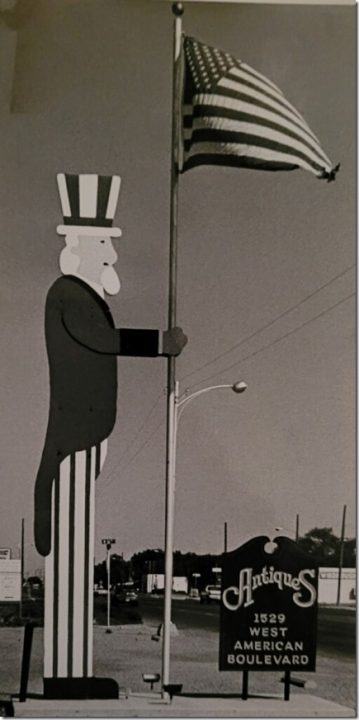 Photo courtesy of Dale Hughes
Dale left the Art Loft in 2000; Sam remained. When the business was sold to Sharon Agee in 2001, she made the stipulation that Uncle Sam came with the business. At some point during her ownership, Sam was again updated by Clovis Signs who took him down to be used as the pattern to be rebuilt with new wood and paint.
In 2017 Sharon sold the building to Craig Black for Grandaddy's Barbecue, and Sam was included in that transaction. In 2019 Craig sold the building to Londi and Tory Blackwell, and they opened Jade Jypsy later that year.
And just like before, wind and sun continued to take their toll on Sam, and he showed signs of deterioration. Along with falling victim to weathering, new businesses had set up shop in the east end of the building, one of them a liquor store. The parking lot was not originally intended to handle the big semi tractor-trailer trucks that pulled in to deliver beer and Sam and the trucks were in each other's way from time to time. At some point, the statue was bound to suffer more vehicular damage that would take its toll on its aging body.
So it was about this time that Londi wanted to take Sam down and put up a sign of her own for the Jade Jypsy, and Tiffany Boehning had expressed an interest in rescuing Sam from his ailing condition. A deal was made, and one Sunday afternoon in November of 2021 Uncle Sam was carefully disassembled and taken to Tiffany's for a new life in a new home.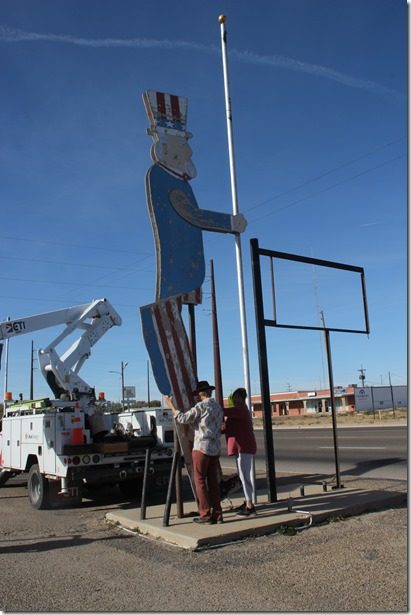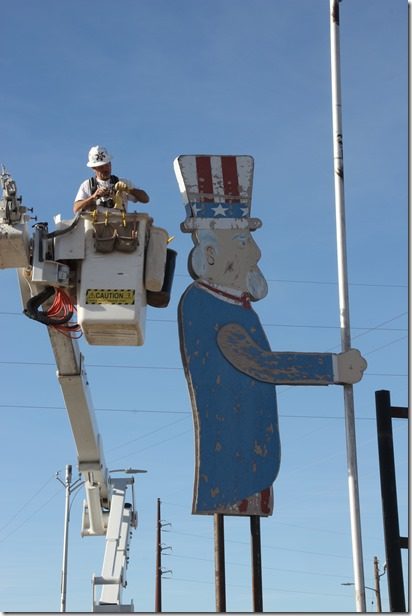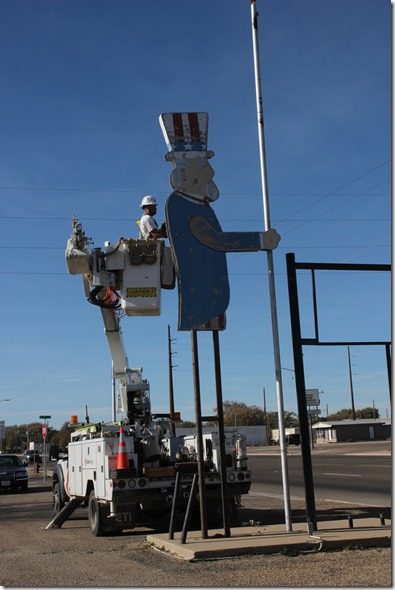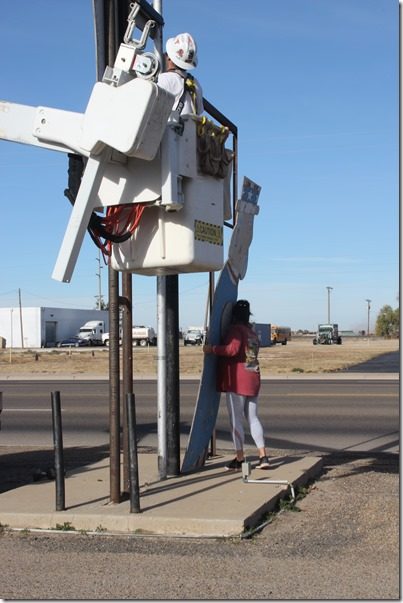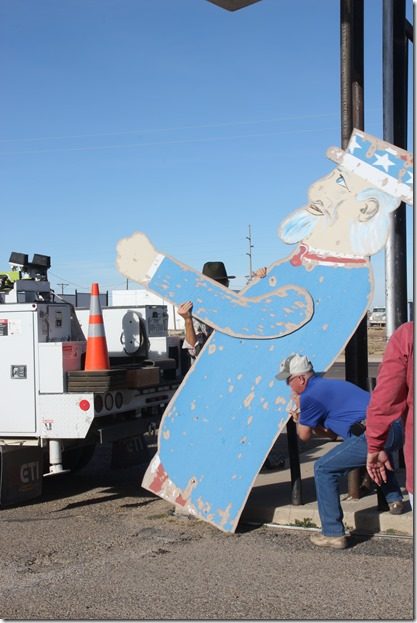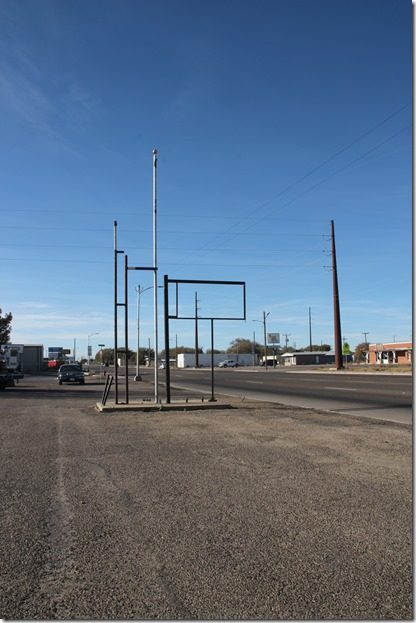 A few days later the poles that had held Sam and all the signs came down, and the parking lot looked pretty barren.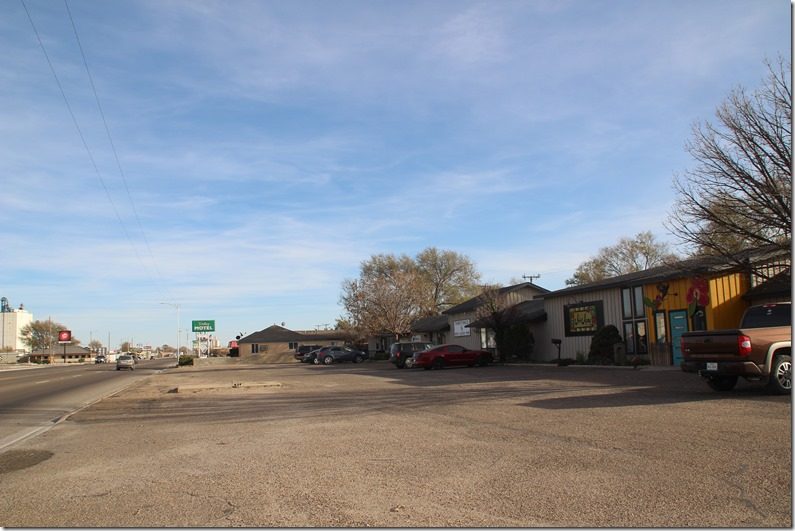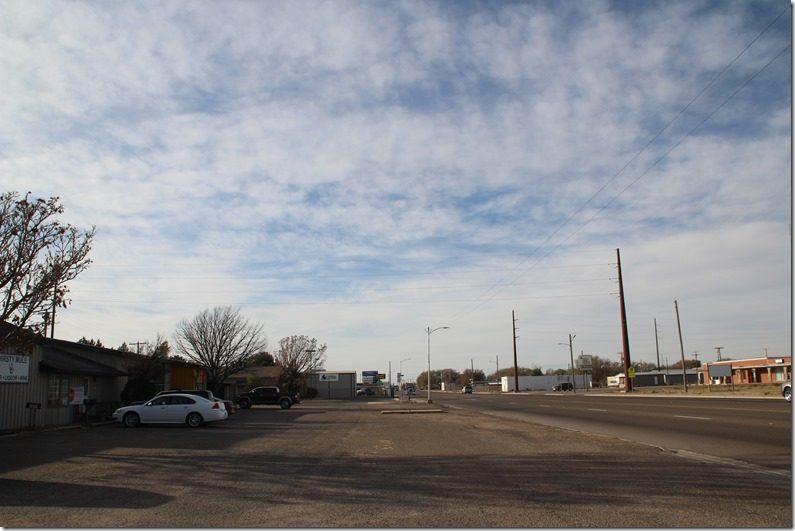 An era is gone with Sam's passing, and he will be missed, but it was not fair to let him sink into disrepair and go out not with a bang but a whimper. No doubt comments and complaints will be made about his disappearance, but no one but Tiffany came forward to rescue him. She would be happy for him to still be a part of Muleshoe's presence if someone comes forward with a plan and financing to resurrect him somewhere in town and keep him in updated condition.
But for now he will be a fond memory for those of us who enjoyed seeing him and his flag on American Boulevard.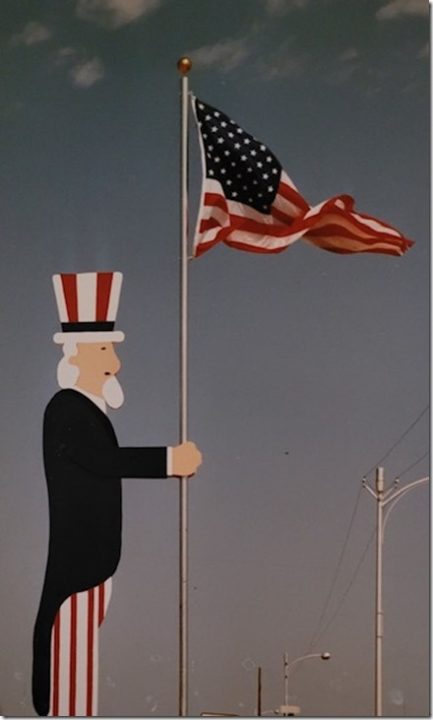 Photo courtesy of Dale Hughes
Thanks, Uncle Sam.
Thanks to Tiffany Boehning, Dale Hughes, Sharon Agee, Ann Mount, and Londi Blackwell for their help with this story.
To read the history of the Art Loft, go to "The Art Loft,"  in this blog.