I recently enjoyed a visit with Charlie and Georgette Isaac in their new home in Lubbock and learned the intriguing story of  how a boy from the town of Homestead, Pennsylvania, by way of Ramallah in Palestine and a girl from Jerusalem by way of Matamoros, Mexico, courted, married, and wound up raising a family of six kids and living a successful life in Muleshoe. Youngest daughter Debbie Isaac Jones joined us and relived the journey that brought her parents to Texas.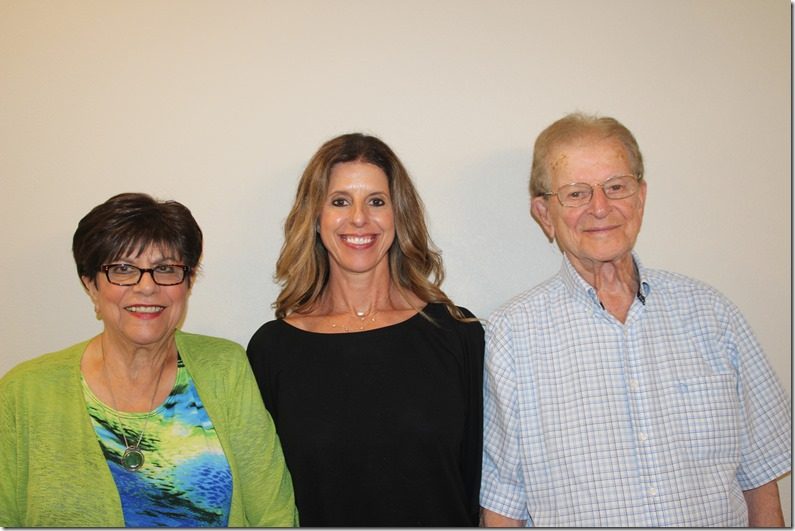 I asked Charlie to share his story with me; he asked where I would like for him to begin. I said, well, at the beginning, so he chose to begin with WWI and his dad, Victor Isaac. WWI pitted the Ottoman Empire and the Central Powers against the Allied Powers which included Great Britain and The United States. Even though Victor lived in a Central Powers' country, he saw fit to fight with the Allied Forces. After he served with the forces from Great Britain and the war finally ended, in 1920 he went to England to receive his earned pay. Possibly because he was a Palestinian Arab,  which made it look like he was on the opposing side, they would not pay him.
Left holding an empty bag, Victor chose to board a ship heading for New York, shoveling coal into the ship's furnaces to pay his way. He sold dry goods and household items door to door, peddling out of the car, and met his future wife, Helen Ryczek, who was Polish, in Homestead, Pennsylvania. Her dad was not happy with their romance, so they eloped to  marry since Helen was only seventeen, but could marry legally in West Virginia. They moved to Detroit, had son Edward in 1925, and went back to Pennsylvania to reconcile with her father, which was successful. They remained there until Charlie was born in 1927, when a few months later Victor made the decision that Helen should take the kids back to Ramallah to show Victor's family and he would stay in America to work, stockpile his earnings and join them.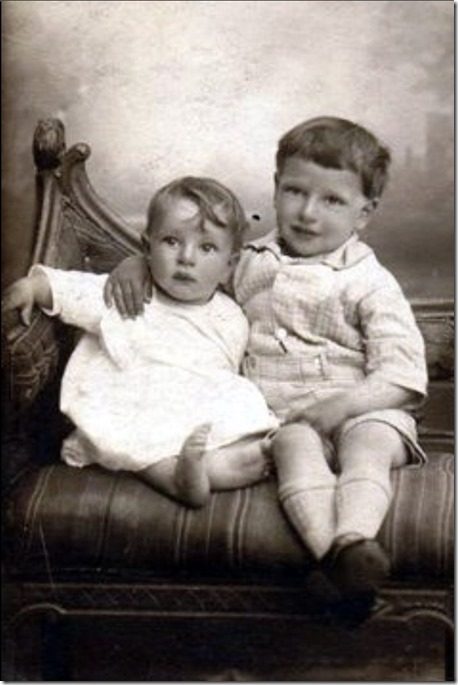 Charlie and his brother Edward          Photo courtesy of the Isaac family
But the Depression got in the way. Helen left the boys in the care of Charlie's grandfather in Ramallah and came back to America to join Victor in the struggle to make a living for the family. Three more children were born later: Dolores, Richard, and Lawrence.
The Depression affected life in Ramallah, too. Charlie said they would get up in the morning looking for something to eat. Bread, figs, grapes, and olives became their basic diet. Sheep and goats furnished meat for perhaps one meal a week. He said he didn't see cattle until he came to the United States. They had no running water, gas, or electricity.
And after the Depression, WWII began. Edward joined the American army while in Europe, was given no basic training and was sent straight to North Africa. By then Charlie was eighteen and when he found out there was a ship taking Americans back to America, he decided he wanted to go to America as well and see his parents. He hitched a ride on the Swedish Red Cross ship Gripsholm. On this ship is where he had his first experience using a toilet. He arrived in New York with nothing but the clothes he was wearing because he had shared his belongings with other people on the ship, many of them Greek.
As Charlie stood on the docks not sure what to do next, a man came up looking for Charlie Isaac. The man was his father who had been told Charlie was coming; they had not seen each other since Charlie was a toddler. Father and son took the train from New York City back to Homestead where Mom and siblings met them at the train station. Mom, who had not seen Charlie since he was a toddler, either,  looked at him and then said in Arabic, "You're tall."
Charlie had finished 11th grade in Ramallah, so he enrolled in Munhall High School and learned English in six months. I asked Charlie if he still is fluent in his native Arabic language. Yes, he said, I think, dream, count in Arabic. He looked  around slyly and grinned as he shared a secret, " I cuss in Arabic!"
After graduation in 1946 when Charlie was draft age, he knew if he were drafted, he would be in the army; he preferred the Marines and enlisted with them. He served  for two years and then worked in steel mills and for the railroad for a few years. He decided that neither were his cup of tea, so he moved to Texas, to Corpus Christi where his uncle lived and helped in the uncle's store there.
Then one day a man who sold out of his vehicle and whose driver had quit came by and offered Charlie the driver's job for $25 a day. Charlie said no to the $25,  but that he would drive and help sell the merchandise and split the net profits; they were successful. Charlie would use that same salesmanship when he got to Muleshoe.
But before he made it to Muleshoe, he met and married Georgette Masso, which was another  globe-trotting adventure.
Georgette's mom was Lebanese, her dad was Palestinian, and they had always lived in Jerusalem where her dad had worked in international trade and had done quite well.  Georgette was born there in 1935. But the family lived in Lebanon for a couple of years to escape the Arab-Israeli War.  When they returned to their home in Jerusalem in 1952,  all was gone and the situation was tense. so the five underage children were sent to Matamoros, Mexico, to live with Georgette's older brother who had a shoe store there. Two years later,  the rest of the family moved to Mexico. Georgette was one of the ten children in the family.
Georgette and her family; she is in the white coat on her knees in the bottom right of the picture.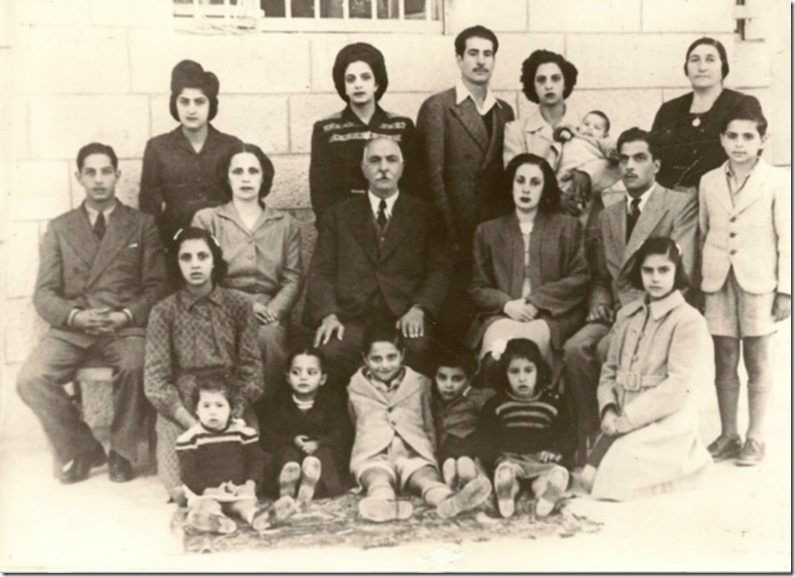 Photo courtesy of the Isaac family
Now, at this point the uncle of Charlie's who lived in Corpus Christi knew Georgette's family was in Mexico and Charlie was now in Texas. So he pointed Charlie in Georgette's direction. Six chaperoned meetings and six months later they were married in 1957 in Matamoros. It was sort of an arranged marriage, but Georgette had the option of declining, something I think traditional arranged marriages don't allow.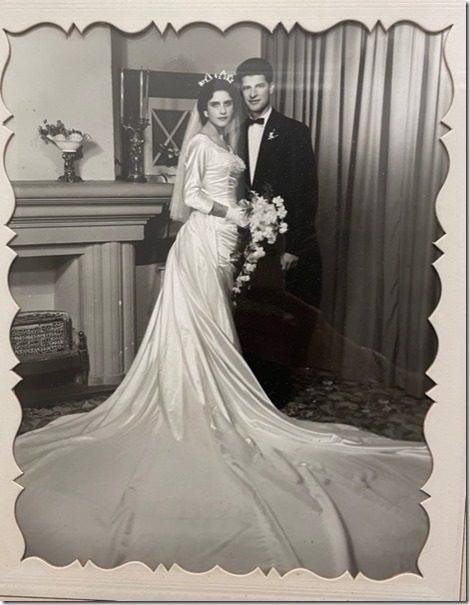 Photo courtesy of the Isaac family
After the wedding, the newlyweds moved to Corpus Christi and later to Lubbock where another uncle had a business on Avenue G and 13th Street called The Famous. The uncle let them set up business in a vacant building next door that they named El Capitan. He helped them put out a bit of merchandise and a lot of empty boxes to make it look like they had inventory. When a customer would come in and ask for a certain item, Georgette would slip out the back door, go over to The Famous and grab the item and run back to their store and sell it to the customer! Gradually they built up the business and no doubt some of those empty boxes started containing actual merchandise to sell.
To supplement family income when cotton season was over and sales slacked off,   Charlie took another job driving for a peddler who covered Shallowater and Anton. Charlie thought this man underpriced his goods, so he and this man drove to Muleshoe, stopped at the West Café, where the Cricket store is now, and asked if there were any braceros in town. There were, so the two men located the braceros and sold everything. They divided the profits, and the next day Charlie went back to Muleshoe looking for a location for a store of his own. This was in June of 1961.
Kline's Photography on Main Street looked like a good location, Mr. Kline was agreeable to moving his business and living quarters back to his house and vacating the building for Charlie, but Mr. Kline's house was then occupied by a cowboy who was behind on the rent. If Charlie could help Mr. Kline evict the cowboy, he would have a good place to open a business.  An unfazed Charlie got it done and had a crew of about seven Mexican men help unload merchandise in his new store. Working with these men allowed Charlie to form a positive relationship with the braceros who became his best customers.
Turns out that many of the merchants in town did not do much business with the braceros and didn't think Charlie could make a living doing it, either. Charlie told them they were missing the boat because he sold more in three and a half days than he had sold in Lubbock in six months. Charlie treated the workers with the respect due any person and provided them with a place to shop at home since they did not have cars to go shop elsewhere. Since Georgette knew Spanish, she would help the wives find sizes and needed items for the children and things to take home when they went back to Mexico. When the Texas blue laws were passed that excluded the sale of certain items on Sundays, Charlie was able to skirt the law just a bit and sell to them on Sundays since that was the only day they could shop, as they needed to be at work the rest of the week. For ten years or more, the braceros shopped nowhere else but The Fair Store.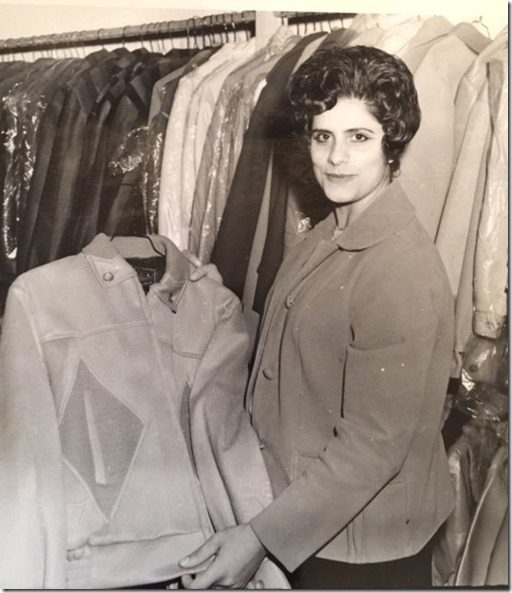 Photo courtesy of the Isaac family
When the bracero program was stopped in 1964, business continued and sales declined a bit, but many of the farm laborers remained in Muleshoe and still shopped The Fair Store. Charlie had also been wise with his earnings and had saved enough for the family to be in good shape. When the kids would finish high school and he would ask them if they wanted to go to college, they would say yes. He then said you will go to school without a job because I want you to study and do well in class to prepare to be successful in the future. He told son Michael that he would give him everything he needed for college and Michael said what's the catch? And Charlie said, " Your report card will come to me and you will have to call me to see your grades." Then when Michael borrowed the money for medical school, Charlie offered to help repay the loan if needed. Son John was given the same deal and also went to medical school. Both boys paid back their loans in less than a year after their residencies.
So Charlie's plan worked not only for the doctors in the family, but the other children as well. Cindy attended Texas Tech and is now a wife and mother of four in Dallas Highland Village; Elizabeth attended Texas Tech and worked for Dillard's in Lubbock; Christine went to Texas Tech and is a realtor with seven kids in Tampa, Florida; Debbie went to Colorado State University on a basketball scholarship and is a wife and mother of six kids in Lubbock. Michael attended the University of Texas, became a cardiologist, is in McKinney and has five children. John went to Rice University on a football scholarship and is a cardiologist in Houston with four kids. And yes, sports scholarships are like holding a college job, but they do help pay the bills and bring a certainly amount of celebrity, so Charlie was willing to bend his rule just a little.
An Easter shot from the mid-70s: John, Michael, Charlie, Elizabeth, Christine, Cindy, Debbie, Georgette.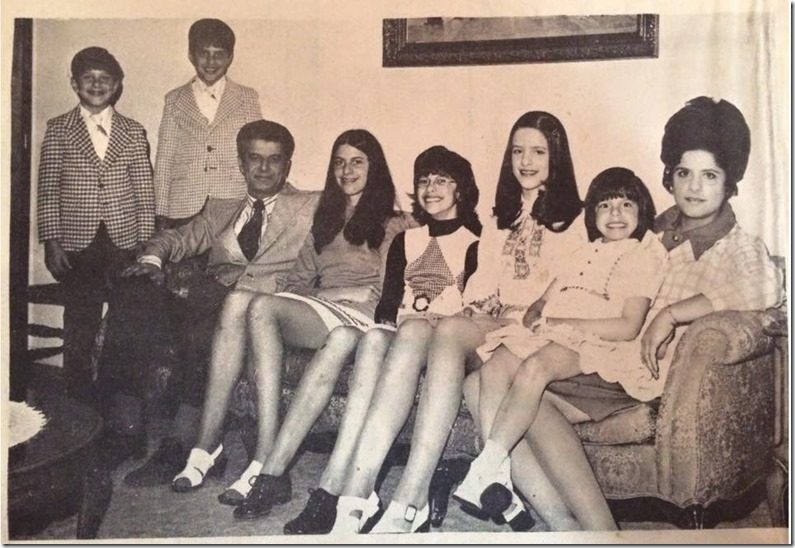 Photo courtesy of the Isaac family
A more recent family portrait: Michael, Debbie, Cindy, Charlie, John, Georgette, Christine, Elizabeth on Georgette's 80th birthday in 2016.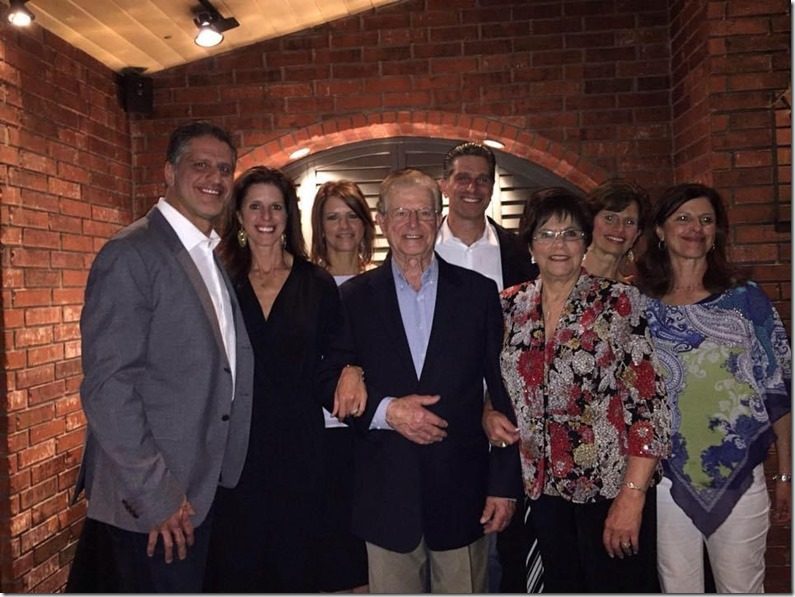 Photo courtesy of the Isaac family
Over time, shopping habits changed, population demographics changed, Charlie and Georgette and the store aged, and the time came to sell the business and move to Lubbock to be closer to Debbie. Ephraim Torres is the new owner  and The Fair Store is a part of Muleshoe history. Charlie and Georgette visited one last time on  August 26, 2021.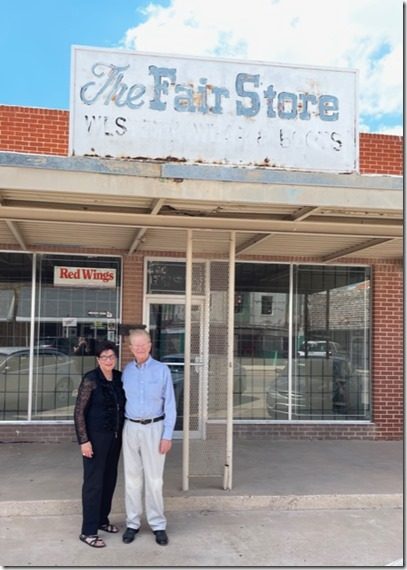 Photo courtesy of the Isaac family
I asked Charlie where he came up with the name The Fair Store. He chuckled that a guy had stores in Lubbock, Lamesa, and Brownfield called The Fair Store, and he always heard radio ads talking about these stores, so he thought he would just kind of take advantage of people being familiar with the name and use it. He added that he was going to call the store Charlie's, but he didn't want to cause confusion with Charlie Hanks' store, Charlie's Originals,  already here in town.
John and Charlie took a trip to the Holy Land in 2018 when Charlie was 91 so he could revisit Ramallah and the area where he grew up all those years ago and connect with relatives who still live there.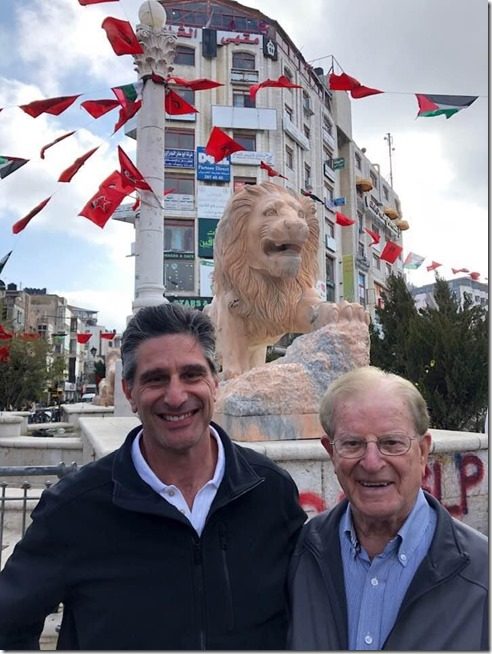 Photo courtesy of the Isaac family
This picture was taken in the village of Ramallah too, but probably in the early 1900s. From the left is Khalil Mousa, Jacob Mousa, Isaac Mousa, and Hannah (John) Mousa. Jacob is the dad and Charlie's great-grandfather; the other three are Jacob's sons, with Isaac being the grandfather who raised Charlie till he was eighteen. Debbie and I surmised that the family name Mousa was changed to Isaac most likely upon entry into the United States at Ellis Island, which often happened.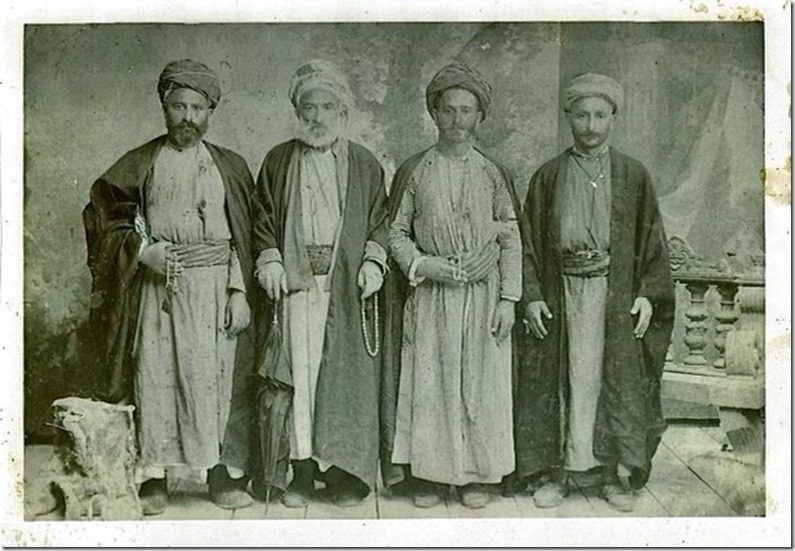 Photo courtesy of the Isaac family
Even though Charlie grew up in Ramallah, he was born in America. Georgette was born in Jerusalem and obtained American citizenship in 1979. He had to learn English when he arrived here at the age of eighteen. Georgette at one time could speak Arabic, Hebrew, Spanish, French, and finally English.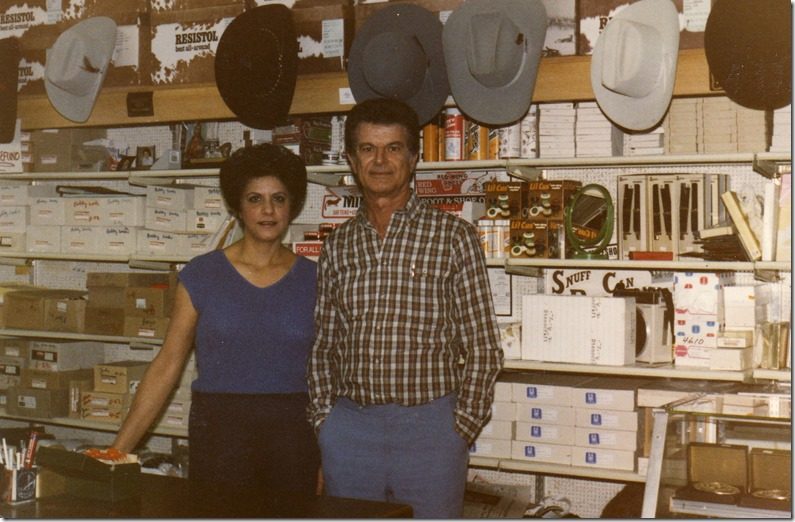 Photo courtesy of Gil Lamb Advertising
Good friend Buck Campbell said Georgette's citizenship changed a few things around the Isaac house. He said that before she obtained citizenship when you called the house, Georgette would answer the phone and then pass it on to Charlie. Buck called one day and Charlie answered. Buck thought he had the wrong number! He asked what the heck was going on and was told that Georgette wasn't answering first anymore because she didn't have to now that she was a citizen! Her new status also allowed her to get a driver's license, which meant shopping trips to Lubbock any time she chose and perhaps other fun adventures. Georgette said that her first driving adventure, however, was not much fun. The first trip driving on her own was to take Christine to a doctor's appointment in Lubbock. When one of the big trucks would come by, she would be scared to death, pull over on the side of the road to let it pass and then get back on the highway! But that took care of itself in time.
Adventures may have come with the citizenship, but none will top Charlie and Georgette's adventures just getting to Muleshoe. We are glad they made the journey.
Thanks to Charlie and Georgette, Debbie and all the Isaac children, Buck Campbell, Bill Liles, and Gilrobert Rennels for their help with this story.