Rumors started circulating a while back that Tolk Station would be closing. I jumped to the conclusion, as I suspect other people also did, that the government was behind this because Tolk is coal-powered. But rather than assuming I knew what was going on, I decided the thing to do was find out what, exactly, is in Tolk's future. This is what I learned.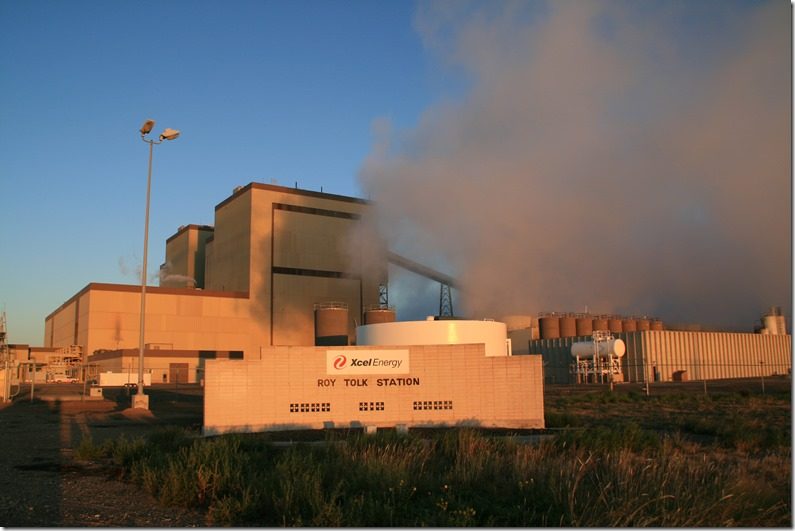 I spoke with Randy Van, plant director at Tolk, who referred me to Wes Reeves, Xcel's Senior Media Relations Representative for the Texas-New Mexico region, who is based in Amarillo. We talked coal, water, ERCOT, the many power grids that supply the United States and Canada with electric power, synchronous condensers, and changes in the future of Tolk and its employees.
I thought coal was the problem, but it turns out water is the main issue. I am no electrical engineer, which would have helped in this discussion-big surprise! But maybe you aren't, either, so let me share with you what Wes walked me through. Tolk is a steam-generated plant using coal to heat the water in the boilers to make the steam, which is then forced into the turbines which spin under pressure and generate the electricity. Then the steam is condensed in the cooling towers back into water and used again, up to ten times. The minerals in the water eventually become concentrated after multiple uses and the water is no longer usable to them, so it is then piped onto farmers and others for agricultural irrigation and other uses.
The water table has dropped over the years, not just from Tolk, but from farming, dairies, and general population demands as well, and not enough water is available for the plant to run at full capacity. Coal power is also frowned upon by environmentalists, but coal mining has changed for the better, and I have never seen polluted air from Tolk, as it is in plain sight from our house every day. But that's another story. The real issue seems to be the water. Studies have been done and revealed that operating Tolk on a limited basis until 2032 would be workable using the two generators only during peak use months.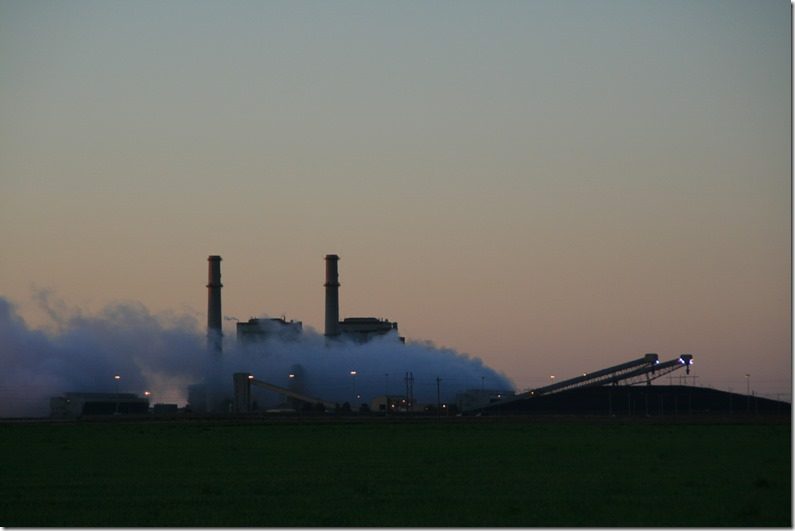 Tolk was completed in 1985, the largest power generating plant in the Panhandle and South Plains region. It has two coal-fired steam-electric generating units with a generating capacity of 1,080 megawatts of power that supply customers in roughly one hundred towns in this part of Texas and part of New Mexico, as well as customers of rural co-ops and municipal utilities in this region. Power plants usually last forty-fifty years, so its projected retirement in 2032 is just about right.  Wes commented that over time plants aren't as efficient as they were when new and become expensive to maintain as technology changes. For example, compare cars from the 50s to now, or the first cell phones with their attached battery bags back in the 80s to the ones we take for granted now.  So it was inevitable that Tolk's purpose in life would change, but the facility would not just be shut down and gather dust.
Synchronous condensers were added in 2019-20. The plant's generators will still provide power when needed during peak months, and during off-months the synchronous condensers will support the voltage on the grid that supplies power in this service area. The condensers don't generate electricity, but are like pumps on water towers that keep the pressure up in the pipes so that water can flow. So the station will be providing support power necessary to keep the grid running efficiently to provide the actual electric power. Tolk's purpose in life will have changed from only providing electric power to also providing support for the power maintained on the Southwest Power Pool, of which Xcel is a member.
What with all the mess and loss of power across Texas and parts of the South this past winter, ERCOT couldn't help but come up in our discussion. The short answer-well, as short as I can make it- to a long story about the power meltdown is that all of Texas is not affected by ERCOT (Electric Reliability Council of Texas), which has been around since 1970.  Basically, there is the Eastern Interconnection grid, the Western Interconnection grid, each having some subdivisions within them; and then there is the Texas grid. The majority of Texas' high population areas, except El Paso, which falls under the Western grid, are under ERCOT. Our area and part of Eastern New Mexico are in the Southwest Power Pool, a choice made by Xcel.  I don't know about you, but we were without power for only an hour and a half one morning during the freeze, and not being a part of  ERCOT is how we dodged any extended power outage bullets.  And Tolk was supplying power during that time with coal. Wind farms and frozen gas lines weren't getting the job done. And no one in Central Texas was deciding who among us had power and who suffered a power outage.
But I digress. Sort of. Back to the future of Tolk.  The synchronous condensers will continue  to support the grid  and Tolk will be active and have a job to do until 2032 and beyond. After 2032, Tolk will continue to supply the back-up voltage to the power grids, but by then, new technology may have something else for the plant to do. Time will tell on that.
As the plant's purpose changes, so will the jobs needing to be done. Around seventy people are employed now, and the company doesn't plan any lay-offs, but as  positions are left empty because of retirement or a chosen career change, some jobs will not be refilled. The plant will not be closed down, but will continue to be a functioning part of the local economy. A power plant is a huge investment that Xcel won't want to walk away from. And why should they? The infrastructure, power lines, transmission lines are there, ready to contribute in whatever capacity  needed. And employment will still be available.
Along with supplying us with electricity, Tolk has been a valuable part of the economy of Muleshoe, Sudan, Springlake, Earth, and the other small towns in the area,  providing stable skill-level employment, good wages, and retirement plans, economic components that fluctuating crop prices and consumer trends don't complicate. While Tolk's purpose in the production of electrical power may be modified, it's presence and influence will remain.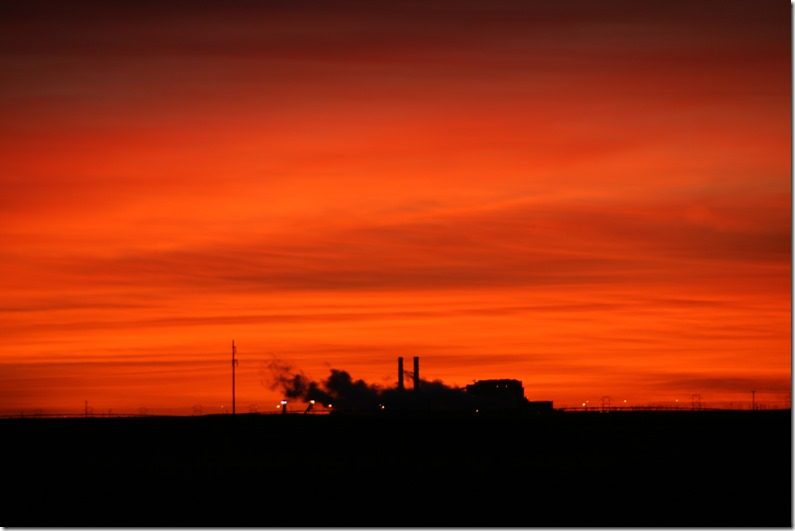 And I will continue to enjoy seeing it in the distance.
Thanks to Wes Reeves, Randy Van, Brian Hudson, Joe Gear, and David Head for their help with this story.
To see Tolk from my back yard, type "My Version of  the Emerald City" in the Search Line on this website, and you can read another story about Tolk and see some cool pictures of the plant from afar.