In 1985 Muleshoe dedicated the Earl M. Ladd Fire Station No. 1, the new home of the Muleshoe Volunteer Fire Department. It's an unassuming building; quiet, simple, utilitarian. But it houses a fleet of special vehicles and a group of people who serve our community without much fanfare or recognition, our volunteer firemen and their trucks.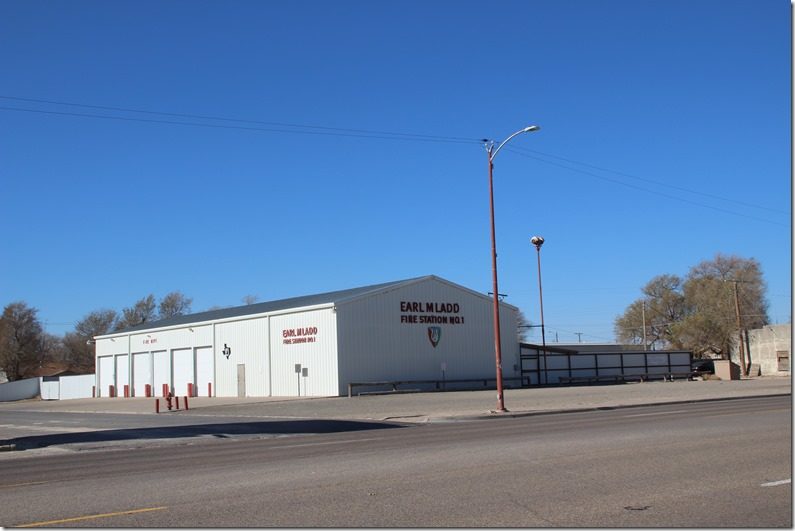 Most small towns, and perhaps some larger ones, have volunteer fire departments, but I suspect most of us, and that includes me, pretty much take them for granted and know very little about how a volunteer fire department really works. So I figured it was time I found out.
I knew our neighbor and friend, Jack Dunham, had been a fireman, served as fire chief, in fact, for many years, so I wandered over to his house for some information. He even had his fire gear out to show me. He said just the coat weighed about ten pounds, so I wanted to try it on, just to get the feel of what they have to carry around while dealing with the fire and heat and inherent obstacles of fighting fires. Well. That's the heaviest ten pounds I ever carried around! I know it was too big for me and all that, but even the right size would have been bulky and cumbersome, and I can't imagine dealing with that while dragging around equally heavy hoses working off forceful water pressure, the smoke, falling debris, everything that goes with fighting a fire.
Jack joined the fire department in 1965, served as fire chief for ten of those years, and retired in 2005.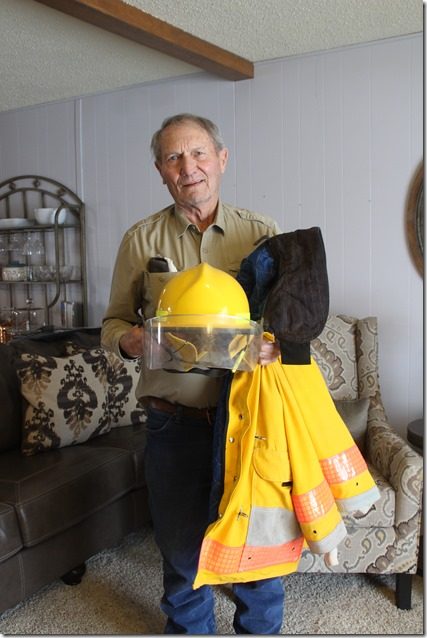 He shared this picture from his early days with the department, a picture taken for the Muleshoe newspaper back in the day. From left to right are Bob Copeland, Earl Ladd, Jr., Jack, Bill Kinard, Donald Harrison, and Odell Rasco. He laughed when I asked when this might have been taken and said he didn't remember, but he did know it was taken at the old fire station on Avenue B.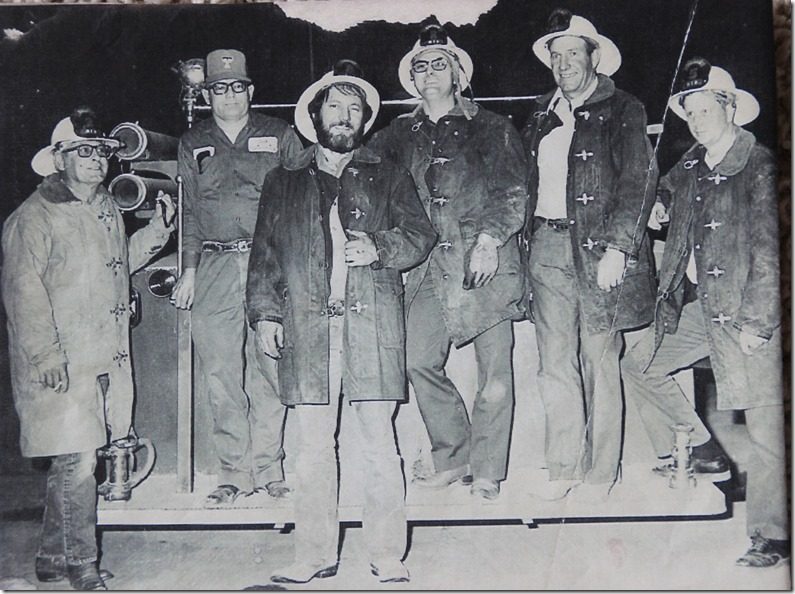 Photo courtesy of Jack Dunham
For more years than I could nail down, the fire station was located on Avenue B, between 3rd Street and Main. The fire trucks were housed on the south side of the street in the building with the three garage doors,  and meetings were held across the street at the City Hall offices where the Police Department logo can still be seen.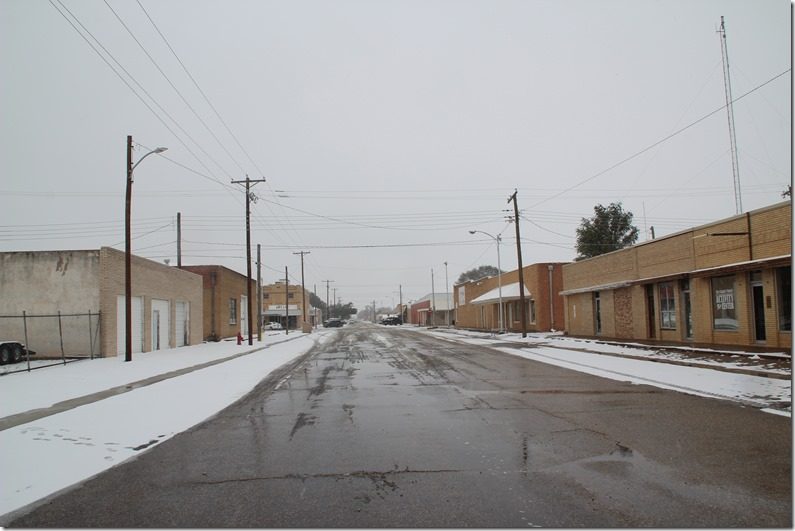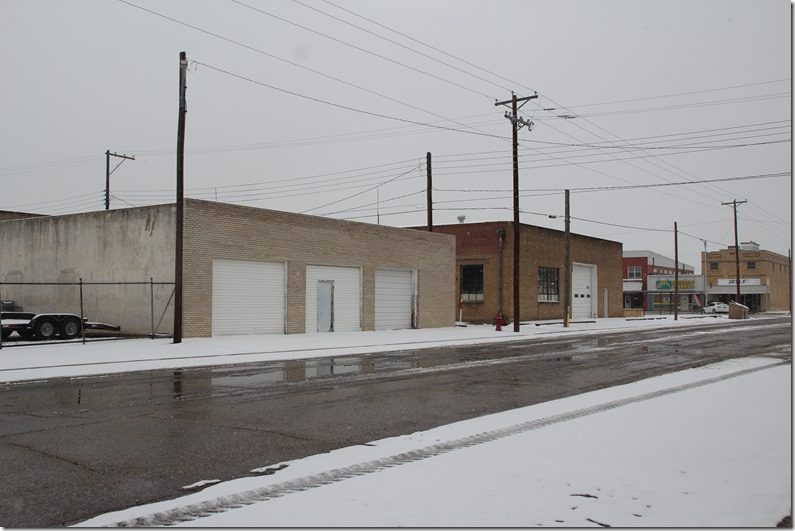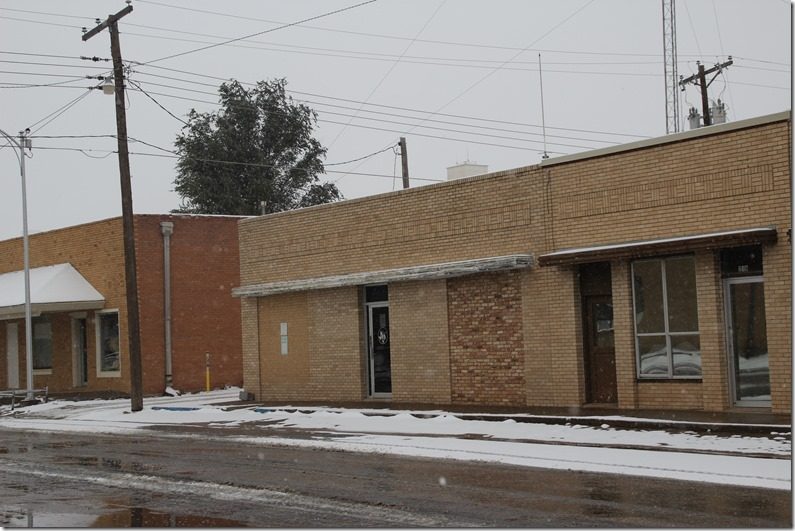 At some point after City Hall was moved to its present location, the firemen and the Police Department shared the building, and things became a bit crowded. Jack was fire chief at the time, and he and some of the other firemen proposed to city manager Dave Marr the creation of a separate fire station with trucks, equipment, and meeting areas all under one roof. Marr  agreed, presented the idea to the city council, and the fire station became a reality in 1985. Earl M. Ladd, Sr. had served as fire chief for thirty years, and it was agreed the station would be named in his honor.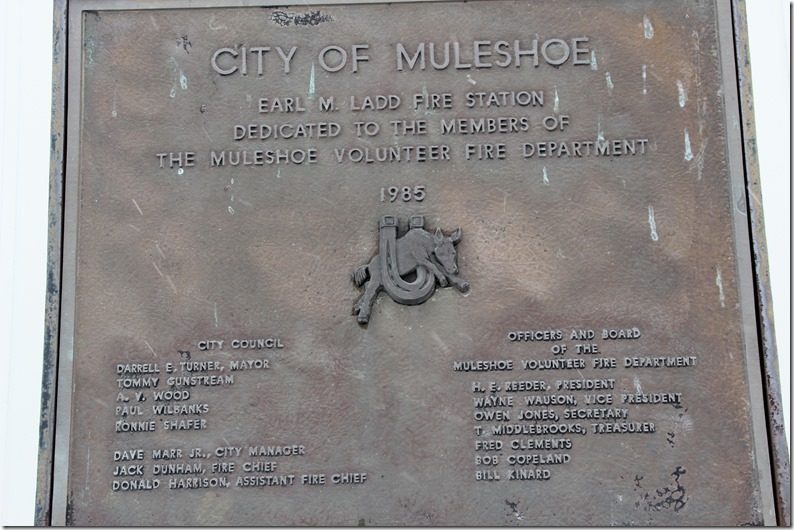 This bit of history made me curious about when Muleshoe got a fire department in the first place, so I enlisted the help of  retired city manager LeAnn Gallman who graciously offered to hunt through the record books of old city council meetings in the city hall vault. The city of Muleshoe was officially incorporated on January 12, 1926, even though the town was laid out in 1913. Bailey County was organized as an independent county in 1918. So, in the minutes from March of 1927 LeAnn found record of a discussion and a vote to purchase a new truck. Then on July 23, 1927, Mr. E.R. Hart of the E.R. Hart Lumber Company sold property to the city for $250 for the fire department we've already discussed on Avenue B. Then in May of 1928 the minutes said that Mr. Keeney was appointed to succeed Mr. Brooks as fire chief. The next mention of the fire department jumped to October 1930 when Dr. Duke was appointed fire marshal and city council discussed buying badges for the "fireboys" at the cost of $13. The purchase was voted on and approved. The next reference to the fire department was in December 1938 when they decided to buy another fire truck, a pumper, for $3450.00. Now, I know this is a rather long history lesson, but it answers my question-a volunteer fire department has been around just about as long as the town has existed. And for those of you who wonder why minutes are taken at meetings, this is one reason why. History is preserved for future generations.
As to the history of who has served as fire chief, Mr. Brooks, and Mr. Kenney were the first fire chiefs on record in the city council minutes; then there is a jump to Earl Ladd, Sr. and his years as the chief. He was followed by H.E. Reeder, Jack Dunham, Donald Harrison, Richard Ronek, and now Tom Ladd. So if anyone can fill in that gap of who served, let me know.
I visited with Tom Ladd who grew up with firefighting in his blood, since his dad, and his granddad, for whom the station  was named, were both firemen.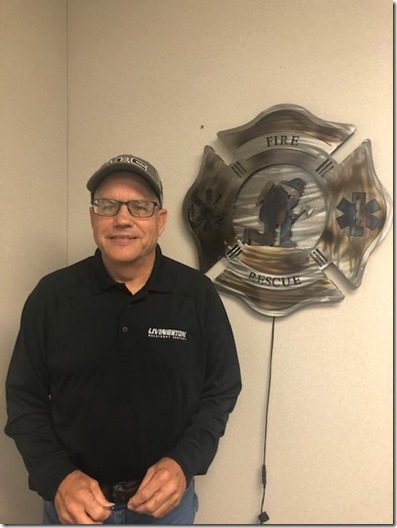 Tom was elected fire chief by his fellow firemen in 2008. Turns out joining the fire department has to be voted on, too. A prospective fireman/firewoman is required to attend three meetings to learn what being a volunteer fireman involves, and the men, as well as the occasional woman, get to know the new recruit and decide if they think he/she will have their back in dangerous situations. Banding together to fight fires is considered a brotherhood, and it is critical they are there for each other when the going gets tough. Now, that may sound harsh, but it's a reality. Mental or physical limitations are considered, but, particularly in the case of physical limitations, there are plenty of ways to contribute besides fighting the fires; office work, truck and equipment maintenance, clean-up, refueling, and refilling the pumper truck after a fire are a few examples.
In the old days meetings were held on Wednesday nights. Jack said many of the volunteers were dads with young kids participating in school sports and had games on most of the other nights, so that left Wednesdays, which sometimes interfered with church. Now Tom said they meet on Mondays, which is the night when neighboring towns tend have their meetings, and this way departments can visit each other and share training sessions. Tom said the first Monday of the month is a business meeting, the second and fourth Mondays are training nights, and the third is a work night for maintenance and cleaning. If the month has a fifth Monday, they do more work-related tasks or maybe just relax and visit for a change.
Fires are classified as either structural or wildland, structural obviously referring to buildings and wildland being grass and forest fires. The volunteers respond to about a hundred to a hundred and fifty calls a year, and this includes fires and wrecks. Wrecks aren't mandatory calls for fire departments, but it is this department's policy to respond as a safety backup for EMS personnel in case of unexpected fire or if the Jaws of Life are needed. The fire department had Jaws of Life even back in the days of Jack Dunham and Jack Rennels, shown here demonstrating this equipment when it first became available, perhaps in 1977 when the department received its first set.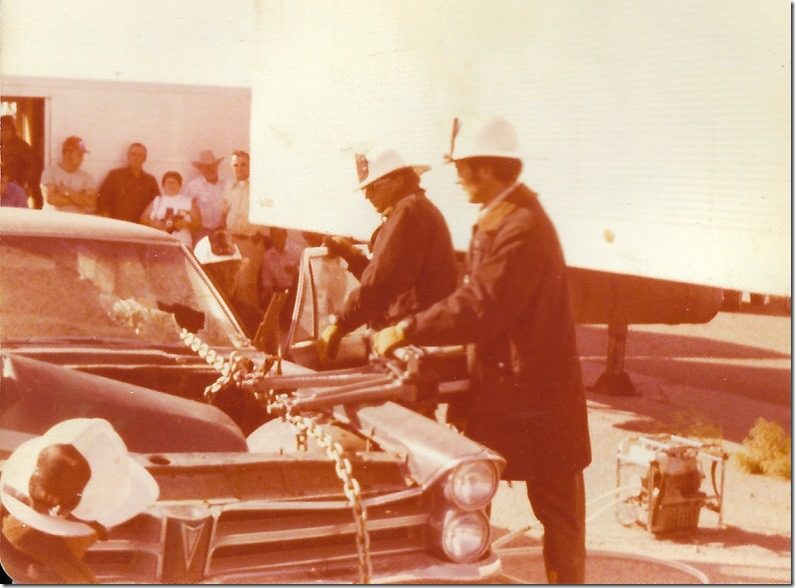 Photo courtesy of Gilrobert Rennels
Tom said the majority of their calls deal with wrecks and grass fires, these wildland fires being worse in late winter and spring because of the wind and lightning strikes. Seldom do they get calls about big fires, but the smaller kitchen fires, dumpster fires, and others are kept from becoming big fires because the firemen do respond and respond quickly. Dumpster fires usually get handled by one truck; a house fire would be covered by as many trucks as they can man, depending on the number of volunteers who answer the call, since they want to be prepared for anything.
In the old days Jack said the dispatcher at the police station would call the fire chief, who then called the five team captains, who then called their team members to get everyone to the station. The siren at the station was also sounded. Now the calls still go through the police department dispatcher who then pages EMS and all the firemen. Police and the EMS, that being their jobs, go directly to the scene; volunteer firemen, being volunteers, have to leave their jobs when their pagers go off, and this is where it gets tricky. Some businesses in Muleshoe are willing and able to allow them to jump and run during the work day; other businesses can't or won't, and this sometimes limits the number of volunteers available to fight the fires that occur during the work day. Calls that come after hours give those who can't leave their job a chance to fight the fires.
Volunteer firemen go through the same training as paid firemen. All volunteers, including ours,  can attend schools, such as the Texas A&M Fire Academy in College Station, but as a department they visit neighboring towns' volunteer departments for local training there as well as providing continuing education training and practice themselves here in Muleshoe. Someone is elected every three years to organize that training; Scott Simmons is currently in charge of those activities. They earn CPR and Red Cross certification, are trained to drive the trucks, and learn safety practices basic to fighting fires, like how to cool a butane tank, how to put on breathing equipment, how to enter a burning house, and myriad other skills we non-firefighters don't even know exist. A state convention is held every year which members can attend to learn current trends and training as well. Training and certification is an ongoing process that takes years to master. The volunteers have to be eighteen to join, but there is no mandatory retirement age.
The fire department is funded by the city of Muleshoe, but also gets assistance in the form of trucks and grants from the Texas Forest Service and Texas A&M University. In fact, Jack Dunham remembers some of their first gear came through the Forest Service. For many years all they had was a helmet, a coat, and had to supply their own rubber boots. Now they are supplied with pants, coat, boots, helmet, and a mask, all fire-retardant.
While I was visiting with Tom Ladd, his pager went off! Suddenly things got noisy as his phone also rang, and I could hear Ruben Ruvalcaba and Scott Simmons who work at Livingston Equipment with Tom, answering their pagers as they rushed out the door to the wreck that prompted the call. Now, this meant that the fire station would be open, so I bid a hasty farewell to Tom and drove to the station to take a few pictures while the volunteers who showed up would be gone, and I would be in no one's way.
This truck is the tanker provided by the Texas Forest Service.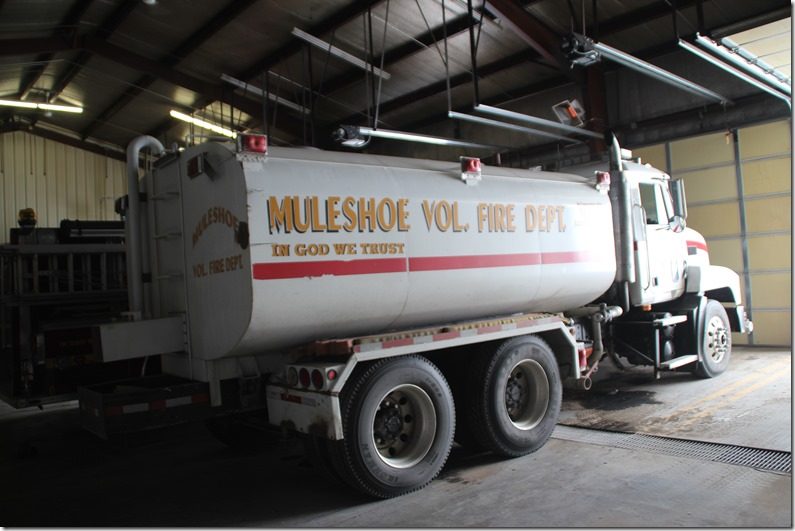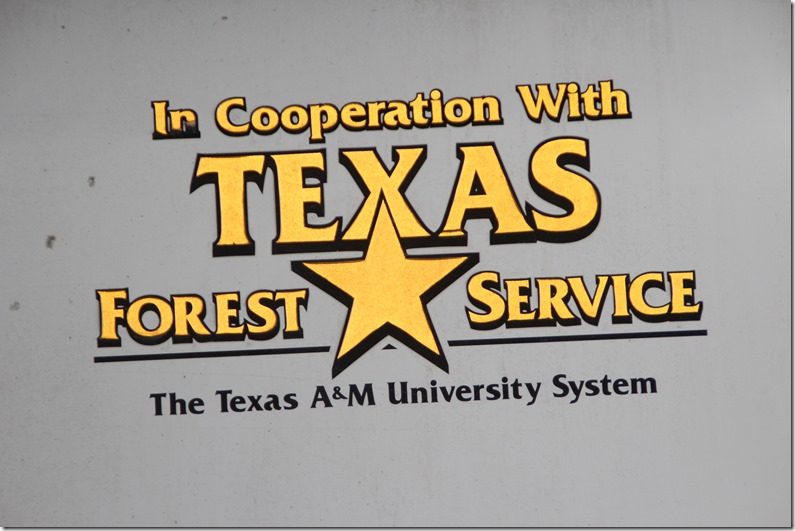 This rack of pumper hoses were neatly hung behind that pumper truck. They are routinely cleaned after each fire.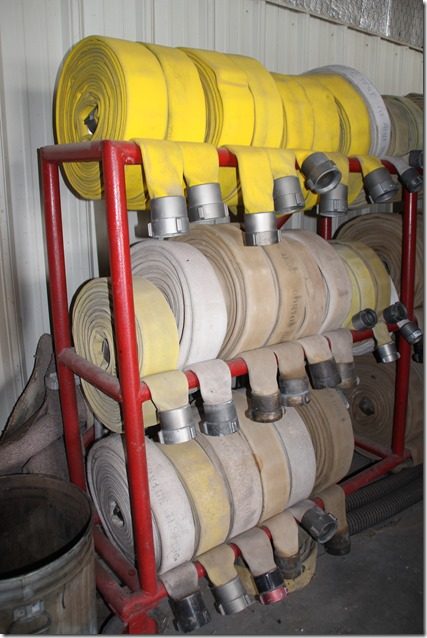 The firefighting coats and pants are washed about every two weeks and after heavy use to keep them clean. As heavy as that coat of Jack's was when I tried it on, I am impressed that the machine you see here can wash two sets of uniforms at a time!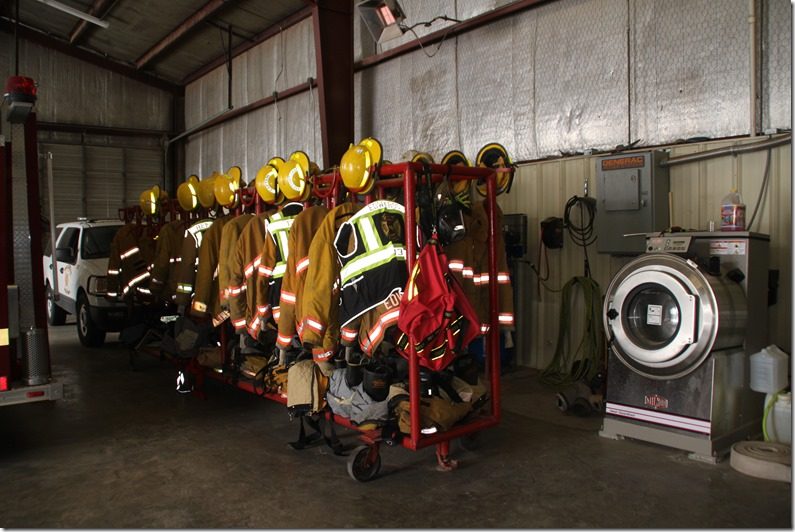 Truck 211 and 212 were not taken to the wreck this time. I think the rescue and brush trucks were taken on this call, so I don't have a picture of them. But I suspect those are the trucks that we see carrying  the football team to the bonfires and the ones  in our parades all the time, two other community services the fire department enjoys doing.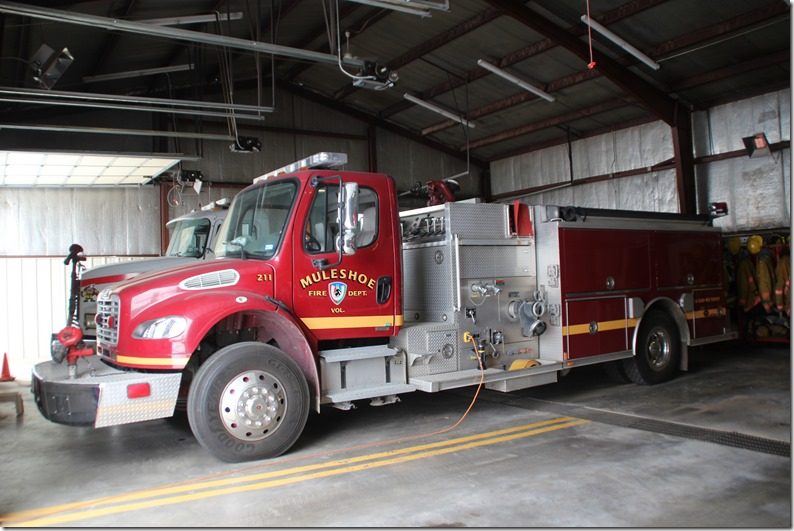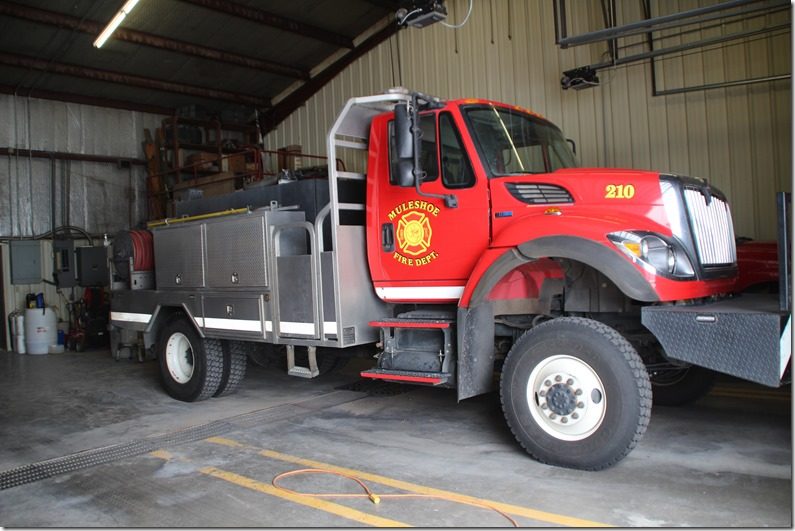 Just to give you a point of reference, this truck, one of the first early vehicles owned by the department, has lived its retirement at the home of Jerry Harrison. Jerry's fireman brother Donald bought this 1947 Dodge fire truck when it was sold at a city auction and hauled it out to Jerry's house, where it has been ever since.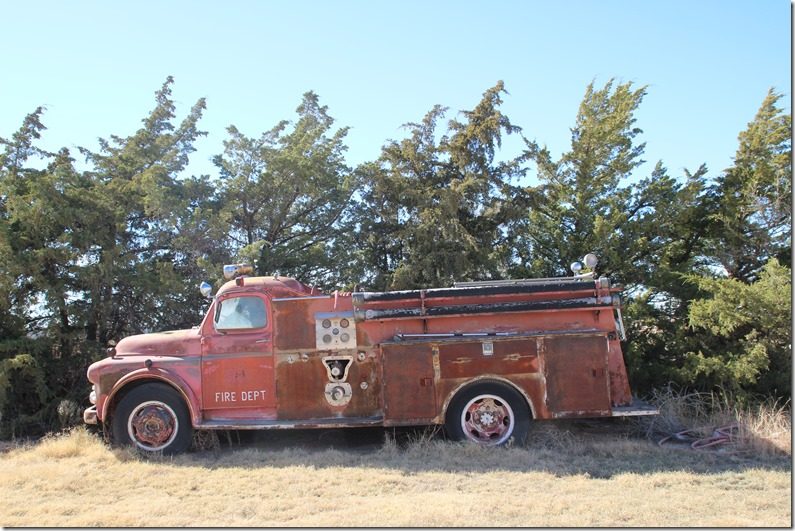 But back to the station where I was looking around. Inside the building I found an office and a large room for activities, complete with a kitchen.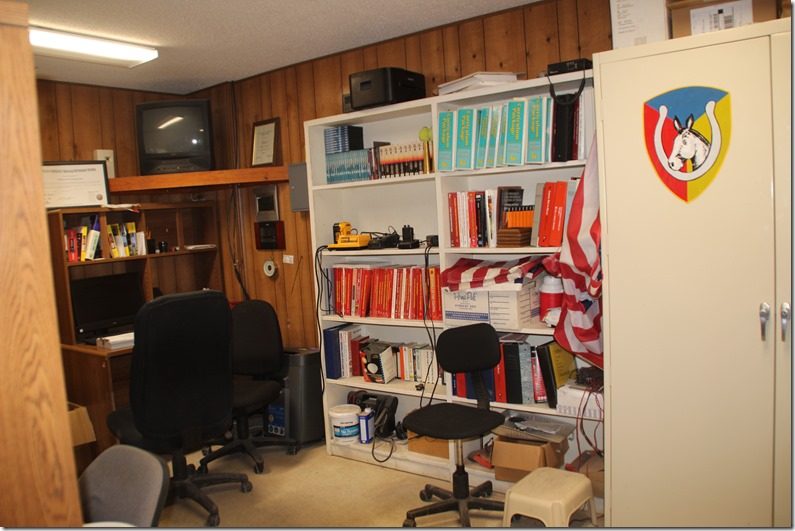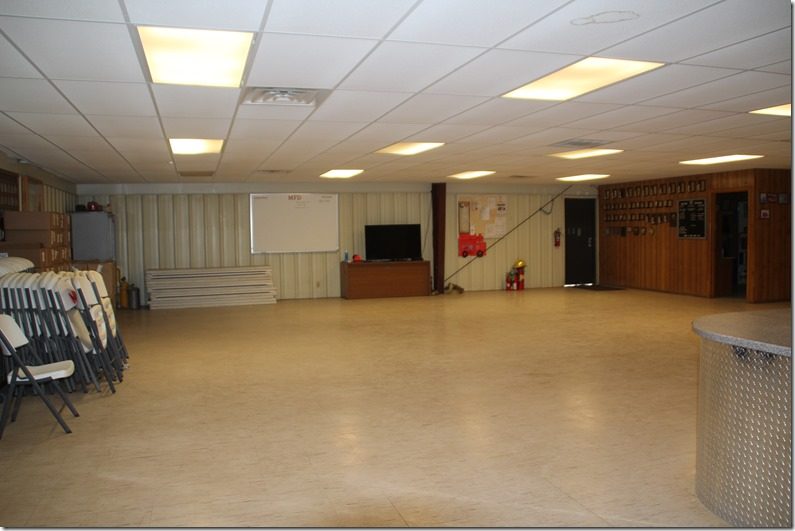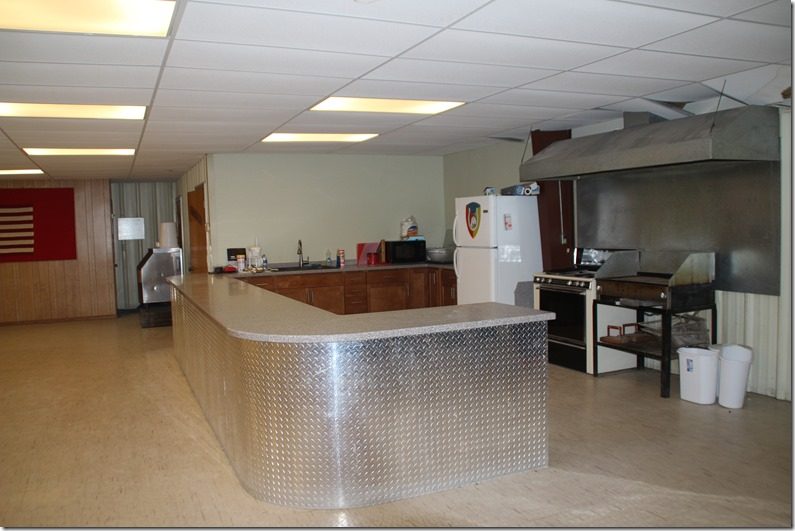 One wall of the large room displayed plaques and trophies won at training playdays and conventions by various members who competed in events that showcased their firefighting skills.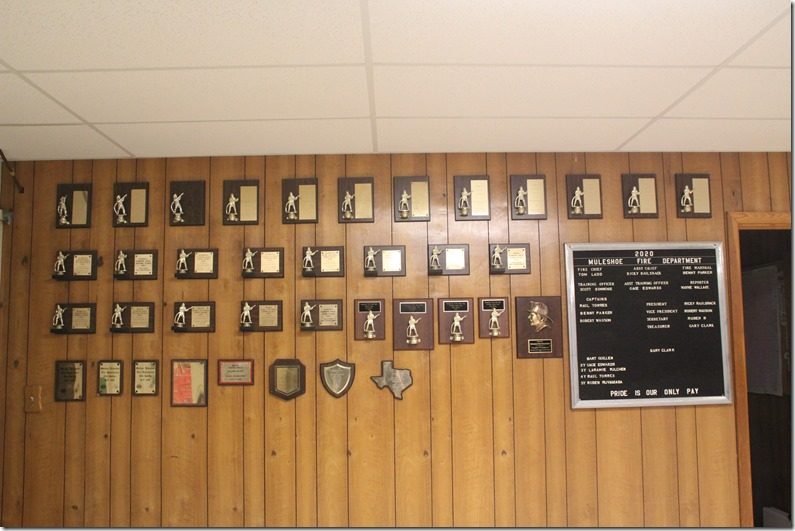 A large fenced back yard provides a place to have the training and fundraisers, or just have a social gathering for the group.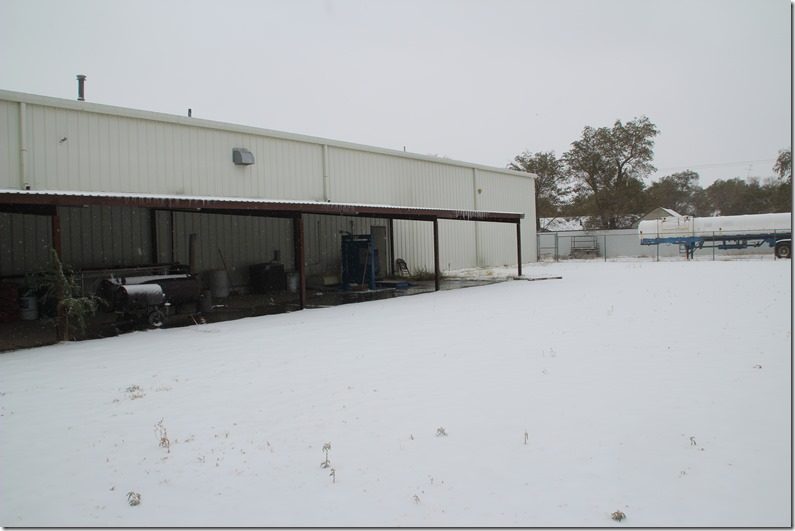 Right now Muleshoe has  twenty-five volunteers; the number waxes and wans, but is usually around twenty or so. For a few local families, being a firefighter becomes tradition, like the Ladds, Parkers, Toshes, Clarks, Fulchers, Rennels, Torres, and Wausons. Many brothers, fathers and sons serve together in Muleshoe, but a couple of sons have taken it a step further. Greyson Rennels, son of Jack Rennels, works for the National Forest Service and gained training and experience that earned him the designation of a Hot Shot, which is the fireman equivalent of a Navy Seal. Joshua Torres, son of Raul Torres, just graduated from the Texas A&M Fire Academy and is employed as a Wildland Firefighter.
The men currently serving  you as volunteer firemen are Austin Atchley, Jerry Bruton, Gary Clark, Josh Clark, Gage Edwards, Laramie Fulcher, Roper Fulcher, Juan Guillen, Curtis Hensley, Tom Ladd, Roman Martinez, Blake Parker, Benny Parker, who has also been fire marshal for the past twenty years, Ricky Railsback, Ruben Ruvalcaba, Scott Simmons, Marcos Soto, John Stiles, Raul Torres, Josh Torres, Billy Tosh III, Billy Tosh IV, Wayne Wallace, Robert Wauson, and Nathan Wilton. These men give of their time and risk life and limb for your safety.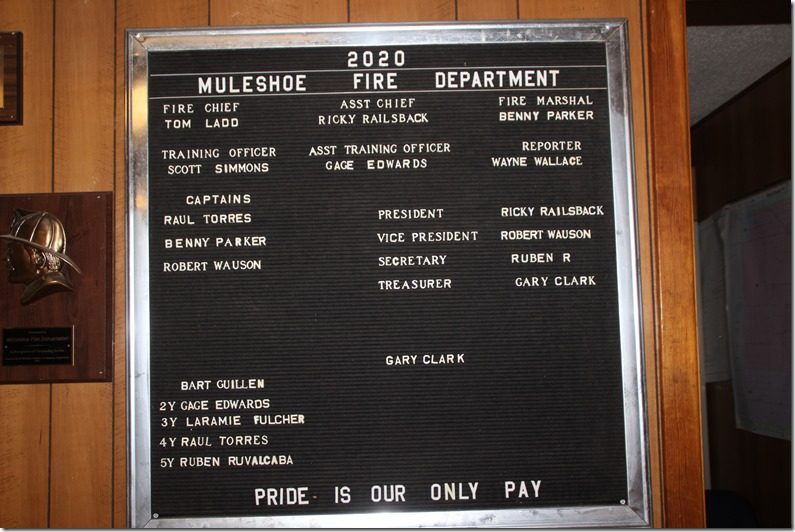 Tom said they are always in need of new volunteers. Just show up on a Monday night at 7:30 and see if serving  your city as a fireman is up your alley.
You might be surprised at what you learn.
Thanks to Jack Dunham, Tom Ladd, LeAnn Gallman, Gilrobert Rennels, Benny Parker, and Jerry Harrison for their help with this story.