Once again I started my day watching the horses come in, but this time from a different direction. And I didn't stand in their way! I was the only person who cared to watch them come in this morning, but I visited with Bonnie, a woman who comes in during the fall when the college age wranglers go back to school. Turns out we have a lot in common.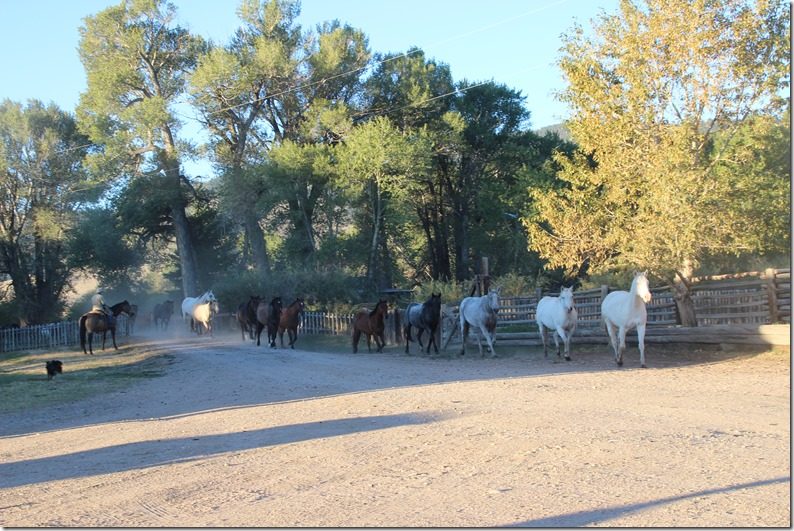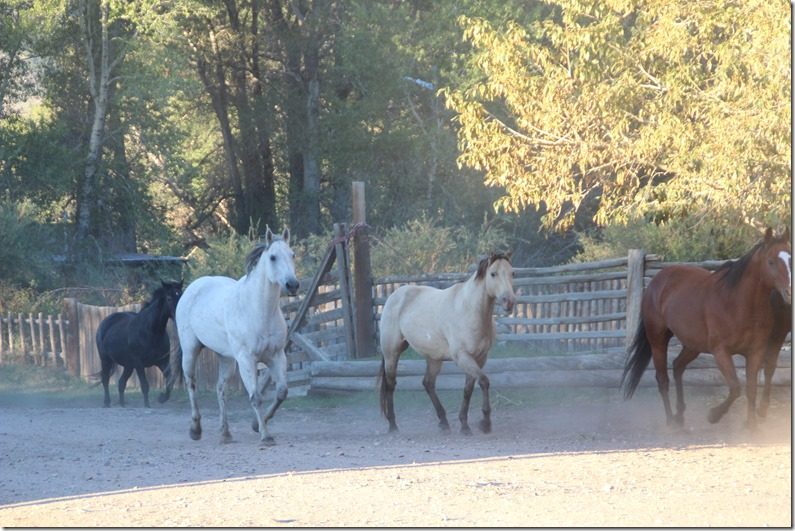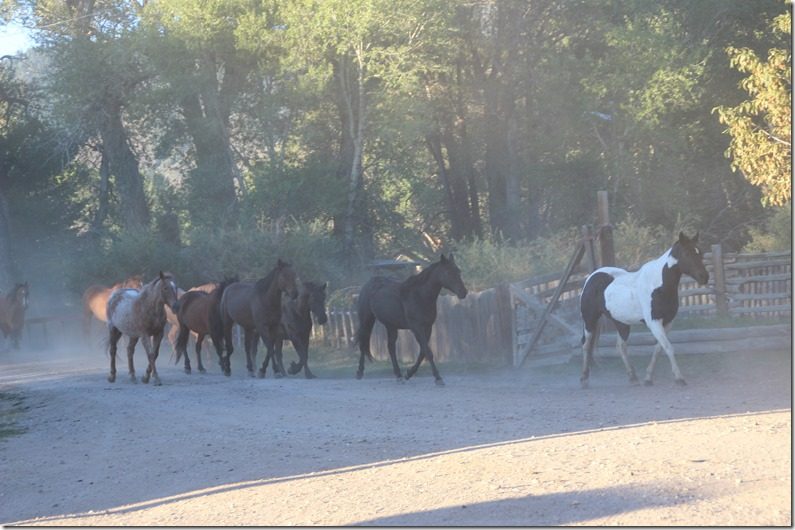 Bill and I were the only ones up for breakfast yet, too, and after we ate, we did a little sightseeing and drove the six miles or so to the little town of Centennial down the road and came back. Bill helped me haul up a really nice rock I saw on the river bank, and then we went in to visit with Brent, Kari, Tommy, and Bonnie while they had their breakfast.
Bill spoiled me again with a ride back to the barn when it was time to saddle up, this time with some of the other riders. Penny was there to greet everyone.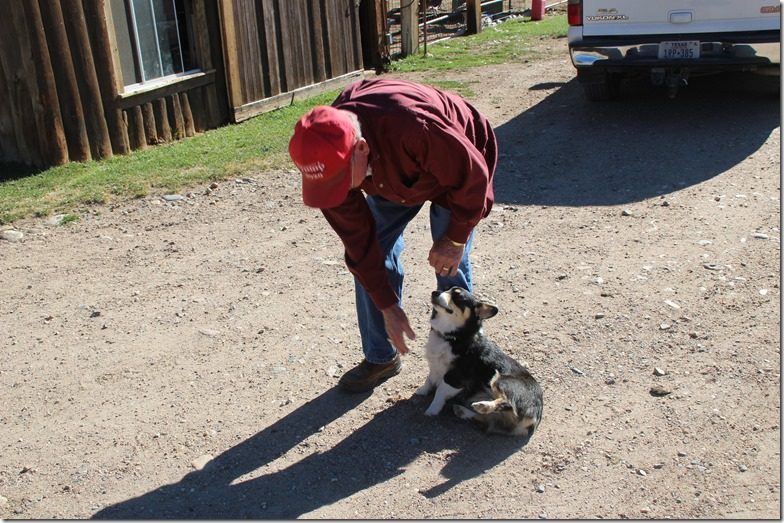 The last time I was here we  mounted the horses on a three-step stool to make it easier on the horses, but definitely easier for us older riders with tall horses and greenhorns new to the game. I tried to mount Malcolm from the ground on one of my earlier rides, thinking, heck, I can do this. Well, I used  to do this! That was a wreck looking for a place to happen. I only tried it once. Now they have improved on the stool, making a mounting box, I guess you would call it, to give the rider a little more room to maneuver the horse up to it. The original three-step stool doesn't show in this picture, but it is pushed up to the edge of the box for riders to step up on top of the big box for mounting.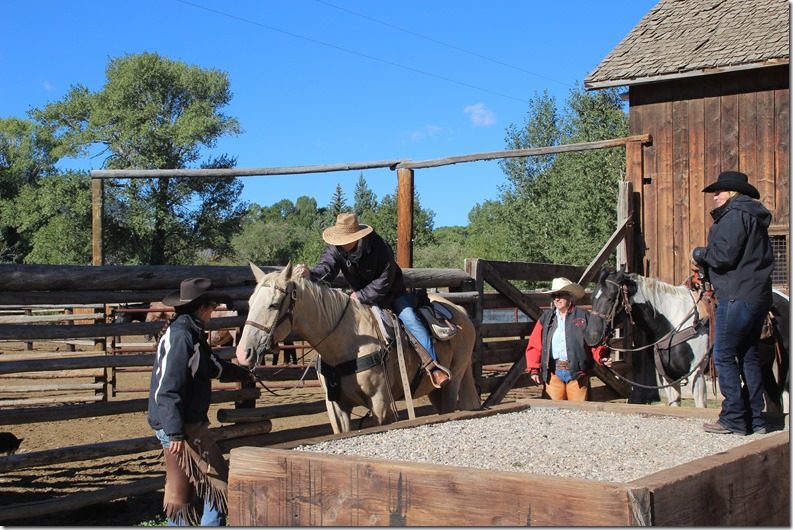 Everyone availed themselves of the box and we were ready to go. That's me on Malcolm, then Karen, Brent, Bonnie, and Tim. The others would be coming later in a second group with Tommy.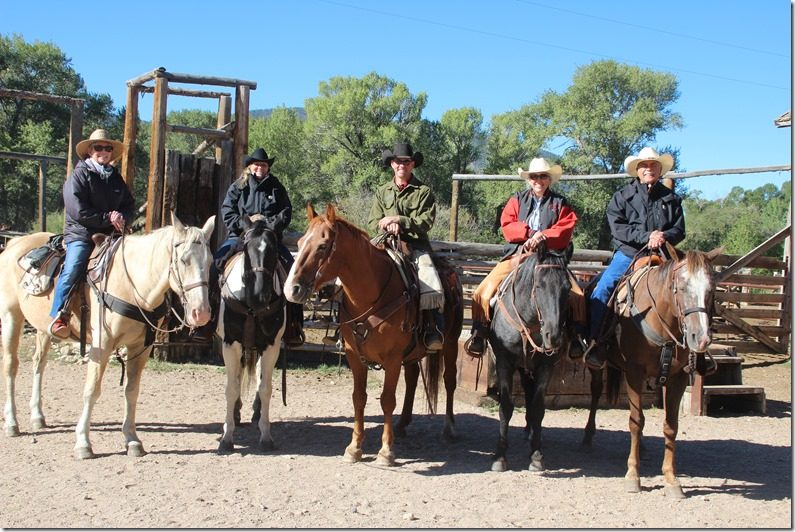 The wind had kicked up this day, so Brent tried to take us to areas with some windbreak and cover from the wind, part of which took us along a creek and quite a few trees. Suddenly Brent shushes us and rides ahead, then motions for us to come and see. A bull moose was standing in the creek looking back at us! We had been warned that moose had been sighted several times that year and to be careful not to startle them, as they will charge in their defense. This one just stood and looked at us, wondering what we were doing there. Brent said they see the horses in the pasture and probably just thought of us as part of the horse. We stood still taking numerous pictures and he finally got bored, turned around and walked up the bank into the trees. But what fun to see a moose on our ride!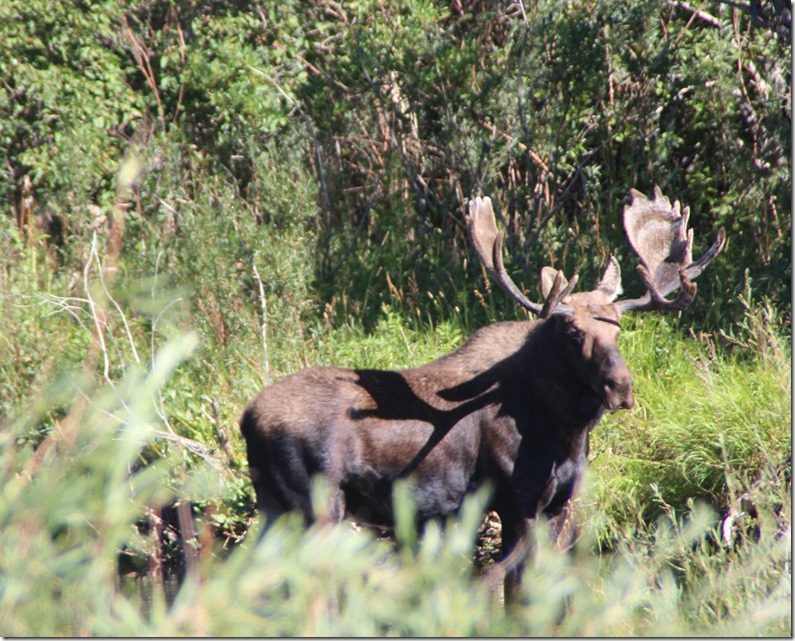 We also found some good areas for loping, which we did, and I took more pictures while Bonnie took pictures of me taking pictures. Despite my tooth hold on the glove, I managed to drop one, and she graciously got off to retrieve it so I wouldn't have to climb back on. If I had gotten off, I might have found myself walking back to the barn, what with no mounting box to help me out.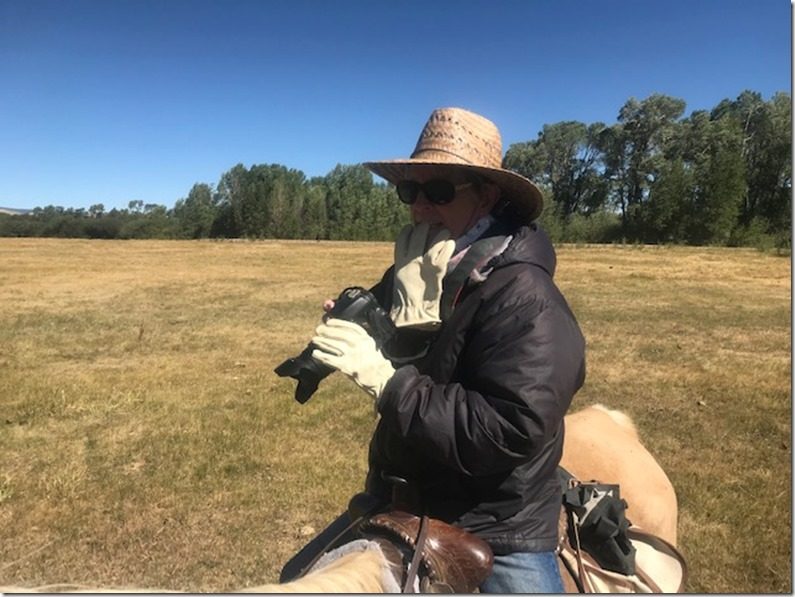 Photo courtesy of Bonnie Kornfeld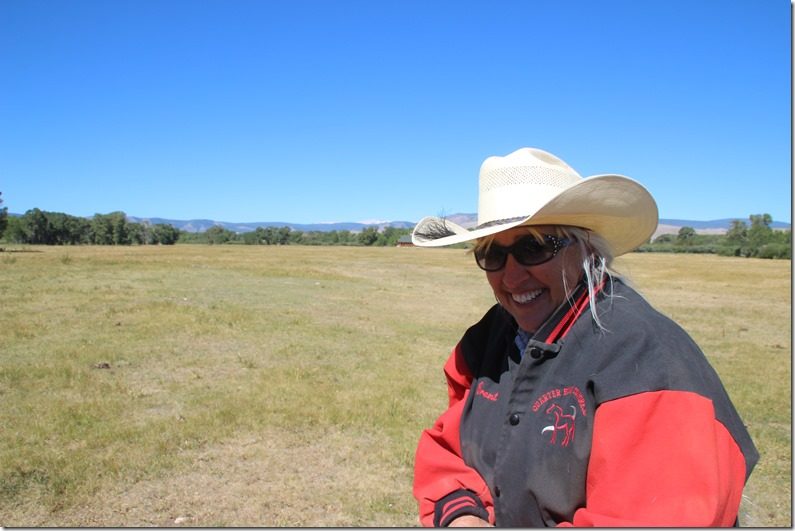 Brent took us on a path through some trees to get out of the wind, and spotted a nice piece of weathered wood to go with my rocks, a couple of which we also picked up on this ride. But he made note of where the wood was and came back on the four-wheeler for it after the ride. You see how they accommodate their guests. No wonder I like to go there! I even came home with a pile of horseshoes, something I forgot to mention yesterday.
After that ride, I walked around in the corral trying for an artsy picture of the horses. Not much luck, since they wanted to follow me around, sniff the camera, and nibble on my hat instead of pose for a picture. So I finally gave up.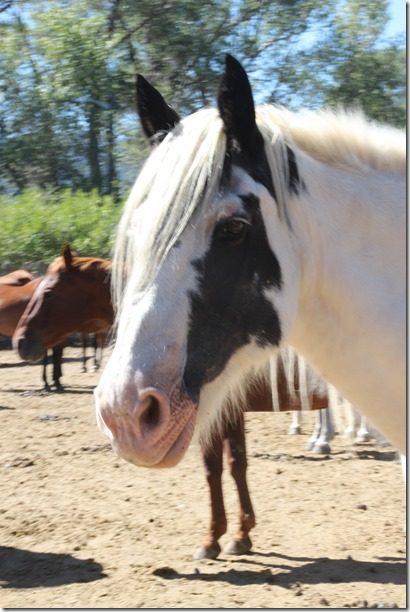 After lunch and a nice visit with Bent, Bill read and I tried team penning with Brent, Dan, and Karl. Dan and Karl had done this on a previous stay at the Vee Bar, but it was new to me. It was a fun challenge, but Malcolm just wasn't into it. We worked at it for a while and then it was time to call it done.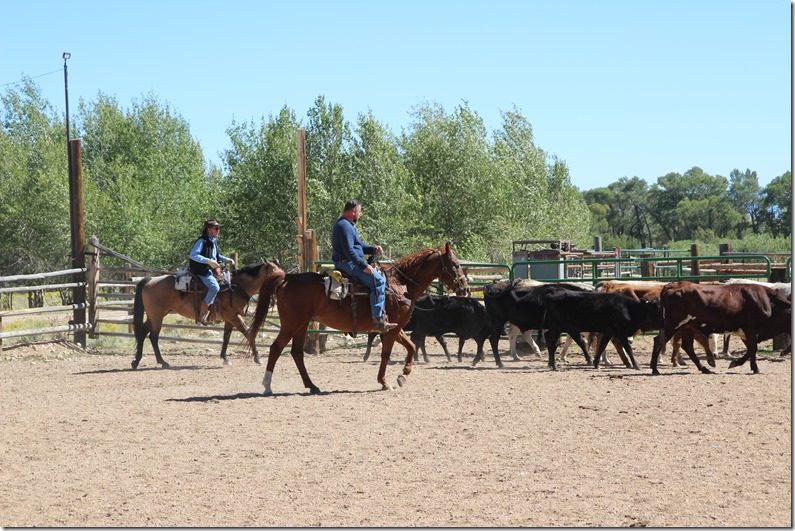 When we put the horses up, I went back in the corral to say goodbye to Malcolm. If I ever make it back to the Vee Bar, I probably won't get to ride him again. He may have been retired, or no longer there, so I had to say goodbye, thank him for his companionship, and get one last picture. I had a good time, Malcolm.
I had time for one last cactus dig before watching the sheep dog demonstration, border collies trained by Lone Shieling Sheep and Stock Dogs from Tie Siding, Wyoming. It was amazing to watch those dogs move the sheep.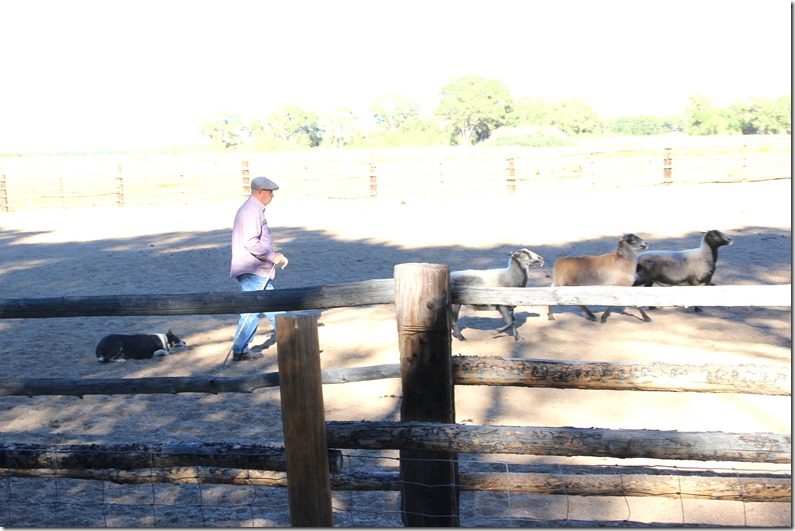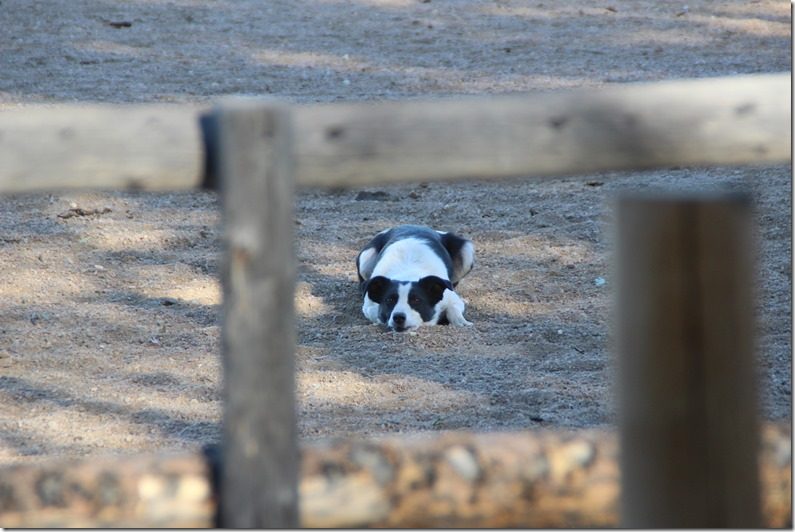 After dinner, several guests gathered in the John Wayne saloon for drinks and music provided by Brent and his guitar. Brent is quite the musician, having taught music K-12 and even giving Nashville a try. But when he did that, he realized that was not the life he wanted. And considering how comfortable he is in his skin on this ranch, he made the right choice. But that's another story.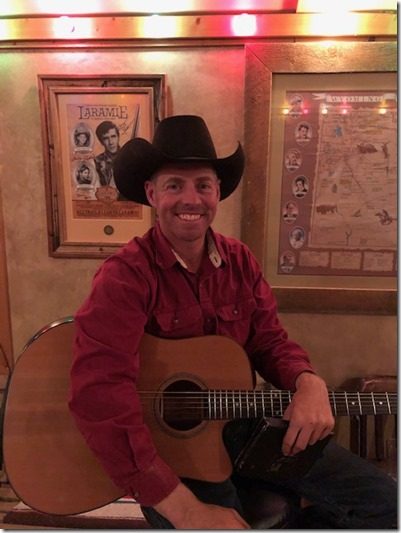 On my first visit to the ranch, I asked Brent if he knew the Willie Nelson song "Yesterday's Wine," one that I like. He did not, so I sent him a CD with the song. The second and third times I was there he still had not mastered that song. He would just smile and say, it's a hard song! Well, nine years later I asked again, and Boom! he was ready. He had discovered that it is basically a waltz which helped him work through the song. He also laughed and made some comments about Willie Nelson not always following a regular musical path composing his songs, which made some of the songs a challenge. He then went on to share a wonderful rendition for me. I really enjoyed that. He sang some of his favorites as well as requests we threw at him. I asked for "El Paso," one that Bill likes and we all chimed in on familiar lyrics easy to remember, like "I caught a good one, he looked like he could run…" and so on. That was fun. I also asked for "The Rooster Song," which he had sung on my other trips. If you ever visit the Vee Bar, be sure and request it; it will keep you laughing.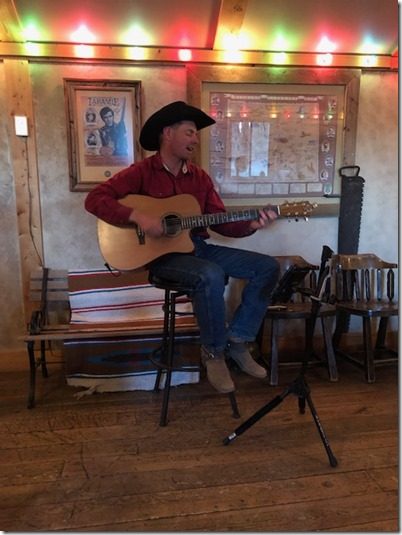 The music and laughter in the saloon was a fitting end to our visit. We pulled out early the next morning in the glow of the full moon and made the trip home in one day.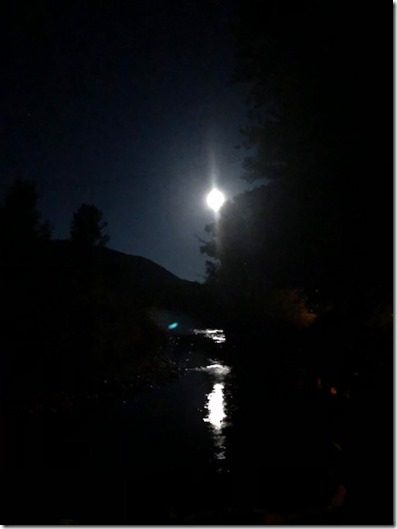 We drove back through Wyoming, Colorado, a smidgen of Oklahoma, and into Texas. Still flat and wide-open spaces. About the only reason we knew we were back in Texas was because the state line sign told us so.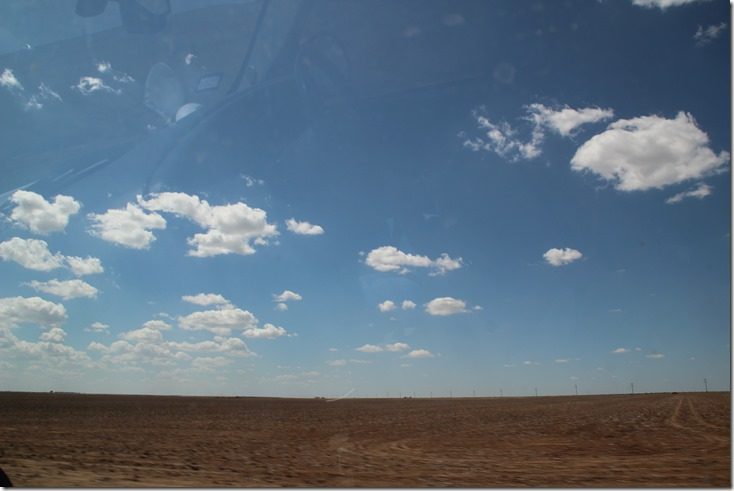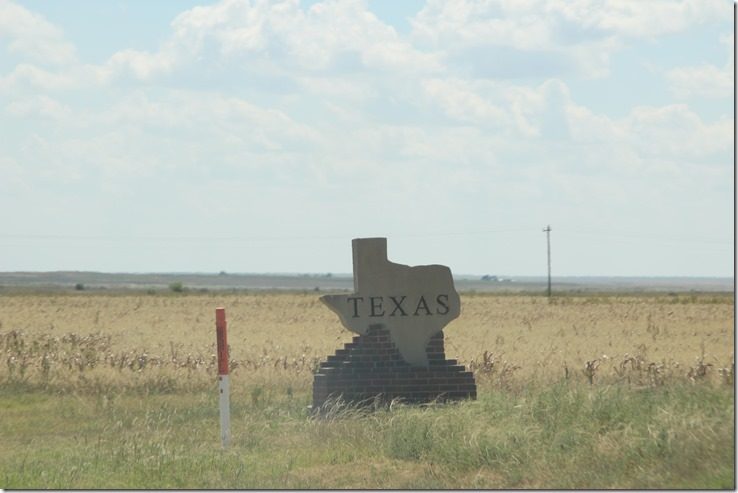 In the other states we drove through, the grain elevators were off in the distance n the countryside. In our part of Texas more often than not, elevators in smaller towns look like they are smack in the middle of the highway. They aren't, of course, but it sure looks like it.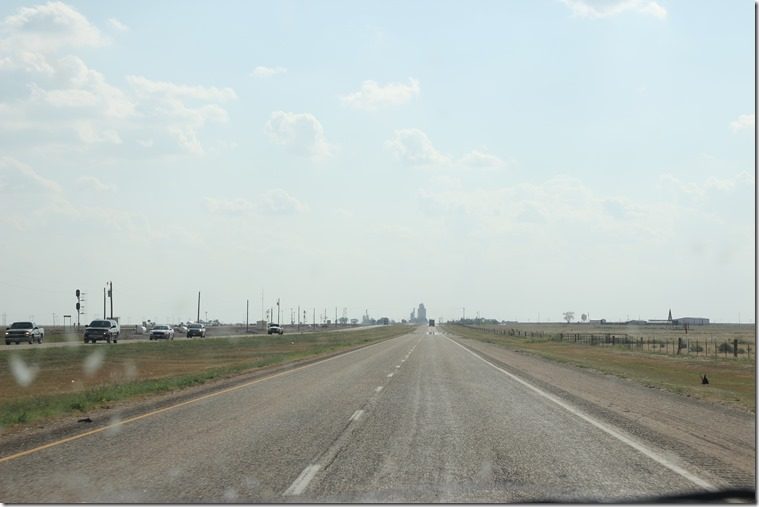 We left Wyoming at 6:15 a.m.,Texas time; we pulled into Muleshoe at 6:15 p.m., Texas time, a twelve-hour drive. But it was worth it.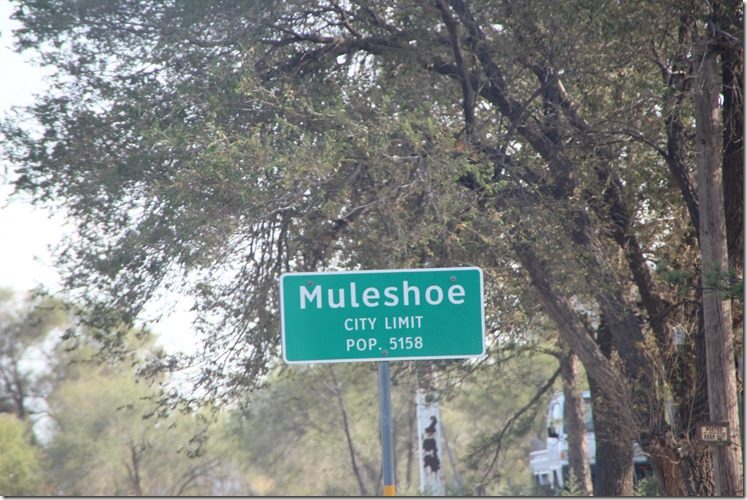 We might even go again some day.
Cowboy up.
If you would like to see more of the Vee Bar, type Vee Bar in the Search line and my other Vee Bar trip stories will  pop up.