Meet the Mules was held Tuesday night, August 18th. An eager crowd of parents and other football fans gathered at Benny Douglass Stadium in anticipation of the Mules' 2020 football season to be introduced to the players, coaches, cheerleaders, mascot, and band.
This was not my first Meet the Mules, having attended when we first moved here in 1980. I have gone to many of these outings to see my children when they were involved in football and cheerleading, my students through the years, and my grandson when he was a student/football player at MHS. I had never thought about it before, but going this year made me wonder just how long these football season kickoff celebrations have been going on. Whose idea was it in the first place? Do other schools do this, or is it a Muleshoe thing?
I got on the phone and started a search for answers to those questions. No one could remember after all these years just how long Meet the Mules had been around, let alone who might have come up with the idea. After many calls and dead-ends, Sam Whalin and Bob Graves finally decided that if they had to guess, they would think it might have all started with Don Cumpton or Mike Wartes, but they leaned toward Coach Cumpton. So I started with Coach Cumpton.
And this time when I went to the Internet to find someone's phone number, instead of getting an offer to track down not only a phone number, but criminal records and such for a fee, Boom!  there it was: address, phone number, and a bit of background on Don Cumpton, Hereford, Texas.
I called and Mrs. Cumpton answered the phone. I told her who I was and what I was calling about. Coach Cumpton was not home at the time, so she agreeably offered to have him call me later.
He did call back, and I hit pay dirt. This is what I learned. Yes, he said, he did start Meet the Mules in 1976. When coaching at Sanford-Fritch, he started a meet-the-team night, and then when he moved to Hereford as an assistant coach to Larry Dippel in 1974, they did the same thing. He moved to Muleshoe for the 1976-77 school year and inaugurated Meet the Mules, and it has been going on ever since. He sort of chuckled then, and shared with me that his first year at Muleshoe, his record was 1 and 10; the second year, however, was 10 and 1. And then Hereford lured him away. But he went on to say that he also spent some time at Abilene High School, and they had the same meet the players night there.
I asked him if he thought this kind of meeting was special to small towns in Texas, or the state of Texas in general, or what. Based on his coaching experience in general, and since he did the same thing successfully in Abilene, a larger school, he said he thought it was a Texas thing.
I talked to a few friends from large and small schools in some other Texas towns who said their schools had similar gatherings to start the football season. I didn't know anyone out of state to pose the same question to, so based on my unscientific survey and what Coach Cumpton had to say, I think this is something that is at least more prevalent in Texas, if not specific to Texas. You know, it's like Sheldon said on Big Bang Theory  once, "How do I know so much about football? I'm from Texas; football is a religion down there."
Well. Now that that's settled, let me tell you about this year's Meet the Mules. The evening is a collaborative effort between the Muleshoe Athletic Department and the Muleshoe Athletic Booster Club. As we walked in the front gate, we saw the Booster Club's table manned by the officers of the club: Todd Shipman (who was away from the table when I took this picture), Ceferino  Sierra, Viena Barron, Cynthia Villarreal, Maria Sierra, Raquel Kirven, and Rashad Kirven holding daughter Symone Kirven. I took this picture at the end of the evening, but they had been set up to sell shirts and the fundraising Mule Cards. Rashad had been standing at the gate offering free black Mule drinking cups to fans as they walked in. They will have other Muleshoe-themed items for sale at every game and things can also be purchased from club members.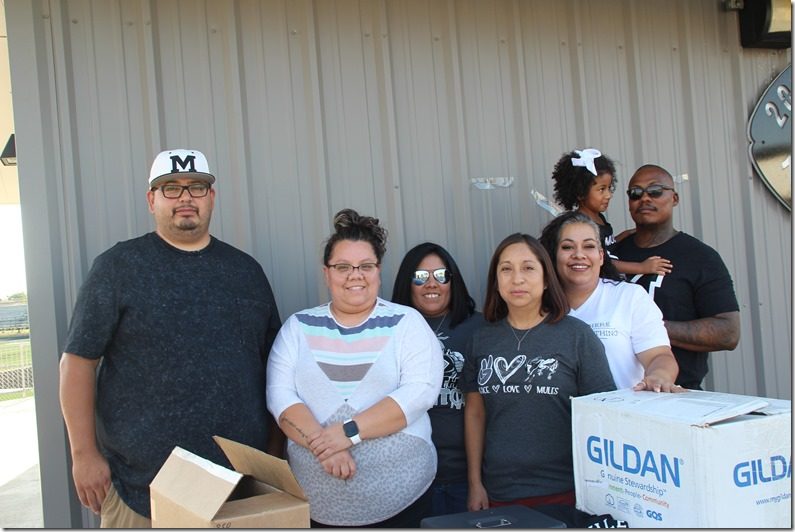 Todd is the president of the club. Duties are assigned to the vice-presidents by sports and seasons: Rashad Kirven and Viena Barron are in charge of the fall sports of football, cross country, and the cheerleaders, who of course, cheer all year; winter sports of basketball and powerlifting are assigned to Raquel Kirven; spring sports of baseball, softball, tennis, track and golf are handled by Cef Sierra and Cynthia Villarreal.  Secretary for the group is Maria Sierra, and the treasurer is Gaby Reyes, who is not pictured.
Athletic Director and Head Coach Jason Richards started off the evening with a welcome and introductions.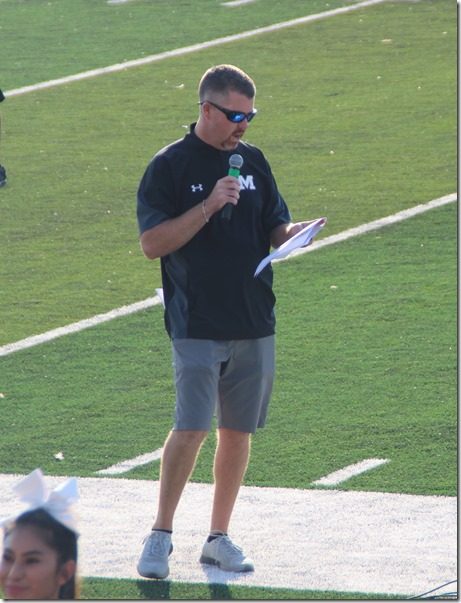 Sergio Leal then led everyone in an opening prayer. Coach Richards called on cheerleader sponsors Cheyenne Cage and Lindsey Moon who talked about having home camp since the virus would not allow them to go to a camp on a college campus and introduced all the cheerleaders and mascot who then performed some of the new cheers they have learned.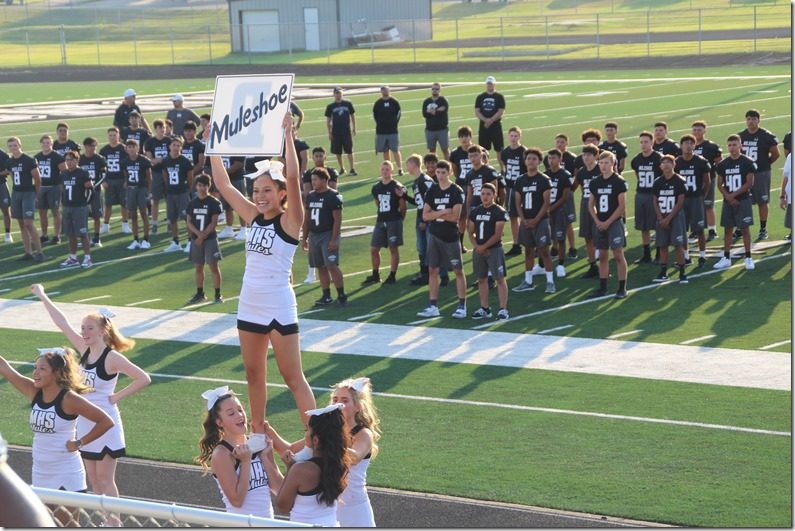 Angela Richards introduced the cross country teams and staff and reminded us that most of them will also be running track in the spring. She also spoke for all the coaches and said while winning state championships would be nice, what they strive for is making a difference in a student's life through athletics and the relationships they build with them.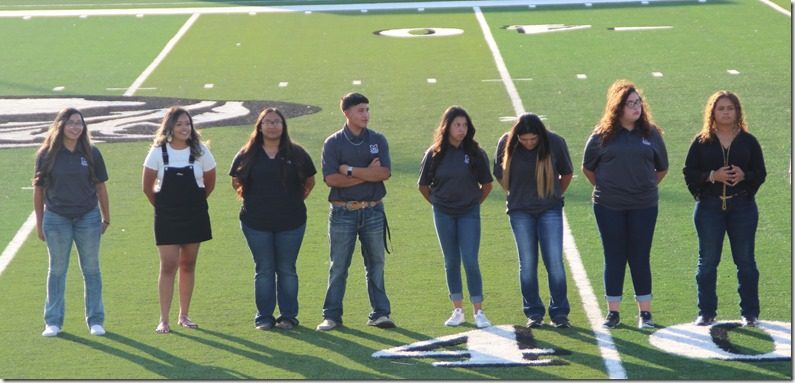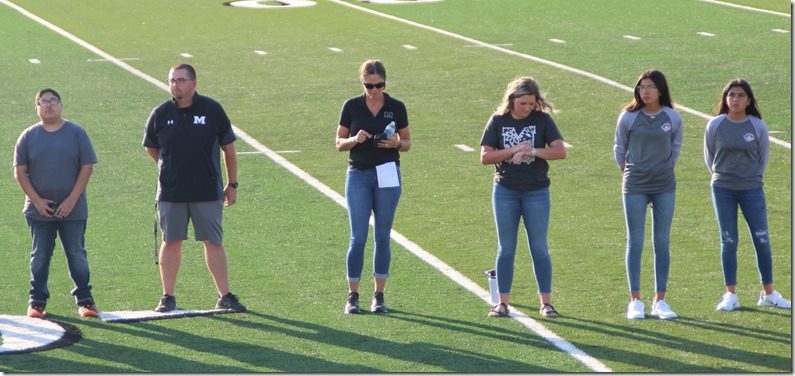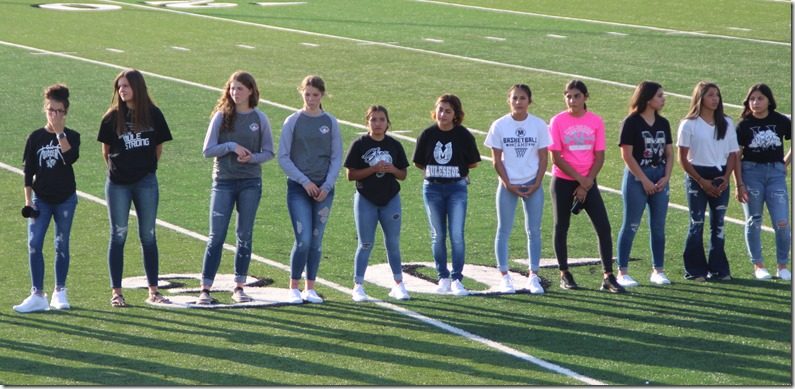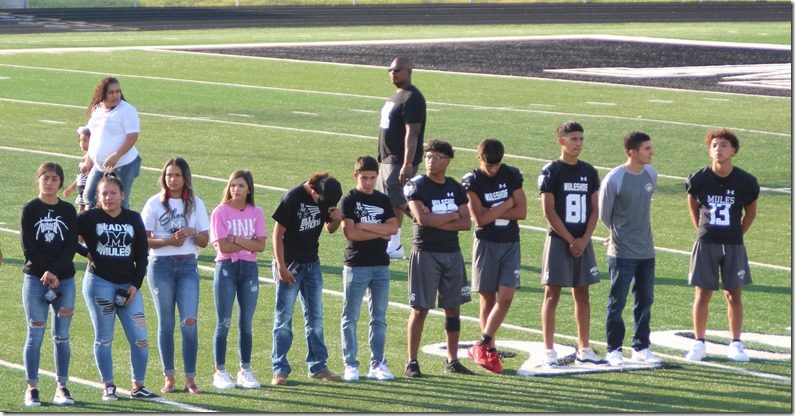 Band director Bill Shelly introduced the band members who also participate in athletics, and they played "Tequila" for us, a popular song at football games.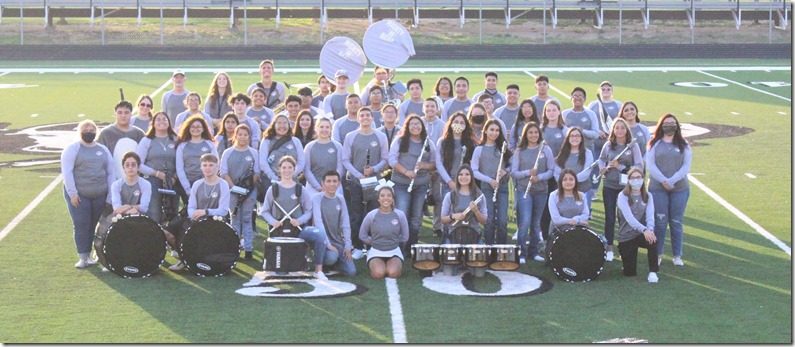 Staff photo
Junior varsity coach Steven Butler introduced the JV team as a group and praised their work ethic, mentioning they were ready to play someone other than their friends on the varsity squad. He also alluded to the fact that they were working to earn a spot on varsity.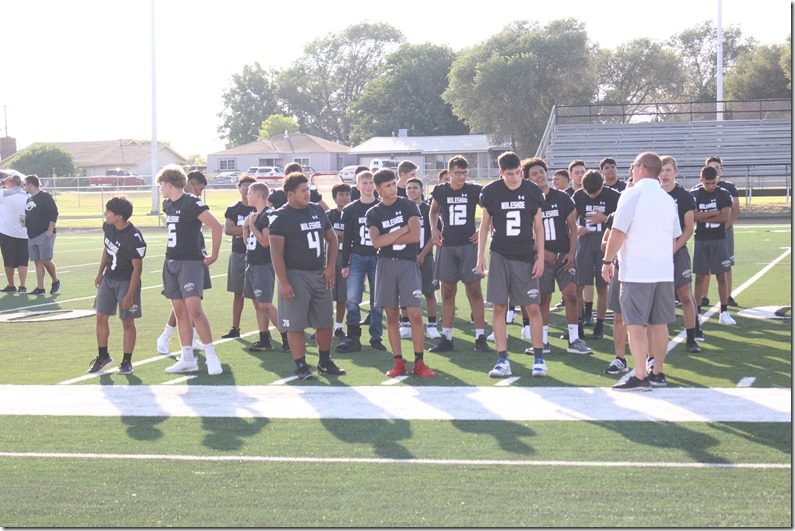 Staff photo
Coach Richards introduced all the student athletic trainers and coaches and then moved on to the football coaching staff. Then he had the varsity line up at the edge of the field numerically by the numbers on their shirts, which, of course, will be their numbers on the field, and introduced them individually.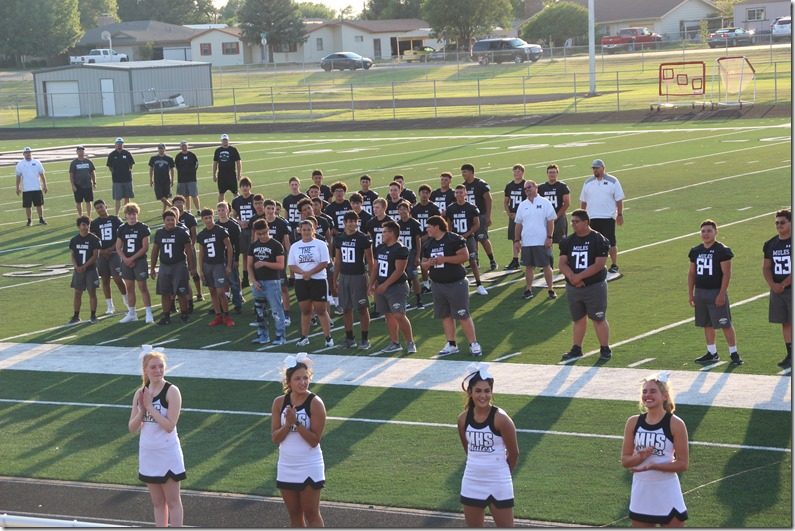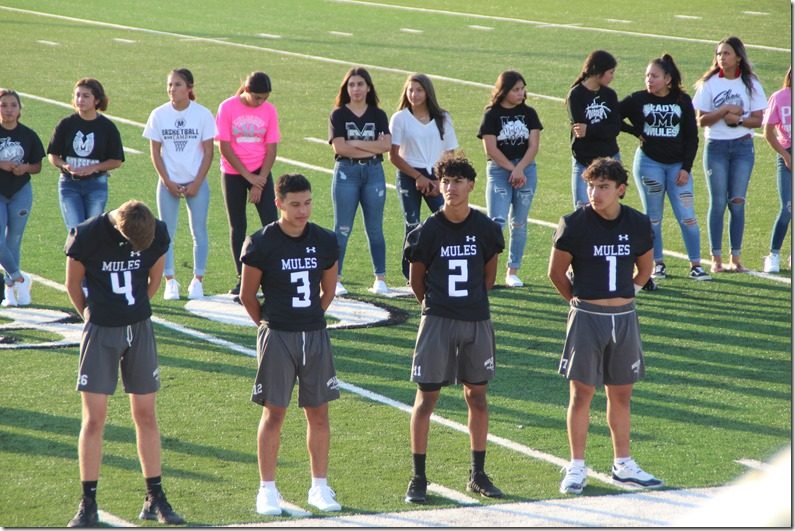 After all the players were recognized, the band played the school song followed by the fight song, and that ended the program. Had it not been for that pesky virus complicating things, after the program, food and fellowship would have followed. I can remember taking homemade ice cream or brownies or cookies when my kids were in the program. Some years watermelon was served. Maybe next year the visiting and eating will come back.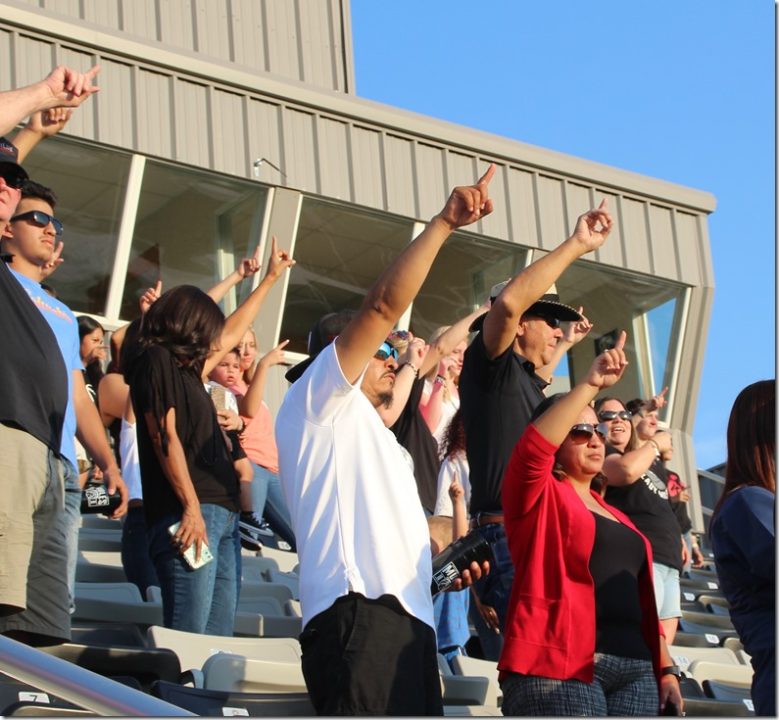 The Mules' first game is August 28th with Sundown there at 7:00, but the junior varsity will play Sundown here on August 27th at 6:30, so between the two games, perhaps you can make one or both of them and support the Mules. Buy a program so you can put a name with a number while you watch these young men do their thing.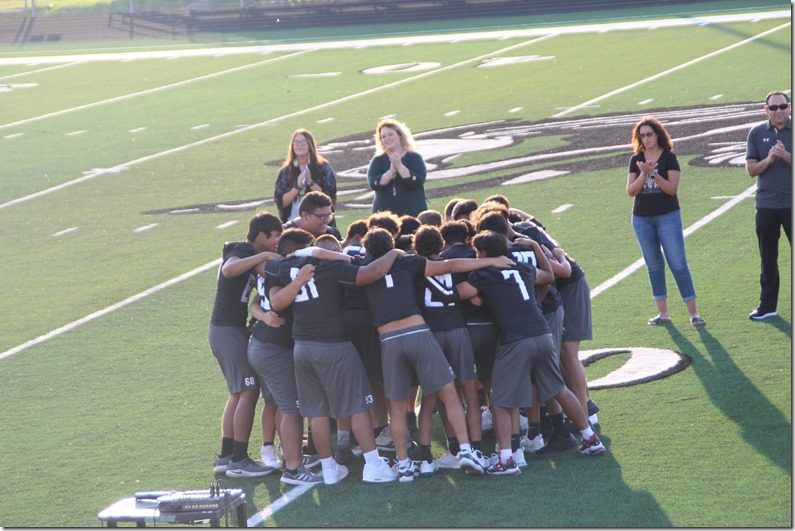 Mule Mania's gonna get ya'!
Go Mules!
Thanks to Sam Whalin, Bob Graves, Kerry Moore, Dick Pylant, Travis Bessire, Dani Heathington, and the Muleshoe Booster Club officers for their help with this story. I especially want to thank Don Cumpton who so graciously called me back to settle the questions about the history of Meet the Mules.