The destination for the annual Alice and Elaine trip this year was to the southern edge of the Texas Hill Country: Kerrville, Bandera, and Comfort. I left in the dark and made a six-hour trip, according to the Internet, in five, so don't believe everything you read on your computer. But you knew that.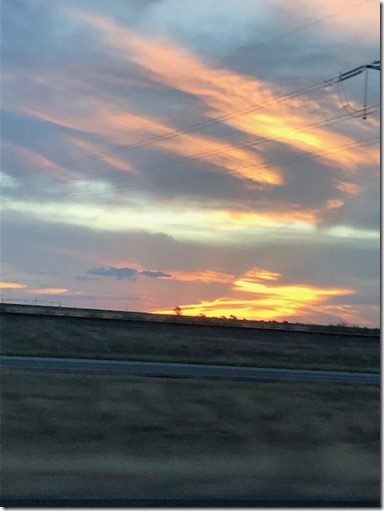 We stayed in the Carlton Club Inn located a block away from the Guadalupe River which runs through town and a block away from Highway 27, which was our route to all destinations. This hotel was a cluster of free-standing cottages complete with a kitchen, nice living/dining area and two bathroom areas with a shared tub.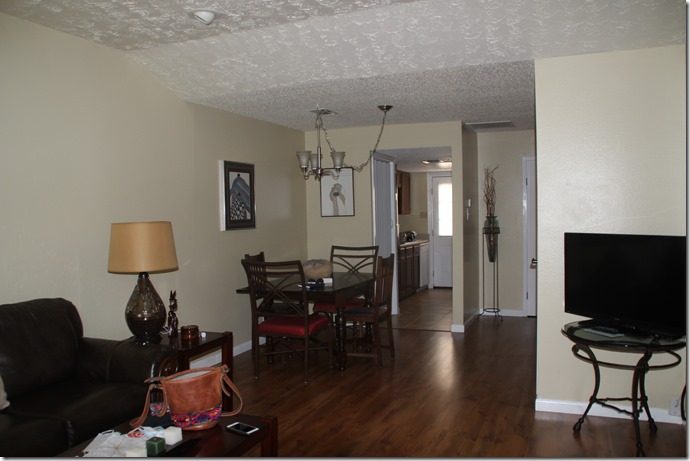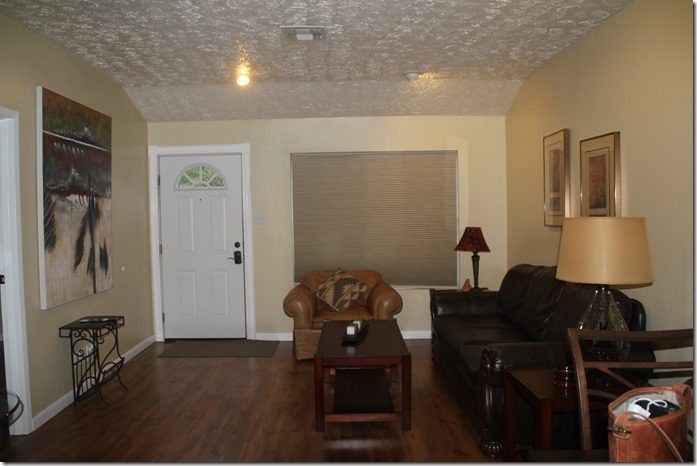 When we checked in, the manager asked, as everyone did as we shopped later, where we were from. Elaine said she was from the Houston area rather than get into a discussion of where Richmond was located and went on to say I was from the Lubbock area. I added Muleshoe, and the manager, Jamy, perked up and said she knew someone from Muleshoe, Brandon Thomason and his wife Jana, when they were neighbors at Tarleton State University at Stephenville, Texas. I certainly know Brandon and Jana, so that was fun. But stay with me-it gets better later on.
After unpacking and settling in, we drove to the downtown area of Kerrville where the touristy shops were, but discovered them all closed, as it was Monday and that is typical of shops in Hill Country small towns. So we hit Highway 27 again and in no time were in Ingram, there on the edge of Kerrville, to see the almost life-sized Texas version of Stonehenge, named Stonehenge II to distinguish it from the real thing in England. Almost life-sized Easter Island statues were also there standing guard over the Stonehenge structure. While there was not much to do, other than marvel and wonder at the stonework, it was interesting to see, especially since I probably won't get to see the real monuments in their native habitat. An arts center and perhaps museum are also on site, but they were closed, and the gift shop was about to close, so you might check before you make a trip to see it all.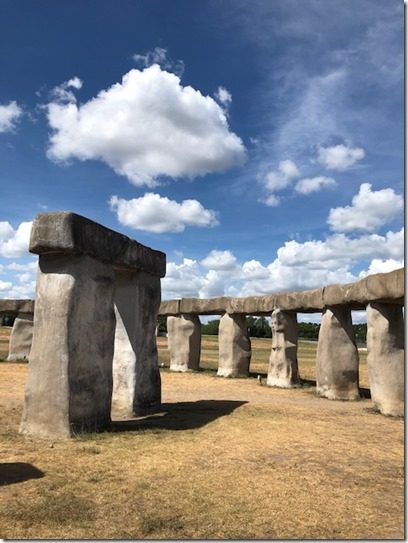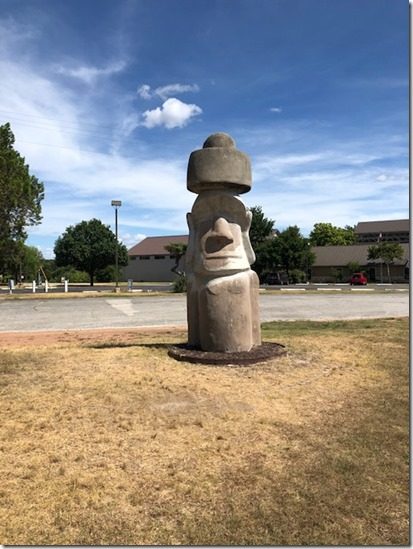 We drove back toward town and did find a nice interior design shop open that had some really nice, high-end pieces and then had a nice dinner at Rails by the Depot. Back at the cottage, we took a short walk by the river and found the place we wanted to eat tomorrow and then headed back to the cottage for an evening of visiting and catching up on each other's lives.
Bandera was the destination for the next day, so off we went again on Highway 27 to this sleepy little old town, much like Fredericksburg probably was back in the early days. We made a couple of shops-some weren't open on Tuesday, either, and then found Spirit of Texas around the corner, a shop with nothing but goods made in Texas by Texans, except for four things, we were told. I should have asked what those four things were, but got sidetracked, I guess, and failed to find out. But the point being that, hey, I have copies of a book in my car written by a Texan. So I approached the owner, Nancy, about perhaps putting some copies of The Bright Lights of Muleshoe in her store. She graciously accepted the offer and bought some copies. Since we had brought up the town of Muleshoe, she then mentioned that Muleshoe had come up in some conversation recently, and wasn't there an actor from there? Yes, that would be Lee Horsley, I told her. So now we have two times that Muleshoe had been heard of in another far-off part of the state.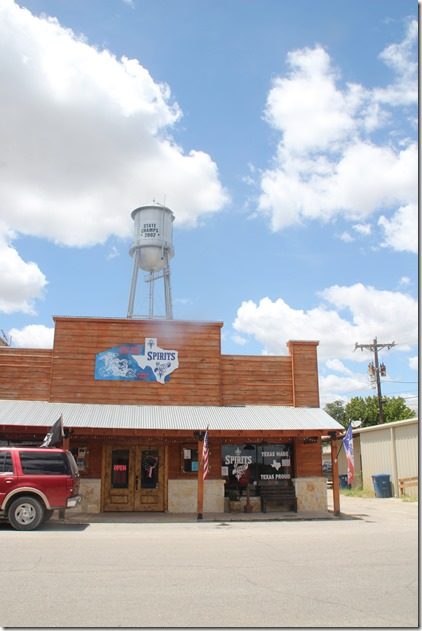 We ate at the Ranch House, which was also a meat market, an interesting combination, and went next door to the Hyo Silver store located in an old limestone building from 1860 that had been a bank. Besides selling silver, the store's name came from the fascination its owners had with the old Lone Ranger television show. Those of you as old as I am know what that connection would be. The rest of you will just have to find out. Gotcha!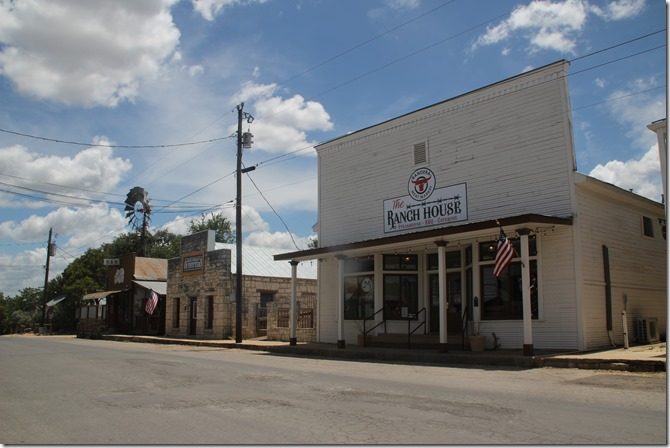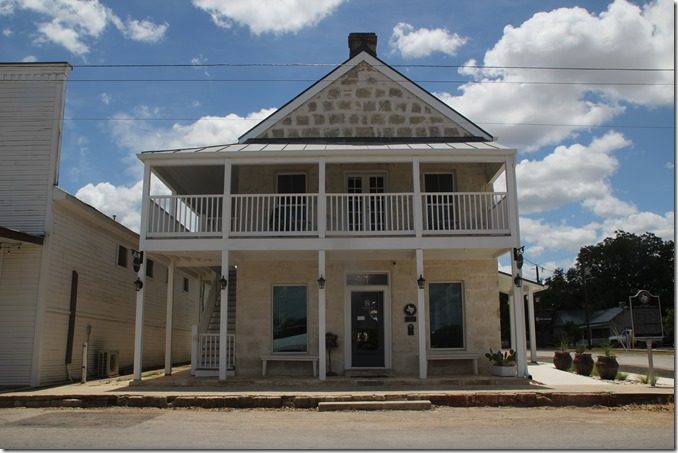 We had ice cream in one store and then visited the Frontier Times Museum, sort of a one-man donation of Western artifacts and odds and ends.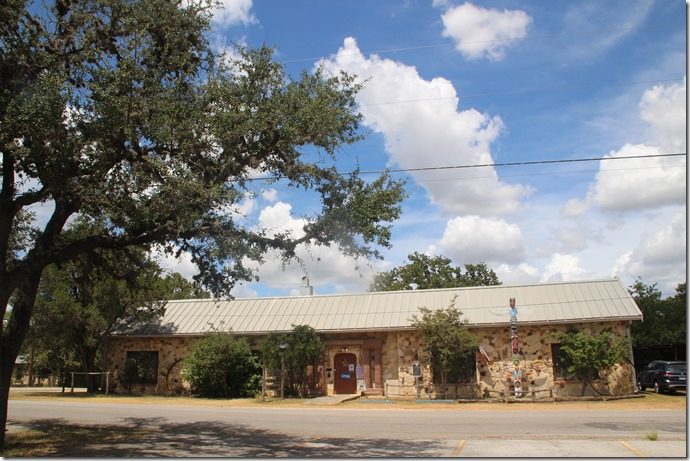 It didn't take long to make all the shops we cared about in Bandera so it was back to Kerrville to try their downtown again. The drive was really pretty, a different aspect of what is still considered the Hill Country.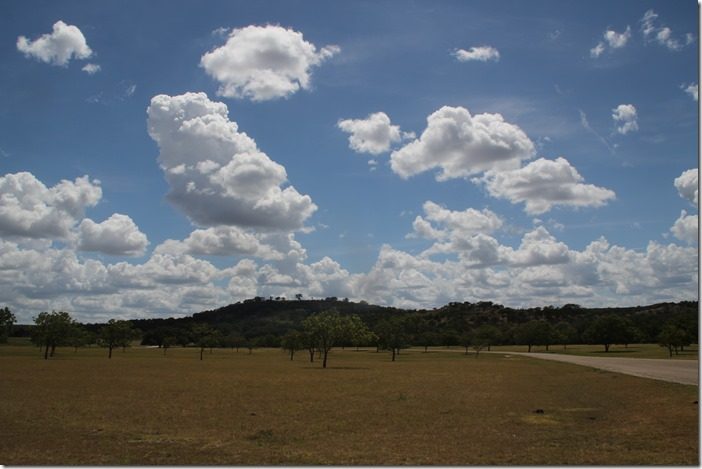 It didn't take long to cover the open shops downtown, so it was back to the cottage for more visiting and then to the Bistro on the Guadalupe for dinner. That was a really nice meal, too.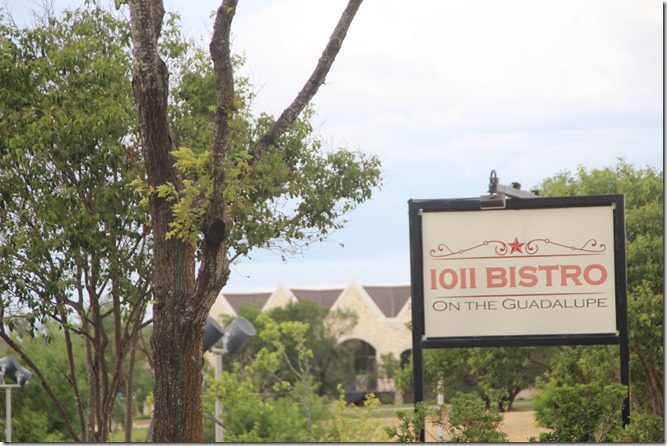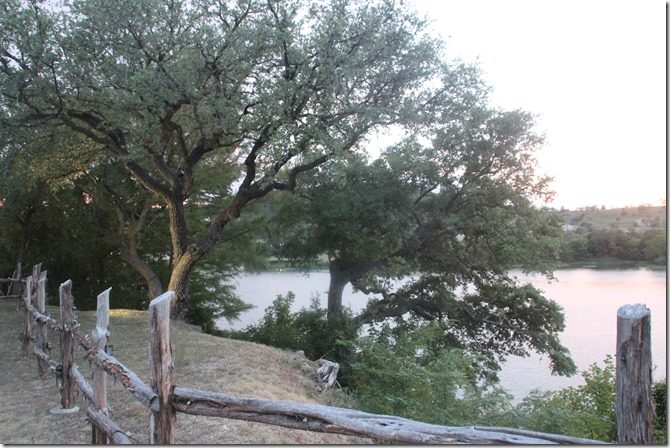 We were back on Highway 27 for the scenic route to Comfort the next morning. We found a cactus/landscape nursery, something of a surprise, but we enjoyed finding it and bought a couple of things. Comfort is a bigger small town than Bandera; compare 2,363 to 857 populations according to the 2010 census.  They had more shopping available, and yet I think Comfort is less well-known than Bandera. At any rate, we found plenty to do. After the nursery we stopped at a large junk/antique place, Shopping with Siobhain, and the question of where we were from came up again. When I said Muleshoe, the woman behind the counter said she either had family or friends had family from Muleshoe, I forget now which it was. I asked who, of course, and she mentioned Brunson and Brownlow, but was not sure of first names, and then said Allen and added that she thought he made saddles, and then I knew she was talking about Cliff Allen. So that makes three times on the same trip  we made a connection with someone over Muleshoe. Elaine was amazed. I told her it happens that way all the time.
Here are a couple of shots of downtown Comfort. The outdoor umbrellas were at High's Café where we ate lunch.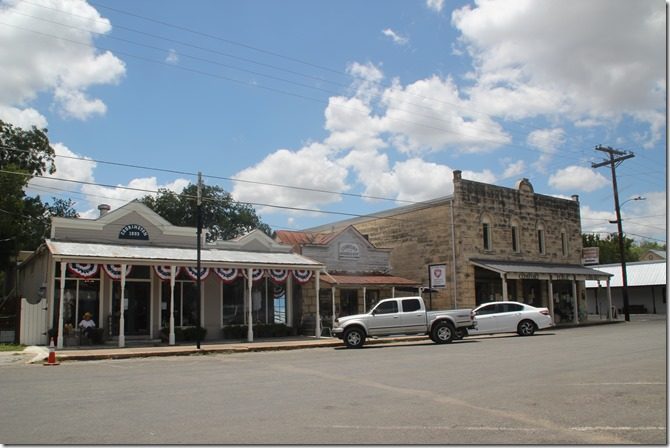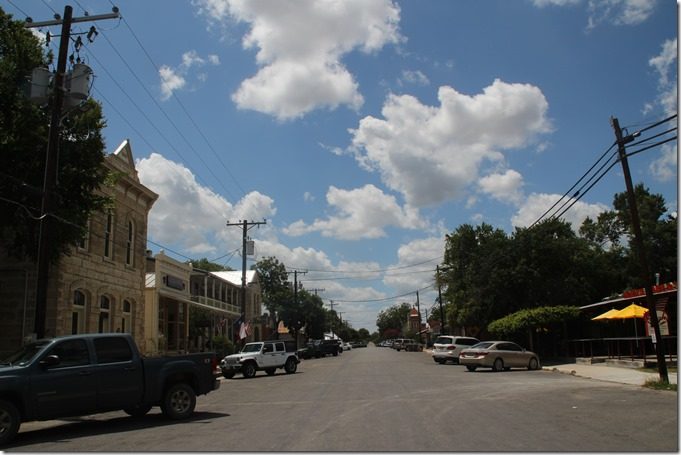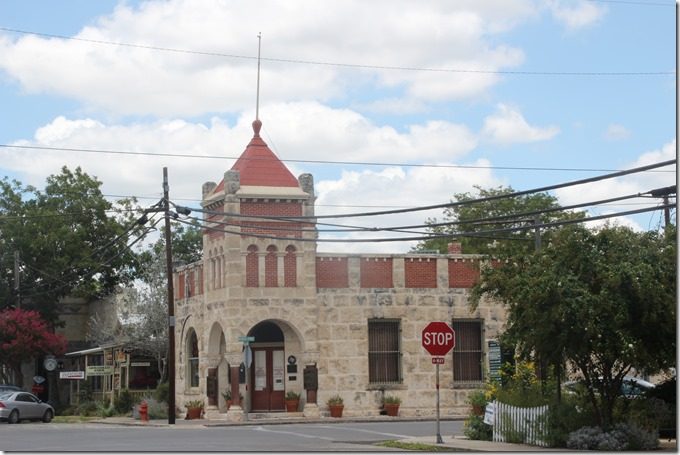 When we were done with Comfort, it was back to Kerrville to find the Plant Haus where we were told we might find some nice pots, which we did.
For supper we decided it was time to try Kerrville's Mexican food, so we went to Mamacita's, a large restaurant that was doing a booming business, governor's edicts be damned. They had a girl in a mask at the front door to squirt you with the hand sanitizer before going in and had moved out tables to make bigger spaces between diners. Servers all wore masks, and of course we took ours off once inside. And we had a nice meal there.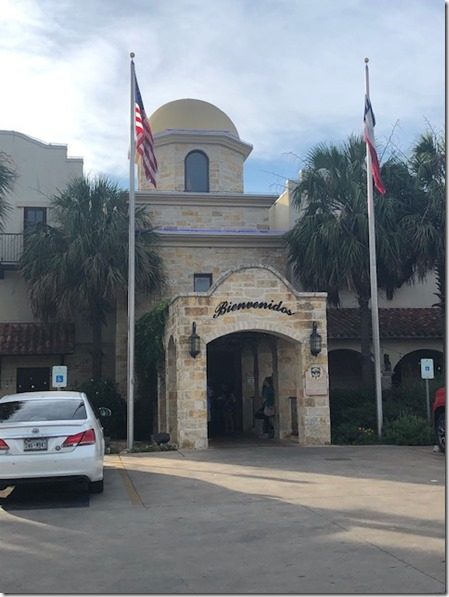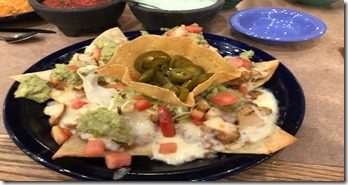 This is also where we had our yearly memory picture taken. We wore hats most of the trip, and with me, once the hat goes on, it stays on due to now having a bad case of hat hair.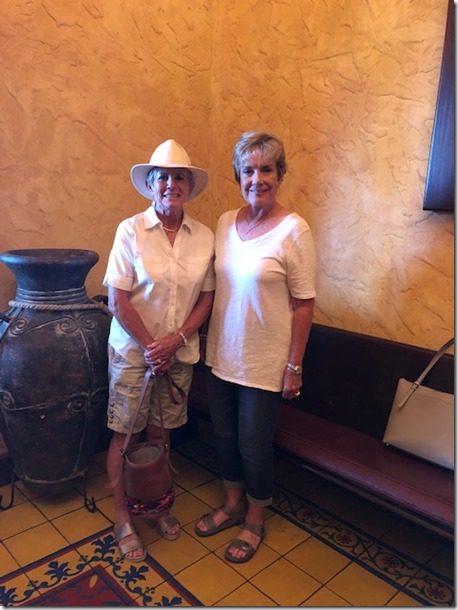 One last night of sharing stories and then it was time to go home. We both left about 7:30 the next morning, but halfway into the trip Elaine called to tell me she had gotten no farther than Boerne when the dash lights all lit up and her vehicle coasted to a stop as she exited I-10. Thank goodness she was close to an exit. So her trip ended spending a day at the Ford dealership while the repairs were being done. My trip ended with delays caused by road construction, as I came home by a different route than I used going down. but nothing bad.
We had another good adventure dampened only slightly by that pesky virus and the occasional wearing of a mask. Maybe by next year's trip that detail will be different. One can hope.