The third annual Coors Light Mule Days and Kickin' NIghts took place most of the afternoon and night this past Saturday, June 29th, and living behind the Muleshoe Country Club and Golf Course gives me a ringside seat to all the traffic and activity involved in getting things ready for the event. I took it all in, from watching the stage being set up as I walked the dogs that morning to noticing the return of darkness when the floodlights were turned off that night.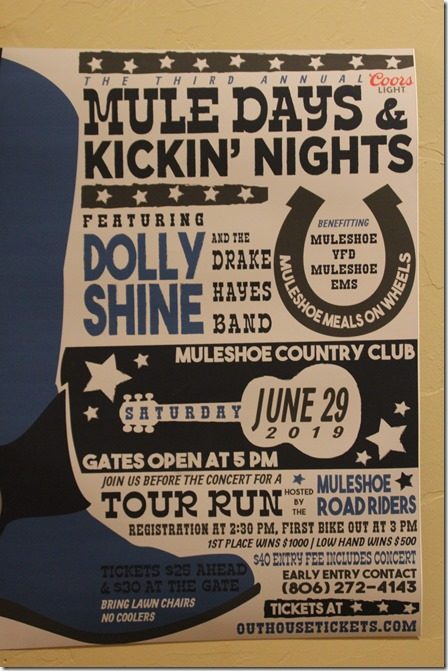 According to the media kit put together by Muleshoe High School graduate Bailey Bales, former Muleshoe resident Jeff Smith and other involved citizens started the first Mule Days in the 1970s which featured a rodeo, a cookout, and a barn dance held at Smith's property right down the road from the Muleshoe Country Club and Golf Course, which for the last three years has been the site of the Mule Days and Kickin' Nights event. I can remember participating in those original Mule Days when we moved here in 1981. Over time, however, the celebration lost steam for a variety of reasons and finally ceased to be.
But in 2016, Jackie Claborn, Colt Ellis, and Jackson Myers decided the time was right to start something up again. So they worked with the City of Muleshoe, the Muleshoe Country Club, local businesses and organizations and came up with the Coors Light Mule Days and Kickin' Nights that would provide the community with activities and entertainment with the proceeds going to local entities like Meals on Wheels, local first responders and other worthwhile local programs.
My involvement in this third annual celebration began when I walked over mid-afternoon just as the golfers were finishing up on the Mule Days and Kickin' Nights golf scramble and had a pleasant visit with Cole St. Clair and Tyler Black, who had just finished playing the nine holes of the scramble. Players are grouped based on capability and past performance, which is called gross and net, for those of you who are non-golfers, like me. Gross is the golfers with no handicap and net is golfers with a handicap. The first place gross team was Degan Provence and Chase Lloyd. First place net was won by Todd Ellis and Junior Ashmore; second place net was won by Cole and Tyler. The scramble was open to men and women, even one or two grandsons competed, I believe, and thirteen teams participated.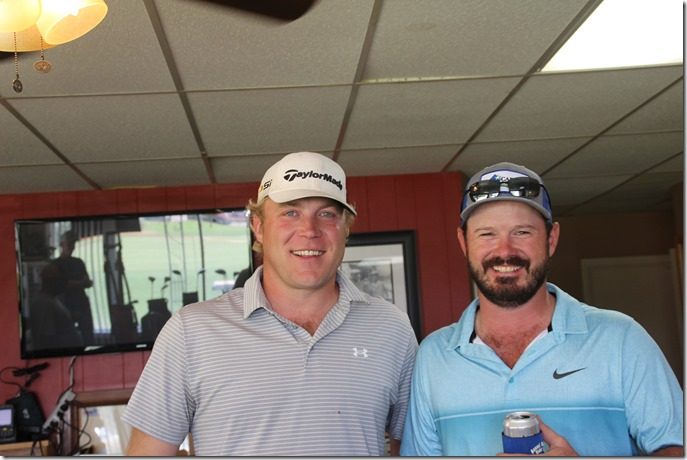 Two bands were scheduled to perform, the Drake Hayes Band and the Dolly Shine band, and I was given the opportunity to interview the lead vocalist/rhythm guitar player of both of these Texas-based bands. First up was Zack McGinn of Dolly Shine from Stephenville, Texas. The story goes that one of Zack's college rodeo buddies had a horse named Dolly Shine, and this buddy kept encouraging Zack to name the up-and-coming band Dolly Shine, taken from a Spanish phrase common in South Texas, da~le shine, which translates into go for it! So the friend said, tell you what-if you name the band Dolly Shine, I'll have it tattooed on my butt. Then when the band had their first CD release party, which made it all real, up they went to the tattoo parlor above the bar where they were having the party, there in Stephenville, and made it official.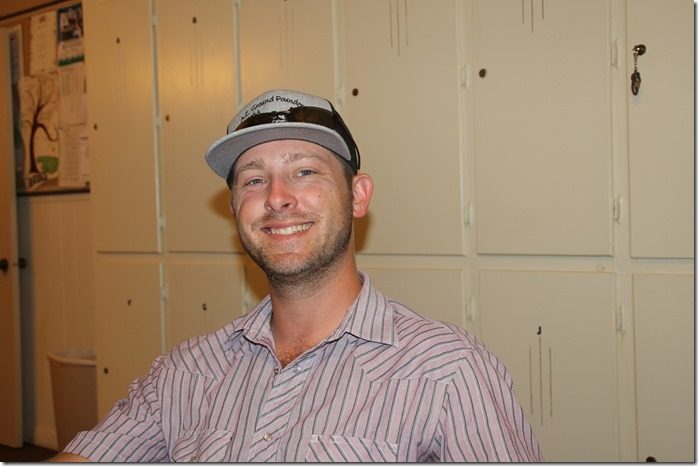 And the band did well and earned a following in the Texas music scene with hits like "Spinning My Wheels," Should Have Known,"Her Name was Trouble," "Dangerous Love," and the album Walkabout, a collection of songs that deal with the reality of the human condition in songs like "Rattlesnake," "Hitch Hiking," "Blackbird," "Snakeskin Boots," and "Twist the Knife." I asked Zack what came first when writing his songs, the music or the lyrics. Lyrics was the answer. People, locations, personal experiences give him inspiration. And sad songs! He said he is a sucker for sad songs, and after all, what's country music without sad songs? Well, there are the beer-drinking songs, but Zack says he likes to write about things people don't like to talk about much, and that makes his songs distinctive.
And while that friend's tattoo is pretty much permanent, life got in the way and the band broke up three years ago, but still performs together from time to time, like tonight at the request of Jackson Myers, who it turns out was their tour manager from 2013 to 2015. Tonight's show will be played by Zack doing lead vocals and acoustic guitar with help from Johnny Goodson on drums, Jerrod Flusche on lead guitar, Greg Ufers on bass and Kevin Foster on fiddle. Zack's life reverted back, in a way, to those college rodeo days as he now spends time with red and black angus cows on his ranch in Sterling City.
I then spoke with Drake Hayes, who hails from the Lubbock area, having graduated from Roosevelt High School in 2007. When the band opened the show, he even shared a memory or two about playing football against the Mules! He likes keeping things tied to West Texas, which is also obvious in the images on the band's website, all taken at Acuff, Texas, a few miles northeast of Lubbock. When I asked him which came first when writing his songs, he said there was no pattern. He, too, is inspired by sad songs, and said he had to learn how to write the beer-drinking songs. He also went on to say he wrote poetry in high school and since songs are basically poems put to music, this helped him with song-writing later on.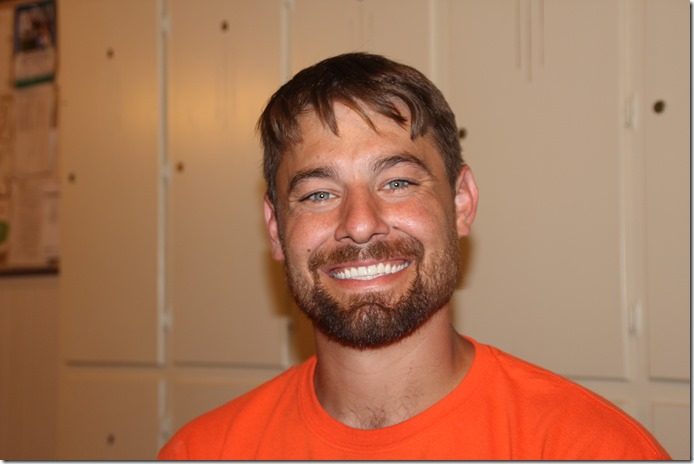 I found it interesting that Drake said learning to play guitar and sing at the same time was hard for him to master. But master it he did, as he will be lead vocals and rhythm guitar in this show, along with Tyler York on drums, Justin Garcia on guitar, Matt Cross on bass guitar, with help from Zac Olmstead, the band's engineer and tour manager. When music is not front and center in his life, Drake is running his business, Freedom Designs in Lubbock, a screen printing company. I asked him how that came about, and he said another screen printing company had done a bad job for them at one time, and his immediate reaction was that he could do it better, which is exactly what he wound up doing. The band is earning their spot in the Texas music scene with hits like "I Think I Love Her," "Grow Old With You," and "Nowhere, TX."
After the interviews, I checked on the Muleshoe Roadriders' Tour Run, formally known as a Poker Run because it is a contest based on building a winning poker hand by figuring out clues that take you to a designated spot to draw cards to build your hand. And of course, you drive to these spots on your motorcycle. Club president Robin Dickerson, husband Danny, and niece Deanna Orcutt from Texico, New Mexico, were manning the registration tent.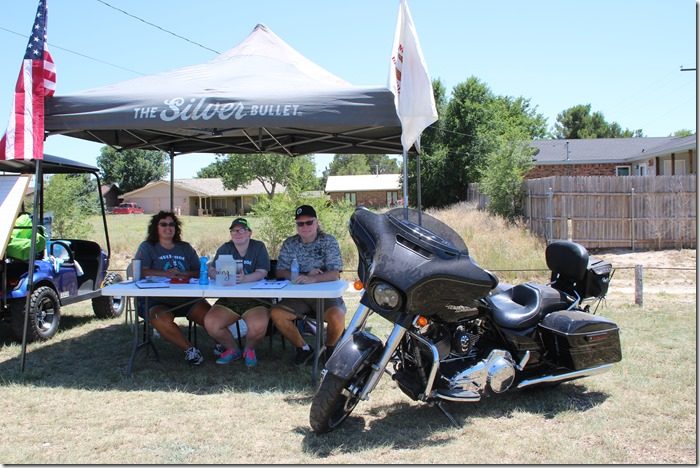 I hit at just the right time to catch the winners of the event: Glenda Copley, who won with the high poker hand of three aces, and Tom Ladd, who had the low poker hand comprised of a Jack,10, 6,5,3.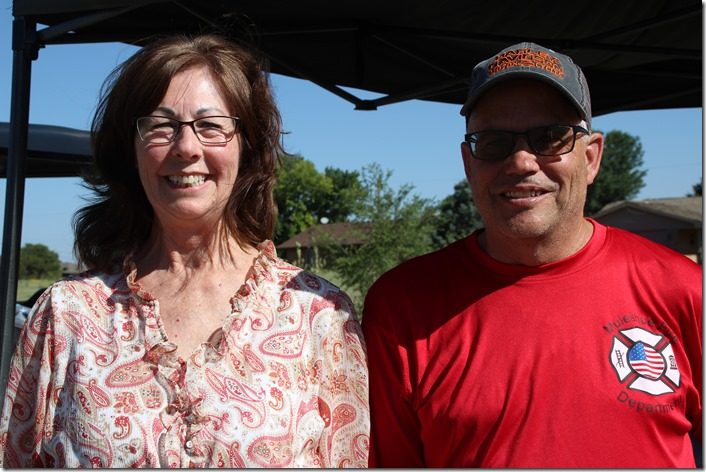 The Muleshoe Lions Club also had a booth for their fundraiser, a ping pong ball drop. Buy a ping pong ball for a dollar and then hope when all the marked balls are dropped from the cherry picker provided by Bailey County Electric Co-op that your is the one in or closest to a hole on the practice putting green at the golf course. Leticia Mendoza, Araceley Mendoza, and Jimmie Kay Moore were on hand to sell the balls.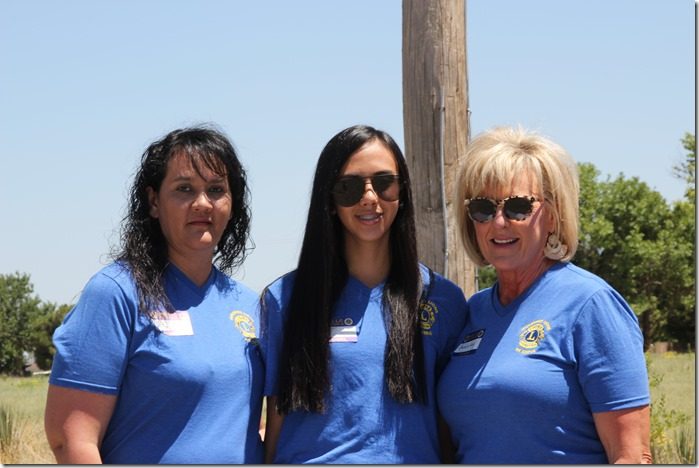 Walking home to take a break, I noticed a fire truck escorting a trailer loaded with what I realized were the fireworks for later that night.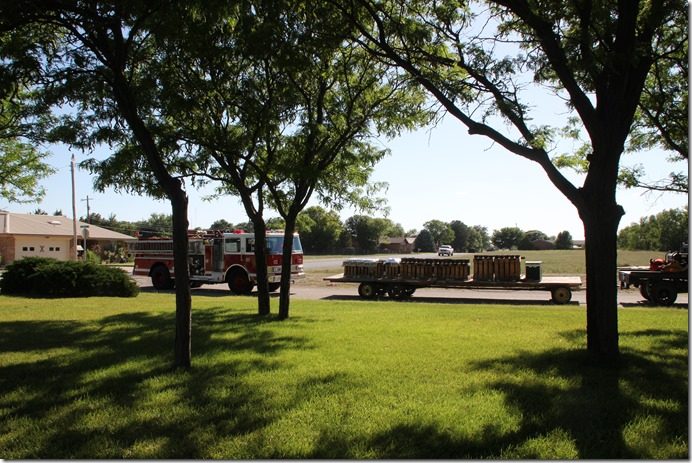 My friend Pat Angeley and I then gathered up our lawn chairs and walked back over for the night's festivities. We set up our chairs and made our way to the food trucks. Coors Light was the main sponsor, and they had tables set up for beer and drinks, but we were interested in the food! Chilly Lily's out of Lubbock, owned by Eric Jewel provided a variety of sandwiches, snow cones, and drinks. Rolo's Roasted Corn, from Rolando Estrada of Muleshoe's main course was corn on the cob with a variety of seasonings and flavorings. Also from Muleshoe, Jeremiah Murillo's Jettfire BBQ had barbecue and a variety of other dishes, and all three trucks stayed busy all night.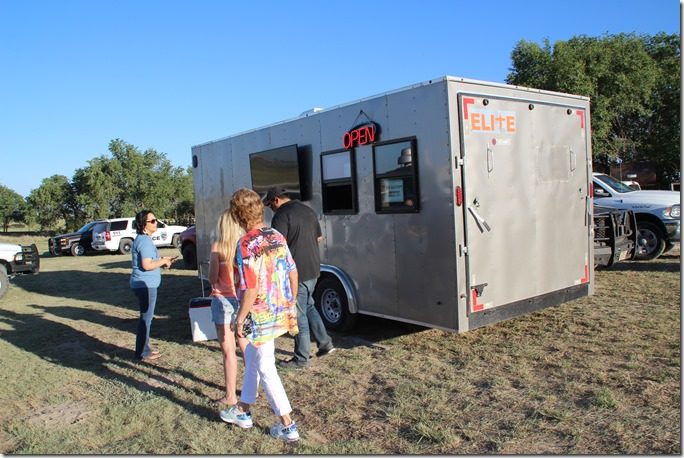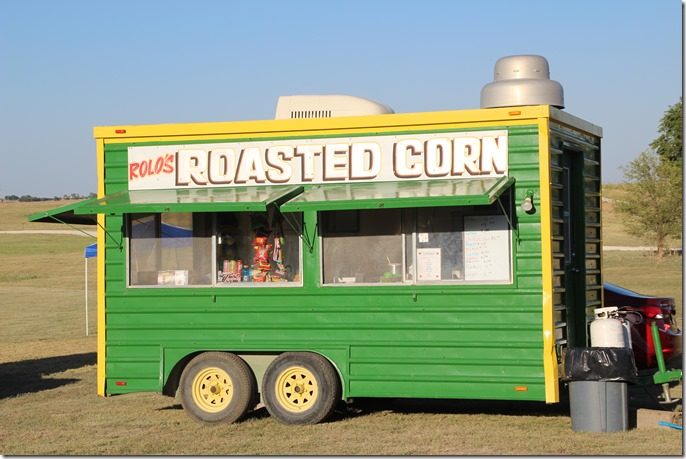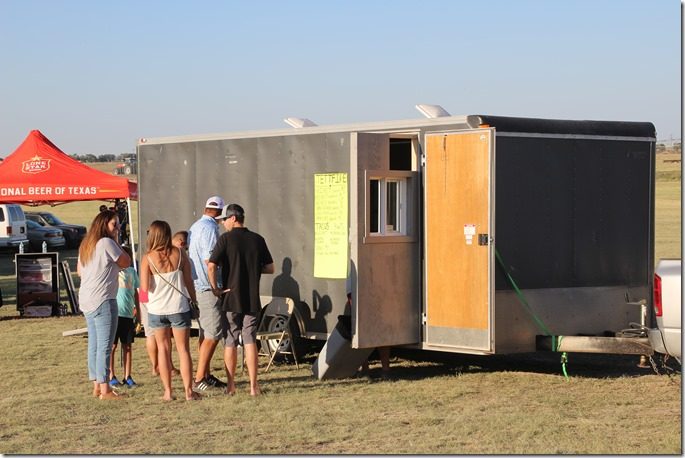 The Muleshoe Chamber of Commerce president Trevor Turnbow and board member Sarah Santos manned their booth filled with Muleshoe-related merchandise.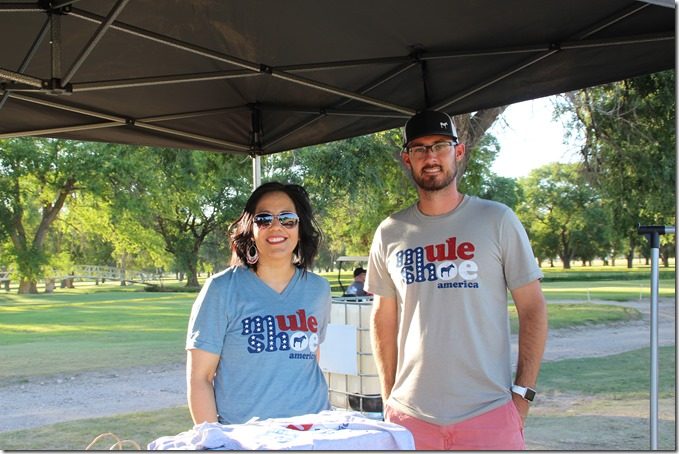 The stage was set, the crowd was gathering, and the weather was cooperating while we waited for the Drake Hayes band to kick things off. Before they did, however, more people came in and got comfortable for the show.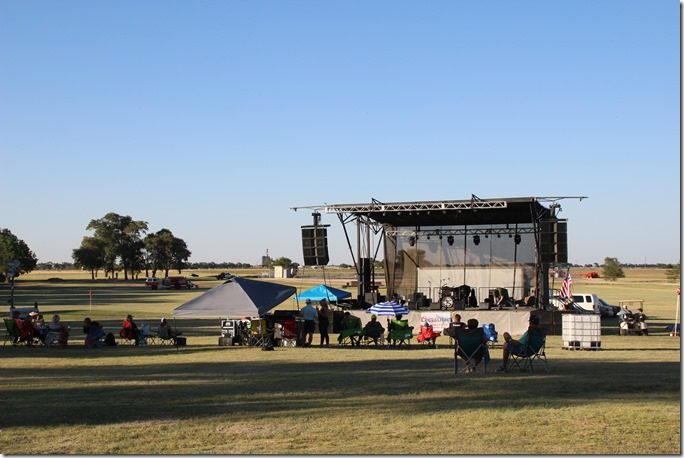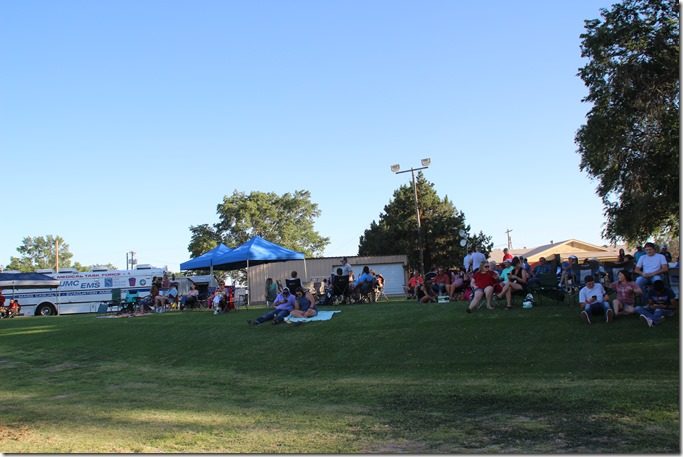 About 7:30 the Drake Hayes band took the stage and the concert began.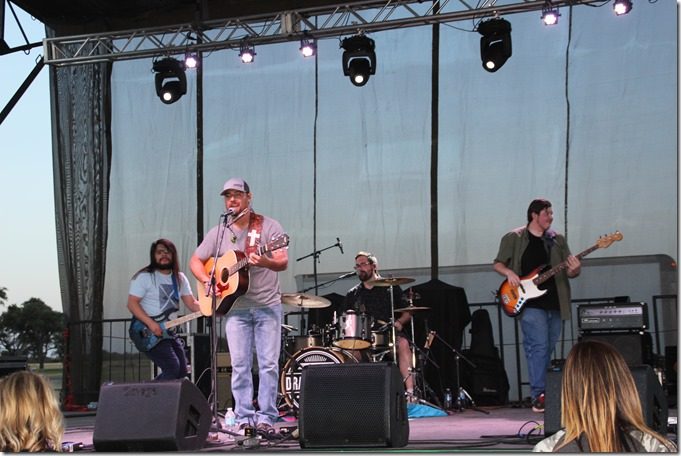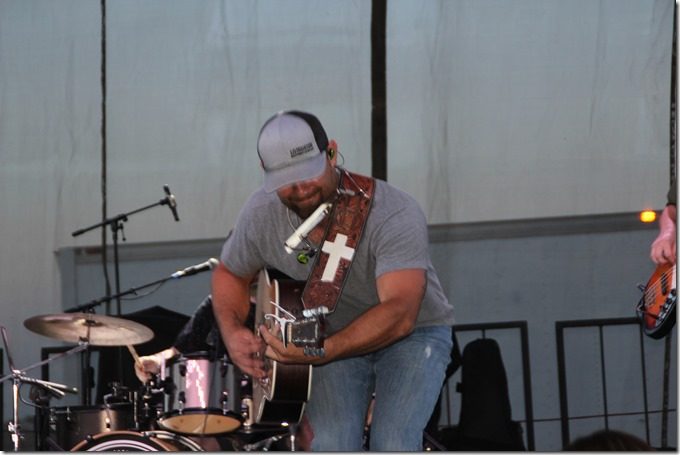 Drake and company finished their gig a little after 9 o'clock. After a short break in the action, it was time to drop all those ping pong balls, so everyone gathered at the practice putting green where the Bailey County Electric truck was parked with Guy Overman and Matthew Burns up in the air with the trash can full of the marked balls and Weldon Smith on the ground giving them directions where to drop everything.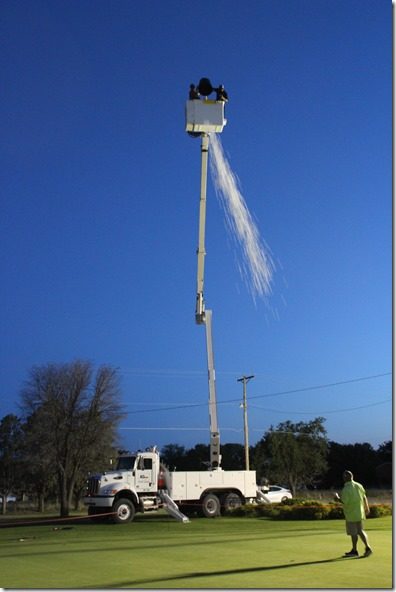 The balls I bought didn't cooperate, because Sergio Leal was the winner! The winner received half of the money taken in by the sale, with the other half going to the Lions Club to finance their projects.
After the sun went down a bit more, we all stood for the National Anthem played on fiddle by Kevin Foster, and then enjoyed watching all those fireworks being shot into the air.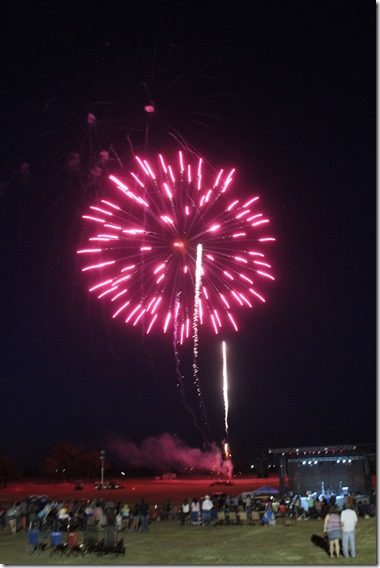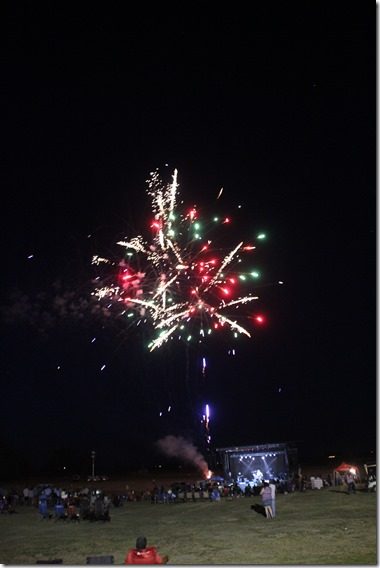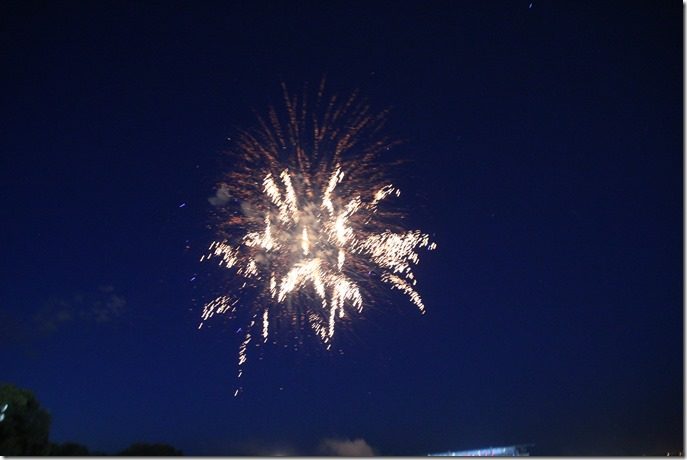 Dolly Shine then took the stage and played the rest of the concert.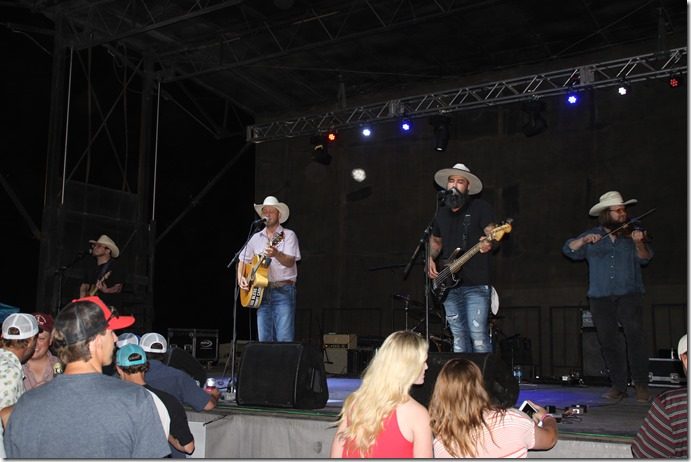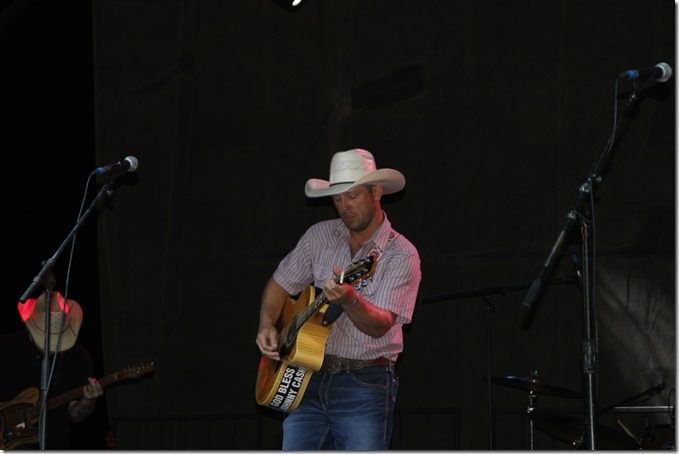 I noticed one couple who were inspired to dance to the music of both bands, Josh and Brittany from Olton. Later I noticed one or two more couples dancing while most of us just sat and enjoyed listening to the music. But these two did have fun dancing, and they moved nicely together.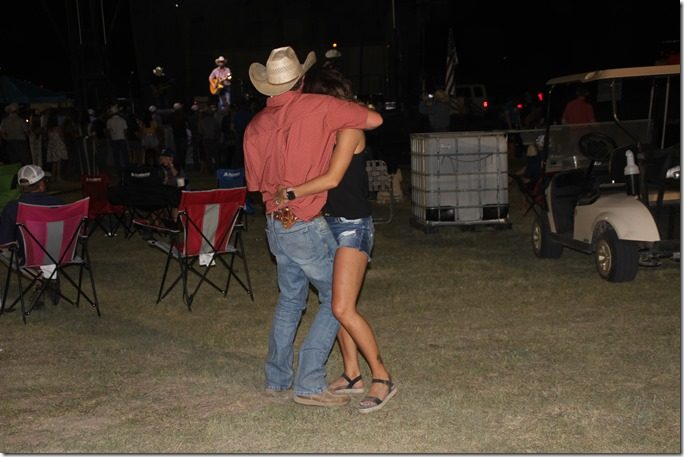 And then there was Tucker, the Australian sheepdog/blue healer who enjoyed catching his Frisbee to the music. I never could get a good action shot of him, so I just asked his person, Aaron from Muleshoe, if I could take a quieter picture of him. Tucker graciously paused in his play to let me do that. This dog was busy all night. I suspect he slept well when he got home to his bed.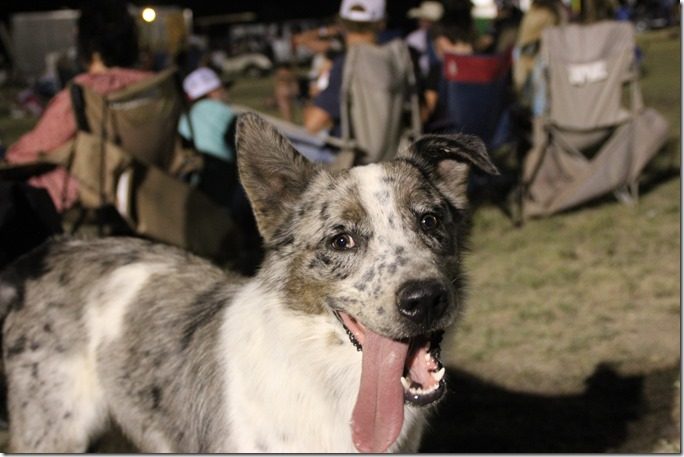 Toward the end of the concert, Zack had Jackson Myers come on stage and they sang "Tulsa Time" to relive the time they spent together when Jackson was their tour manager. I barely made it to the stage in time to take this picture because I was just sitting enjoying the song when it dawned on me to go take a picture!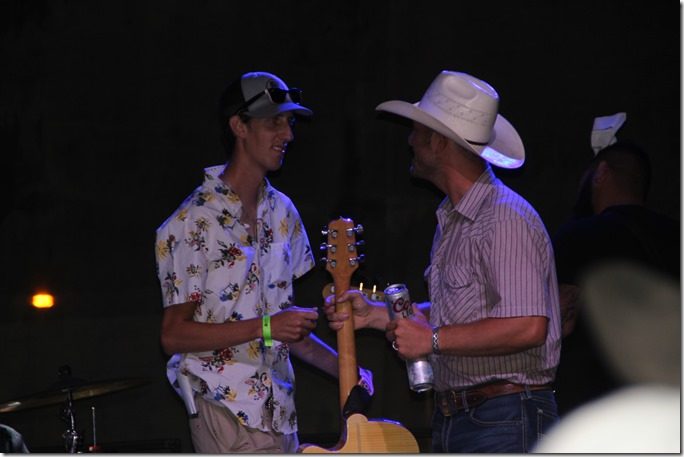 Not long after that song, about 11:50, the band bid everyone good bye and the night became silent. But it had been a fun evening.
Sunday morning the dogs and I went over for the morning walk and to inspect the remnants of the night before. While there was some litter to be picked up, everyone did a darn good job picking up after themselves, and things were back to normal and golfers were using the course again by noon. But we didn't take much of a walk because Mari and Porche were too busy sniffing and investigating, wondering about all the new smells and why they were there. I suspect they sniffed out a dog named Tucker, too.
If you didn't make the concert this year, plan to check it out next year. You will have a good time.
To read about the first annual Mule Days and Kickin' Nights, type "Woodstock comes to Muleshoe," July 23, 2017, in the search line on my blog.