Career and Technical Education students and teachers at Muleshoe High School hosted their first Power Lunch at the Muleshoe Training Center on Thursday, March 7th. Local business owners and community leaders were invited to come meet the students and see what skills and information they are learning to prepare themselves to join the work force after graduation.
MHS counselor Suzanne King and the Career and Technical Education (CTE) advisory committee are focused on making sure students acquire the skills needed in today's job market. Local businesses are interested in hiring local talent to boost Muleshoe's economy and support hometown growth, and the power lunch allowed students to present themselves to the business leaders and for the business people to see what kinds of skills the students are learning.
The CTE advisory committee consists of Mrs. King, all the CTE classroom teachers, MHS principal Cindy Bessire, Assistant Superintendent Dani Heathington, First Baptist Church Children's Minister Abby Manes, Director of Economic Development for Muleshoe Kasey Coker, EMS representative Bill Baca, Bamert Seed farm manager Jeff King, Evolve owner Ashley Turnbow, and additional industry and business representatives who rotate on and off the committee from time to time. The idea for the power lunch came out of committee discussions of ways to connect business with education. The high school has had a career day the last three years, inviting local and out of town businesses, military recruiters, and colleges so the students can consider some of their options after graduation. The committee thought, why not turn it around and have the students responsible for presenting themselves to the visitors instead of the other way around?
And present themselves they did. As I approached each table set up around the room, I was greeted by smiling eager faces and explanations of what they were doing in the classes they were representing that day. Career Technical Education, a modern update on what used to be vocational education, is one component of recently revised graduation requirements in the state of Texas that took effect in the 2014-15 school year.  CTE provides academic and technical skills to students in five endorsement areas which in turn qualify and prepare them to attend a four-year college or a two-year junior college. Research shows that students who complete CTE courses during their junior and senior high school years are more likely to graduate on time and less likely to drop out of college than students who do not take CTE courses. Based on the enthusiasm and poise that I saw at each table, these kids are well on their way to great things.
With the help of the entire CTE committee and the students who manned the tables,  Belinda Head, Val McCamish, Suzanne King, and April Smith coordinated the last minute details for the success of the day.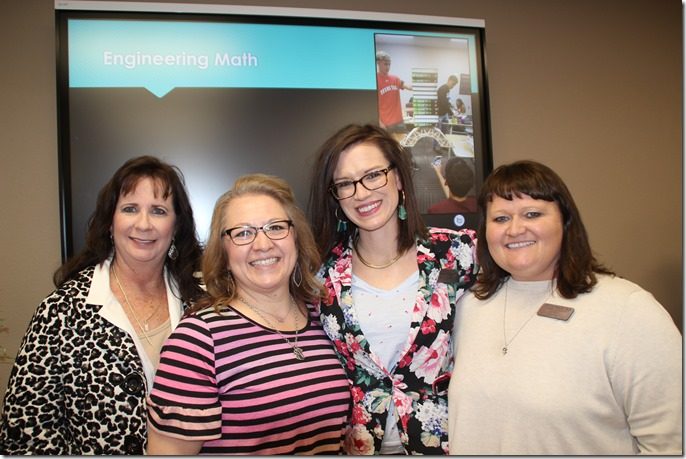 Fourteen tables were set up around the room, each spotlighting the areas covered  by the CTE classes. Tables and chairs in the center of the room were set with flower arrangements created by the Floral Design students and available for visitors when they were ready to enjoy the food provided by the Lifetime Nutrition and Wellness students.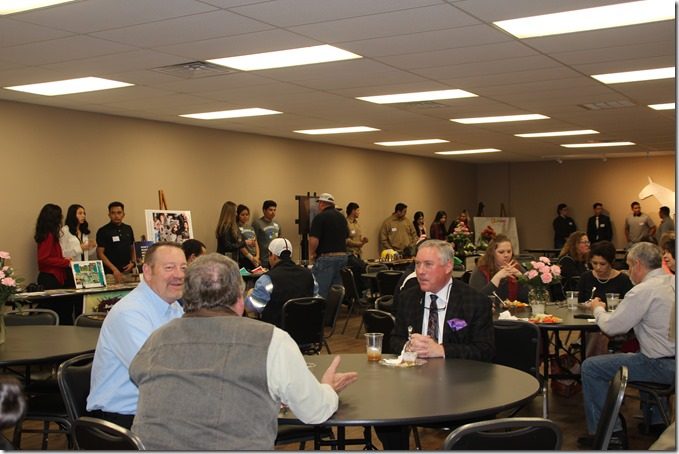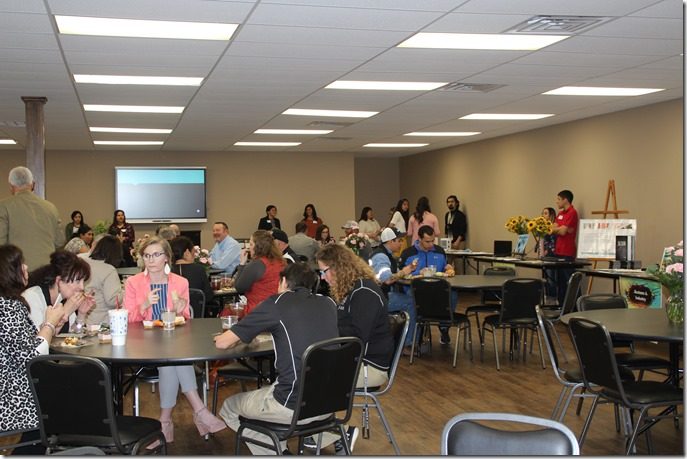 April Rodriguez, Giovanni Rodriguez, and Alarick Hernandez manned the Graphic Design table with teacher Laetitia Johnson.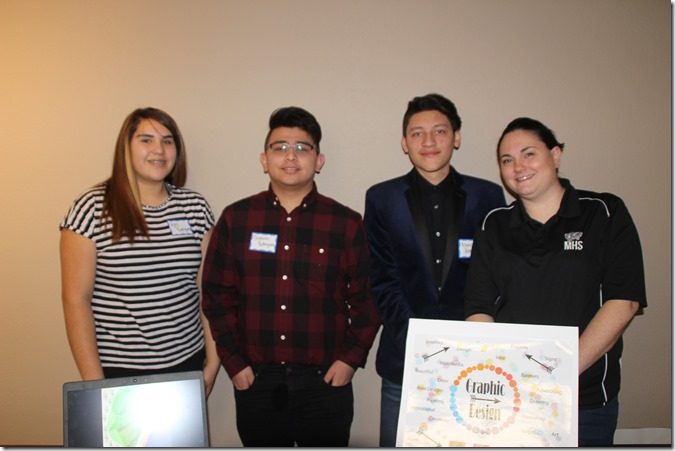 Oliver Puckett and Eduardo Pantoja explained Engineering Math to an interested visitor. Cody Johnson teaches that class.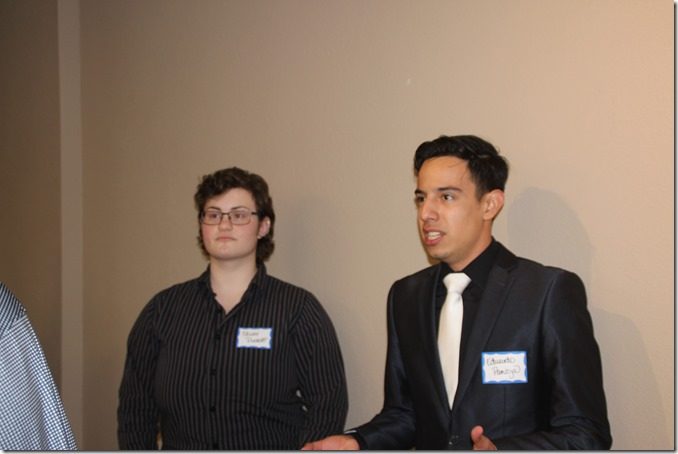 Jaime Vidana and Jose Cardenas had a variety of examples of their tools and the things they work on in their Ag Mechanics classes taught by Brandon Thomason.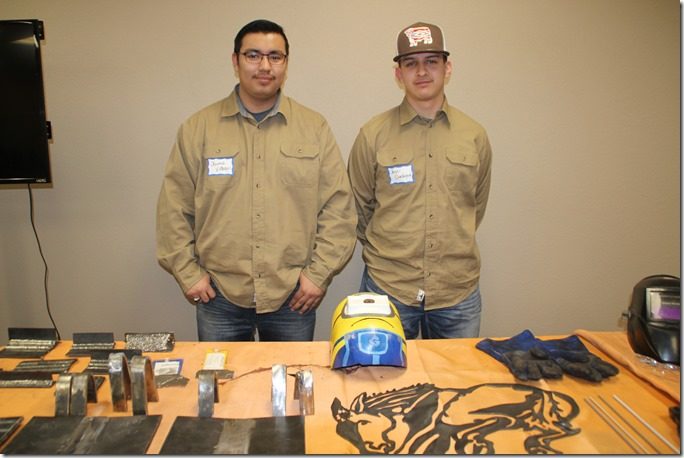 Teacher Kamry Martin discussed floral design with students Elizabet Villarreal, Kimberly Orozco, and Jailn Vidana at the Floral Design and Livestock table. Ms. Martin also teaches Advanced Animal Science and Child Development. I found their poster on cloning insightful.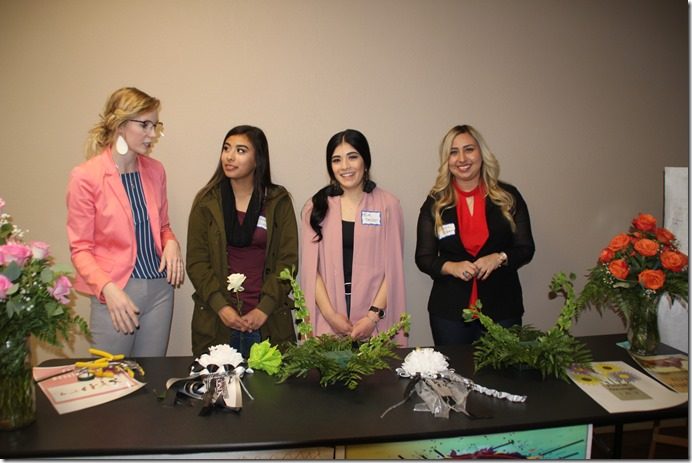 Haili Gardner, Kayla Torres, and Jose Quintana focused their table on Veterinary Medicine Applications, but also take classes on Wildlife and Principles of Ag from teacher Kelsea Jones.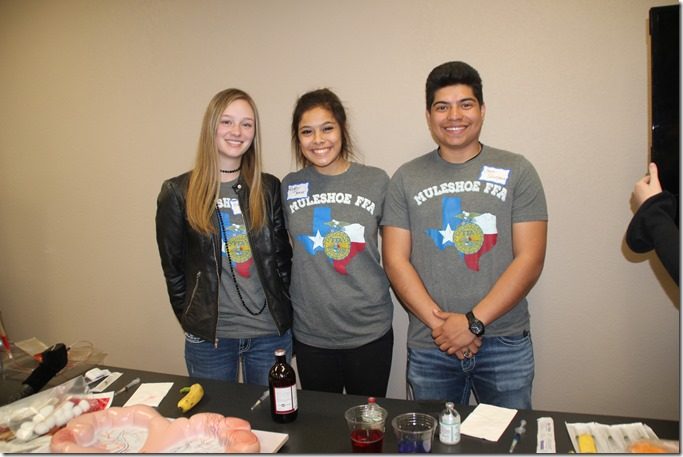 Jailyn Regalado, Sharice Rosas, and Cristian Bustillos manned the Printing and Imaging table and had examples of the professional grade yearbooks they produce in their class taught by Michelle Young.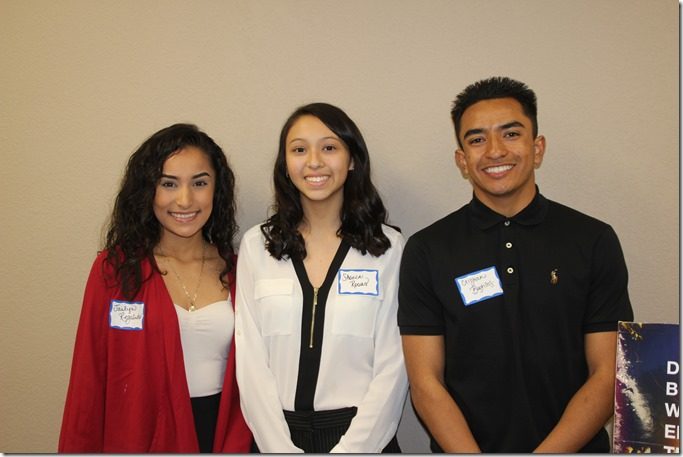 Jennifer Cervantes and Joe Anthony Alfaro told me all about what they do in their College Transition class taught by Belinda Head.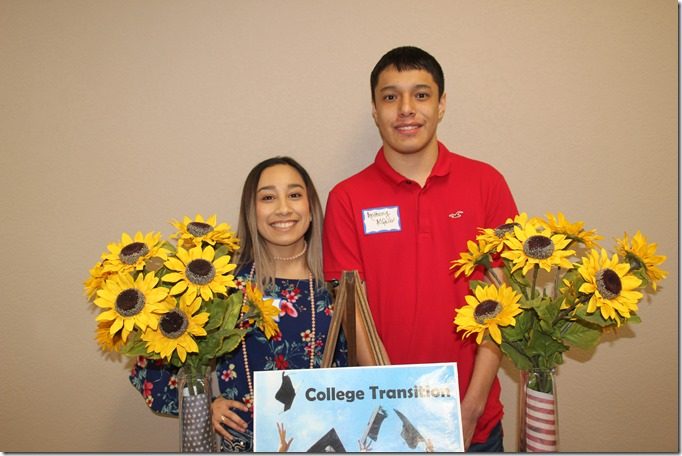 Elisha Castillo and Megan Macias introduced themselves and shook my hand as they explained the things they work on in Career Preparation class with teacher Matt Vaquera.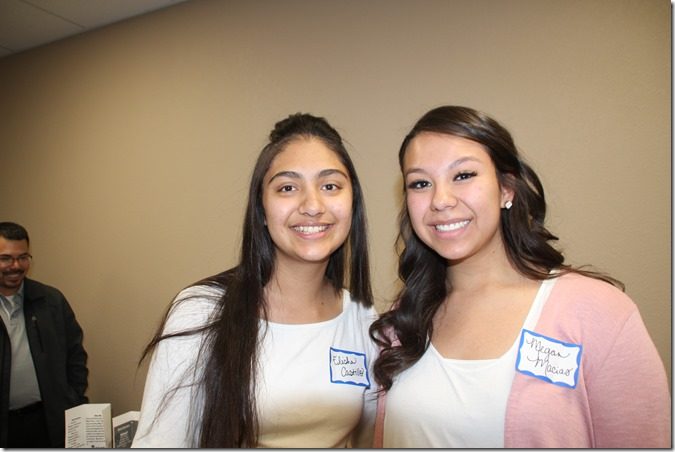 Mercy Manzanales and Danielle Moran enjoy teacher April Smith's BIM and Accounting classes, and compared to them, my computer skills look pretty lame!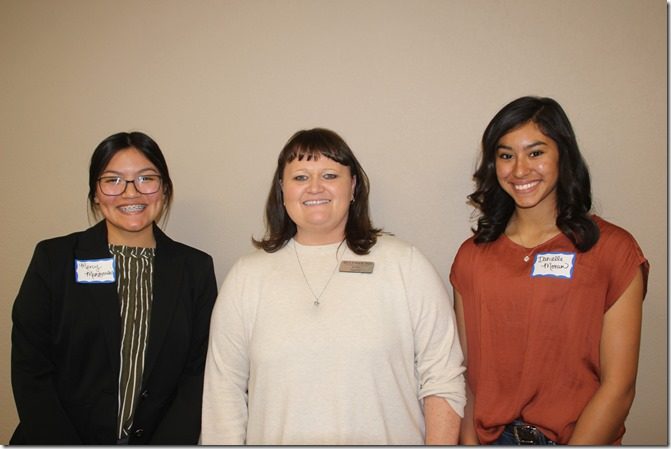 Adriana Mora, Emili Mora, Destiny Vasquez, and Jill Rojas manned the Family and Community Services, Instructional Practice of Education and Training, and Principles of Human Service table,  all taught by Val McCamish.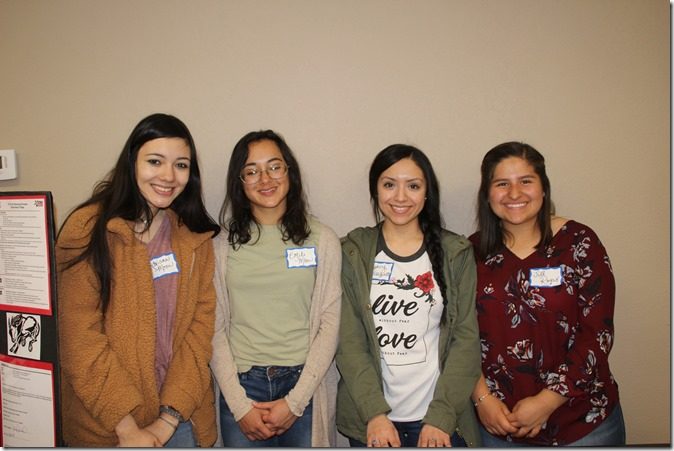 Mrs. McCamish also taught the students serving at the food counter. Lyly Castro, Ariana Mendoza Platas, Laiza Que, and Kyla Sierra served a delightful assortment of sandwiches, fruits, cheeses, vegetables, and desserts they prepared in Lifetime Nutrition and Wellness class.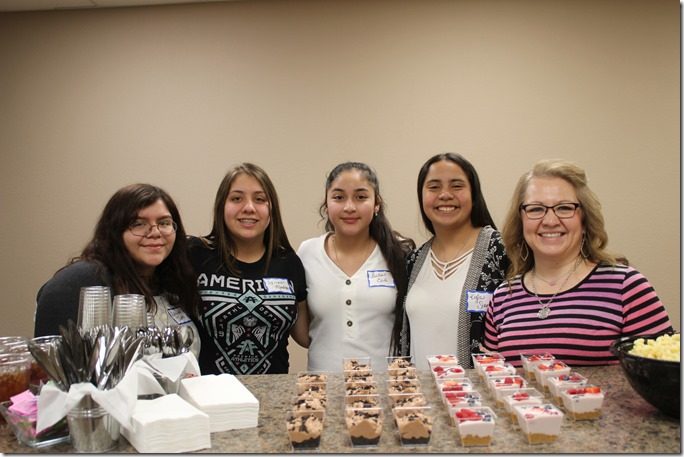 Brooke Garza, Dylan Reyes, Jazmin Gutierrez, and Corbin Hardwick looked very professional in their scrubs as they offered to perform some of the procedures they have learned in Health Science class taught by Sharon Johnson. Corbin practiced by taking my blood pressure.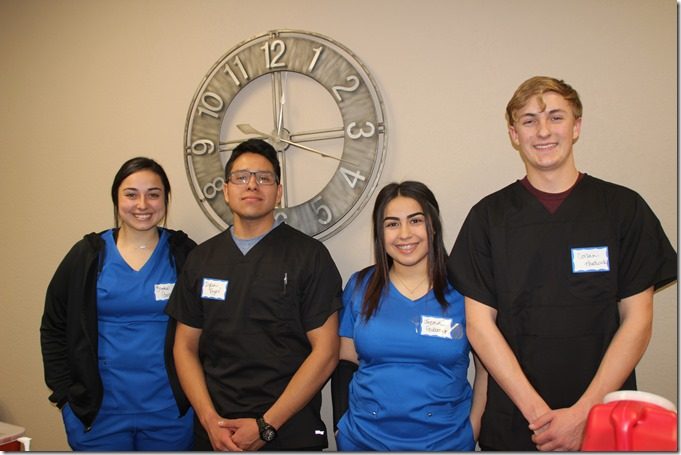 Ethan Villa, Chantel Cain, and Clarissa Ruvalcaba were at the Sports Medicine table, where they talked about techniques for treating injuries in major high school sports. This class is taught by Crystal Miller.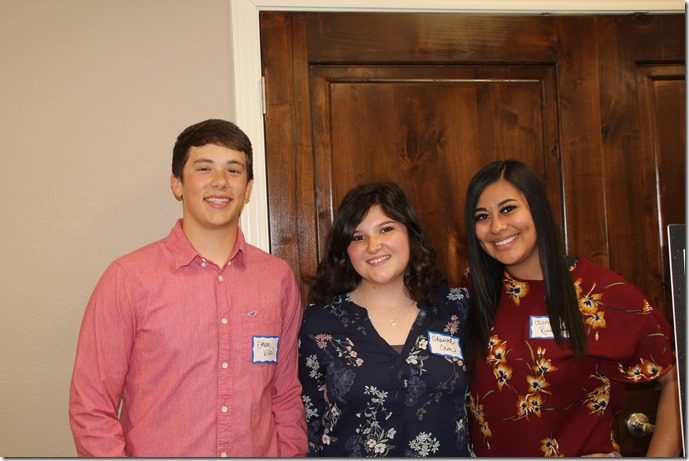 Anatomy and Physiology, taught by Pam Doolittle, were represented by Citlalli Vargas, Alexa Herrera, and Fernando Salamanca, who said they enjoyed the lab work that supplements their classroom learning.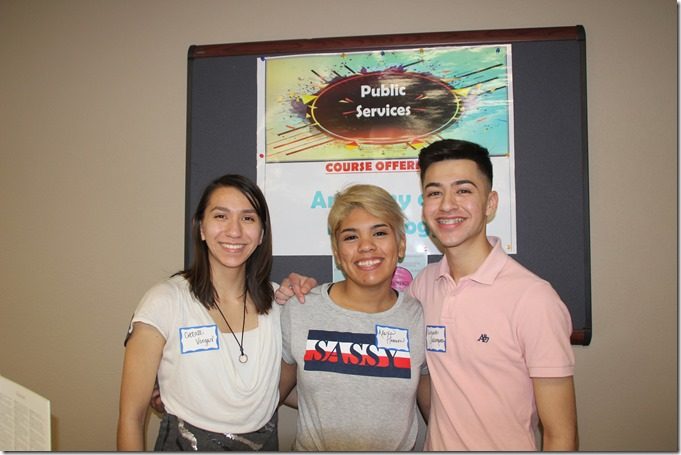 Kim Chaffin, who teaches Business English, is also the tennis coach and had to miss the power lunch to be with her tennis players at a meet. Louie Pacheco, the Professional Communications teacher, had just returned from one-act play competition and was unable to participate in the day. The play, by the way, advanced to compete at the bi-district level.
Besides learning how some things had changed since I checked roll and graded papers at the high school, it was a déjà vu moment for me talking to all those bright and shining faces, recognizing a few of them as children of former students, and feeling really old-and proud-as I watched and visited with former students who are now the adults running the show.
The world of work and education may change, but the circle of life continues.
It was a great day to be a Mule.
Thanks to April Smith, Suzanne King, Val McCamish, Belinda Head, Annette Orozco, Dani Heathington, and Kasey Coker for their help with this article.
For more information about Career and Technical Education, endorsements, and graduation requirements, contact Suzanne King at 806-272-7303.