Carl and Cookie Bamert married in Las Cruces, New Mexico, spent part of their honeymoon at the Elite Hotel in Clovis, liked what they saw across the state line around Muleshoe, bought some land, and never looked back.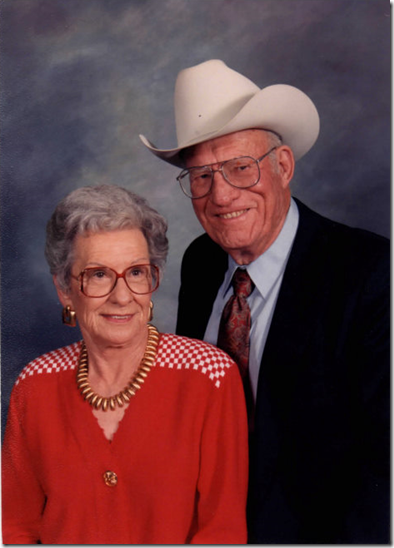 Photo courtesy of Nick Bamert
I visited with Carl and Cookie's son Nick about how Bamert Seed came to be. He gave me some family history and a tour of the facility, which continues to expand as the small seed business Carl sort of fell into has grown into one of the six top seed producing companies in the United States.
Carl was born in 1924 and grew up in Las Cruces. New Mexico. Cookie, who was born Willow Rhea Coogler in 1925, moved to New Mexico from Florida as a teenager because her dad hoped the climate would improve his health. Which it did for a few years, but he died at an early age.
Carl grew up helping his dad, Fred Bamert, farm cotton and alfalfa hay. He showed livestock through high school and played on the state champion basketball team for Las Cruces High School before graduating in 1942. He then started college at New Mexico School of Mines in Socorro with plans to be an engineer, but with WWII intensifying, he chose to join the army. While stationed in Guam and the Mariana Islands as an airplane mechanic, Carl learned and utilized some engineering skills that turned out to be invaluable in the seed business as we will see later.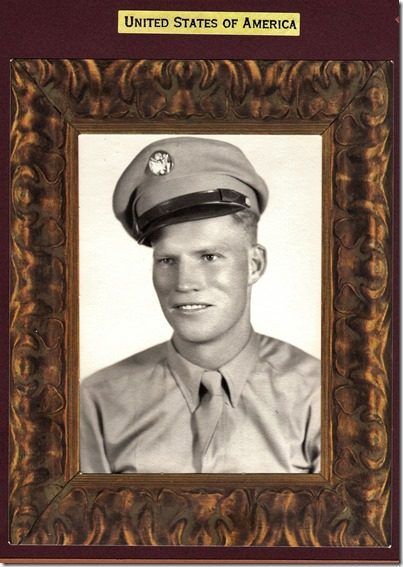 Photo courtesy of Nick Bamert
Carl came back to New Mexico in 1946 after the war ended and attended New Mexico A&M , (which also makes Carl an Aggie, of sorts-you'll see the connection later) now named New Mexico State University, and fell back into work with his dad. During that time one of his jobs was delivering alfalfa hay to the Muleshoe area and taking back grain sorghum (milo) for feed for their cattle. He was impressed with what he saw on those trips, the potential of the developing irrigation systems, the land itself, and the fact that the land was cheaper around Muleshoe than in New Mexico.
So when he and Cookie were married in 1947, which brought his college career to a close, he sealed the deal by bringing her to Texas as part of their honeymoon, which is what took them through Clovis and that night spent at the Elite Hotel. Cookie agreed they should move, so they bought 320 acres, grew cotton and grain sorghum and toyed with running a feed lot.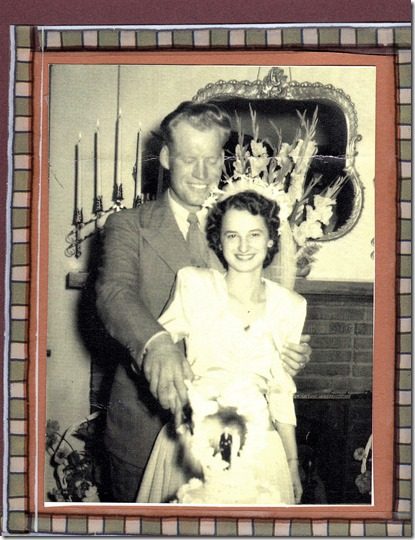 Photo courtesy of Nick Bamert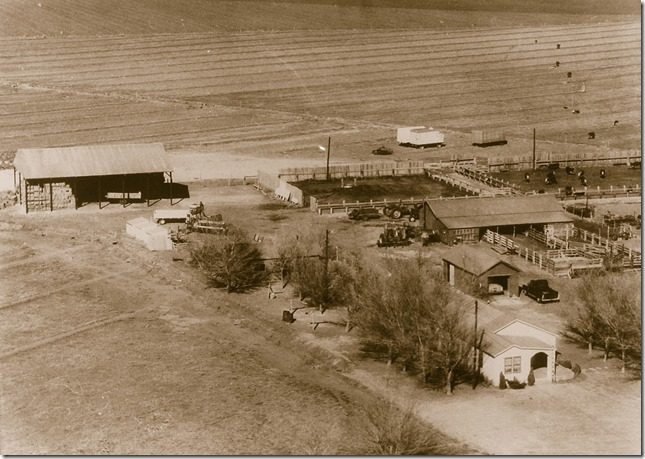 Photo courtesy of Nick Bamert, taken in 1951
About that same time, the cattle market fell and Carl's feed lot felt the effects. Then the Soil Bank Act was passed in 1956. Predecessor of today's Conservation Reserve Program (CRP), the Soil Bank Act was designed to reduce the growing crop surpluses that lowered crop prices and reduced farm income as well as help with soil conservation. In place of wheat, corn, grain sorghum, and cotton, grasses were planted on land that, under the program, could not be used for pasture, cutting hay or harvesting any crop. This created a market for grass seed, which looked like a good business to take the place of the feed lot, so Carl grew seed crops for companies that supplied seed for this program. Carl continued this into the 60s along with experimenting with other commodities, like tomatoes and sugar beets, like this giant sugar beet Greta and Nick are showing off.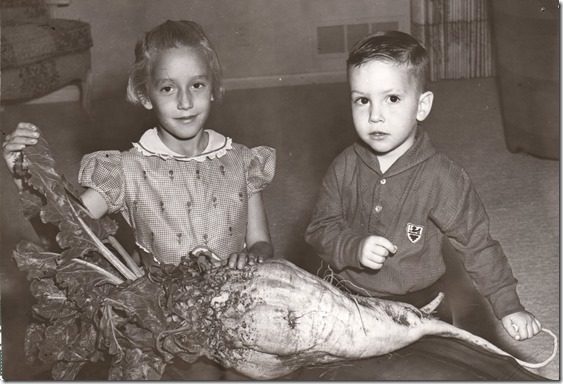 Photo courtesy of Nick Bamert
By the late 60s seed production had really taken off, and Carl was still growing seed for other companies when a business transaction went south. Always an entrepreneur at heart, Carl just decided to eliminate the middle man, buy his own seed cleaner, and market the seed himself. According to Nick, what started out as a problem to be solved turned into the best thing that could have happened because it pushed Carl into creating his own successful business.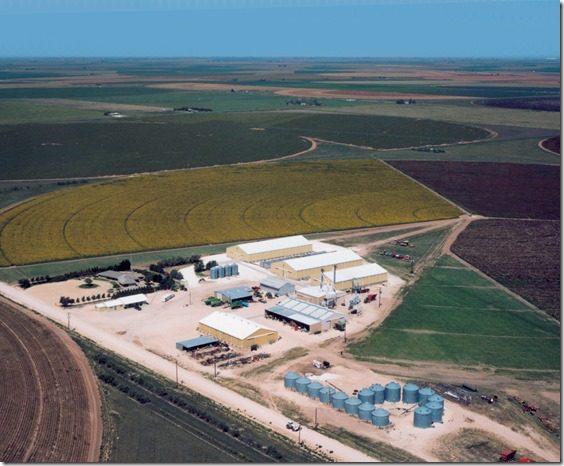 Photo courtesy of Nick Bamert, taken in 2000
Carl was growing mostly grass seed under contract in the beginning, side oats and love grass used mostly for cattle grazing. After that fateful purchase of his own seed cleaner and the growing popularity of crop rotation, he expanded to other species of grasses, forbes, and legumes.
Today Bamert Seed oversees all the steps it takes to make a bag of marketable product-they grow or purchase seed, harvest, clean and package over five hundred varieties and blends of seed. International and domestic customers include state highway departments, mostly in the lower two/thirds of the U.S. and TexDOT in particular, wildlife habitats, Audubon Societies, parks and wildlife departments, coal mine reclamation projects, wind farm reclamations, and oil and gas pipelines. Landowners working to restore pastures and open land to former glory buy native grass seed and wildflower seed now as well. In general, seed goes more into reclamation of land than into pastures. So where thirty years ago, one variety of seed suited people just fine, now diversity is the key to sales. As production of this diversity has increased, so has the acreage of the seed farm. Twenty-eight employees work year-round, growing seed crops during the growing season, harvesting from July through November, and cleaning seed nine to ten months out of the year.
To accommodate the diversity issue in another way, some seeds are now bought from other growers and professional seed collectors since not all crops do well in this area. It also takes a special drill to plant some species, so sometimes relying on other growers to provide the raw seed makes sense. Bluebonnet seeds, for example, are purchased from growers in the Hill Country, such as Wildseed Farms in Fredericksburg, and brought here to be cleaned, bagged, and resold.
Needing specialized equipment brings up another facet of the business. Nick said native seed production is not a large industry, so many times they have to rely on their own innovations in terms of equipment. He said most of the equipment they use has to be customized, and they do it themselves on site. That's where Carl's acquired engineering skills came into good use, and the grandsons have followed his lead. When an equipment need arises, Brett and Austin come up with something to fill that need.
So we ventured outside to look at some of this equipment and machinery. I saw combines, swathers, strippers, brush machines, all of which Nick said they would buy and then modify to fit their needs before it ever even made into the field. I saw a wall with a line of different cleaners they had arranged and modified to do the cleaning, a prime example of Bamert innovations.
But before cleaners and mixers can be used, the seed has to dry, so we went into one of the many cavernous warehouses where piles of raw seed had been dumped next to blowers to allow for drying.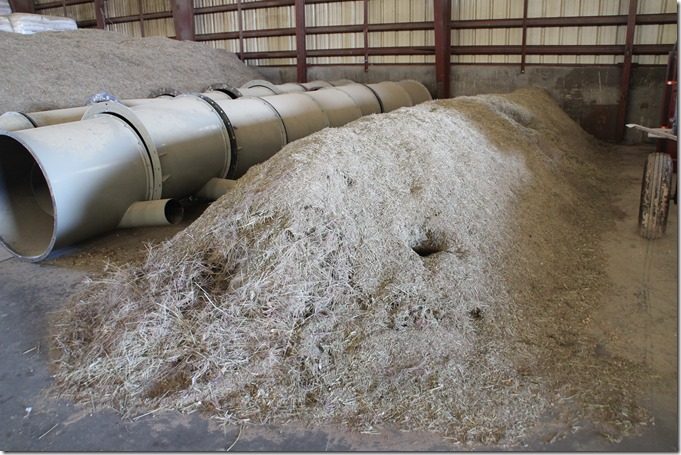 Then we looked at piles of died seed ready to be cleaned. This particular pile is a fifty-acre harvest, and after cleaning, Nick said the pile would be about half as big.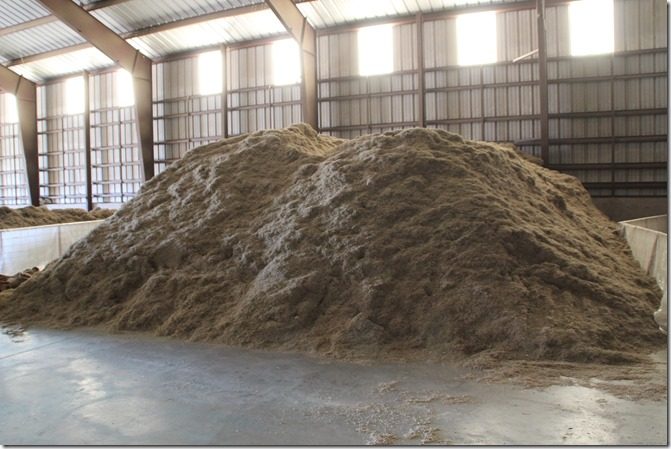 We moved next to a cleaned pile, which may look as big as the unclean pile, but keep in mind it was from a different harvest. And notice the difference in the smooth, cleaner texture of the cleaned pile.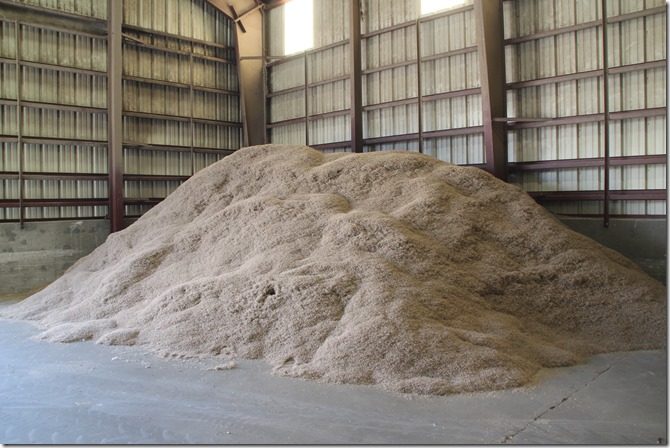 Since cleaning the seed is the first step, we looked at that first seed cleaner Carl bought in 1969 still doing its job, although none of the machinery was in use the day I visited. The seeds are cleaned more than once by several cleaners before they are considered finished and ready to be bagged. They even have different cleaners for slick seeds and chaffy seeds in two different barns. Eventually some seeds go to a blending machine to mix different seeds to meet the demand for variety of plants used in reclamation projects.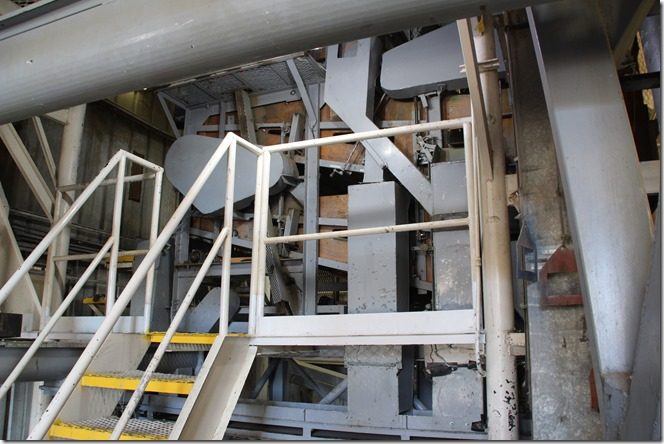 The seed is sifted on various sizes of screens for another step in cleaning.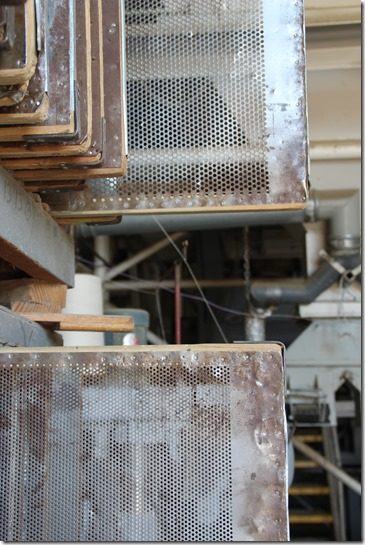 After the seed goes through these cleanings, it is loaded in this bagging bin to be put into bags ranging anywhere from five to fifty pounds in size, depending on the weight of the seed. Small seeds are denser and heavier, so they go into smaller bags; fluffy seeds are lighter and can be loaded in bigger bags, like the one shown below with Austin, Carl, Nick, and Brett.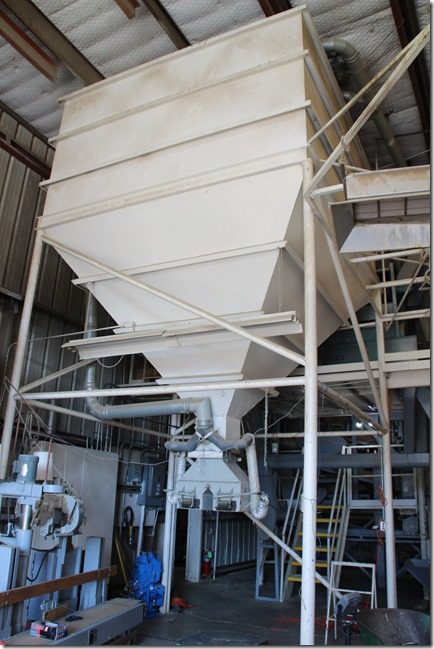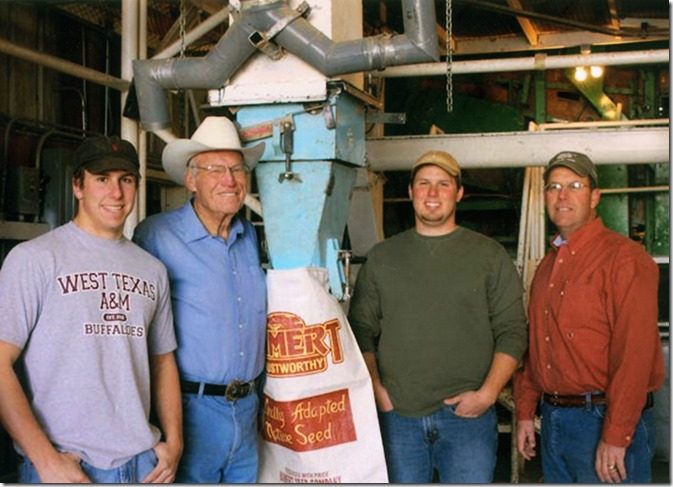 Photo courtesy of Nick Bamert, taken 2010
After the cleaning and bagging is complete, the seeds are tested for purity and germination. We went back inside to look at examples of the seeds in the sample room.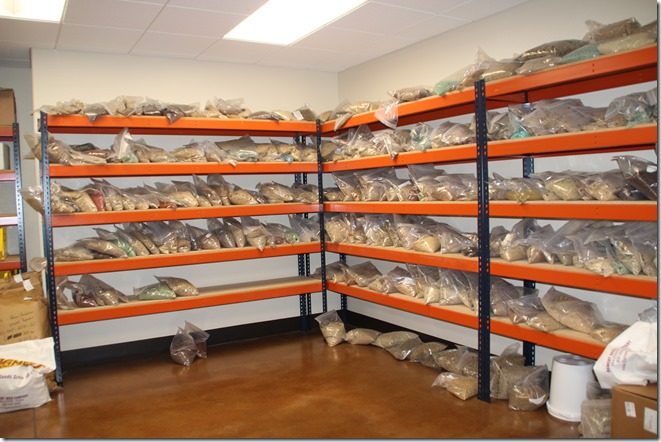 We also visited the small package room where small volume high-priced seeds for specialized projects are kept.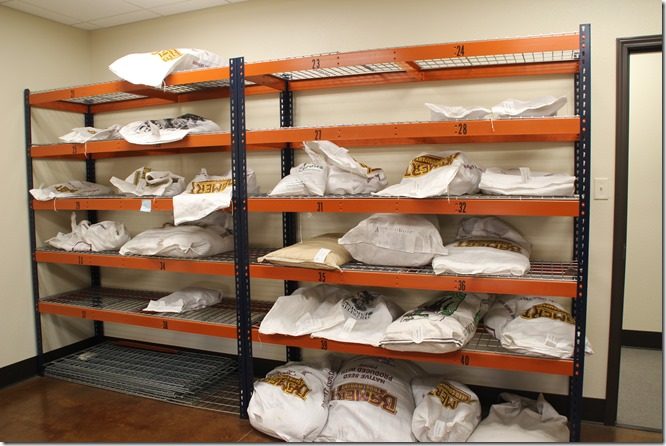 Seeds come in all shapes, sizes, and colors. For example, going clockwise from the upper right, you see Illinois bundleflower, little bluestem, sand lovegrass, sideoats grama, and in the middle, primed buffalo grass.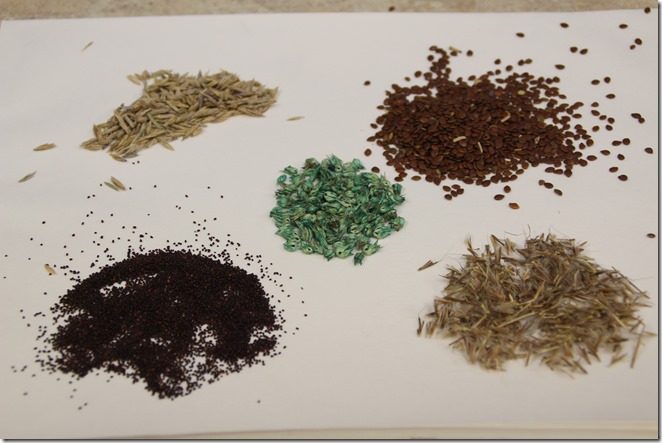 By contrast, here's a closer look at what little bluestem seeds look like before cleaning.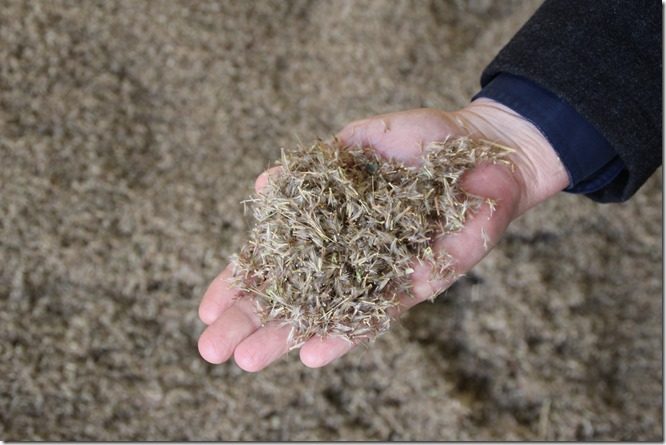 When the seed is ready to go, it is bagged and shipped to customers.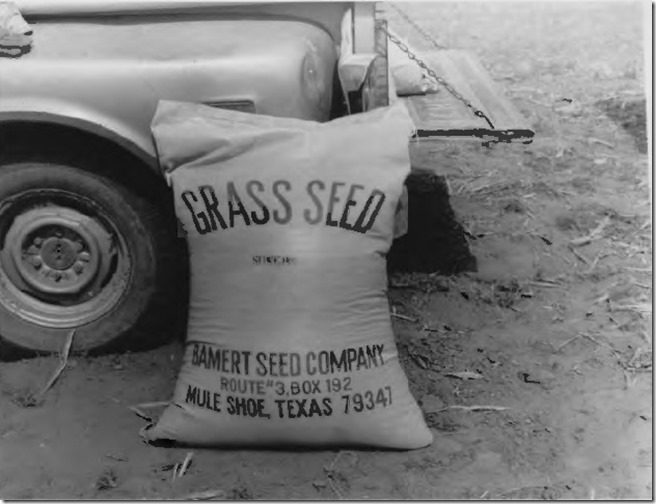 Photo courtesy of Nick Bamert, taken in early 1970s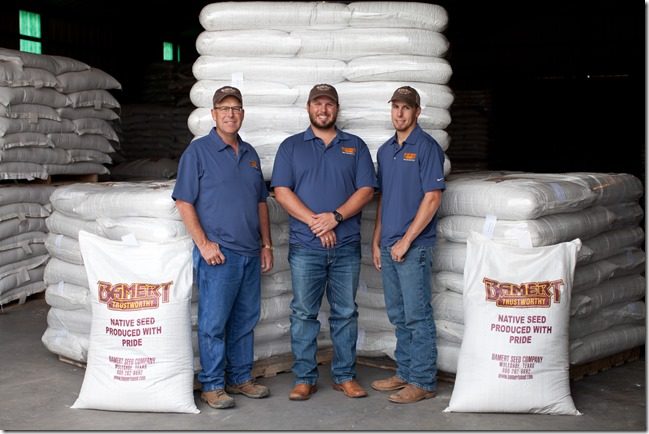 Photo courtesy of Nick Bamert
And speaking of shipping, as Brett and I were in the office talking, a UPS truck pulled in to pick up some orders. Brett said that's the way most orders go out, by UPS or FedEx, which I found kind of funny. I was expecting some sort of large vehicle, a semi or something, and while palletized orders do go out, he said most orders average around a hundred pounds, easily delivered by UPS and FedEx. In fact, Bamert Seed is the largest small parcel shipper out of West Texas, another fun fact.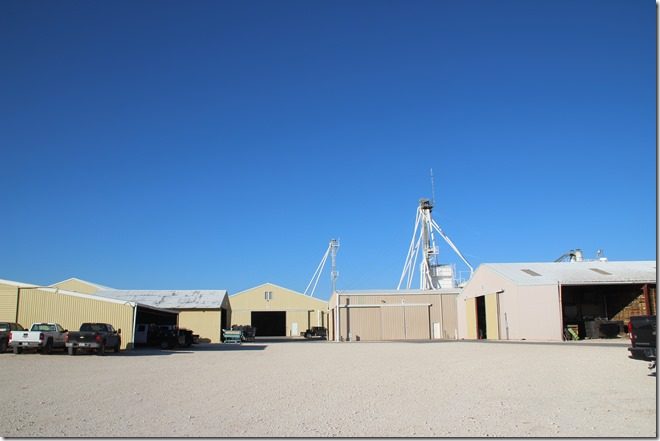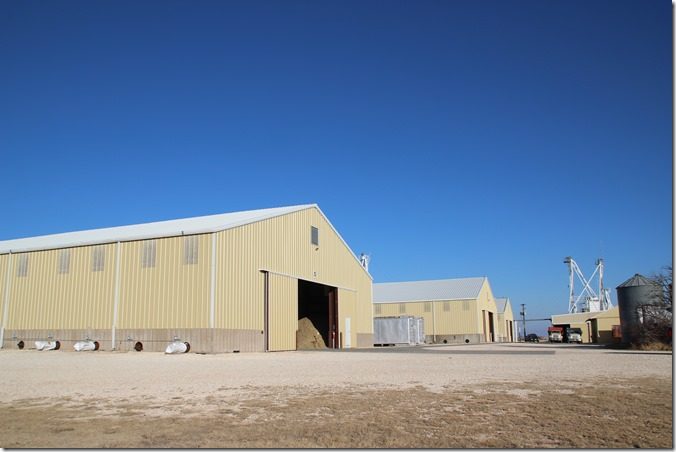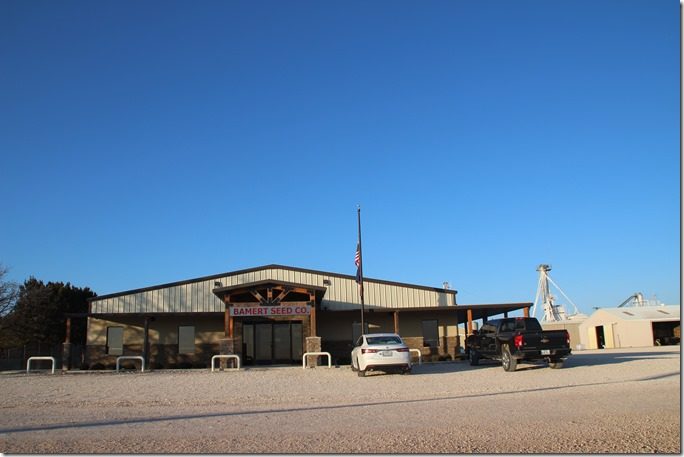 Carl and Cookie's family grew as the business grew and children Greta and Nick came along. Greta has since moved on to life in Ashville, North Carolina. Nick married Rayniel Broussard from Nome, Texas, when they were both students at Texas A&M University. They came back to Muleshoe after graduation so Nick could work with Carl and expand the business. Nick and Rayniel added sons Brett and Austin to the family, and they have taken their place alongside Nick just like he worked alongside Carl to learn the business. It just so happens that Brett and his wife Madison (Myers) both graduated from Texas A&M, as did Austin and his wife Avery from Canyon, so Bamert Seed is a six-Aggie operation, which I think is pretty special. Time will tell if the granddaughters Brookelyn and Willow, and the granddaughter Madison is expecting on February 18th will continue the tradition.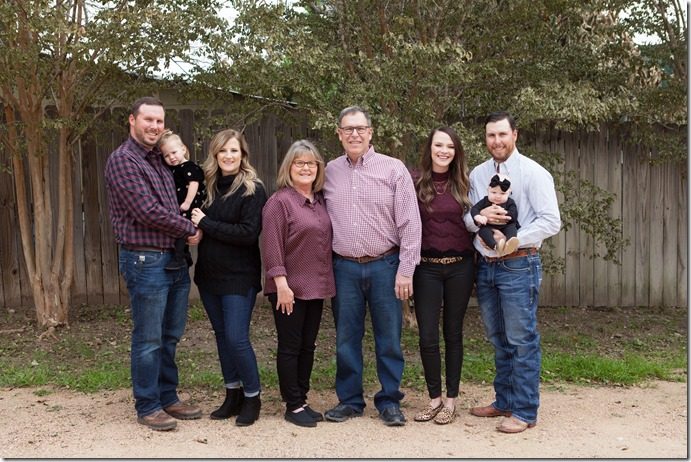 Photo courtesy of Nick Bamert
Carl and Cookie-no one seems to know the story behind this childhood nickname that stuck- stayed busy raising their family, building the business, playing golf (mostly Cookie), and dancing many nights away together. Cookie was also an integral part of their enjoyment and success because she had an outgoing personality and always encouraged Carl to meet new customers and develop business relationships. Many times she would go with him on harvest, load sandwiches in the trunk of the car, and feed the crew. In 1987, Carl, Cookie, Nick, and Rayniel were jointly named Farm Family of the Year by the Muleshoe Chamber of Commerce.
After fifty-three happy years together, Carl lost the love of his life when Cookie died from COPD complications in 2000. One way Carl dealt with being lonely without Cookie was going to the dances being held at the Oneita Wagnon Senior Center in Muleshoe. One night he met Jenny Vaught from Clovis. The two shared a love of dancing, enjoyed each other's company, and decided to marry in 2002, and Jenny became a valued member of the family who also took part in the family business, like traveling to harvest with Carl. They also danced many nights away until Carl's death in 2012 at the age of 88 from heart complications.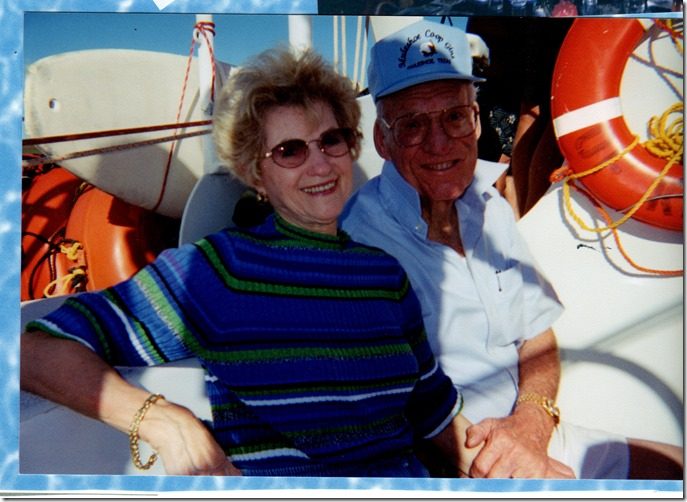 Photo courtesy of Nick Bamert
But Carl definitely left his mark in the world and on his son and grandsons who are now partners in the business. Carl created a legacy with Bamert Seed, which was named Business of the Year in 2017 by the Muleshoe Chamber of Commerce.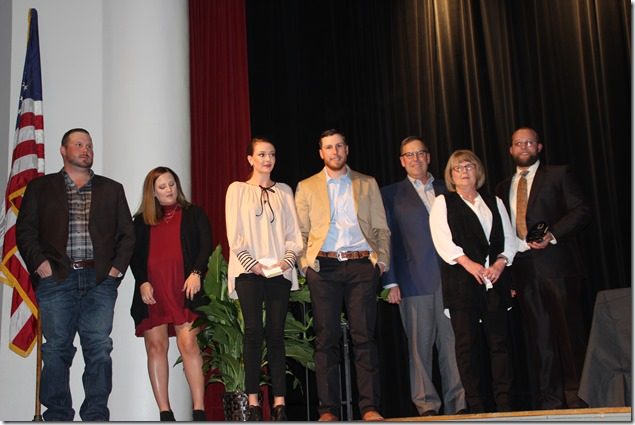 Carl understood things from a farmer's perspective and applied that knowledge to the seed business. He may not have earned that engineering degree, but he was already an engineer at heart; his innovations in modifying machinery and techniques made Bamert Seed the success it is today. He was an innovator in what to grow and how to grow it.
Carl valued education. He saw college as an important first step for a lifetime of learning. When Brett was about to leave for A&M, Carl told him to go to College Station and get his bachelor's degree; then come home and he [Carl] would give him his PhD. Which he did. Brett said his grandfather always took meticulous notes-which probably goes along with Carl's opinion that a dull pencil will beat a sharp mind any day- and taught Brett all kinds of things related to engineering, always telling him, "I am teaching it to you; you teach it to your brother."
Nick reflected that Carl was always quick to say we all stand on someone else's shoulders, which goes right along with a lifetime of learning and a willingness to recognize what has been contributed by those who came before us. And that fits in nicely with the I teach you, you teach your brother maxim.
Carl enjoyed figuring out how to grow, harvest, and process new varieties. He always said he never did go to work, he just did what he truly enjoyed doing. Work gave him purpose in a life he loved.
Success didn't happen overnight at Bamert Seed and Carl's determination to make it work motivated everybody involved to succeed. The support of the businesses and friends in Muleshoe also played a part in that success. Friends and family were an important part of his passion and Carl was always grateful for that support.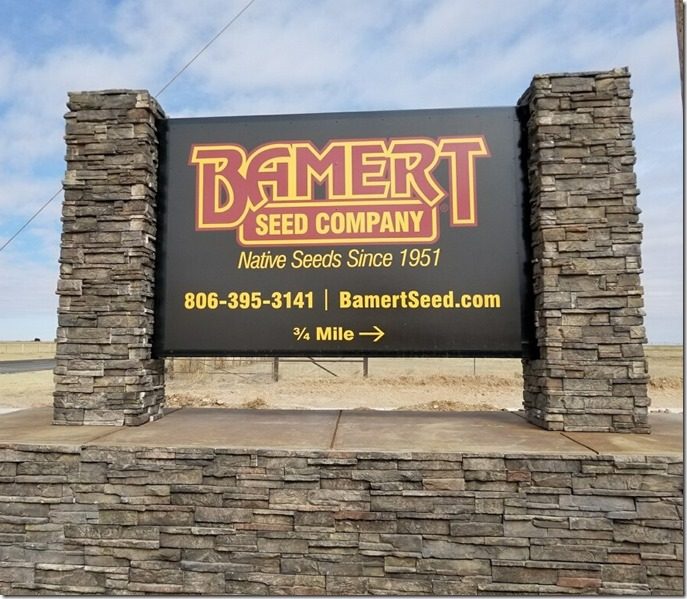 And he would be proud to watch the third generation of Bamerts carry on the tradition in the community he called home.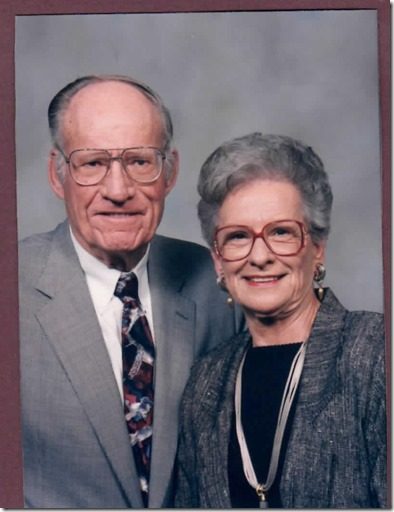 Photo courtesy of Nick Bamert
Thanks to Nick Bamert, Brett Bamert, Austin Bamert, and Bill Liles for their help with this story.