I was ten and my sister Louise, or Weesie as I called her when I was learning to talk, was sixteen when she died in 1957. She was diagnosed with leukemia in September and died the following April. My parents were devastated, as parents would be, but mine had a love that was somehow different,  that lived in their hearts in a way that I can't quite explain. But that became even more real to me a few months ago when we rediscovered a metal trunk that had made every move we made through the years when Mother didn't have a place to store it, but didn't want to lose it. Bill brought it down from the stack of stored boxes of the forgotten things you hate to dispose of for fear that some day you might need them.
The trunk, a metal foot locker, was in good shape, unlocked, and full of all kinds of things that had a story, a history that meant something to Louise or Mother that were mostly a mystery to me.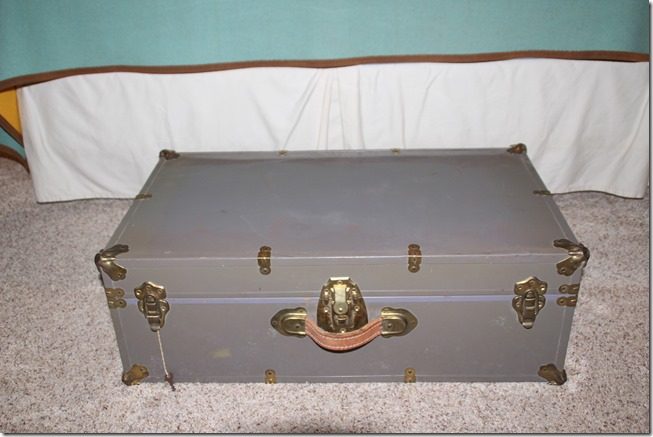 I put off opening the trunk for a few days, but finally mustered the courage to open it and see what we had been the caretakers of all these years.
I sat looking at the open trunk, not sure just what to do next. Sorting through its contents I would be treading on hallowed ground, these memories and keepsakes my mother simply could not bring herself to part with after losing Louise. My daddy grieved, too, but I know this was my mother's doing. But these things were also a part of my history and brought back memories of my sister, so I figured they were now my memories to relive. And wonder about.
I found things I did know something about, things I could relate to, like the autograph hounds everyone, including me, signed while Louise was in the hospital,  pictures of her classmates and friends that I recognized, a jewelry box and some jewelry, particularly some feather clip earrings I remember her wearing, which made me wonder if her ears were pierced. I thought they were, but maybe not.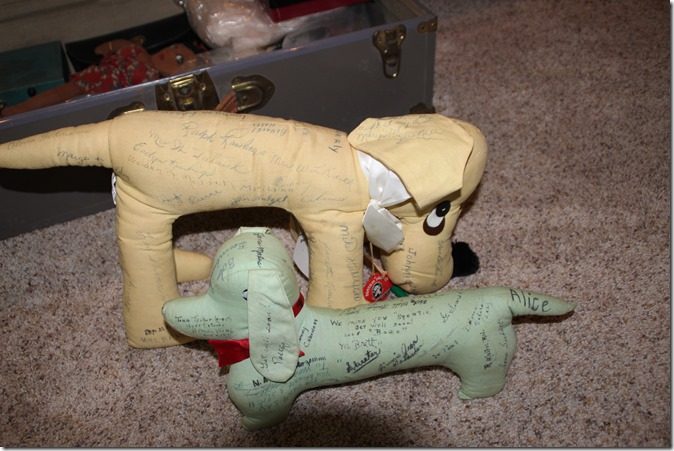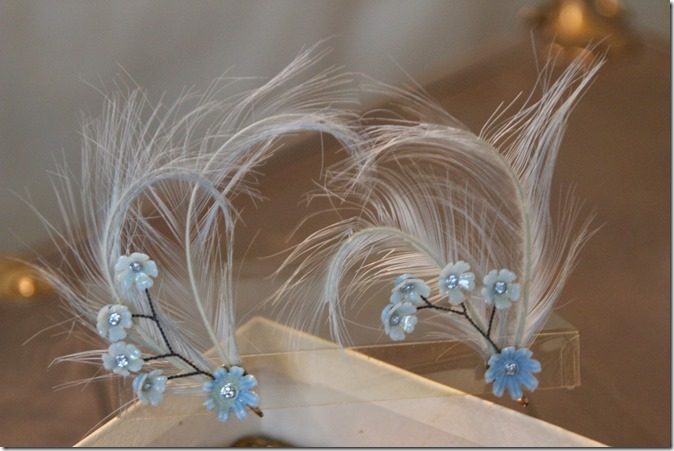 I recognized most everyone in the pictures in this box. That's Louise in the top right-hand corner, a school picture when she was a freshman or sophomore, I am guessing. The picture to her left is a younger picture of her boy friend Fuzz. His real name was Marion Talasek, one of the triplets she went to school with whose names were Marion, Marvin, and Melvin, but were better known as  Fuzz, Gut, and Waldo, tags their friends no doubt found easier to keep straight with the right boy. Underneath Fuzz is Butch Schechter, Jere Nell Kubala, and a face I remember but can't name. That's me in the bottom corner from about third grade, I guess. As is typical, most pictures were not labeled with names or dates, but I could recognize the kids from their visits to the house or when I would tag along with her from time to time. One picture was of a group of girls, Louise standing prominently in the middle, labeled The Happy Eleven. Wish I could have identified more of them, but they did look familiar.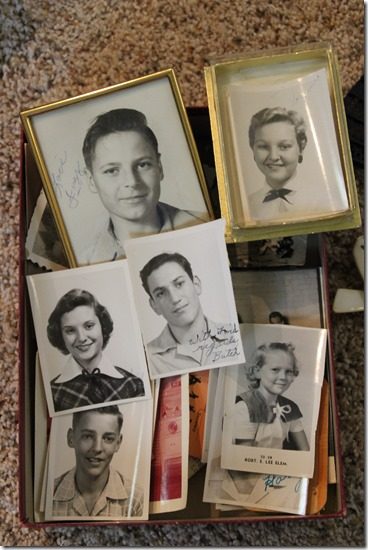 I found things that were probably typical of what a grieving parent would want to hold onto, like Weesie's small black purse and contents, including her billfold with her driver's license, pictures, small change, pocket knives from Daddy, and odds and ends. That's a picture of me in her billfold; she loved her little sister.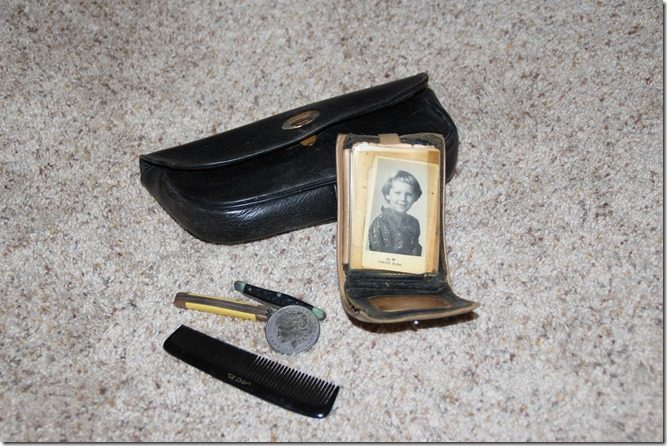 Louise spent the last of her life in a hospital bed. Folded up and tucked away in a corner of the trunk was a shorty gown and matching panties, baby doll pajamas popular at the time, that I suspect she had on when she passed, and Mother couldn't bring herself to let them go. At the very bottom of the trunk was a box of pale blue embossed stationary, the saddest item in the trunk. Stationary that she never had the chance to use.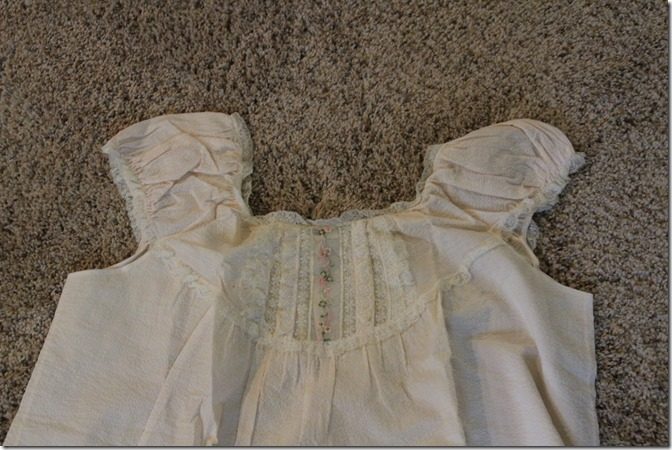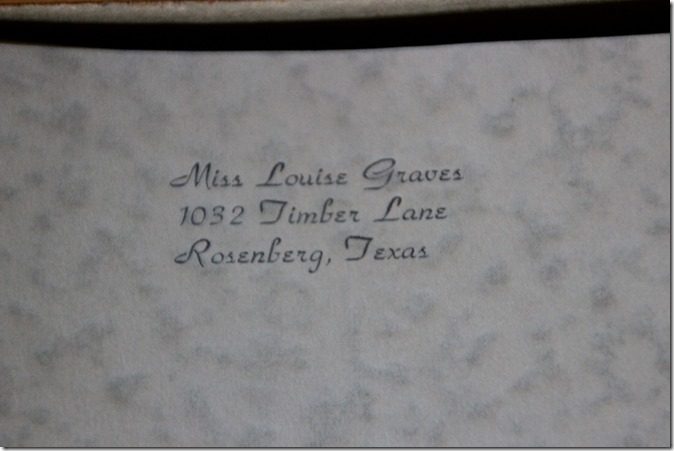 The most intriguing things in the trunk, though, were those that made me wonder why in the world they were deemed important enough to save in the trunk! Like this little yarn doll and the island girl, and the two little wire/rubber figures? The cheap ballerina music box? And there were other things: plastic sunglasses, two pairs of dress shoes, a plastic foldout fan, a 45-rmp record with no helpful labeling, three graduation tassels. Gifts from someone? Memories of special adventures? Adventures that will remain shared secrets between them forever in the trunk.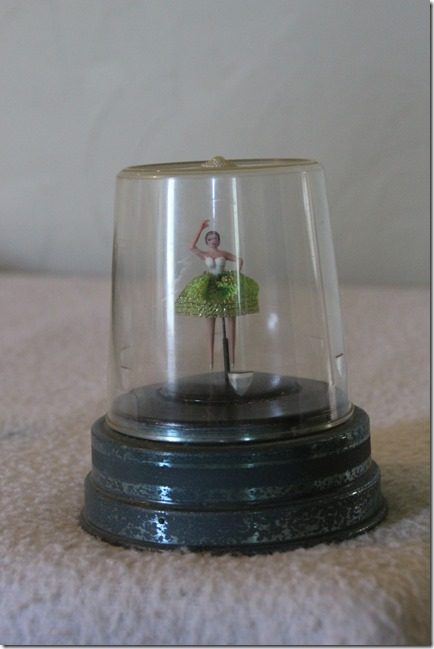 In a separate folder I found family portraits of the triplets, which I have to believe were treasures more to Louise than Mother, but Mother loved Fuzz because he loved Louise, so naturally she tucked them away for safe-keeping. I also found school-related things of Fuzz's- a notebook, research paper, and report cards, one of which made me smile because his English teacher had been Bess Campbell who had been my freshman English teacher, and she was a good one. One of Louise's notebooks was in the trunk, too.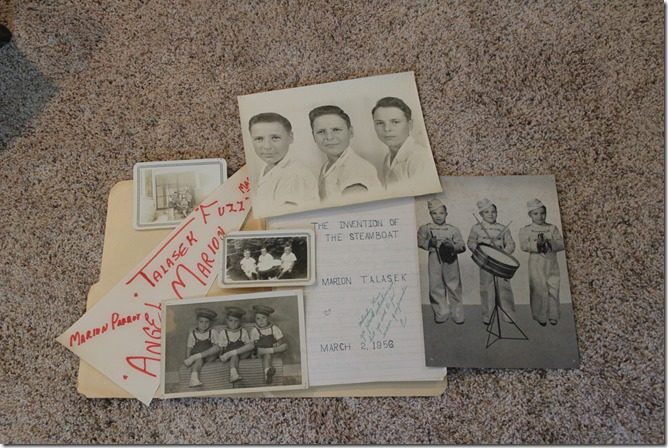 I found a box with used lipsticks, vials of perfume; maybe those were important to Louise rather than Mother. I'm not sure who saw fit to keep those. And there were other things, but I put them back in the trunk. They all seemed to belong together.
And then it hit me-maybe most of this was not Mother's doing at all; perhaps the trunk was a hope chest of sorts, things that were important to Louise for whatever reasons that she had collected over the years.  Maybe Mother came across it after Louise died, added what was important to her and made a promise to hold onto it for her.
The trunk had sat silently in storage all these years, no trouble, waiting, I guess, to be rediscovered and relived, which I did. But now the reality is that at some point, now sooner than later after all this time,  I would not be the caretaker anymore. Louise died in 1957. My memories have faded with time. My kids certainly never knew Louise. They have heard bits and pieces of her history in the family. When I am gone, what are they going to do with this trunk? Haul it around with them or find a place to store it and forget about it? And is it even fair to saddle them with that responsibility? Full of family history and legacy, yes, but realistically, is it fair to expect them to hold onto the trunk the way I did? We have the room to keep it, but at some point we won't be here, and they may not want to keep it.
Technically, everything in our house right now could qualify as family history that I hate to see cast aside. I have saved artifacts from the family legacy that go back two generations that I hope the kids will want to keep and certainly things from my lifetime that I hope they keep. But this trunk was different somehow. I know my mother and keeping things of sentimental value is a trait we share. I could have had Bill put that trunk  right back up on the shelf, but then when it came time for Caroline and AJ to decide what to do with it, what would they do? Tossing it and/or the contents in the dumpster just wasn't right. Mother, Louise, and those memories deserved more respect.
In my Painted Pony collection there is a horse with the title Love as Strong as a Horse. That was my mother's love; stronger than a horse. So the decision was made to bury the trunk and its contents next to my horse out in the pasture. I took pictures of all the items and listed them, wrote a letter about Louise and this trunk, put it and a picture of her in a plastic bag, and we buried it by Samba.
Looking back on it now, I wish I had kept her billfold to add to family history. But I didn't. Somehow it all needed to stay together. I did keep the silver dollar that I suspect Daddy had given her; he did things like that. I see it every day on my dresser. And her baby bracelet. But the trunk and its memories and love are buried and safe forever.
This is for you, Mother. I hope you approve.
But I know you do.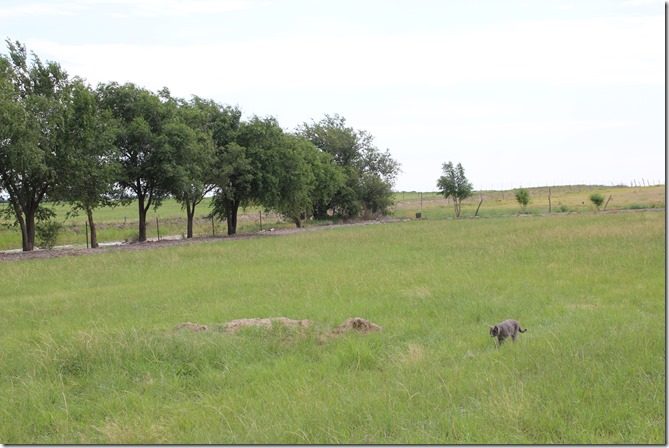 Painted Pony-Love As Strong As A Horse by Jesse Hummingbird; Westland Giftware, 2004.