For us, the Fourth of July is usually a parade, fireworks, and hot weather, which it was this year, but with a twist. We also had the pleasure of spending the afternoon with the Bauers from Spicewood, Texas.
They weren't due in till noon, which left us plenty of time to enjoy the parade. And it was a heck of a parade this year! We left at our usual time and were greeted by cars already in the primo parking spots. We found an empty one and made our way to our usual viewing spot, and it was already full! I spotted former student Scott Miramontes and enjoyed learning who he grew up to be. And we also saw other friends to visit with while waiting for the parade to start.
I enjoying the visiting and watching the parade so much that I didn't take many pictures this year, although I always look forward to seeing the matched miniature draft horses that pull Gary Morris' wagon and liked watching the kids gather candy.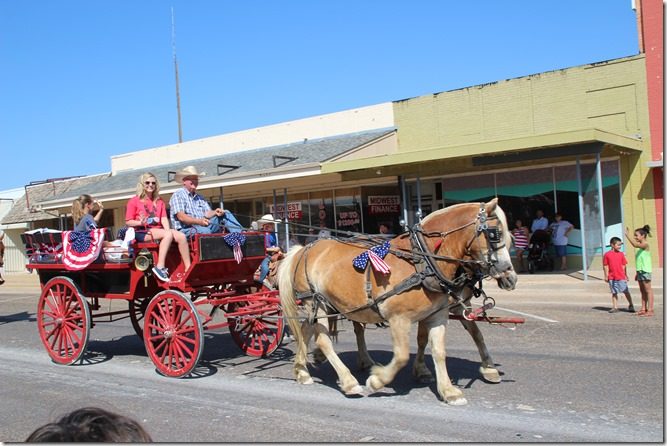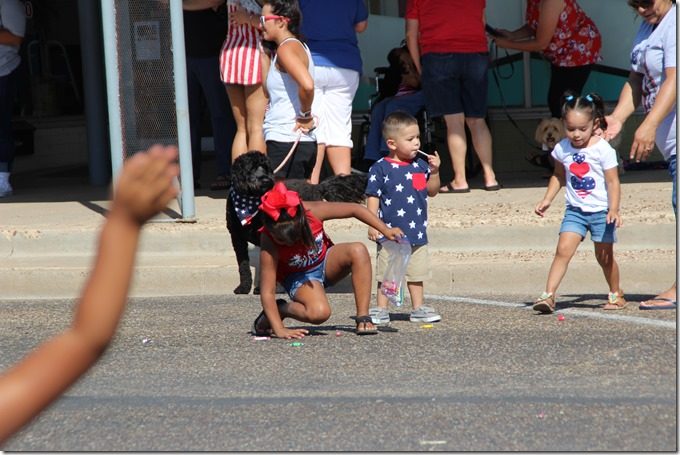 Kids do a good job dressing patriotically at the parade, too, like Paylin from Sudan.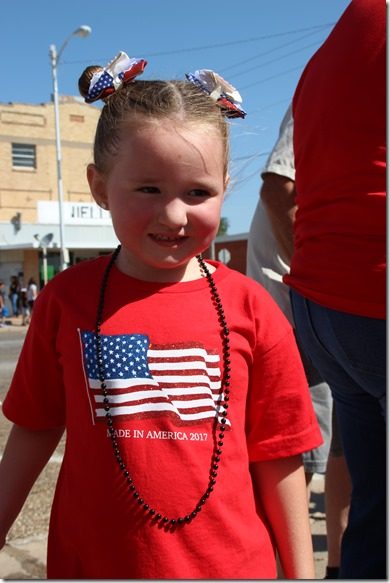 After the parade, it was back to the house to wait for the arrival of John and Shari.
Shari and I found each other through our mutual love of gardening and plants in and around Bee Cave and Spicewood near Austin. Our gardens are exact opposites of each other: hers is lush, green, more Victorian in spirit while mine is a study in xeriscape, earth tones and Southwest by design. She has all kinds of clever hardscape in her garden, like this really fun water feature.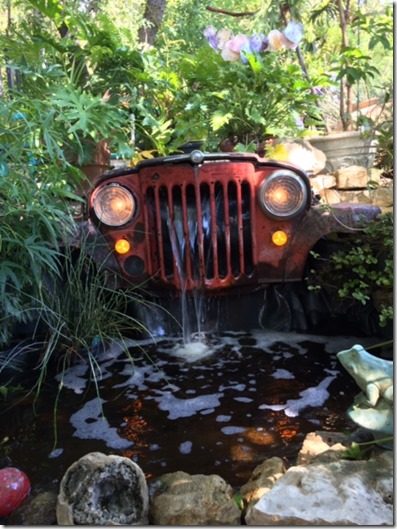 My garden tends to rely on rocks, cactus, succulents, and rusty pieces like metal wheels and such.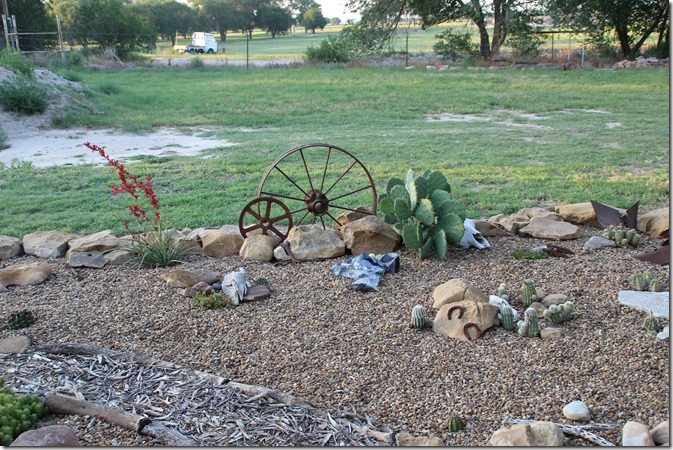 But while I have seen her garden many times, she had never had the chance to see mine. So when they planned a camping trip with friends at Cloudcroft, New Mexico and their route home would take them right through Muleshoe, well, it was a done deal. Nothing would do but that they stop on their way through so I could share my garden with her. I was delighted!
They arrived around noon, and she presented me with an unexpected really cool gift, a metal rotary hammer storage box, just the right addition to my garden. Clean, perfect condition with just the right touch of a bit of wear and tear. After a quick introductory tour of the garden, Leal's was the next stop, and it was fun to show them our premier restaurant and give them a taste of life in a small town in terms of how so many people know so many people! Spicewood is not large, but it identifies more with the urban characteristics of Austin, and I think Shari got a kick out of seeing how friendly people were while we ate.
Next stop was the obligatory picture with Ol; Pete, the quintessential souvenir from Muleshoe. This was mandatory, right?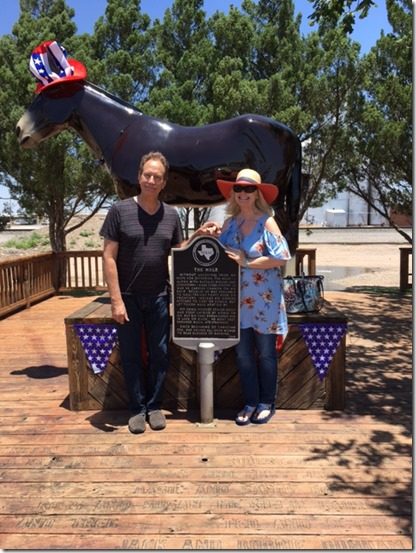 Then we spent about two hours in my garden. She was overwhelmed with the obvious contrast to her garden and appreciated the layout and the use of the rusty things, variety of cactus, and features like the Tonka trucks, cedar arches, and the little touches that sometimes go unnoticed by visitors.
This free-standing door with its doorjamb, brightly painted with the door left opened to welcome visitors to her garden, was the inspiration for my cedar arches. Notice the old row boat and lawn bench the door invites you to use, another one of her repurposing ideas.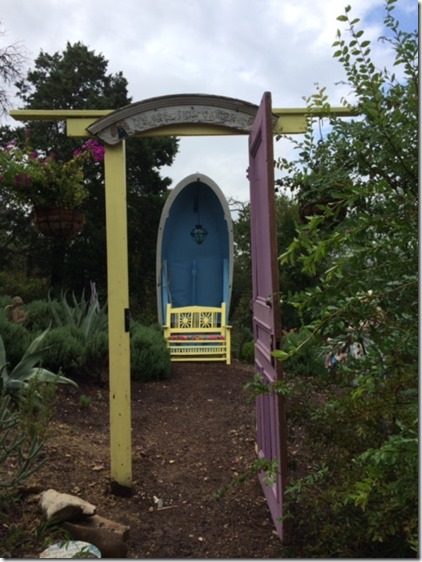 After seeing my arches, she approved, as cedar is more in keeping with the tone of my garden.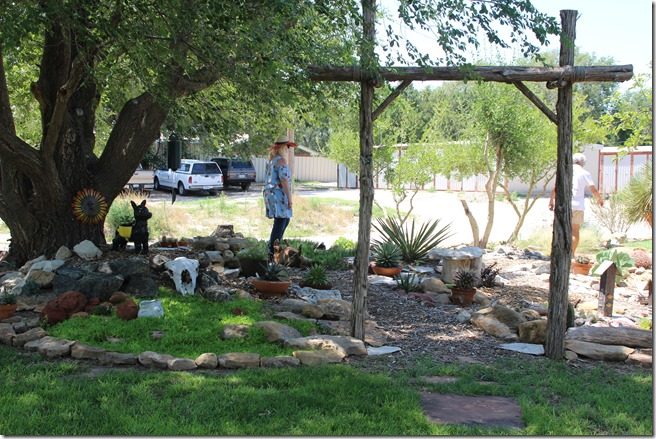 Then it was time to find just the right place for the red tool box she brought. And we did, here in this wildflower patch that the dogs dig holes in to make cool beds in the hot weather. The box is right on top of their latest dig, and while they won't like it there, we did. And there it will stay, the red of the box a nice contrast to the green of the plants.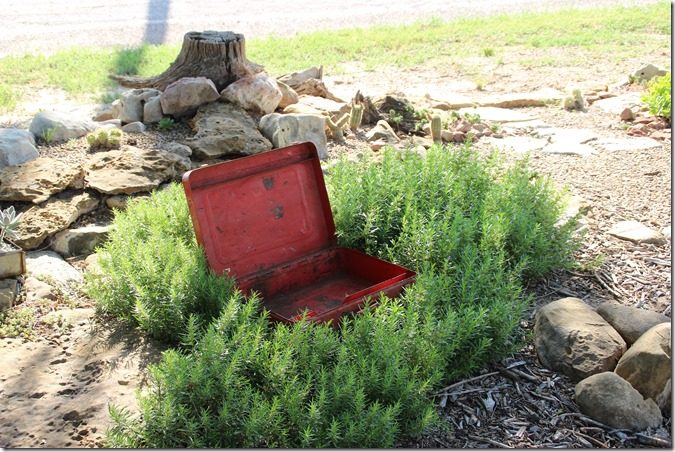 Finally the time had to come for them to make their way back to the Hill Country, so I fixed her up with some plants, horseshoes, cholla skeleton wood, some trinkets, and grudgingly sent them on their way.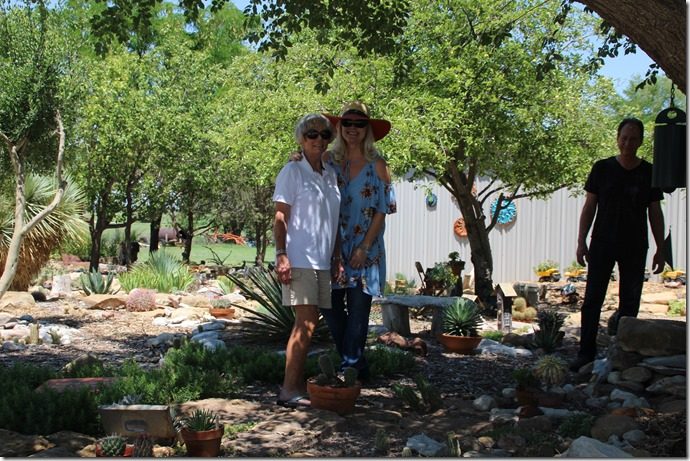 I will see her again on trips down to our lake house; I don't know how often she will be able to make it up here again. But we will continue to be inspired by each other's gardening projects and have fun together.
And their visit made a nice addition to celebrating the 4th.