When our family moved to Muleshoe in 1980, two horses, a dog, and a couple of cats came, too. So, not only did we need to find a family doctor, we needed to find the local veterinarian. I think Muleshoe Animal Clinic was the only game in town, but after meeting and having our animals treated by Drs. Jerry Gleason, Barry Cowart, and later Steve Kennedy, we were perfectly satisfied. We had found our vets. The fact that they were all trained at the Texas A&M School of Veterinary Medicine didn't hurt, either, since we were Aggies, too.
It's a given at our house that when someone gets sick or needs an update on inoculations or vaccinations, whatever, be they two or four-legged, a trip to the doctor is in order, no exceptions. So while Dr. Purdy came to know our kids, the four-legged family members came to be on a first-name basis with these veterinarians as well.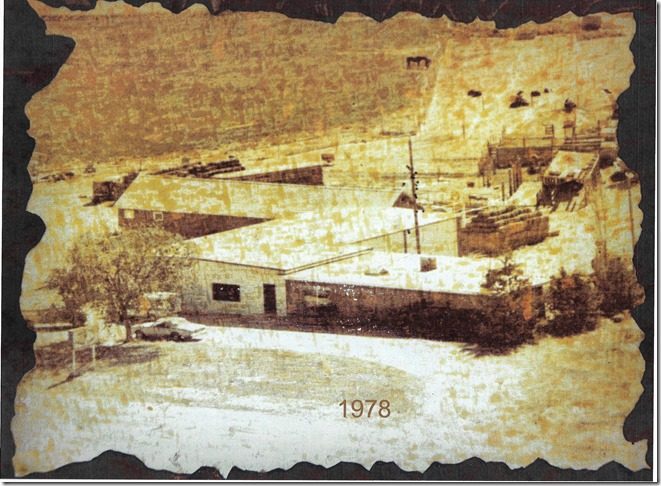 I can remember when Dr. Gleason was on call during one of the early Super Bowl Sundays but responded with no grumbling-at least not within my earshot-when I called with an emergency. He beat me to the clinic and took care of business. I know that's his job, but I also know he's quite the football fan, and he could have fussed or perhaps tried to talk me out of the trip to the clinic. But he didn't.
Dr. Cowart was the doctor in attendance when I frantically rushed Meatloaf Cat down there after seeing a worm or something peering out of a hole in the skin on Meatloaf's side. Dr. Cowart mashed around on Meatloaf and, just like squeezing a pimple, out popped a grub of some sort usually found in cattle.
One of the horses that moved with us was my black mare Samba who had reached the age of 33 and had been with me since she was a two-year-old. Dr. Kennedy came to the pasture at my call when she had lain down and couldn't get up. He showed me how to push and help her finally stand. As she slowly and unsteadily hobbled away, he just shook his head, "I'm not sure we did her a favor, Alice." Two weeks later he was back, and this time we didn't push her up. While I held her head and told her goodbye, he put her out of her distress. Neither of us was happy about doing it, but it was time.
So I have a soft spot for Muleshoe Animal Clinic. But having been there since 1963, it is also a Muleshoe institution that has stood the test of time, changes in ownership, ups and downs, expansion, and a fire that was a community tragedy.
Dr. Gleason was a local boy, having grown up in Lazbuddie, and after graduation from Texas A&M School of Veterinary Medicine in 1960, he came home and built the original clinic. Dr. Cowart, also a local boy from Olton, graduated from Texas A&M in 1976, and after a year-long internship at the University of Missouri, he too, came home to be a vet. In 1979 they became partners. Over time other doctors worked at the clinic with Gleason and Cowart, but eventually moved on. Then in 1988, Dr. Kennedy, also from Olton, graduated from A&M vet school and came to Muleshoe Animal Clinic. Eventually when Doc Gleason wanted to move to Levelland in 1991 and join the practice of his son Jimmy Gleason, Dr. Kennedy bought his part of the business and became a partner with Dr. Cowart. Many dogs and many more cats later, our animals met Dr. Dustin Urbantke, from the small town of Wall near San Angelo, who graduated from Texas A&M in 2002 and became a partner in 2012.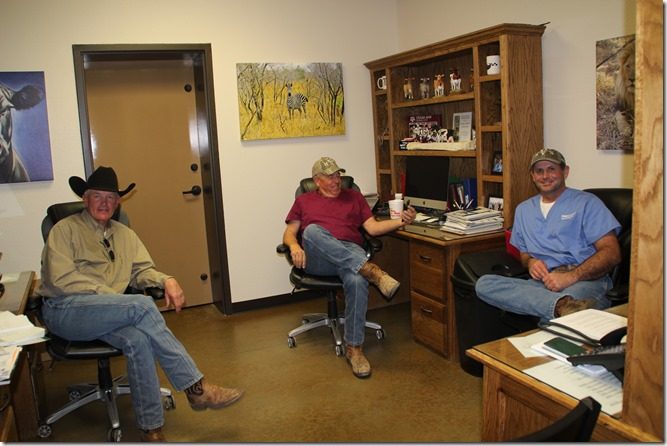 So now, as of April 2017, a total of eight doctors may see and treat my animals. Doctors Kevin Holman, Elizabeth McCollum, Mark Summers, Abbett Hudson, and Alex Hunter are the associate veterinarians who are also getting to know my five cats and two dogs on a first name basis.
The number of veterinarians at Muleshoe Animal Clinic has grown as the demand for more veterinary services has increased, much of it created by the influx of dairies to the area around 2000. Dr. Cowart said there was a time when Larry Hancock's dairy was the only dairy around for probably about 15 years, and it was from that connection that he learned the needs of the dairy industry, which in turn has helped him guide the clinic to better serve their dairy customers now. Less stringent permit requirements, easily available cheap feed, reasonable land prices, and an ideal climate for raising livestock convinced dairymen from out of state to move their operations to this area of Texas. The clinic responded by adding the necessary medical personnel as well as diversifying by opening Muleshoe Vet Supply and Muleshoe Vet Lab, which are separate businesses but located and housed together with the clinic.
Cattle, horses, dogs, and cats are the mainstay of the clinic, but what other animals have the good doctors treated? Dr. Cowart remembers in the early days traveling to Lazbuddie for the unpleasant task of amputating the leg of a mountain lion being raised by a man there. Tranquilizing and handling the big cat proved to be quite an experience. Dr. Urbantke tested a small herd of elk. Zebras, buffaloes, llamas, Watusi cattle, a smattering of pet rats and snakes, and a fighting rooster or two were also mentioned. And who could forget the baby badger they were bottle-feeding, but died and turned out to have rabies! When Dr. Gleason was still at the clinic, he and Dr. Cowart had the learning experience that de-scenting skunks was not really a very good idea, unless of course, you want your vet clinic to smell skunky…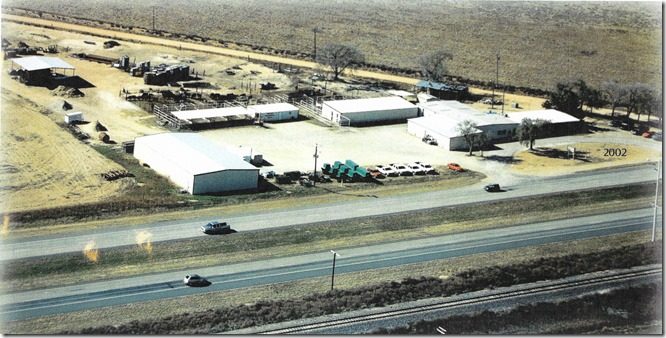 The clinic suffered a tragic fire on December I, 2013. Worse than losing the actual building was the loss of some of the patients they were treating at the time that were housed in the clinic. Many of the animals were rescued safely; but sadly, some were not. The time after the fire was not happy and no doubt some clients were lost during the rebuilding, but Dr. Cowart said the community responded not only during the night of the fire, but in the aftermath as well, in a positive and supportive manner typical of rural West Texas, and Muleshoe in particular, and for that they were all very grateful and thankful. The fire was terrible, but just like a Phoenix, out of the ashes came a new clinic to serve the community, and that's a good thing. After a year of construction, the new facility opened around Thanksgiving in 2014.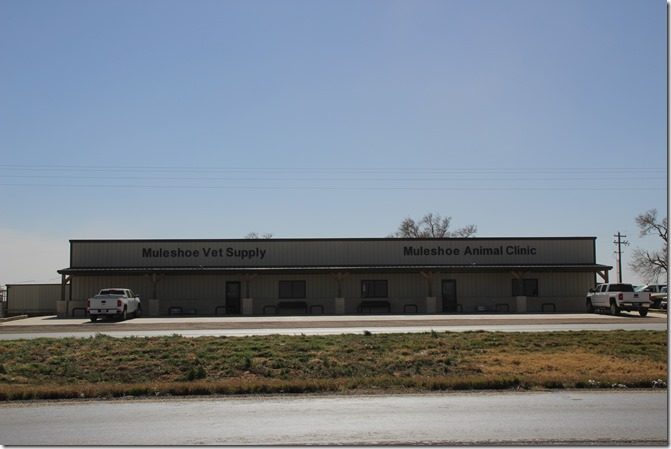 The new clinic is much larger than the original and has several rooms designed to provide better, more modern care for the animals that the old clinic could offer simply because of age and changes in medicine. For example, the first exam room is just for kittens and puppies so that the youngsters won't be exposed to anything harmful an older patient might bring in, the older patients being treated in another room just for adult animals.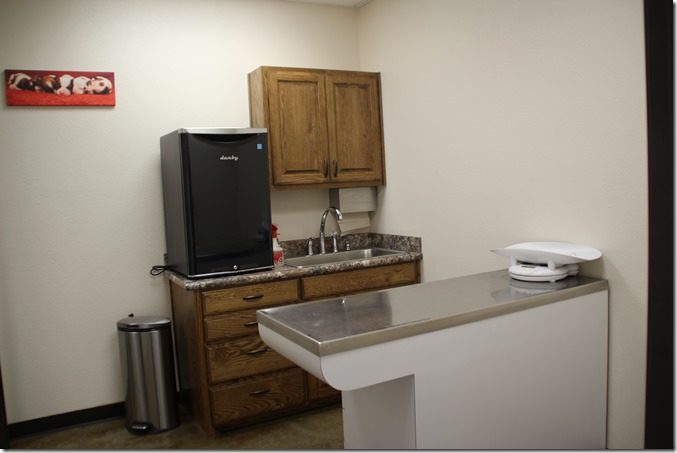 Another new room is the parvo room and is where dogs stricken with that disease are quarantined and treated to protect other dogs coming into the clinic.
A new addition is the bathing/grooming room which has it own heat and air conditioning with a separate ventilation system so that stray odors, hair and other detritus carried in the air won't be circulated throughout the clinic.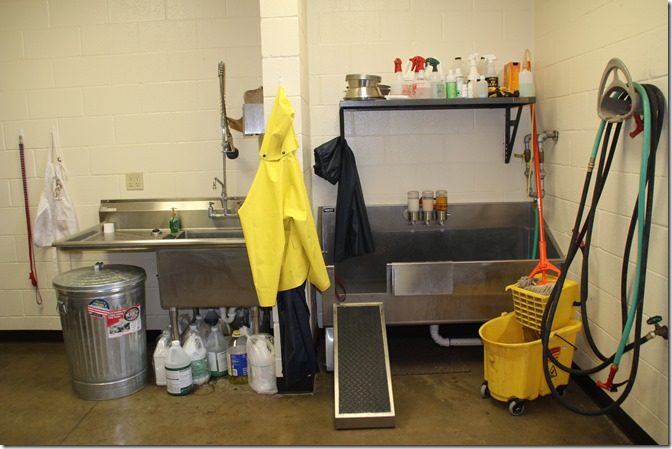 A new X-ray room was added, a real convenience since, as I recall, the old one required going outside to another building, which made it unhandy and unpleasant when the weather was bad.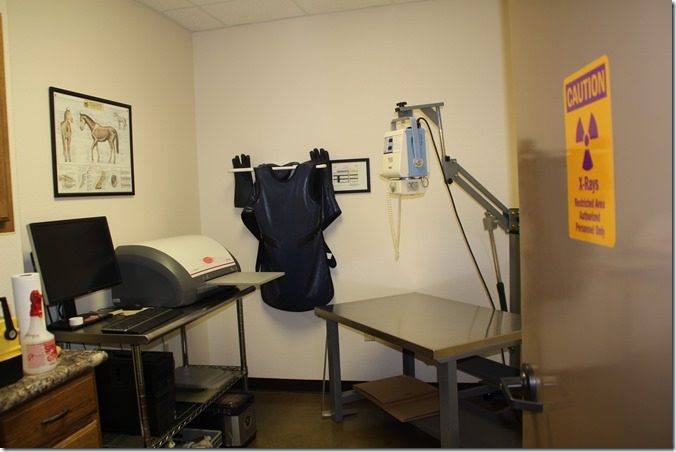 Other additions to the new building include new roomy dog runs, larger cat kennels, a padded horse surgery/treatment room, a large supply room, a small animal surgery room, the associate vets' office, a fully equipped kitchen and lunch room, an additional exam room, and the squeeze chute, horse stalls, cattle and other animal holding pens necessary for the large animal end of the practice. Tucked away in the middle of the building is even a storm shelter room. A large state of the art lab, Muleshoe Vet Lab, was expanded primarily to serve the dairies, but also handles other needed lab work and is manned by Teresa Light, Lynn Hetfinger and Michelle Pena.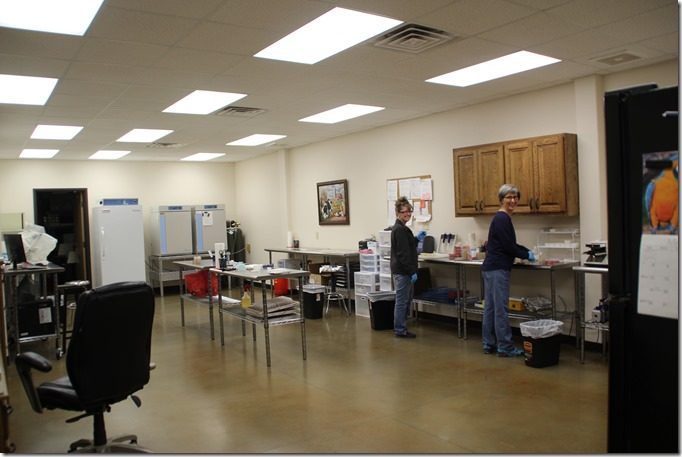 Muleshoe Animal Clinic alone employs thirteen people, including assistants Stephanie Lopez, Connie Anderson, Kenzie Wilson, Jesus Valverde, and the receptionist/secretary/person who keeps things running smoothly, Cheryl Altman. All three of the veterinary businesses employ a total of 35 individuals, returning a nice sum of money to the Muleshoe area economy.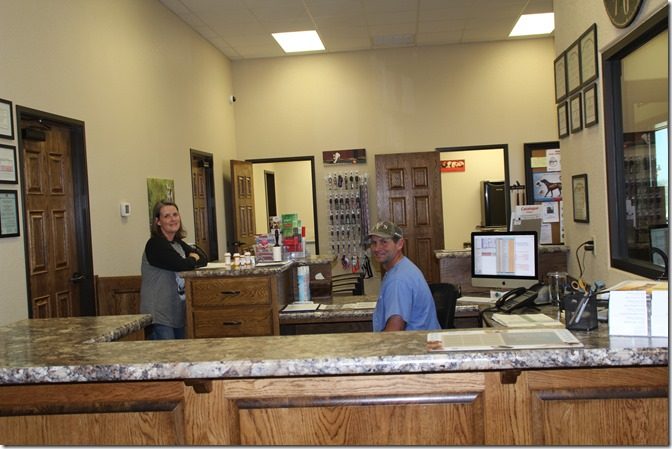 The clinic provides all the necessary small animal services you might need, like dentistry, vaccinations, micro-chipping, digital radiography, ultrasound, spay/neuter surgery, prescription foods and supplements, and the in-house lab services. Equine treatments include vaccinations, dentistry, ultrasound, lameness exams, digital radiography, and in-house lab services. Other large animal services include vaccinations, breeding soundness exams, ultrasound, A.I., herd management, nutrition consultation, and digital radiography. I also know from first-hand experience that they are also willing to make referrals and help set up appointments with specialists if they feel it is warranted.
In fact, Dr. Cowart emphasized more than once in our visit that it has always been the philosophy of the partners and the associates that their goal is to provide whatever services their clients/patients might need, be they small or large patients in need of simple or complex treatments. That philosophy no doubt guided decisions made when planning the new facility.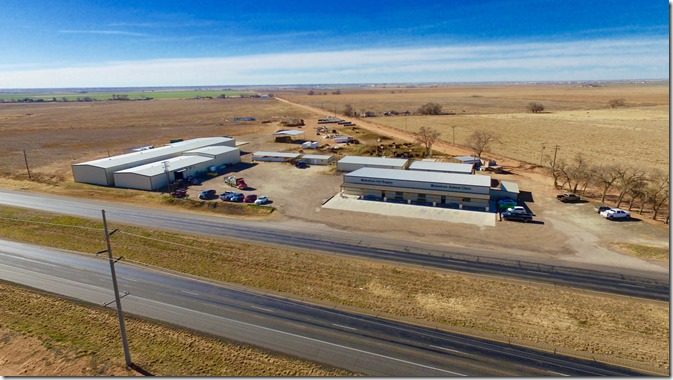 It's not true, of course, but I tell people that next to the dairies, I am the animal clinic's best customer, what with horses, all the dogs and especially the cats I have taken down there through the years. The new clinic with all its doctors and employees is an asset to Muleshoe. I am glad they are here, and the new building just makes it that much nicer.
My thanks to Dr. Cowart, Dr. Kennedy, Dr. Urbantke and Cheryl Altman for sharing their time and information with me, and to Dr. Cowart for the tour of the new clinic and the aerial pictures of the facilities.