About ten years ago I became weary of reinventing my eyebrows every morning and discovered that there was something out there called permanent make-up that would solve my problem. My eyebrows were never very prominent, what with blonde hair and thin brows that got grayer and thinner with age, and the fact that as a child I ran into a slide in the dark in the park one night, leaving a slightly hairless scar in one brow. So when I learned that I could fix all that with a trip to the permanent make-up expert, I was all for it. I had it done at a beauty salon/spa in Lubbock by a woman trained in permanent make-up, which is basically tattooing, but they don't like to call it that.
I was a bit concerned that the results would look like painted-on, fake brows, but then it hit me-that's what I do every morning anyway! And between not having to draw the eyebrows on and not having to mess with my contacts, which I took care of by having Lasik surgery a few years before, I discovered I had really simplified my life. What a deal!
The process may be called permanent make-up, but alas, all is not exactly forever. Over the years the color faded and sort of took on an almost bluish-purple tint, all this about the same time I was made aware of a newer style of doing eyebrows that actually looked more like individual hairs. So a touch-up was in order.
I made an appointment with a local expert who had to cancel my appointment but who referred me to another eyebrow expert in Lubbock. Appointment made, off I went to Sunken City on 34th Street, naïvely expecting to pull into a spa or beauty shop, even though I thought Sunken City was a rather unusual name for a beauty shop; maybe it's more of a spa, I decided. And when I arrived, there it was, a tattoo parlor! But to be fair, I think the more uptown ones these days are called studios.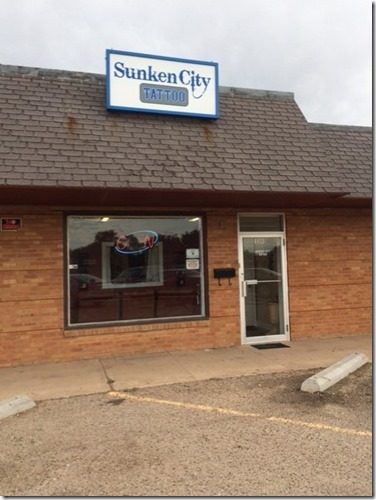 Once in the front door, a wall with a large sliding window and another door separated the entrance from the rest of the studio. Through the window I could see a tattoo artist working on the arm of a young man comfortably reclining in a chair much like a barber chair. Rap was booming on the stereo, and I thought, oh my, what have I signed up for?
I was given a form to fill out while I waited for Mike, my eyebrow artist, to get there. Much like a medical form from a doctor's office, but not quite as involved, the main thing I remember was it asking my age and birthdate. I asked about that later, and Mike said they are required to do that by law since no one under the age of 18 can legally be given a tattoo. Parents in tow giving permission doesn't change it. Obviously I fell right into the legal age limit, so no problem there.
A few minutes later another woman came in for eyebrow work. I suspected she might be a repeat customer because she had tattoos pretty much all over her body, but she, too, filled out the paperwork. About that time Mike Diaz, the owner and artist to do my eyebrows, came in, introduced himself, and asked if he could make us comfortable while we waited, a bottle of water perhaps?
I declined the water, but asked if he could possibly change the music. He grinned and said sure, what would I like? So I suggested something old fashioned, or blues, maybe? Not a problem, he grinned, and miraculously the rap went away, and some good R&B started and stayed on for the remainder of my visit. Thank goodness! Rap would have made the hour or so procedure absolute agony, but with Ray Charles, Stevie Ray Vaughn, and others singing to me, it really wasn't bad at all.
Any fears I might have had went away when it was my turn to go into the actual work area; bright and clean and roomy; no funky, back street aura one might imagine a tattoo parlor to look like. Or at least to someone like me who had never been in one before. I was, however, the only person in the place without body tattoos.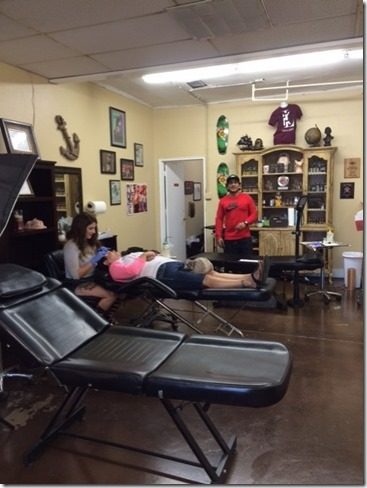 Mike Diaz holds a bachelor's degree in nursing and worked as a surgical tech in UMC until 2012 when, after opening this tattoo business in 2011, decided to quit at UMC to devote all his time to the new endeavor. An artist at heart, he said he was drawing well before entering school and pretty much all his life. At some point he was attracted to tattoos as an art form and became a self-taught tattoo artist.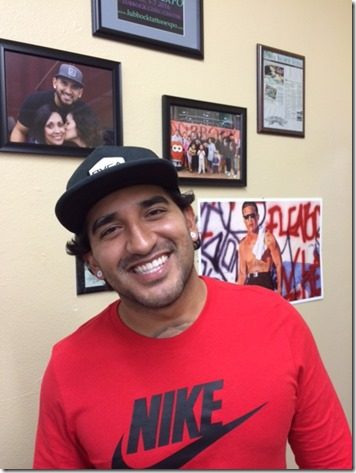 The woman who did my first eyebrow enhancement just followed the shape and outline of what I walked in with , no pre-planning or marking. Mike, on the other hand, spent a fair amount of time measuring, outlining, making a blueprint of sorts on my forehead before letting me look in the mirror to see if I liked the shape and form he came up with. He also evened out the length of both eyebrows since the first time I was left with one being slightly longer on the end than the other one. I approved, and he set to work.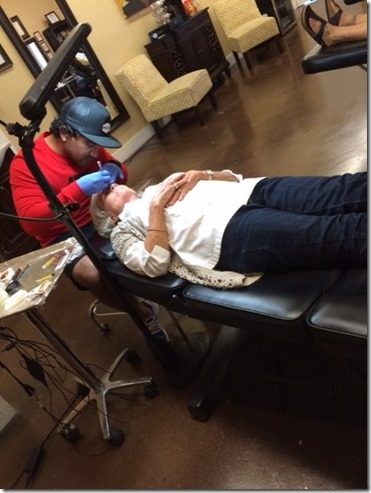 He deadened my brows, which did help some, but rest assured there is a certain amount of pain to endure even with the deadening. After going through childbirth twice, however, this was a piece of cake! The good music and friendly conversation made the whole thing a pretty pleasant experience, all things considered.
In about an hour and a half, I had new, darker eyebrows with lines in them that gave the appearance of individual hairs, not so painted on as the ones I walked in with. I was told to keep them dry for 48 hours, try to sleep on my back so I wouldn't put pressure on the sides of my face which would affect the ends of the brows, treat them with coconut oil after the first 48 hours, and expect scabs to develop and fall off within about a two week period. Which they did, and I am pleased with the results.
I told Mike I would like to do a story on my visit, and he was agreeable, but another customer was waiting for work on her back tattoo, so the plan was to get back with him later for more interview for the story.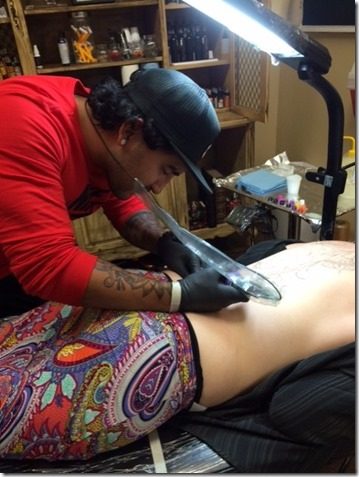 That was last October; by February I was ready to do the story, but wanted to get more information from him. Getting hold of Mike was no easy task, so in desperation it finally hit me to check out his Facebook page and perhaps leave him a message. Good move, because I found out on the Facebook page that he was preparing for the Lubbock Tattoo Expo to be held that very weekend. Well! What better place to look up a tattoo artist than a tattoo extravaganza which, it turns out, was Mike's baby. This was the third one he has organized and managed, so my first stop that Friday in Lubbock was the Lubbock Memorial Civic Center where the expo was being held.
Upon arrival at the ticket table, the young man in charge was nice enough to page Mike when I said I just needed to talk to him a bit. Mike arrived, we talked, I took notes, he confirmed my eyebrows turned out just fine, and he graciously gave me a complimentary entrance wristband so I could take some pictures and see just what a tattoo expo has to offer. And of course, be about as obvious and out of place as, oh, I don't know, an old Junior-Leaguer at a tattoo expo? I'm sure the bemused man at one booth who asked me if I was looking for just the right tattoo figured it was Grandma out for a walk on the wild side. But I was in awe of some of the tattoos on display on people for whom tattoos had become a way of life and a badge of honor.
Mike designed the logo on the banner behind the stage for presentations of awards and whatever else needed to be highlighted.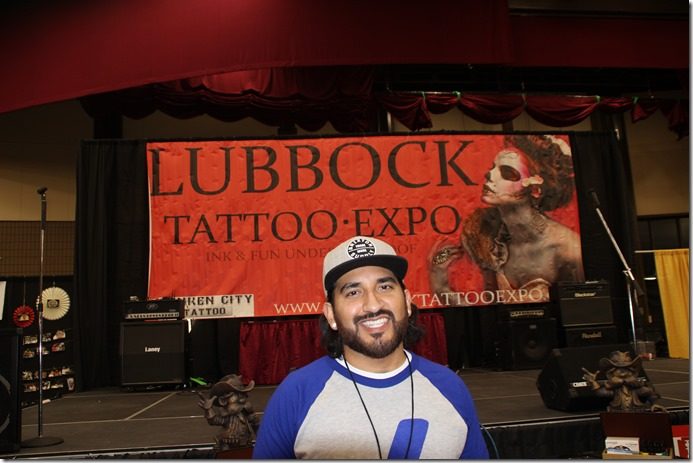 The questions I did think to ask him-and I thought a ton more as I later drove away- included what style his tattoos fell under, as there are many. His is realism and he focuses on portraits of people with realistic reference. He duplicates a photo provided by the customer, makes a stencil of the photo on the skin using a specific liquid to transfer the image, and then gets to work making that image permanent on the skin. Even though he may use the stencil that gives him a pattern, it still takes skill to make it look realistic and recognizable as what the customer wanted. He also does free-form designs when requested. I didn't get into the other styles available; that's a subject for some other story, which could get even more involved. He charges $100 an hour for a tattoo and $300 an hour for eyebrows. I asked why such a difference, and he said supply and demand. Capitalism at work.
The process for permanent eyebrows requires different ink and different tools from those used on body tattoos. My eyebrows were done with something called a micro blade that, simply put, cuts lines that more or less resemble hairs, whereas body tattoos are done with the older and more conventional tattoo machine, a group of needles that move very fast and pump the ink into the skin. My explanation is obviously a simplified version of what goes on. I know this from watching some of the work being done at the booths as I walked around taking it all in. Weird Harold from Missouri was working on a girl's thigh copying a stencil of another woman's face.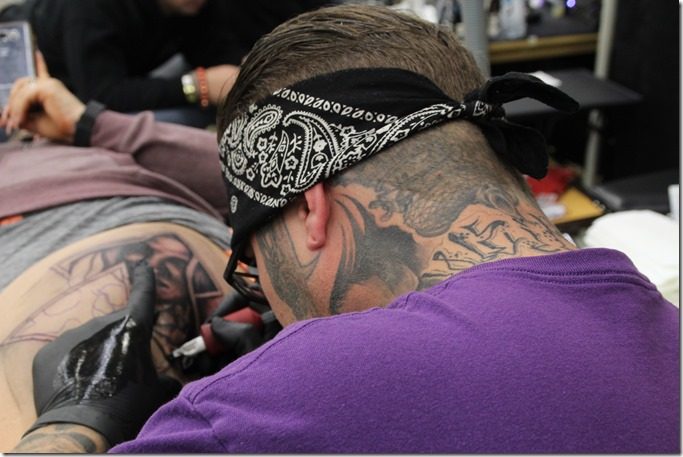 I didn't get her name, but this woman came from El Paso to ply her designs and was one of the more bizarre examples of full devotion to tattoos. You can also see that hair styles and piercings are also part of the lifestyle. But you knew that just from the tattoo devotees you have seen in public and who seem to be visible more and more. But here everyone but me was a walking display of tattoos and piercings.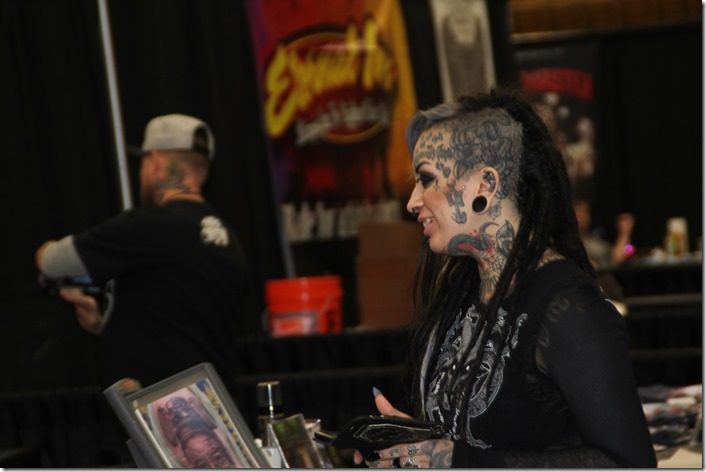 My tattoo is not even worth mentioning as a tattoo compare to hers. I have yet to master the art of selfies, and after many shots that made my nose look huge and my eyes crossed, I came up with this shot that gives you an idea of my tattoo. I took this at the end of the day after old, oily skin and a few wrinkles give the picture a rather messy look. And it really doesn't show the effect of the individual hairs created by the micro blade, but they show more after fresh makeup on a clean face. You can also see the lower lid outlining from the first session long ago. And that really hurt!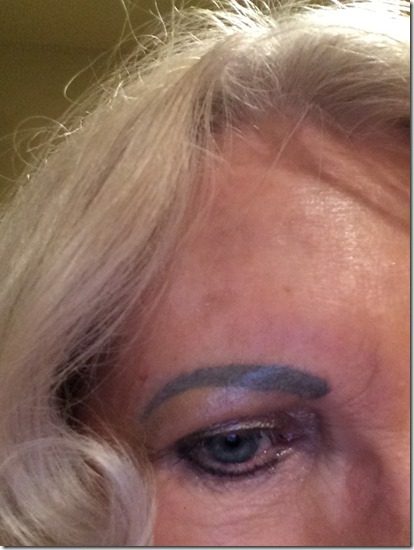 And there you have it. I am not sorry I did this, and I am not embarrassed to have gone to the expo. One in a lifetime is probably enough for me, though, and I see no new tattoos in the future, so I will consider it one more experience to check off the bucket list.
Oh, my!
My thanks to Mike Diaz for redoing my eyebrows and taking the time to visit with me about tattoos.