Three years ago First United Methodist Church in Muleshoe was blessed with the arrival of Hunter Hawkins to be our Youth Director. In three years he has organized three youth retreats, each year adding a few more kids. This year the theme was "Tear Stuff Up for Jesus." Sounds a bit radical, right? Well, not exactly. Hunter said the point is to understand that Jesus comes into a life to tear down the old and bring forth the new- tearing down barriers for new possibilities. Hence, the need for discipline and to be a disciple to realize what needs to be cast aside to allow those new possibilities to develop.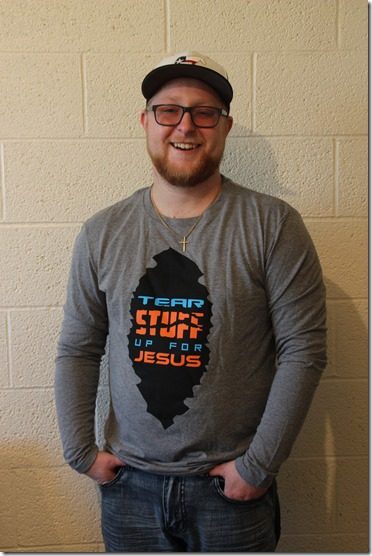 Haley Andrews was busy Friday night registering the 6th through 12th grade students, a total of 42 kids in all from Muleshoe, Farwell, and Springlake Earth, many repeat participants from the first two retreats. I happened to catch Haley taking a breather after the kids had moved into the Fellowship Hall for the welcome, worship, and message.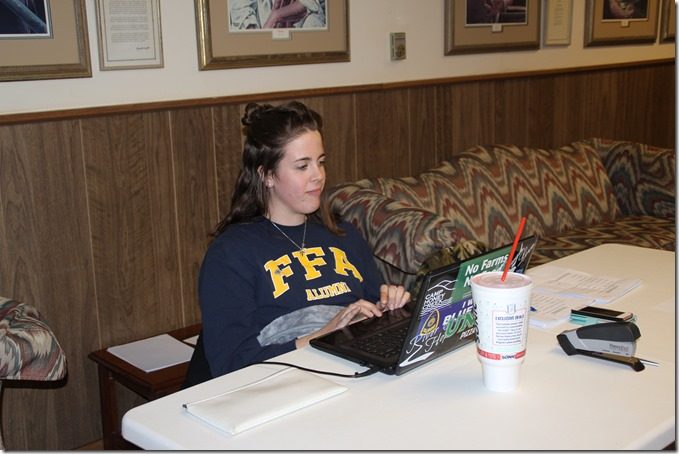 The kids were divided into small groups of 8-12 kids based on grade levels with three  group leaders who all stayed together for the weekend. Those same groups also spent Friday and Saturday nights at volunteer sponsors' homes. The curriculum for the retreat was the same for all groups and focused on four basic concepts and discussion for each topic. Goals and values need to be identified and set in order to succeed, so each student focused on goals they wanted to work on during and after the retreat. To reach those goals, barriers from the past have to be torn down to make way for becoming better, so barriers were dealt with. Along with barriers, insecurities have to be recognized and then cast into the fire, as Hunter put it, so they can no longer come back to cause trouble.  And then to pull it all together, the kids looked back at the goals they first set, how God helped them achieve those goals, and how they wanted to see God move in their lives in the future. Hunter wants to do a follow-up one night worship session with the participants in three months to remind them of those goals, see how they are doing, and to reinforce keeping in touch with one another for support.
Much of the Friday evening was spent meeting one another, sharing supper, and enjoying a worship service with music followed by a message.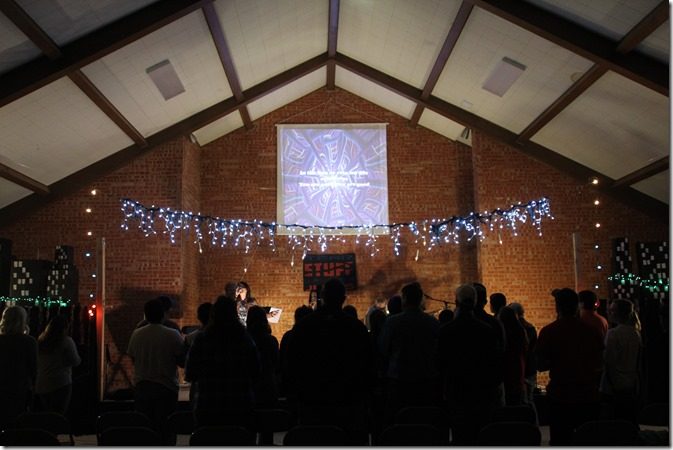 After worship and the message, each group traveled to their host home where the group leaders led some open discussion time and also had the kids write a letter to Jesus about what they want to do with God to see their goals actually be achieved. Lights out was listed as midnight, but I suspect there was talking, giggling, and sharing going on even after that.
Saturday morning started with breakfast, a short worship service, and more small group work on the goals, values, and breaking down of barriers and insecurities- the tearing stuff up for Jesus, if you will.
And after lunch they had fun with an exercise designed to do just that, tear stuff up. Piles of cardboard boxes had been brought in as material for the kids to build something. Anything. After a structure was completed, more or less, they swapped structures and could then add on to the existing structure or tear it down and build something else. This group of boys built Trump Tower, and these girls built a mountain.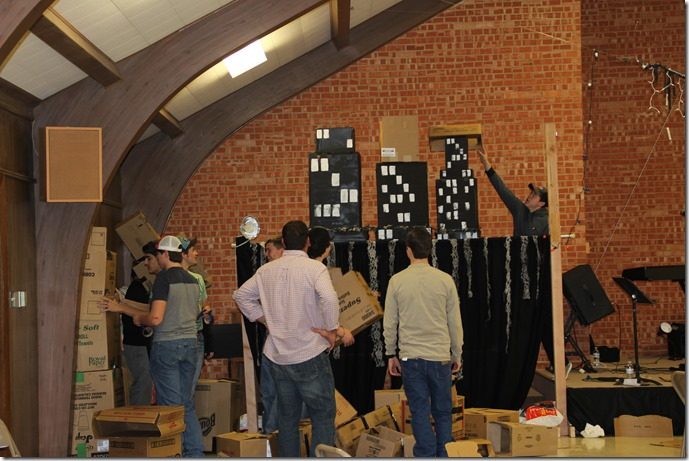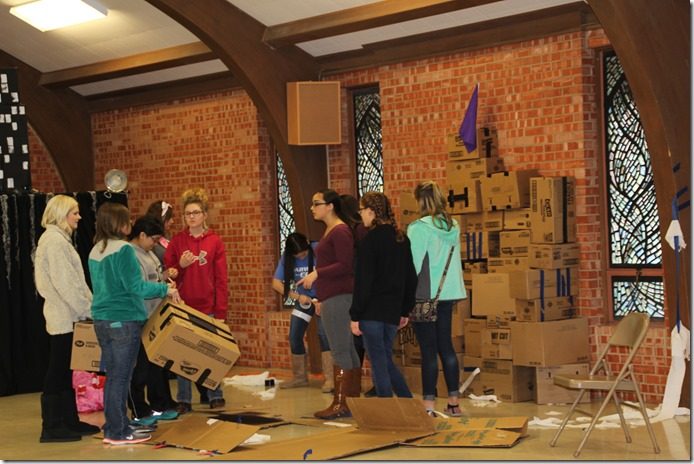 I may not tell this exactly right, but it seems one group just happened to have a pig, not sure how Pearl the Pig was meant to play out, but the mountain group commandeered her to climb from one side of their mountain to the other, to get to the empty tomb of Jesus, I believe. Then the original keepers of the pig stopped building their structure to hold a sit-down protest to get their pig back, and eventually they did. Get her back, I mean. Then followed a presentation by each group of what their structure was and their purpose or intent for building it. I'm not sure if Trump Tower survived being rebuilt or what its original purpose was to be, but I'm sure the kids had fun finding out.
The weather cancelled a food fight, which was a fight in the sense of seeing which group could gather the most canned goods for the food pantry, and instead they all enjoyed some indoor games: Ship, Deck, Shore-a variation of Simon Says; Human Knot, which sounded to me kind of like the old game of Twister but involved making an unbroken human knot; and Ninja-a form of tag. After all the physical activity, there was need for a break and a little time to just hang out and visit.
After dinner and worship, it was time to head back to the host homes where group leaders spent some confidential one-on-one time with each student to give each one time to talk and reflect on the goals set, any progress already made, and where the goals were headed. This was a way for the leaders to see what each child might need help with as well as serve as a planning tool for future retreats.
Sunday morning after breakfast allowed time for some shared testimonies within their small groups and then they attended the morning worship service at the Methodist Church. The singing was led by Haley and Hunter, and then Hunter shared the message for the morning. Some kids left before I could stop them, but I managed to catch most of them for a quick group shot.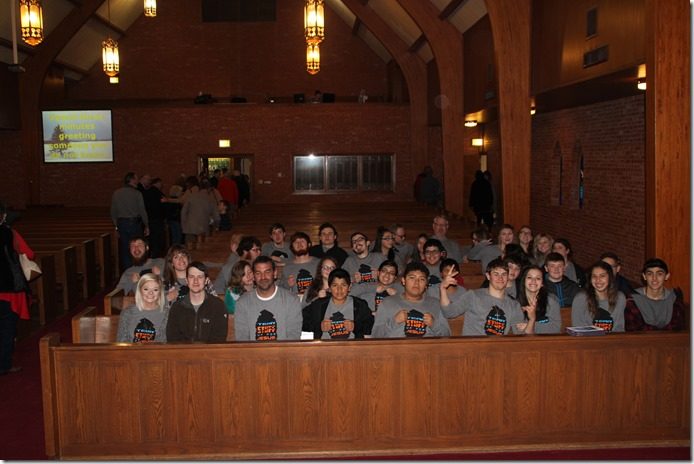 Hunter was pleased with the retreat and hopes to do it again next year, along with perhaps some one day workshops with the kids every few months to follow up with their progress and just keep in touch. He told me how thankful he was for the help and participation of all the group leaders, Trinity Youth Director Nathan Young and the Trinity congregation, our Methodist congregation for their willingness to provide host homes and meals, and the community in general, because without everyone's help, this event couldn't have happened.
Hunter grew up in Lubbock, graduated from Lubbock High in 2012, and had attended South Plains College for two years where he had been an intern at the Wesley Foundation when we interviewed him to be our Youth Director in 2014. But before we hired him, he told us upfront that God had called him to Australia to be a part of YWAM-Youth With a Mission-for a six-month training course and that he planned to go. If we were willing to still hire him knowing he would be gone from July to December, he would love the job. So, on faith, hire him we did. And on faith, he came back to us. He said he gained a better understanding of his calling, his purpose in life, and his God. He was thankful for this amazing experience that helped shape him into the person he is today.
During Pastor Appreciation week last year, Cassidy Cage, Raul Quintanilla, Jade Fabela, TJ Ballard, and Sidney Urbantke presented him with this picture from all the youth he serves as their way of saying thank you and letting him know they are glad he is here.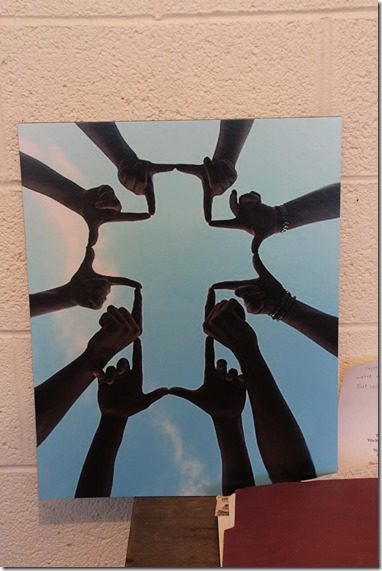 He may have taken a detour to Australia, but we made the right call when we hired him. We are glad he is here, too.