The plan for our last day in Colorado Springs was a trip to Ramparts Reservoir for Bill to fish and for me to hike and take a few pictures. Which we did.
Because the lake is a municipal water supply, swimming and motor boats are not allowed, which makes it totally quiet, peaceful, and calm. Rather than driving to a more distant shore line, we parked by this sign which marked a path leading to the lake, just like the man who sold Bill his fishing license told to do.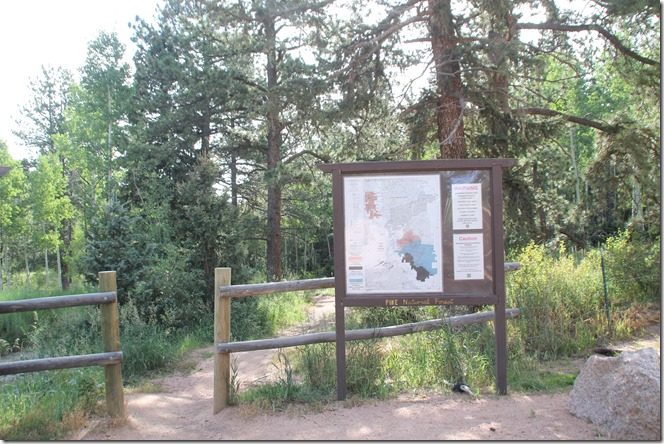 He said it was about a mile to the lake; felt more like two.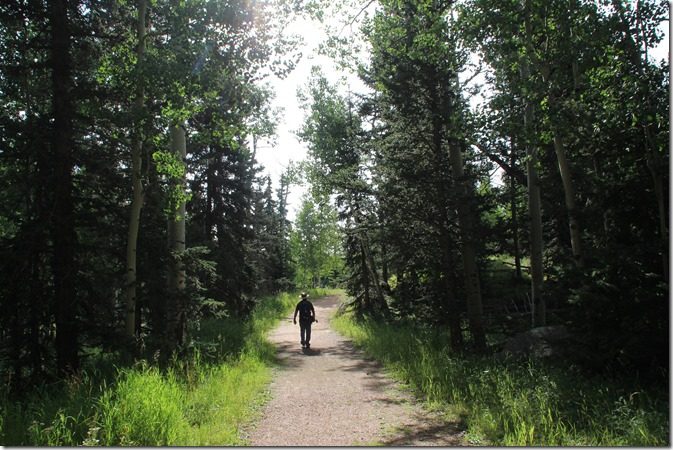 But it was a pretty hike.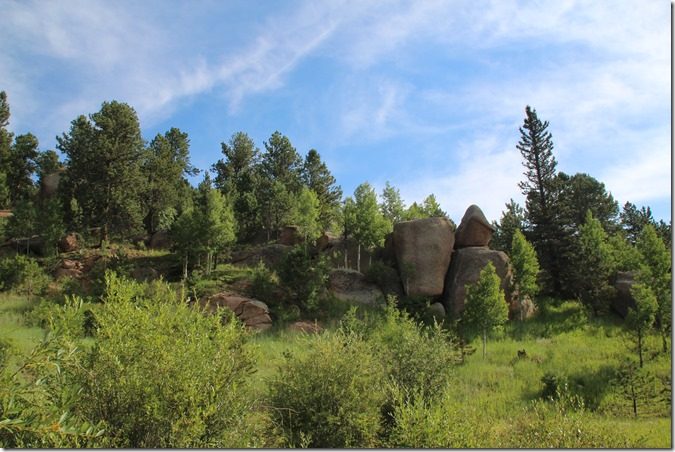 As we walked, we could hear water, a stream tumbling out of the earth from a man-made opening. We were told the water was run-off of the melted snow from the mountains. I Googled Rampart Reservoir to see what river was dammed up to make the lake. No river. The need for a water supply for the growing population of Colorado Springs prompted the building of the dam in 1969. Five years later the reservoir was full of water and opened to the public for fishing and recreation, minus the swimming and motor boats. This underground rivulet was apparently one of many feeding water into the reservoir. Amazing that melted snow could generate that much water! It's not a small lake. And I found it amazing that run-off water could be this speedy and noisy.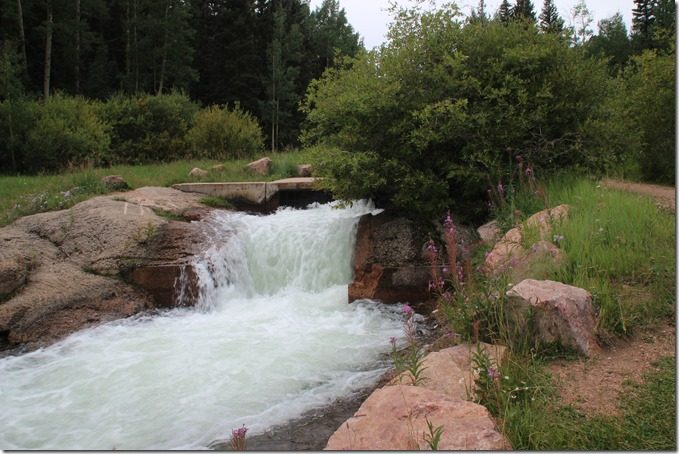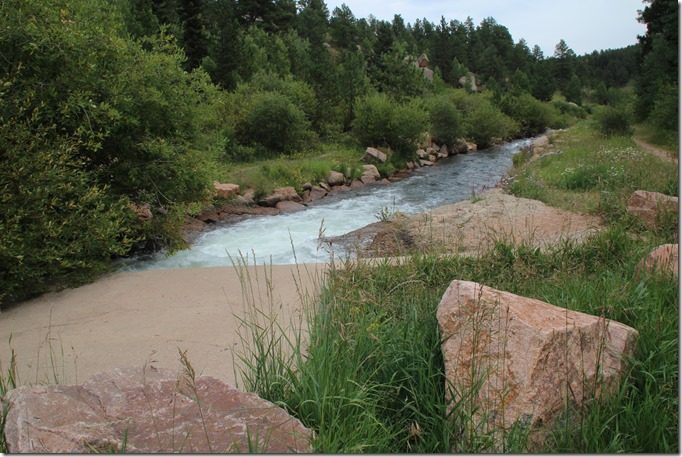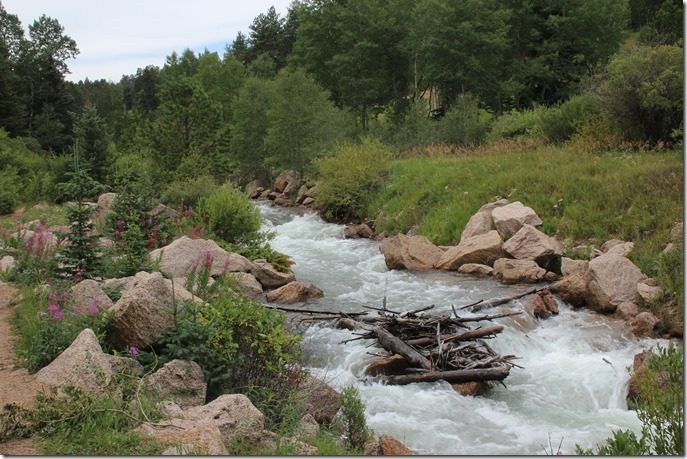 And then there was the lake; quiet, calm, with people practically nonexistent.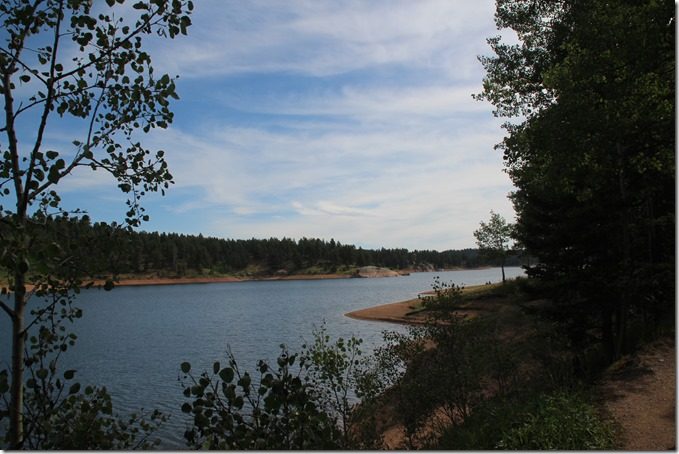 We came up on a dad with his two young boys patiently fishing at the water's edge. They were from Minnesota; Dad said they came every year. They weren't catching any fish, no doubt, he said, because of the rain last night. He must have been right because as the day wore on, Bill had nary a nibble.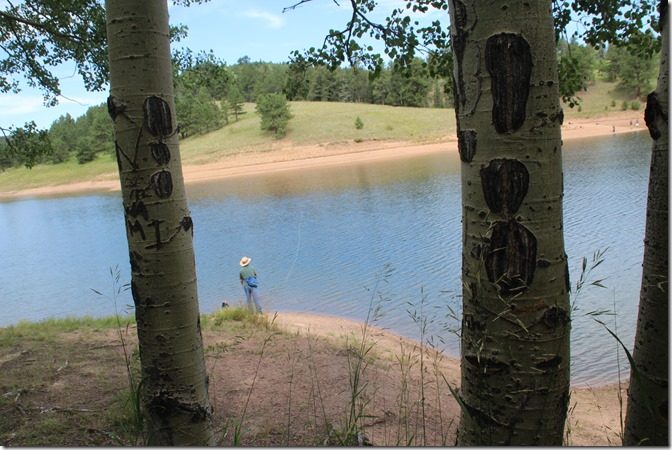 While Bill fished, I hiked the trails and was tempted to take pictures at every turn. Here are shots some I like: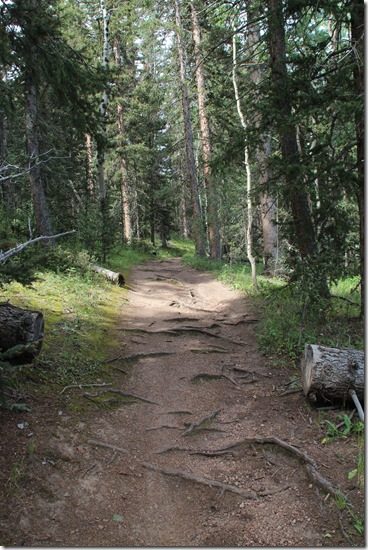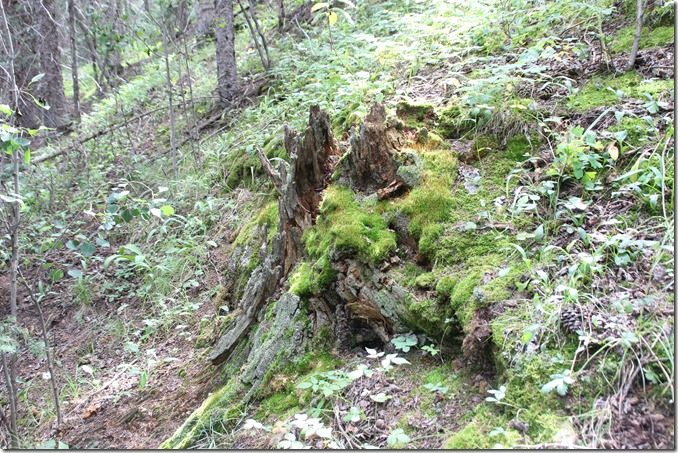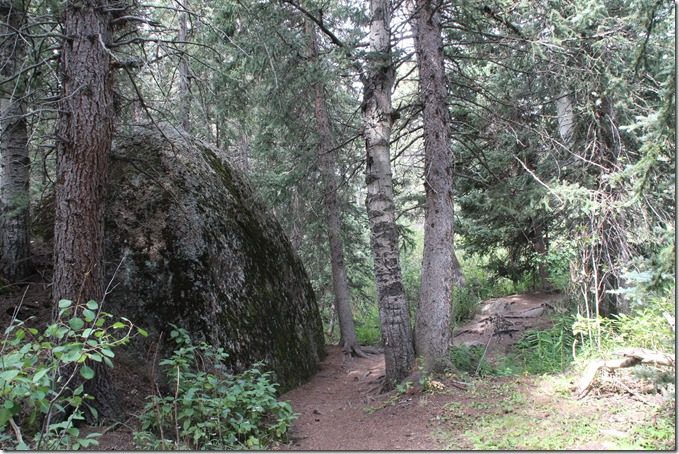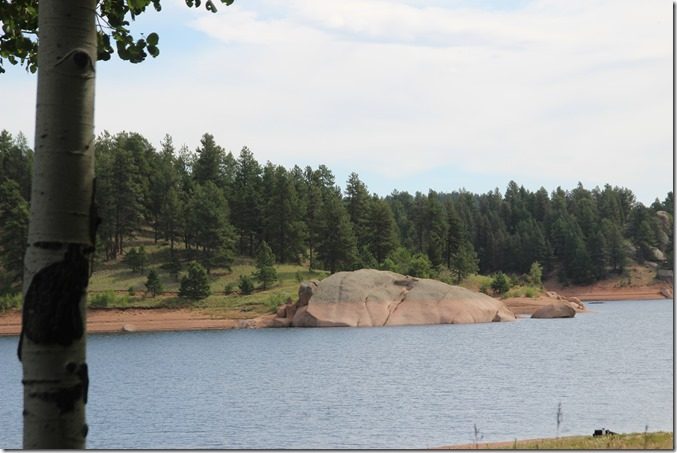 I walked up on an area that had been burned in a 2012 fire.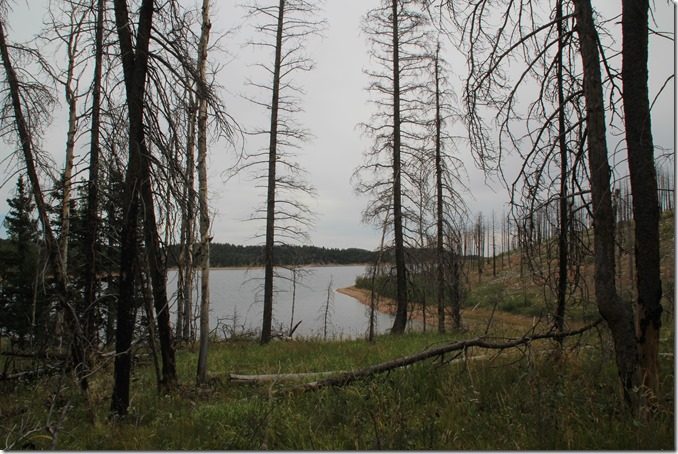 After a nice afternoon but no bites, Bill called it quits, and we made our way back to the car. We followed the stream back. We were on the path on the other side of the stream and crossed back over on this bridge to the path we first followed.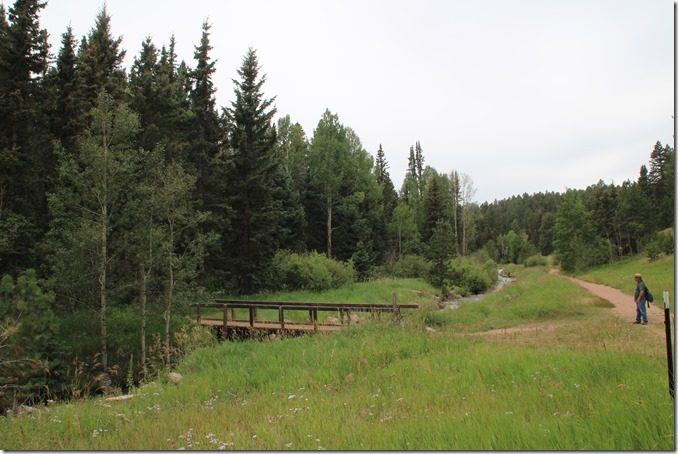 Then we passed this bridge, for the more adventuresome with better balance than we had!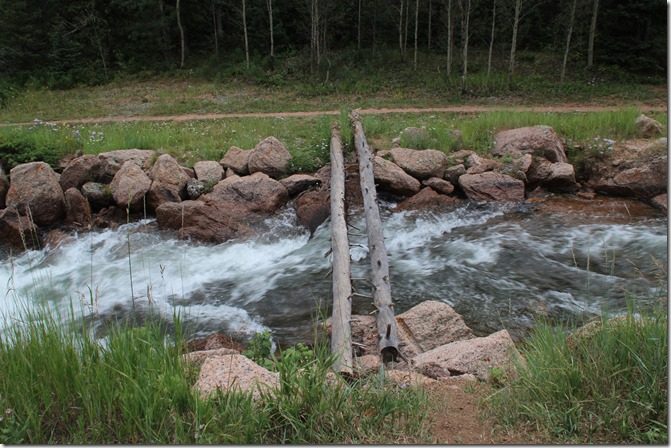 This time we enjoyed the long walk back to the car.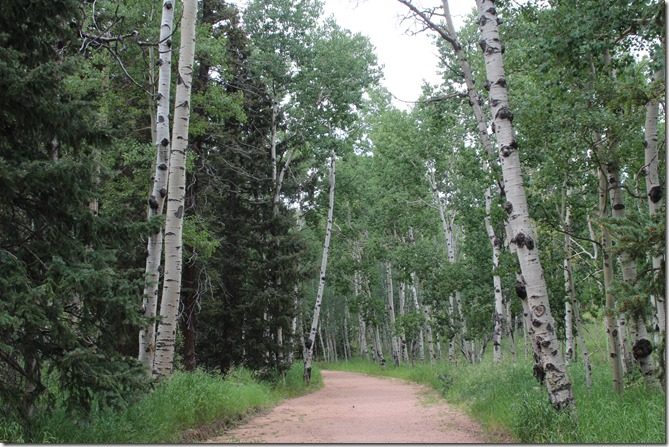 Back at Colorado Springs, we drove around in the older, more historic section of town and viewed the Victorian homes.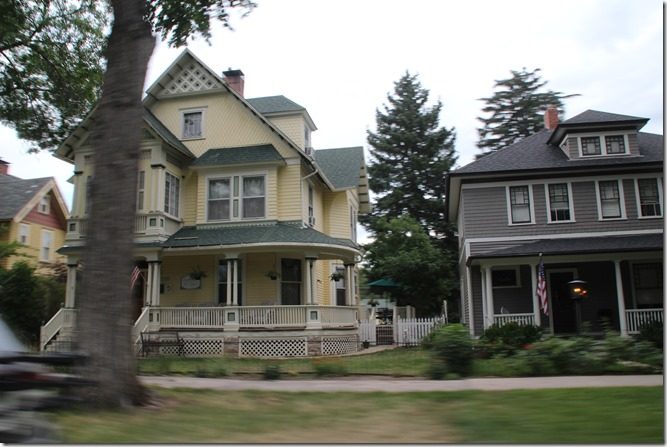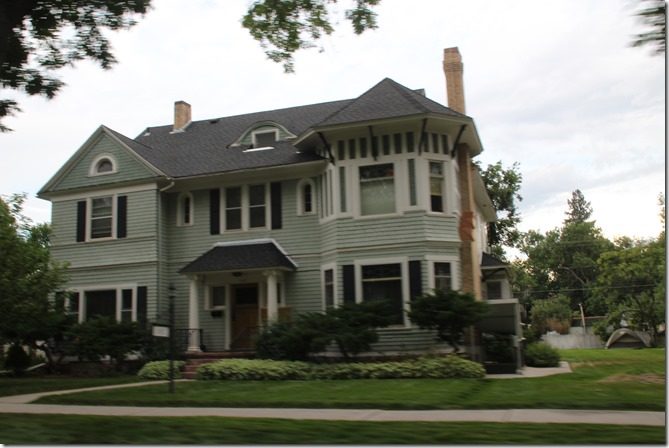 The next day it was time to go home. As we passed it, I couldn't resist a picture of the court house, completed in 1903, and today serving as a museum of the pioneer history of Colorado Springs. We took a quick tour of it last night, and I managed this shot of the lobby. It is a beautiful building; thank goodness the powers that be saw fit to save it and use it for this museum.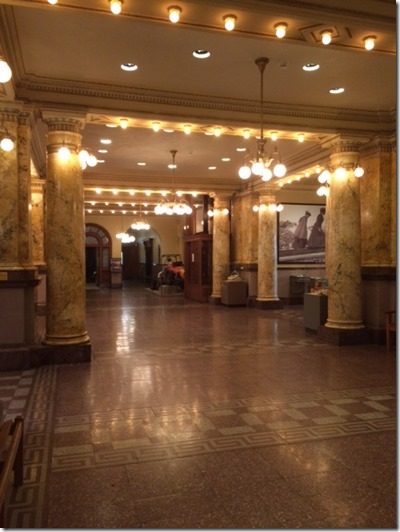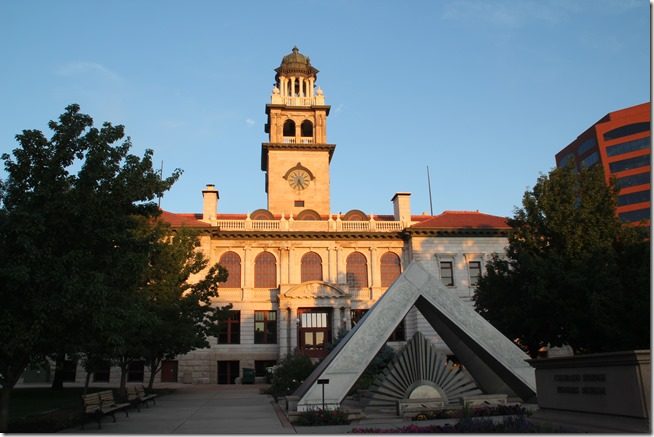 As planned, we stopped again at Capulin Volcano and walked the path around the rim.
As you look out in the distance you can see this baby Capulin, a little volcano that didn't reach much size. And it does look like a miniature version of the big one.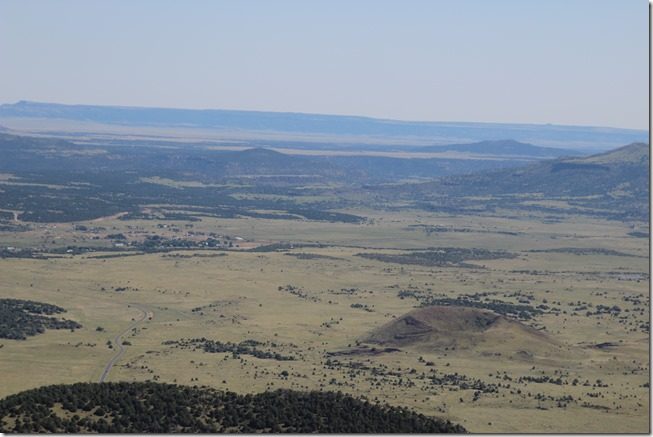 And the parting shot of the trip was sunflowers, which seemed to be the bluebonnets of Colorado and New Mexico, at least at this time of the year. I know that columbine is the Colorado state flower, but we didn't happen to see any this trip. But we saw lots of sunflowers.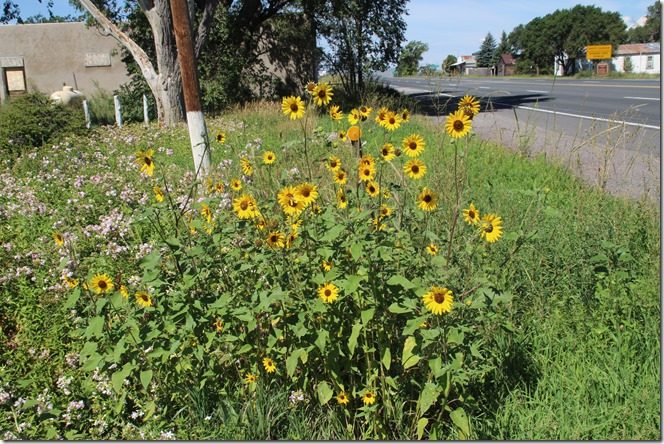 We really enjoyed our time in Colorado Springs. I hope you enjoyed reading about it. Who knows? This could be your destination on your next vacation.