Fifty years ago on September 4th, 1965, we were married at the First Methodist Church in Rosenberg, Texas. This September we celebrated those 50 years together at a party hosted by the kids at our place at Lake LBJ.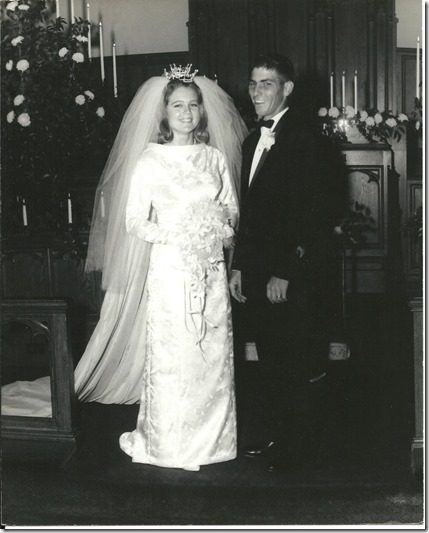 Caroline and AJ wanted to do something to commemorate the milestone. After all, the 50-year anniversary only comes around once in a lifetime, so I told them they were in charge of the entire event. And take charge they did. I provided a guest list, and they did the rest. Here, then, are some highlights of the day.
We enjoyed snacks and drinks down by the water as everyone arrived. The visiting and storytelling continued while we ate a catered meal of barbecued ribs, sausage, brisket, potato salad, beans, and drinks of choice. Later we celebrated with the lovely half-strawberry, half-Italian cream cake and sherbet punch. The cake, decorated with the Texas Aggie logo, was beautifully done, and while I had a few people question a maroon and white confection for a wedding anniversary cake, well, why not? It was the kids' idea and appropriate for two old Aggies. See-it was a cool cake! Tasted darn good, too.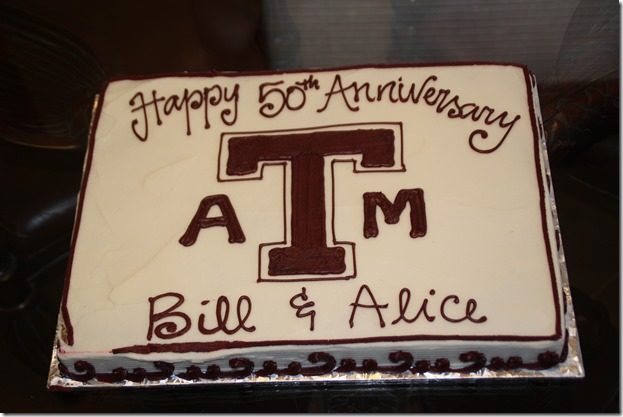 They also honored us with maroon and white flowers for the alter at our Methodist church in Muleshoe to mark the occasion.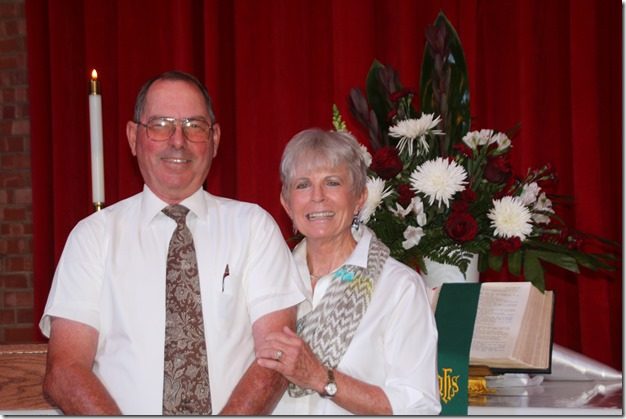 Most of the guests were family: cousin Gary Drum and his wife Julie;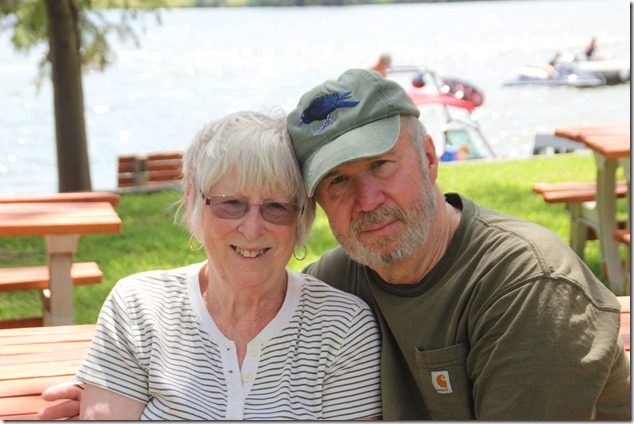 his brother, my other cousin , Richard Drum;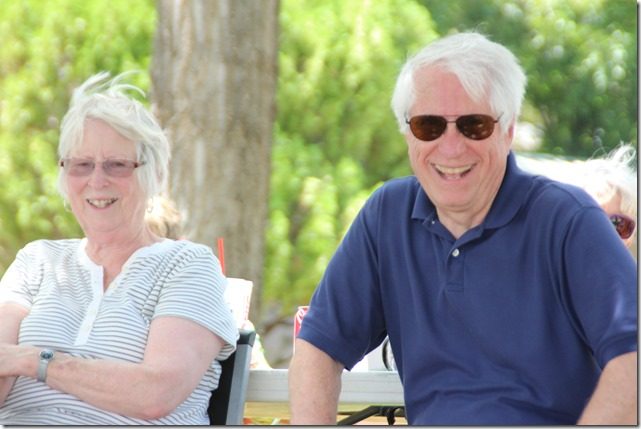 cousin Connie Holt and her boys Callen and Clay;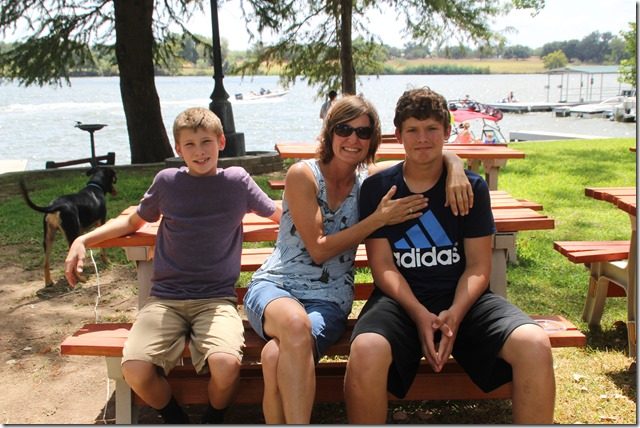 grandson Colten and my son-in-law Neil Kron;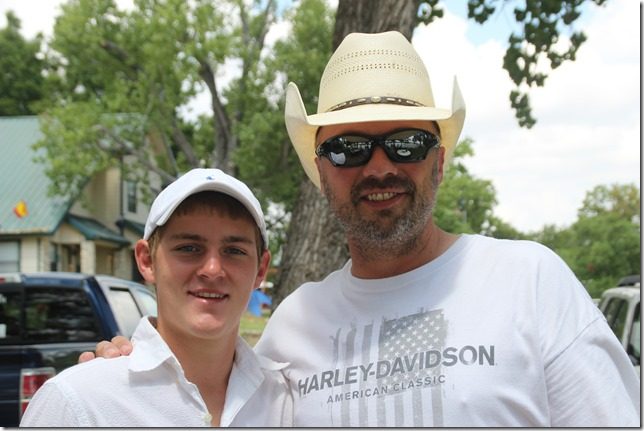 grandson Ben, granddaughter Maya, granddog Frodo;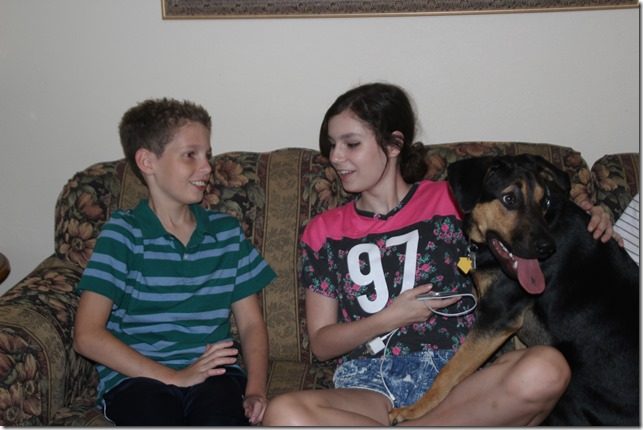 daughter-in-law Erin on the deck she so graciously decorated,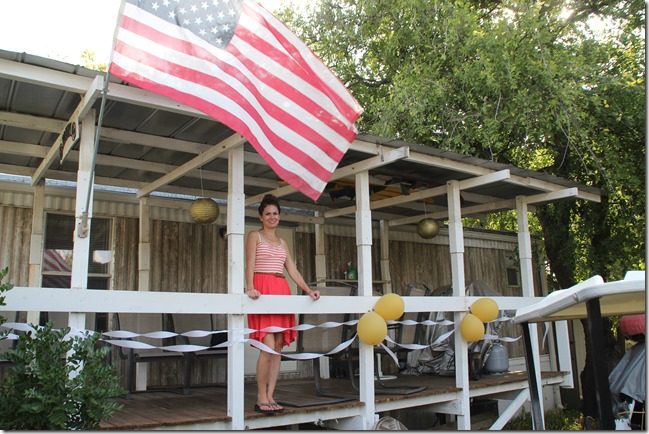 and my exceptional children Caroline and AJ, who masterminded the whole celebration.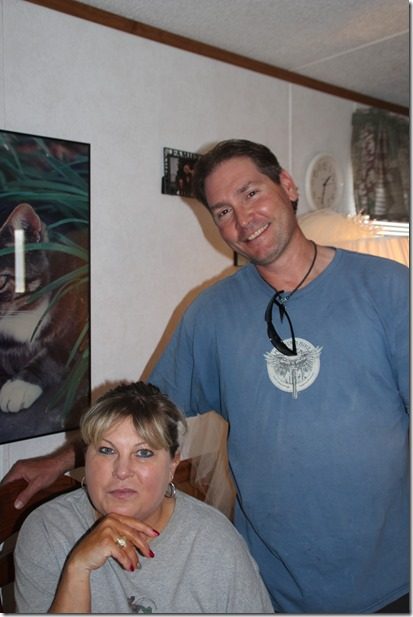 I thought it would be fun to include members of the original wedding party, not the easiest thing to accomplish, but I did manage to surprise Bill with his friends David Moore and Jimmy Hooks, best man and groomsman respectively. And he really was surprised. What fun!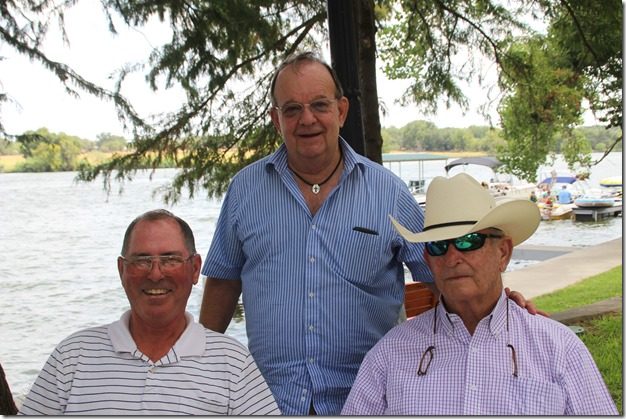 Bill, Jimmy, David.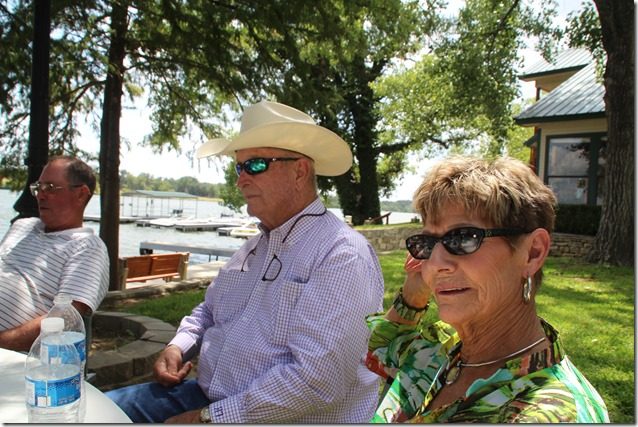 Bill, David and Ann Moore, who live in Pearsall.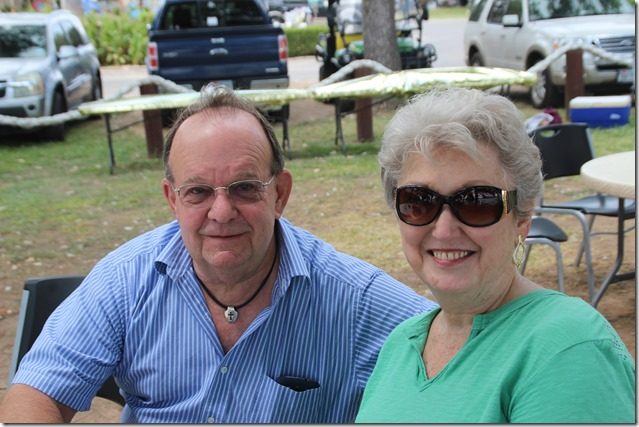 Jimmy and Carol Hooks, who live in Kerrville.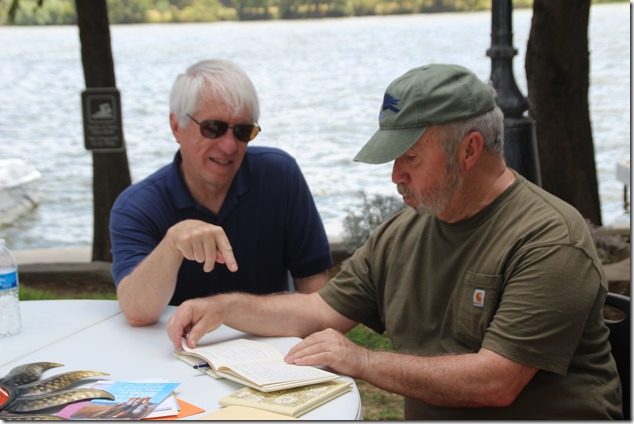 I brought the original guest book that everyone signed for the showers, dinners and wedding, and it was comforting to relive the actual handwriting of everyone who was there and signed. I meant to bring our wedding book with the pictures and was not happy with myself for getting off without it. But Richard and Gary in particular, enjoyed the memories the signatures evoked.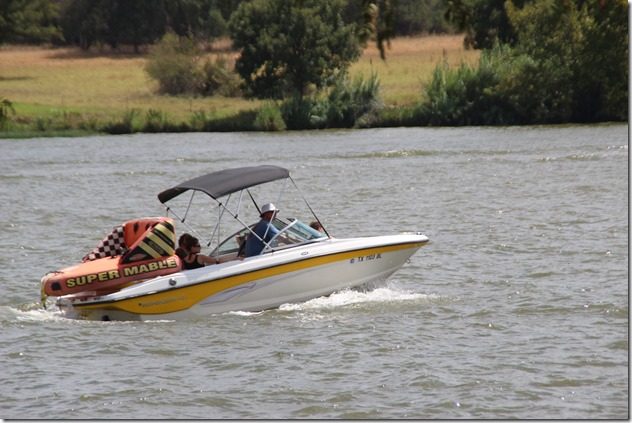 One of the reasons for having the party at the lake was to provide use of the boat and water activities.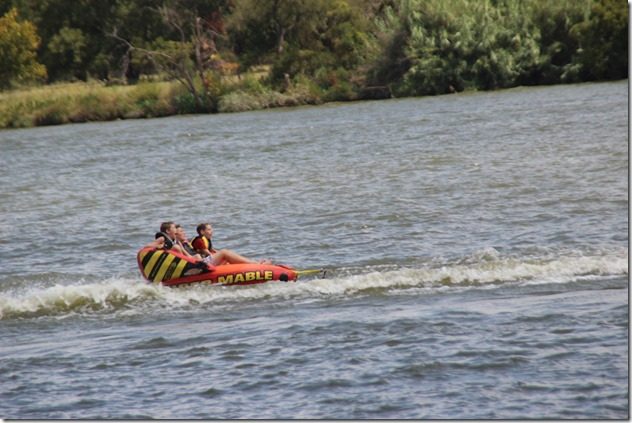 The boys took advantage of the opportunity and had fun tubing.
I was glad the younger members of the family had the chance to get acquainted better, so Colten, AJ, and Connie took advantage of the opportunity.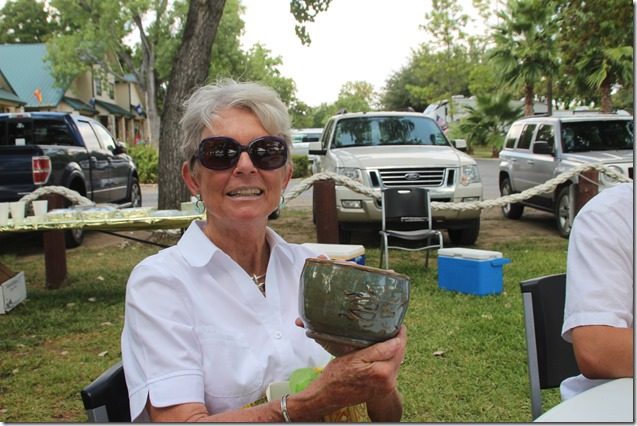 Everyone blessed us with their presence for the day, which was a gift in itself. But there were others. Gary and Julie presented us with a a gift, a hand-thrown pot made by Gary. Connie and the boys were generous with gift cards for some restaurants. The kids, besides hosting the party, gave us a lovely garden sun face to shine on our marriage. And there many thoughtful cards. When we got home, we were even chosen as Sweethearts of the Week on Channel 6, our local cable TV channel.
Bill came across my wedding veil and tiara packed away in a little forgotten box, so I brought it. Had no idea what I would do with it, but later in the day, i put it on. Mother made my dress,veil, and tiara, with a little help from Grandmother Drum, so it seemed appropriate to wear at least part of the emsemble one more time. The dress, made from silk brocade, was brought home from India by Bill's grandfather Hal McSpadden on an engineering job he had there, which also made it special. It is hanging in the front closet, most likely never to be worn again. How sad. And I don't have the heart to get rid of it.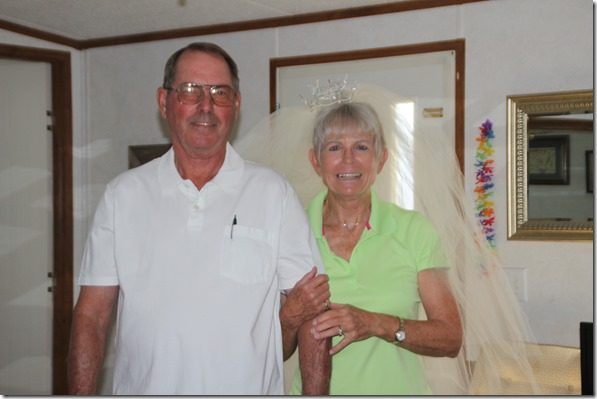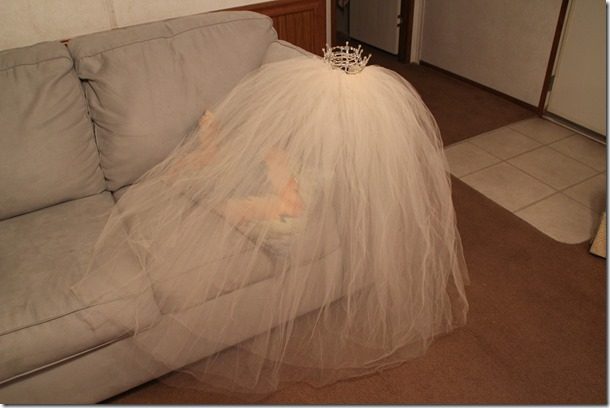 It was a lovely day. I thank the kids for doing such a wonderful job of pulling it all together. We will never pass that particular way again. Through those 50 years I grew up. Bill mellowed-well, except when he is watching an Aggie football game. And I am sometimes reminded of what Mother said one time when she was giving me words of wisdom about marriage. Divorce, she said, never entered her mind when she and Daddy had those rough spots. Murder? Now that was something else…The small stuff, those were the dangerous times; the big issues, those were the times they seemed to work through.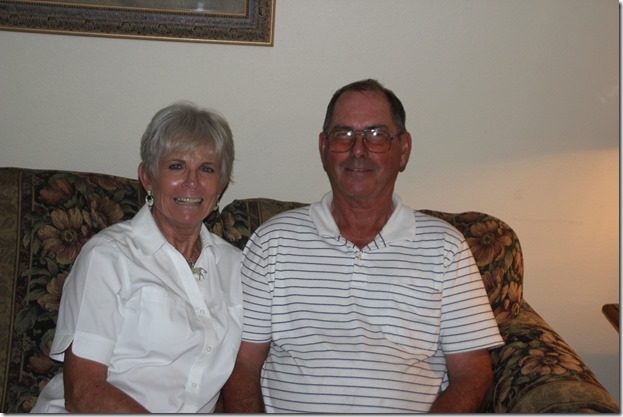 Thanks, Mom, for the advice. Thanks, Caroline and Neil, AJ and Erin, for the celebration. We look forward to doing it again for the 75th.