We arose bright and early to catch the train at Penn Station. At 5:30 in the morning is about the only time you will see Times Square this empty.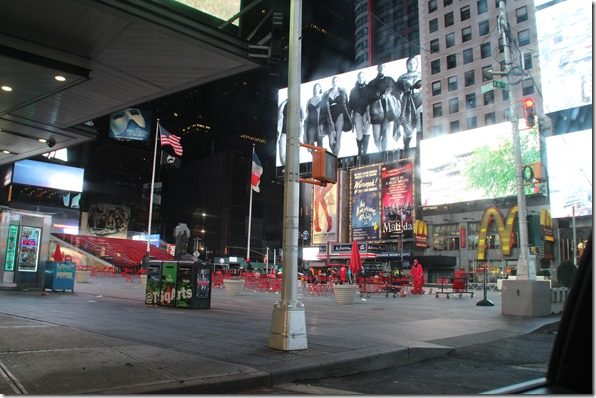 We took a cab to Penn Station where we found plenty of people. We had breakfast while waiting and watching the departures and arrival board, only to realize we needed to stand in the passport line leading to the train. Thank goodness Bill got us in the line when he did or we would have probably missed the train.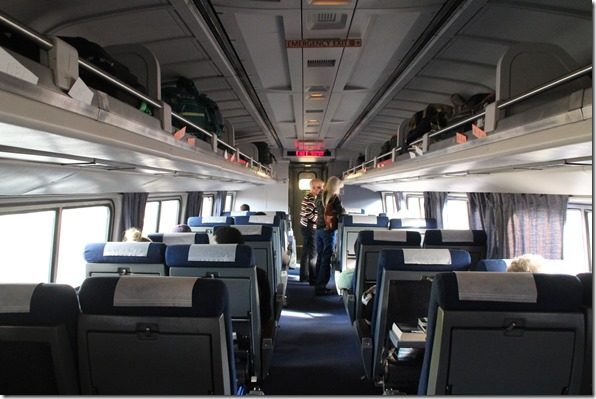 The train car was pleasant and roomy, more comfortable than an airplane. Well, when you fly coach, anyway. I can remember riding the train from Rosenberg to Fort Worth in the summers; Grandmother and Grandaddy would pick me up at Santa Fe Station, and I would spend two or three weeks with them in Olney. It was always a fun adventure. The conductor would come by with his cart of candy bars, soda pop, and funny books. Those days are gone; now you walk back to the club car and buy food from what's basically a concession stand. But that's okay.The seats were big and adjustable, the windows large for easy viewing, and we just sped right along. I tried to take a picture of each station sign as we went through a town so we would have a record of what New York towns we drove through. I had to be fast, but I still missed a few signs and some of the shots weren't the most pleasing, so I will spare you the signs. But we recognized some familiar names: Yonkers; Croton-Harmon (okay, that one was not familiar); Poughkeepsie; Albany-Rensselaer; Amsterdam; Utica; Syracuse; Buffalo.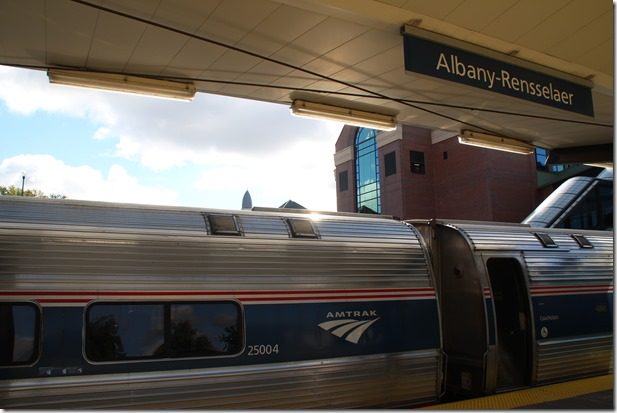 We weren't on this one, but this is what our train looked like. This one sped past us in Albany.
The train followed the Hudson River out of New York up to Albany, where we then followed the Mohawk River until it ended somewhere between Utica and Syracuse, as far as I could tell. Some of the things we saw along the way included things like this geological formation as we left New York.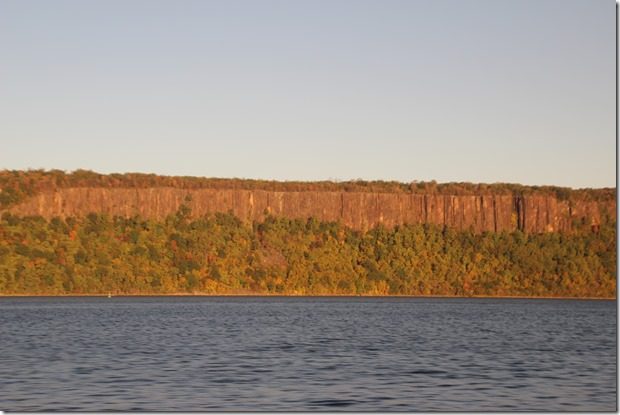 Don't know if this is a summer home or year-round; probably summer. Seemed like most of them were not full-time residences. Shades of the mansions left over from the Gilded Age.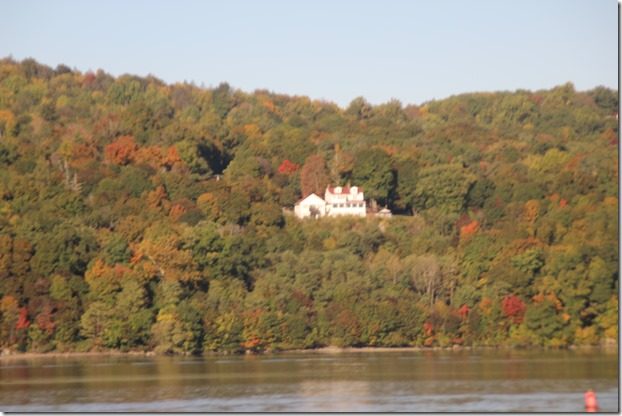 We saw several of these kinds of structures that Bill said were duck blinds.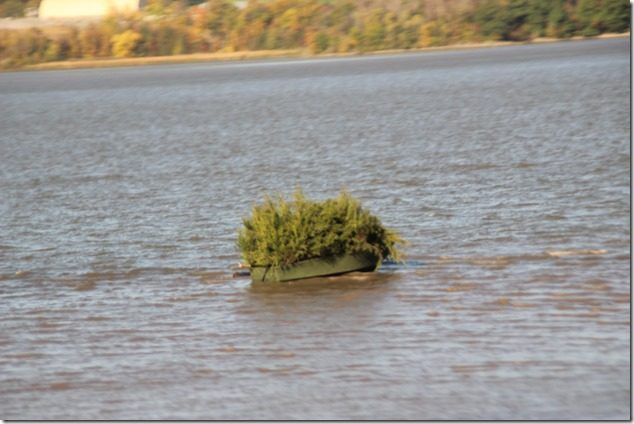 We saw several small lighthouses along the way. This was one of the more interesting ones. The Hudson River is a big river that barges and cargo ships navigate, so I am sure the lighthouses, which we were told are no longer functional, were necessary at one time. Or maybe they still work but nobody lives on them any more.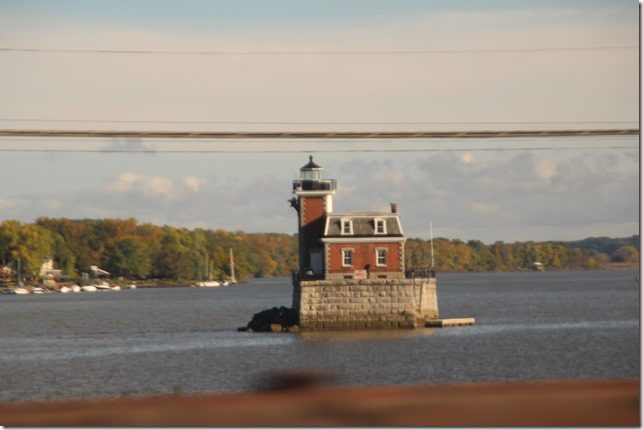 This is a shot of Albany.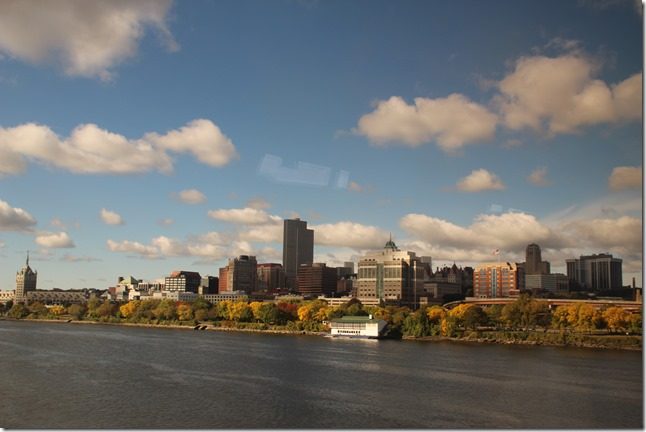 I saw this tree when we stopped in Albany, so since one of our trip objectives was to see fall color, here it is.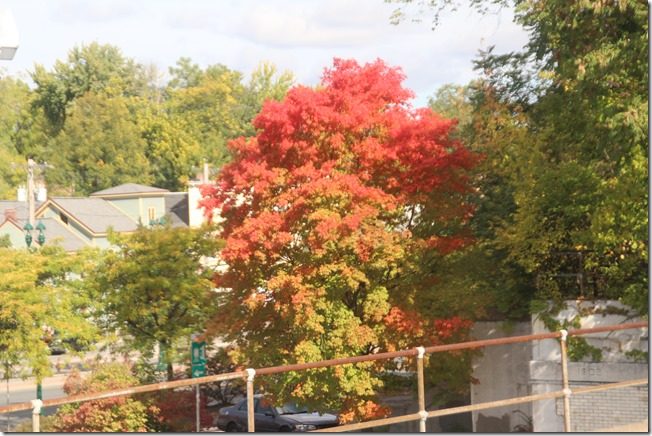 More fall color on the Mohawk River. I suspect we were a bit early for a real show of color, but this is nice.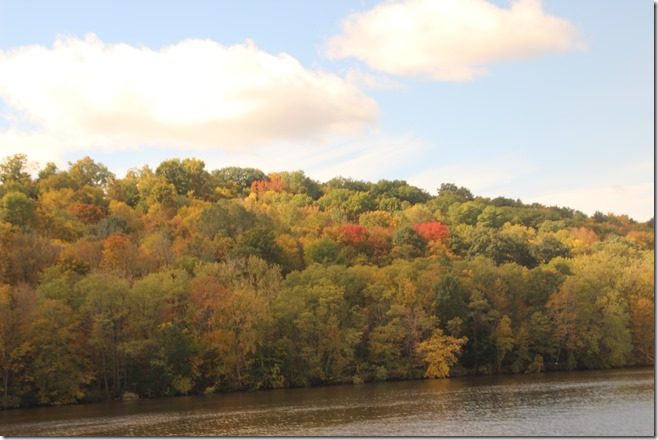 After we lost the Mohawk River, we saw farmland. Precious little livestock, but we saw fields with crops already cut and a good number of silos.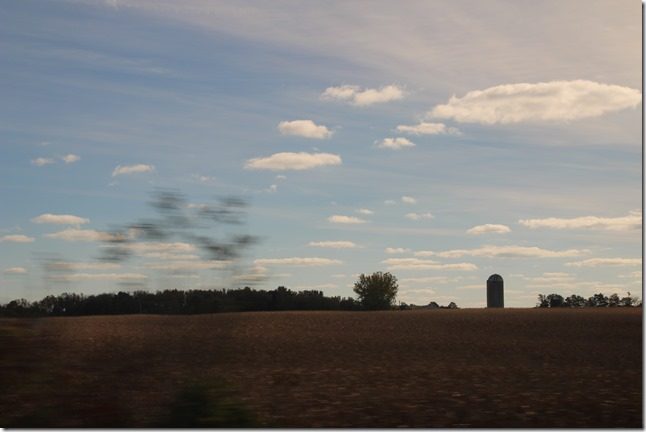 Next was Buffalo where shotgun houses lined our route.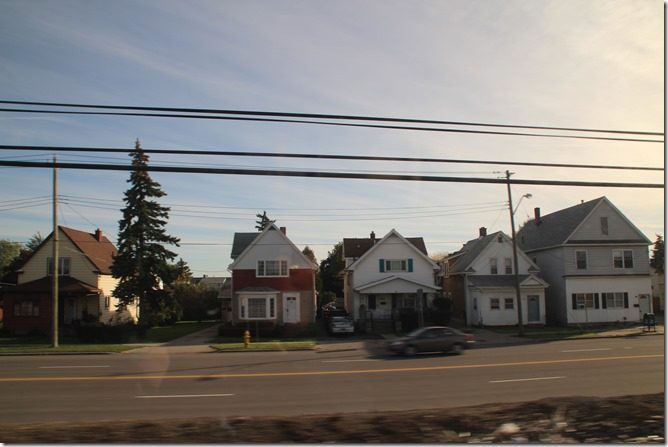 And then there it was, the American/Canadian border as we crossed the Niagara River on a train trestle.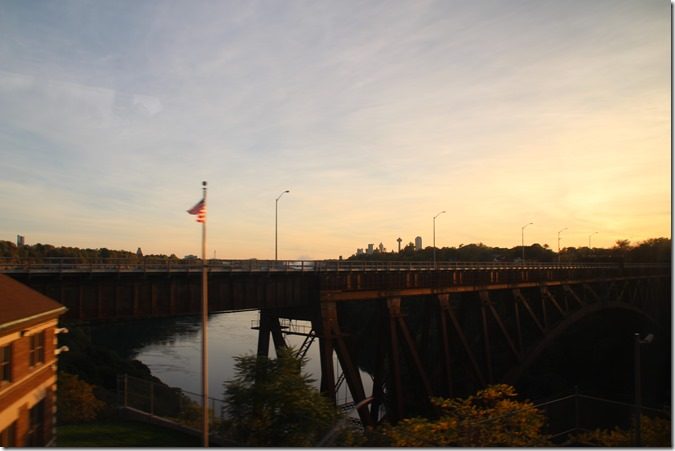 I took a picture on both sides of the trestle, but the one on the south side was the exciting one, a shot of what we would later learn was Niagara Gorge where we took the White Water Walk along world class rapids. The little building with the green roof and a part of the boardwalk on the left of the picture turned out to be where we took the walk, which you will see up close and personal in the next installment of the adventure.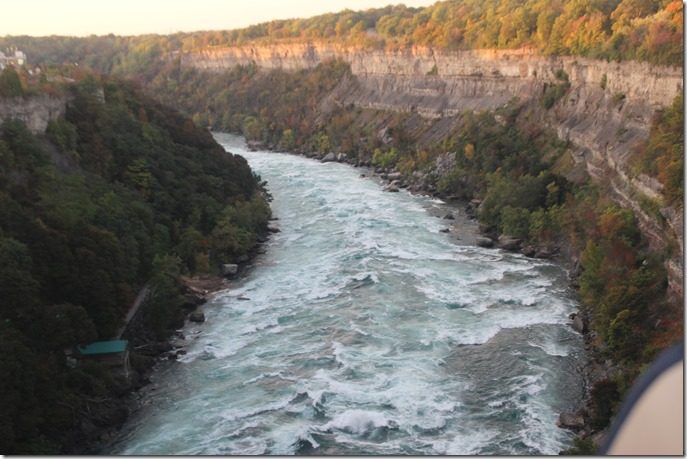 We made it over the border and thought everything was good to go. Wrong. All the comfort and ease of the train ride was tainted when we pulled up in the Niagara, Canada, station and the train came to a complete halt, the engines were turned off, and the entire crew just left! And there we sat for well over an hour. One of the more irritated, aggressive passengers got off the train and searched for some explanation. She came back with the news that the crews were changing and one side or the other was conducting a random drug test. We kidded that they were just randomly taking drugs! We also decided that surely someone on the train could figure out how to drive it since it is computerized, and we should just mutiny and get ourselves the rest of the way to the departure point. We did have a lively conversation with a man from New York going to Canada on business and a woman and her son, both with dual citizenship, who live in New York who were going to Canada to celebrate the Canada Thanksgiving, and then they would later also celebrate our Thanksgiving in New York. And in both cases she will be at a relative's house and won't have to cook the dinner! What a deal. I asked her what dishes they would eat in Canada, and she said pretty much the same things we serve.
Anyway, we finally made it through Canadian customs, hailed a cab and made the short drive to our hotel, the Marriott Gateway on the Falls. After supper at Tony Roma's and a quick look at the falls, the next stop was bed. Tomorrow: Niagara Falls.
You simply won't believe all the water.