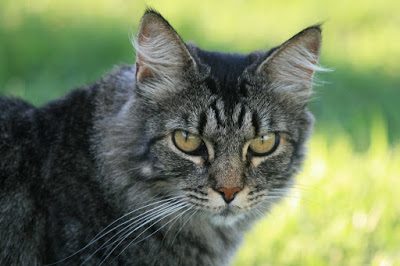 Meet Perla, the only cat of our current six who technically is not a stray. But she does have ties to vagabond cats, as her parents arrived on the scene as strays traveling together, brother and sister, we suspect. She was actually born on the premises in the old metal tank that Bill turned into an above-ground incinerator.
We kept seeing these two gray and black striped cats making visits to the outdoor catfood bowl. One, the male, was bigger than the other one, but they were absolutely mirror images of each other, which is why we suspect they were brother and sister from the same litter. Turns out the female was pregnant; she might not have been incestuous with her brother, but when two of the soon to be discovered four kittens looked just like them, well, we suspect that was the case. The cats weren't too worried about it; nature sometimes works that way.
But I digress. The two of them were becoming less afraid of us, which is how we could tell the girl kitty was putting on weight; we could get closer to them. Time passed; the incinerator was full; time to burn the contents. It made sense to me that Momma Kitty, as she came to be called, might have seen that incinerator as the perfect overlooked quiet place to deliver her babies, so I crawled to the back of the old tank before we set fire to the contents. Sure enough, there she was with four little kittens. She scrambled out when she saw me but watched from a distance as one by one I handed the kittens to Bill and we moved them to a safer place.
Momma Kitty found them, moved them to a spot of her own chosing, and life went on for the little family. Well, life went on for two of the kittens, the two that looked just like mom and dad. The other two, I am sad to say, didn't make it. Over time I persevered and finally caught the kittens and Momma Kitty and had them tamed down. My stray rule is that if you come to eat my food, you have to let me pet you. So they finally gave in. Daddy Cat, however, never let me catch him.
So we named the kittens Nomar and Perla and enjoyed watching them grow up. That first year of their life, 2003, we lost Momma Kitty to a coyote and Daddy Cat to a car hit and run accident. Dear Nomar met with an untimely accident before he was a year old. He was quite the social animal and we missed him terribly. Perla had always been a nice cat, but a bit timid around Nomar. Now in his absence Perla seemed to come out of her shell and became quite personable herself. She has the softest, silkiest hair of all the cats. I guess she is just a cat, but based on pictures and what I read, I think she might be a Maine Coon cat.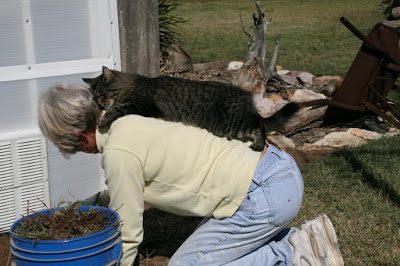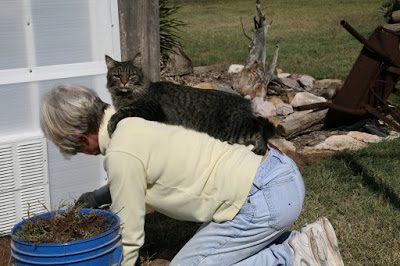 In fact, Perla has sort of become the head of the pecking order, taking Gracie Lou's place when we lost her last year. Perla is always there to greet me on our walking path as I make the laps, and when she decides she wants some attention, she won't take no for an answer, putting herself between me and whatever I am trying to do, or when I am working in the garden, will hop up on my back and settle down, content that she is included in what is going on.
Perla loves close quarters; empty boxes, clay pots, the chimenea. She is also possessive about the barn, which she now has to share with Little Cat, but they have it worked out. So I just make sure, especially in this past severe winter, that she is in the barn and tucked away for the night.
And that's where she is now, up on the loft in her box, tucked in and resting up for another busy day tomorrow.