Our grandson, Colten, played golf this year, and the team won district, which qualified them to travel to Odessa for the regional tournament. Being retired allowed us to go watch, which we didn't get to do when his mother was on the golf team, so we did.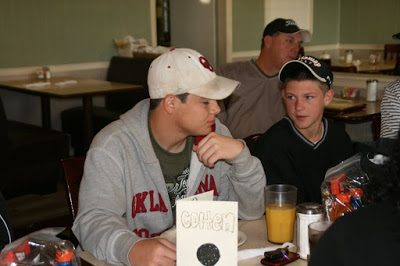 Bo, Colten, and Coach Cary Sudduth in the back at the breakfast send-off.
We all gathered at the Dinner Bell Sunday morning to send them off with full tummies and encouraging words. They played that afternoon to become familiar with the course and enjoyed nice, sunny weather.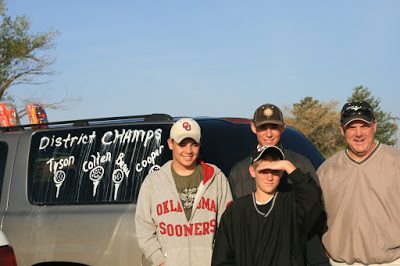 Bo Avila, Tyson Turnbow, Coach Sudduth, Colten in front, before they leave for Odessa.
Cooper Washington met them there.
Now, the trip from Muleshoe to Odessa is not known for its natural beauty in good weather; in fog and rain in early spring before green sets in it is positively depressing. When Bill and I left at 7 am, the fog was out in full force, complete with drizzle and absolutely no sun. And I'm sorry; even in the best of weather, oil towns just aren't very pretty. I know, the money's nice, but oil is dirty. To be fair, not many towns are pretty when seen from the highway; most of their prettier parts are off the highway. But flat land, very few trees,oil field junk, and abandoned buildings don't make the Texas Highways list of scenic drives. So we drove for three hours through the dismal fog and sad surroundings to arrive at Ratliff Ranch Golf Links for the tournament, which seemed appropriate since golf links aren't in the game for beauty.
So we followed Colten around on foot and bugged him to death, me taking pictures and his grandfather making too many audible comments. By the time all the groups finished, there came the sun. But it was a good day for Colten in spite of us; he shot a 98, for him a personal best.
The second day started out just like the first, only foggier. But by the time we arrived at the links, the sun was out in force. So we geared up to continue to fulfill our mission in life, to embarrass our grandson at every oppportunity. I mean, it's in the contract, right? And we did an admirable job until he and his grandfather had words, and I thought it best that we leave him alone a while. We tailgated for lunch and then parked ourselves at a strategic green and sat, waiting for each of the boys to play through so I could bother them by taking their picture, too. When Colten came through we stayed with him again till the last hole. He managed to beat his score from yesterday with a 92, in spite of us, so he is learning to deal with unruly spectators.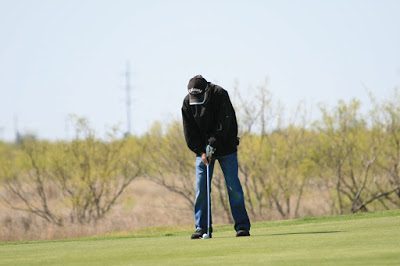 Colten putting. You can see typical links landscaping design, all the beautiful scrubby mesquite trees instead of beautiful sprawling oak trees.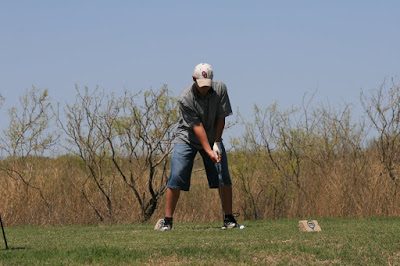 Bo teeing off.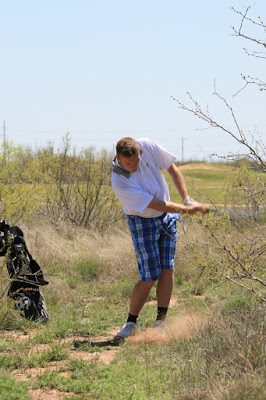 Cooper getting out of the rough.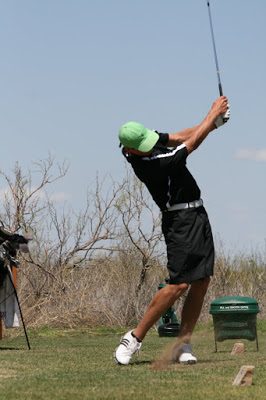 Tyson teeing off.
The Mules' A player, Tyson Turnbow, missed qualifying for state by two strokes, a tough break, and the team didn't make the cut, either, so their golf season is over for this year. But they have much to look forward to next year, as Tyson, Beau Avila, Cooper Washington, and Jonathan Perez (who didn't get to make this meet) are all juniors with one more year of eligibility, and Colten as a freshman, has three. They seem to all have a good time together, so next year offers another chance. Making it to regionals was a feather in their caps; playing next year-priceless.
And I will have to say that the drive home this time, with the sun and all, wasn't half bad. It is amazing what a little bright light can do to highlight the winter wheat now up for grazing and the green grass and weeds in the ditches that didn't show in the fog. By the time we made it to the Muleshoe Wildlife Refuge area and a few rolling hills, the contrast between the white bleached out dead grass, some green pasture, and the blue sky made a rather pretty picture.
Not such a bad trip after all.