Jesus came to live with us after his family made an abrupt move and did not come back for him. His family happened to be of Mexican descent, so we named him Pedro Jesus and affectionately knew him as our bilingual cat. I had him neutered, brought his shots up to date, and he was very content with his new home and his six stepsisters, the six female cats who also found our house as strays and came to claim us as  family. He was a young cat, about a year and a half old, a big, strong, handsome cat. By his actions it became obvious to me that he came to our house as much for the companionship as the free food. He was very friendly and enjoyed being with us outside. He would come greet me every day as I walked on the walk path behind the house.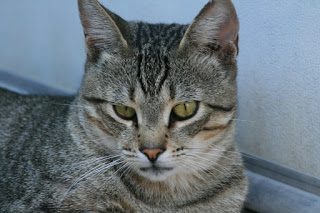 We found him this morning in front of the barn door, the barn being a place of safety and comfort to him. His only injuries were on his head and mouth, but they were severe. I suppose he was hit by a car somehow, but if so, it was a strange sort of hit. He let us put him in a box and cover him with a towel and let me rub and reassure him as we rushed to the vet's office. Dr. Garten anesthetized him so he wouldn't hurt during the x-ray, which confirmed our worst fears: his jaw was broken, he had skull fractures, which surely meant brain damage,  and most of his teeth were gone. We had no choice. He had made his way back to us for help and putting him to sleep was the only real way to help him.
He is resting comfortably now under the cherry trees. I wrote a good bye letter, sealed it in a plastic bag, and put it with him. He was only with us a few months, but I miss him already.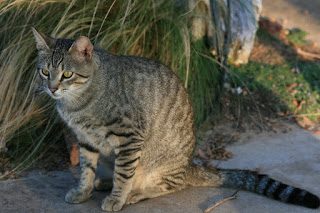 Godspeed, Jesus.