I grew up eating green grape jelly and green grape cobblers. In the Spring Daddy would pack up and head down to the Brazos river bottom or some neglected pasture of a friend to pick wild mustang grapes while they were still small and green, before they had a chance to make seeds and ripen to their customary purple color. He would come home with a five-gallon bucket or two full of bunches of little green marbles and then set up shop in the middle of the kitchen with his buckets and Mother's empty bowls and spent the afternoon de-stemming the grapes. Their deal was that he would pick and clean the grapes and Mother would make jelly and freeze grapes for pies for the coming year. Not a bad arrangement.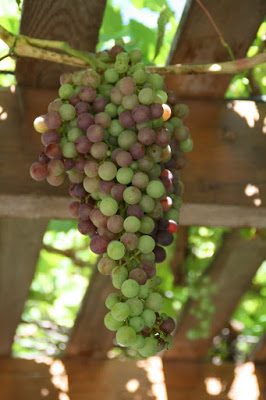 Sometimes he might watch something on TV while piling up cleaned, de-stemmed grapes which Mother would cook and turn into jelly, but mostly he would talk and tell stories of when he and his family, going through hard times, would subsist on things like the green grapes and dried wild apricots and plums, making do with what was available wherever they might be at the time. They went through one period of homesteading in various places and barely making it until the family finally settled in Olney and Vance, Daddy's father, had actual jobs so they didn't have to wander around. I know there is more to this story than I remember, and I didn't have the foresight to write things down, and now, of course, Daddy is gone, along with anyone else who would remember the family history. But he was good at making a major production of things like picking the grapes or churning homemade ice cream or eating watermelon or flying a kite, and so while I may not remember the whole story, I do remember good times with Daddy. And of course, that was the reason for making everything a major production; making memories.
I remember Mother would cheat just a bit and put red food coloring in the jelly, thinking it looked more appetizing or more appropriate, I guess,  if it actually looked like grape jelly. When she finished, we would have a whole section of the pantry full of little shiny paraffin-topped jars of this beautiful clear red jelly. Remember the grapes were not ripe, so this jelly was very tart and full of sugar, and we loved it. I don't remember eating much store-bought jelly unless we ran our of grape jelly and had to wait till the next Spring and the next picking for more. She also made fig preserves, which were good, but that is another story.
We also had the green grape pies, which were Daddy's real love. He grew up eating them, a good memory out of  the poverty of his childhood, I guess. So when we moved to Muleshoe and planted two red flame grape vines from which I could pick grapes without having to leave my yard, I took up the habit of also making green grape pies. I have to pick the grapes just as they are ripening or the birds will do it for me, so most of my grapes are green and tart also. I just don't have to deal with seeds. I have never tackled the jelly part, but the cobblers are easy. The hard part is that blasted de-stemming. Well, it's not that hard, just tedious and time-consuming. Hmmm, could that be another reason Daddy set up shop in the kitchen, so he would have someone to talk to and help pass the time? He was pretty smart, my daddy.
Sitting under my grape arbor in the evening with a few cats lounging about, the dog napping, and someone to talk to, not a bad way to pass the time, either.
And it is grape-picking time now.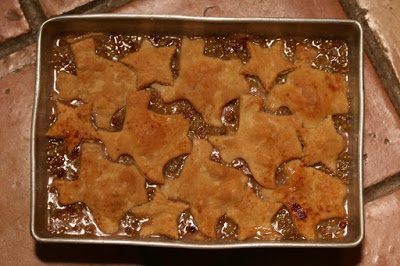 Mother's Pie Crust and Green Grape Cobbler Recipe
Crust:
3/4 cup Crisco
1 1/2 cups flour
1/2 tsp. salt
1/2 cup cold water
Cut Crisco into flour and salt. Gradually add water. Roll out crust and cut into 2 inch-wide strips for bottom of  9×13 inch pan. Cut remaining crust into 2 inch-wide strips for the top of the pie. (To make it fancier, like Martha Stewart might, cut crust into shapes with a cookie cutter.)
Filling:
5-6 cups grapes, washed and stemmed
1 stick butter
1-2 cups white sugar, depending on ripeness of grapes-less sugar for more tartness; more sugar for sweeter
Pour grapes over crust in pan. Sprinkle sugar over grapes. Dot filling with pats of butter. Put crust on top of everything. Bake at 400 degrees for an hour or until crust turns golden. Eat when cooled enough for your taste.